Say Hello to Our Newest Tritons
Learn what inspires our incoming students and discover what's new on campus this fall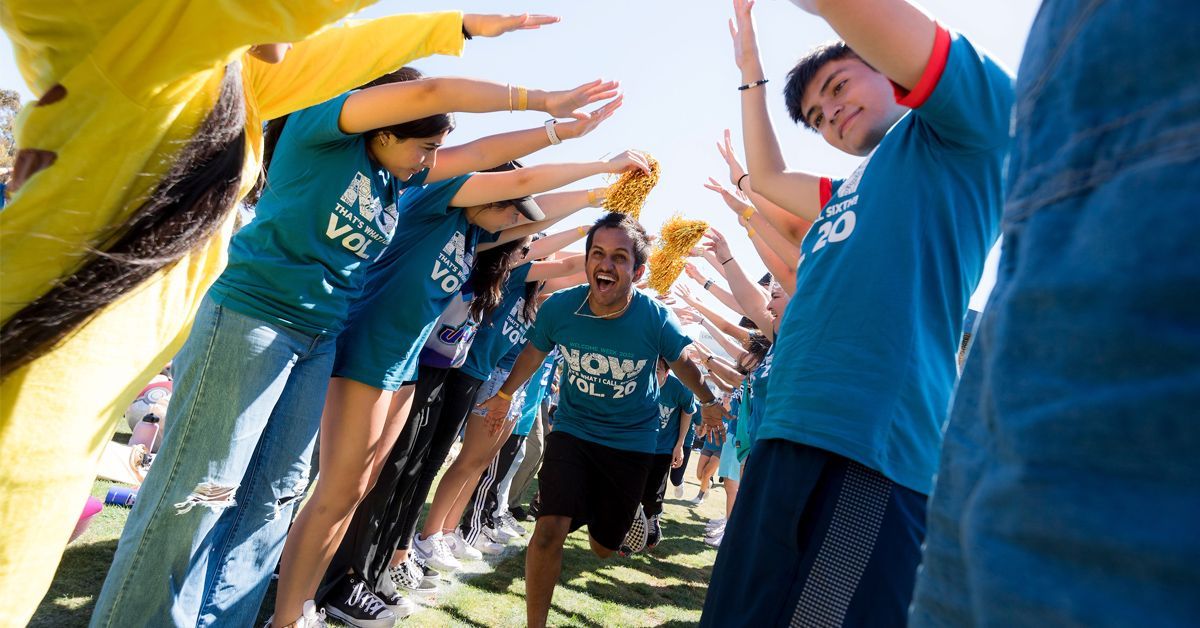 Published Date
By:
Topics:
Share This:
Article Content
A fresh academic year has officially begun at UC San Diego and the campus is bustling with activity. New and returning Tritons have the opportunity to get to know each other and the university through more than 100 events happening as part of Triton Weeks of Welcome—ranging from a massive music festival and outdoor movies to a Barbie-style beach bash and Taylor Swift-inspired dance party.
UC San Diego remains one of the most popular public universities among prospective students and was most recently named sixth in the nation by U.S. News and World Report. More than 150,000 first year and transfer students applied to join the university, over 32,000 were admitted and an estimated 10,000 new undergraduate students are expected to enroll this fall. The majority of students reside in California, and more than 40% of first year and nearly 50% of transfer students will be the first in their family to graduate from a four-year university.
"This is our favorite time of the year, when we get to meet the talented Tritons who will be joining our campus to pursue their diverse dreams," said Associate Vice Chancellor for Enrollment Management Jim Rawlins. "Our team continues to be wowed by the outstanding applications we receive from students across California; it is truly an honor to provide educational access to our society's next generation of socially conscious innovators."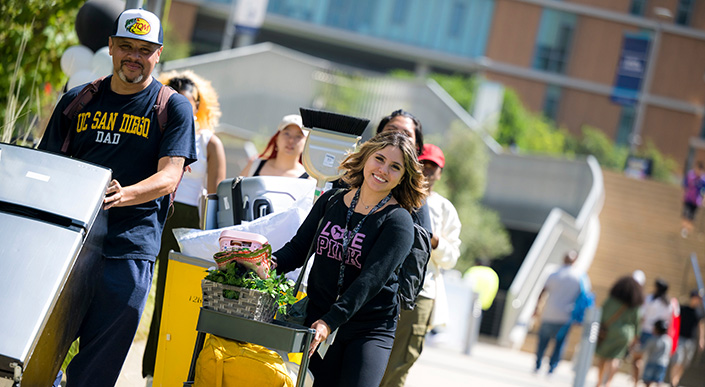 Already moved in and starting to map their course locations, we spoke with several of UC San Diego's newest students to find out where they're from, what they'll study and what inspires them.
Meet a few of our newest students
How basketball inspired Maya Love-Sangco to pursue visual arts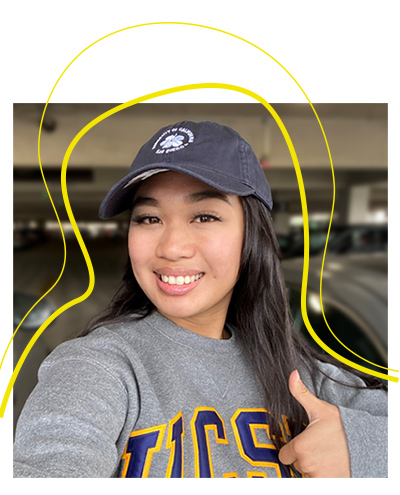 Born in the Bay area and drawn to basketball at a young age, first-year student Maya Love-Sangco had to make a tough decision when planning for college. Would she continue her athletic trajectory or turn toward her other love—photography and videography? This fall, she joins UC San Diego as a visual arts major with aspirations to become a storyteller for sports teams, a blend of her two passions.
"I first developed an interest in visual arts through my old basketball trainer/mentor, Donovan Washington," Love-Sangco explained. "Although he was my basketball trainer, he is also a photographer and videographer! When I expressed my interest, he didn't hesitate to push me; he let me experiment with his camera and with his clients. I eventually bought my own camera and started taking pictures for the sports teams at my school. I would love to go on tour to take pictures of my favorite artists one day or create mixtape videos for basketball players."
Beyond the prospect of following her heart to the arts, Love-Sangco was also drawn to UC San Diego's picturesque location and welcoming student life. After first visiting, she envisioned herself swinging on the hammocks with friends or dining at one of the campus's many cafes. She's also excited about venturing out into the larger San Diego community. "I had only been to the city once prior to being admitted, and now I will be living there. I'm also really excited to meet more people that could turn into lifelong friends! And I'd also like to learn new hobbies such as surfing or trying new sports such as intramural volleyball!"
How a childhood fascination with tech led Tyrone Gray III to choose computer engineering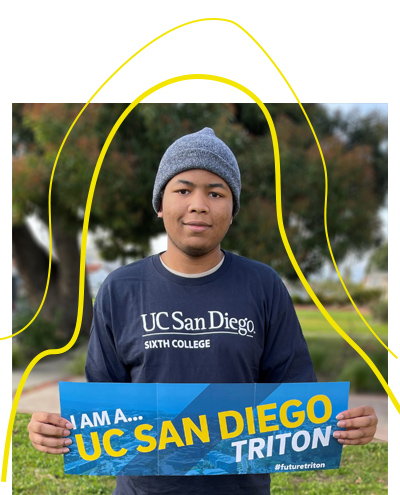 Reflecting back to when he was young, Tyrone Gray III remembers the excitement he would feel when walking into the mall and seeing a Best Buy store. Gray would rush to where the new technology was displayed and sample the newest watches, laptops and cellphones with zeal. This passion prevailed, influencing Gray's decision to enroll at UC San Diego this fall as a first year student in computer engineering.
"I want to take my passion for technology and apply it to the real world to make a difference," shared Gray. "That's what made me want to become a computer engineer. There are many areas of the world that don't have access to technology, and it's constantly evolving and changing. We can use these changes to help people that don't have access to make lives even better than they are now."
Coming from Los Angeles, Calif., Gray looks forward to exploring the serene beach town of La Jolla as well as making new friends. He started his journey early as part of UC San Diego's Summer Engineering Institute at the Jacobs School of Engineering, where he gained a head start by completing six units towards his major. "I love meeting new people; I've already made a lot of new friends," he said. "I will definitely join clubs—in particular Black Student Union—and will also look for engineering clubs to help me get a feel for the rigors of the coursework."
How ocean-sized dreams led Gladis Magaña Aguilar to study marine biology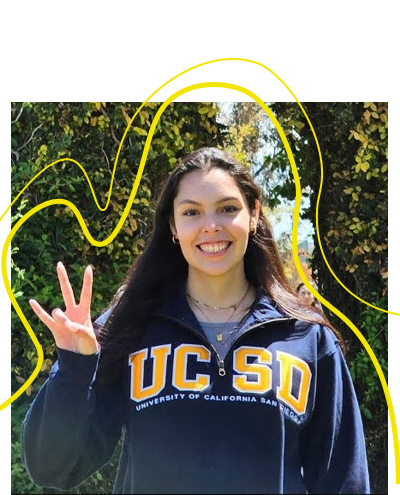 She has diverse interests—collecting vinyl records, playing flag football, reading sci-fi novels—but when it came time for Gladis Magaña Aguilar to choose a college major, it was the ocean that called to her the loudest. From a young age she has been captivated by the sea, marine life and underwater ecosystems. This fall she will begin courses at UC San Diego in marine biology.
"Exposure to documentaries, books and even visits to aquariums sparked my interest in studying marine biology," said Magaña Aguilar. "After finishing my undergrad years, I plan to get my master's degree in aerospace engineering. One career path I have in mind is working at the Jet Propulsion Laboratory at NASA. I am really interested in being part of space exploration and many future missions."
Aguilar was born in Michoacán, Mexico and grew up in Rancho Cucamonga, Calif. She was granted a Chancellor's Associates Scholarship, a prestigious award to support the success of talented, first-generation students. This fall Magaña Aguilar is eager to discover UC San Diego's hidden gems—from beaches to the Stuart Collection sculptures and student organizations that connect to her Latina identity. "I hope to not only excel academically but also grow personally, connect with new people and unearth new aspects of myself," said Magaña Aguilar.
How a love of music and passion for advocacy led Lindsey Rappaport to computer science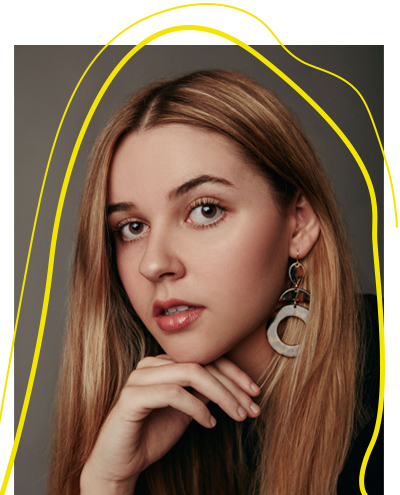 In her latest single, new student Lindsey Rappaport personifies the former planet Pluto as she explores her own hesitation about chasing dreams and embracing change, "Pluto's not a planet anymore/all those years of glory out the door/and I wonder if she'll be okay/or if the change will eat away at her self-esteem/only time will tell." Rappaport is a published singer/songwriter from San Marcos, Calif. who will be joining UC San Diego this September as a transfer student majoring in computer science.
"I love math, puzzles and creative problem solving and computer science is a way for me to combine all of these," said Rappaport. "Come this fall, I am very excited to begin learning more about software and app development. I am also looking forward to meeting people with similar creative interests as me. In the future, I hope to combine my love for music and computer science and work in the development of music apps."
Rappaport is also passionate about advocating for more women in STEM and she hopes to join a student organization focused on women in computer science. "I have experienced firsthand the differences in treatment between men and women pursuing the same path and it has been an obstacle for me in the past," shared Rappaport. "However, I have not let this deter me from my goals. In fact, I have used it as a way to motivate myself to work hard and stay driven."
Outdoor dining gets a new look, opportunities to lead and a call for student art
New and returning Tritons have a plethora of ways to get involved. Hundreds of student organizations are available connected to culture, academics, service and more, including a range of sororities and fraternities.
Students are also encouraged to consider leadership positions. These could include a staff, appointed or elected position within Associated Students; becoming part of the student team that manages the Student Union portfolio of activities and funding; as well as joining an individual student government within their college. Positions range from quarterly or yearly appointments depending on the level of involvement and preference.
"Getting involved in student leadership allows students to be a part of the campus decision making process in terms of policy development, event programming and initiative startups for UC San Diego," explained Alfredo Barcenas, director of Student Governments, Auxiliaries & Services. "In addition, the benefits to being a part of a student leadership position are plenty, such as work/resume experience, networking, traveling, development and social opportunities."
For students who have a creative spark, several spaces across University Centers are available to exhibit the artwork of students from all majors. Called Art in the Student Union, the program has been in existence for over 40 years to engage dialogue, promote critical thinking and foster community connection.
In addition to getting immersed in campus life, new and returning students, staff and faculty are likely to see some changes happening on campus to activate outdoor spaces. One of the most prominent is the Price Center Plaza renovation, a project designed to promote a more inviting and modern outdoor dining experience that also provides opportunity for community gathering. Once completed, visitors can enjoy shade canopies, built-in heaters, improved lighting, background music, enhanced landscaping and more. And those with an affinity for music may notice that the paver pattern in the main walkway is presented with a series of bars that mimic the notes of the Triton Fight Song. The renovated plaza is set to be fully complete by the start of December.
Nearby at the Original Student Center, a new graduate student lounge is also opening as a hub for community building, relaxation and academic support. Located on the first floor next to the Triton Food Pantry, graduate students will have access to a kitchen, solo study coves, a meeting space with a tv and screen projector, and more. The intention is to provide a multifaceted space that facilitates networking and interdisciplinary collaboration, enhancing the graduate student experience.
The first few weeks of the fall quarter are a time like no other. Both new and returning students have the chance to try new things and build upon growing skills. Students are encouraged to explore the many resources at UC San Diego—including the campus community centers, the Undergraduate Research Hub, UC San Diego Recreation, the Teaching & Learning Commons, the Office of Academic Support & Instructional Services (OASIS), the Triton Transfer Hub, the Basic Needs Hub and more to start their new year off strong. Students can plan their road map for the year ahead here.
Topics:
Share This:
Stay in the Know
Keep up with all the latest from UC San Diego. Subscribe to the newsletter today.