November Brings a Joyful Celebration of Native Tradition and Culture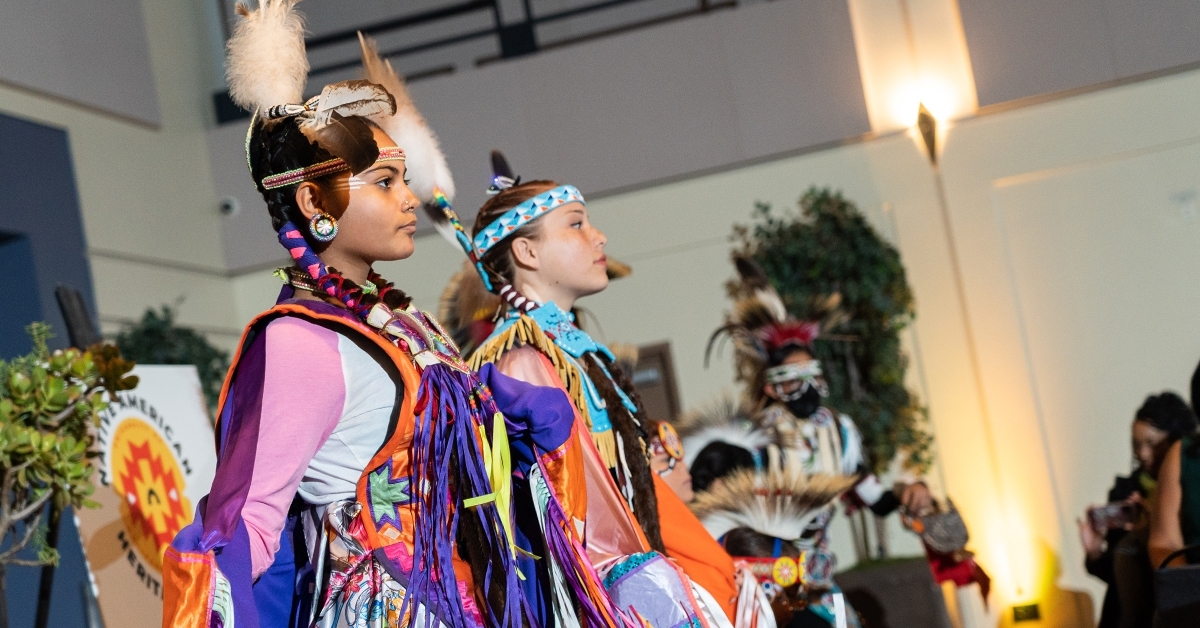 Published Date
By:
Topics:
Share This:
Article Content
San Diego is home to 18 federally recognized reservations—the highest number of reservations for any county in the United States. To recognize the rich and diverse cultures, traditions and stories of Native American tribes and communities, UC San Diego is celebrating Native American Heritage Month with educational and community-building events.
"Each November, we celebrate the achievements and contributions of Native American people to expand our knowledge and appreciation and to connect to one another on a deeper level," said Chancellor Pradeep K. Khosla. "Throughout the year, we share and explore one another's cultures to open our minds to other possibilities and to learn new ways to think and to solve problems. The convergence on our campus of many distinctive voices, concepts and experiences brings new ideas to longstanding challenges in science, technology, health and human interaction. This earnest exchange promotes inclusion, sparks innovation and helps develop more equitable solutions that benefit all."
It all starts with events and experiences that introduce and educate Tritons about the many unique cultures that contribute to their vibrant and engaged UC San Diego community. On Nov. 3, campus and community members gathered at Price Center Ballroom for the start of Native American Heritage Month, partaking in Indian tacos made by Kumeyaay Frybread, a local Native American family business. In addition to speakers, the event featured special performances by the Soaring Eagles, a Native American cultural dance group of San Diego County. Donning traditional regalia, the dancers demonstrated different styles of powwow dances used for storytelling and ceremony.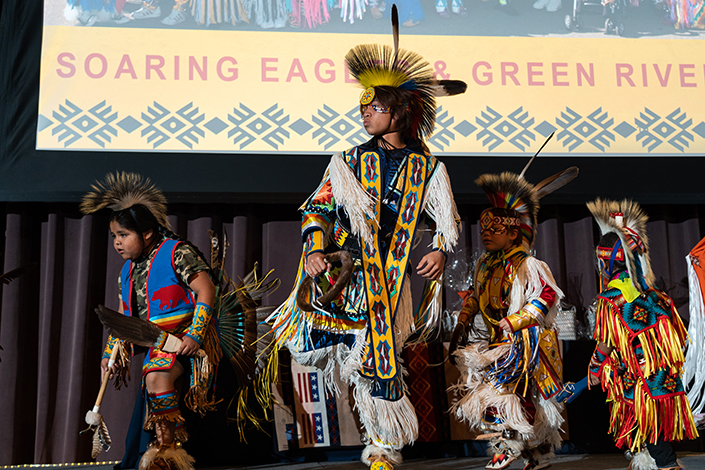 Miss Kumeyaay Nation on life lessons and preserving culture
The opening celebration also included a keynote talk from Miss Kumeyaay Nation. To be considered for the esteemed role, candidates must be familiar with traditional song and dance, preserving their tribe's language and have a willingness to travel the region as a role model for other youth and a cultural ambassador.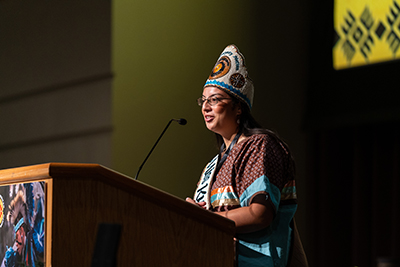 Priscilla Ortiz-LaChappa has relished the opportunity since being named Miss Kumeyaay Nation for the 2022-23 year. She is an enrolled member of the Iipay Nation of Santa Ysabel and she is also Luiseño, traditionally known as the Payomkawichum or The People of the West. Ortiz-LaChappa grew up on the Rincon Reservation and has been studying her native languages since she was three years old. For most of her life, she has been an avid advocate for language revitalization and preservation of cultural traditions.
Over the next three years, Ortiz-LaChappa will continue to study language with Stan Rodriguez, a UC San Diego doctoral alumnus and member of the Iipay Nation of Santa Ysabel. "Back then it was normal for our people to speak four or five different languages, and the dialects as well," explained Ortiz-LaChappa. "I want to become half the woman that my ancestors were and learn at least two of my languages."

Family connection is also very important to Ortiz-LaChappa. She talked about her two younger sisters, brother and cousins and how she often gathers them together to enjoy events and other adventures. "I say we're going to go here; we're going to go there, and you guys are going to dance and have fun and smile. I tell them this because these opportunities are good opportunities."
A lesson she's learned that she imparts to others, especially her younger mentees, is the importance of engaging in healthy risks. "We all know unhealthy risk—teen pregnancy, drug abuse, ditching or failing school," Ortiz-LaChappa said. "But healthy risks to me are things that can only bring you education, opportunity and experience. You may not do it right… it may be a long journey, but it's going to bring you something."
Ortiz-LaChappa earned an associate's degree from Haskell Indian Nations University, one of 32 tribal colleges/universities in the nation, and aspires to attend a four-year university next—with UC San Diego on her list of possibilities. She lauded the campus's efforts to create community, "I'm really proud of the work of the Intertribal Resource Center because they are creating a safe space. The UC system is filled with thousands of people, yet our Native peoples within the UCs are only hundreds."
2022 Outstanding Native Triton
There was a certificate and gift card presented, but UC San Diego's Outstanding Native Triton Alex Zhao was also recognized with something truly unique—a vibrant blanket from Eighth Generation, a Native-owned business that produces authentic artworks.
Zhao, a member of the Navajo Nation, is a second-year political science doctoral student at UC San Diego. Scholars are selected for the honor by demonstrating leadership and commitment to the Native American community at the university. "We appreciate his commitment to community and his leadership style that demonstrates a humility and a sense of pride in our collective efforts," said Intertribal Resource Center Director Elena Hood, a UC San Diego doctoral alumna. "We at the Intertribal Resource Center and other Native Tritons know that he will continue to do great things for all of us in Indian Country."
As a future political scientist, Zhao is conducting research on Indigenous American politics. The focus of his dissertation is the political preference of Native Americans, and how nations can better cooperate in a multicultural and globally connected world. His goal is to better understand Indigenous governments and provide policy solutions, helping leaders see the world through each other's lenses.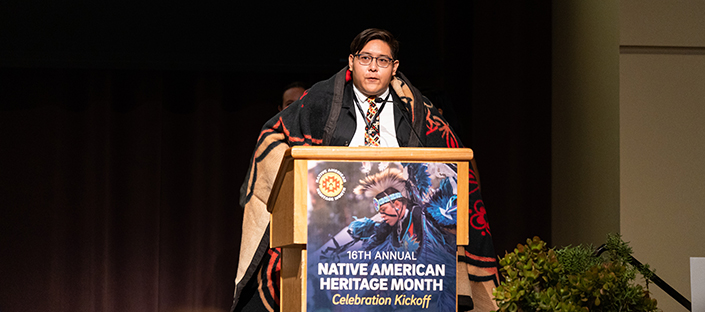 The inspiration to do this work began years ago. Growing up, Zhao had the opportunity to travel across the country with his father, who worked as a truck driver. He is also inspired by his grandparents, who both served as civil rights activists. "I've seen a lot of the country, have witnessed social unrest," said Zhao. "This helps motivate me to take on the daunting task of better understanding Indigenous nations through an empirical lens."
You're invited: Native American Heritage Month events
The Intertribal Resource Center and the Native American Heritage Month Planning Committee invite all campus community members to join in a month-long series of events featuring performances, film screenings and more. Additional events may be added throughout the month, so be sure to check the Native American Heritage Month site for updates.
Film Screening: "More Than Frybread" by Travis Hamilton
Nov. 10 | 6 p.m. | The Loft
Film Screening: "Black Indians: An American Story"
Nov. 15 | Noon | Red Shoe Room
Community Gathering: Beyond the Pages Book Club
Facilitated by the Cross-Cultural Center staff, the Beyond the Pages Book Club uplifts Black Indigenous and People of Color (BIPOC) authors, highlighting stories that are often overlooked that celebrate the tales of love, joy, struggle, survival, perseverance, family, friends and community care. Faculty and staff are invited to join in the conversation on Nov. 17.
Nov. 17 | 11:30 a.m. – 1 p.m. | Cross-Cultural Center

Topics:
Share This:
Stay in the Know
Keep up with all the latest from UC San Diego. Subscribe to the newsletter today.