UC San Diego Strengthens Native American Communities and Indigenous Scholarship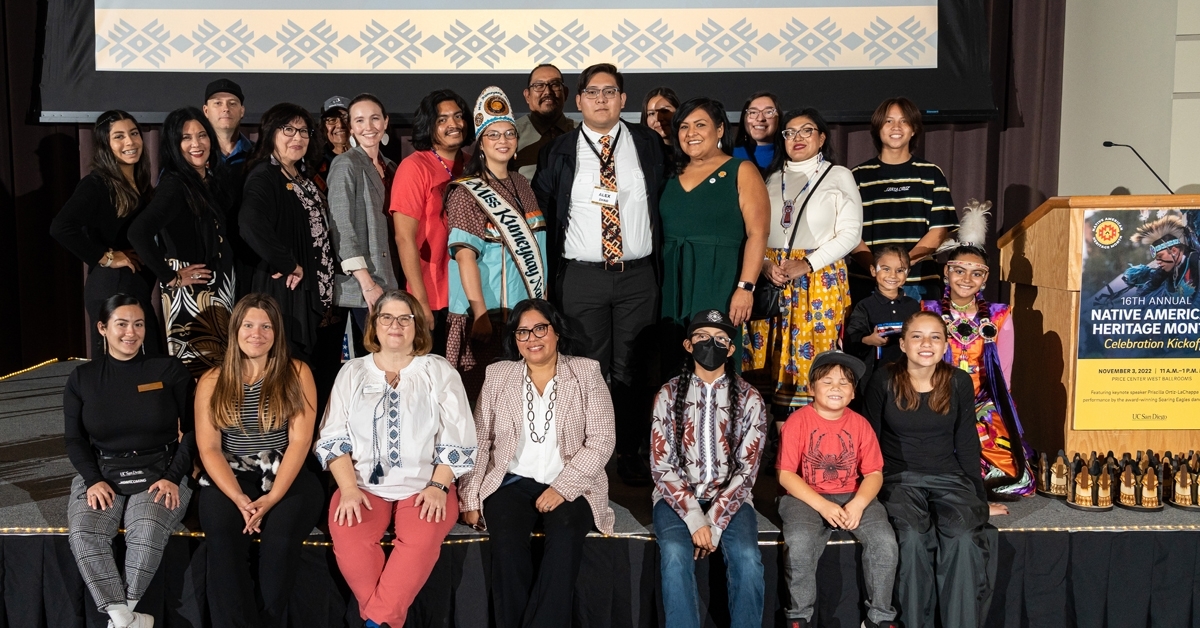 By:
Media Contact:
Published Date
By:
Media Contact:
Topics:
Share This:
Article Content
There is an exciting momentum at UC San Diego that is enhancing community spaces for Native American students, advancing research led by Indigenous scholars and inviting the next generation of tribal youth to experience what the university has to offer.
This year, the Intertribal Resource Center (ITRC) will move to a larger location and expand staffing with the addition of an assistant director. In the spring, UC San Diego will host the Dream the Impossible Native Youth Conference, welcoming over 500 middle and high school Native American youth to learn about college readiness.
These points of connection, collaboration and support for the Native American community are happening across the university, from offering a new Native American and Indigenous Studies (NAIS) program to improving Indigenous doctor education and infusing Native American cultures into the university's public art program with the addition of KAHNOP • TO TELL A STORY, an 800-foot-long stone path of words that features a Kumeyaay poem "Yeechesh Cha'alk" ("A Woman's Heart") down its center, written by UC San Diego doctoral alumnae Eva Trujillo and Alexandria Hunter.
"There is tremendous value in sharing and studying Native American and Indigenous cultures," said Chancellor Pradeep K. Khosla. "The convergence on our campus of many distinctive voices, concepts and experiences brings new ideas to longstanding challenges in science, technology, health and human interaction. This earnest exchange promotes inclusion, sparks innovation and helps develop more equitable solutions that benefit the many rather than the few."
A place of welcome
UC San Diego's Intertribal Resource Center (ITRC), one of six campus community centers led by the Office of the Vice Chancellor for Equity, Diversity, and Inclusion, serves as an important space for students to connect and find belonging. Elena Hood (Absentee Shawnee, Choctaw, Luiseño), director of the ITRC, calls the space "a home away from home" for Native American students–a familiar place where they can stop by to study, connect with others, ask for assistance or refuel between classes.
Since joining UC San Diego in 2016, Hood has worked tirelessly to ensure that the ITRC offers a sense of belonging to Native American students on campus. Students are invited to celebrate their accomplishments in ways that are culturally relevant as well as participate in larger events including the UC San Diego Powwow, California Native American Day, the American Indian Writing Circle, Native American Heritage Month and culture workshops focused on making art and building community.
Third-year student Melanie Estrella (Pascua Yaqui)—who is double majoring in sociology and in global health with a minor in Native American/Indigenous Studies—believes the greatest benefit of the ITRC is the close-knit community of students and staff she has found. Her connections have introduced her to research and career opportunities through the Native American Research Center for Health at the Indian Health Council, a facility providing health services to nine California tribes. She has also been able to network with leaders in her intended career field and receive academic and professional advice from ITRC staff members, contributing to her sense of belonging.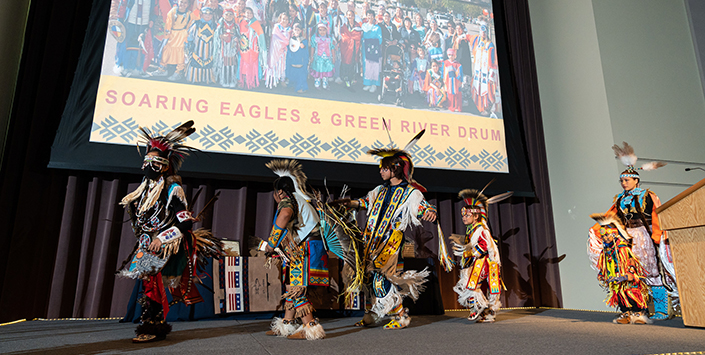 Academic programs improve access and promote cultural understanding
In addition to fostering a sense of belonging and community for Native American students, UC San Diego has developed a dedicated curriculum for students who are interested in advancing health equity for Native American people. Alec Calac (Luiseño), a fifth-year MD/PhD candidate in the School of Medicine and Herbert Wertheim School of Public Health and Human Longevity Science and national president of the Association of Native American Medical Students, helped establish UC San Diego's Program in Medical Education – Transforming Indigenous Doctor Education (PRIME-TIDE). The purpose of the program, along with its partner program at UC Davis, is to equip medical students at UC San Diego to serve the health needs of California tribes.
"At UC San Diego, we have seen tremendous changes in the climate for Native American students on campus," said Calac, who has advocated for years for increased access and inclusion for Native American medical students. "Changes include new curricula for all medical students focused on Native American health, a blessing and blanket ceremony for incoming Native American medical students, and new clinical training opportunities with Tribal and Urban Indian Health Clinics."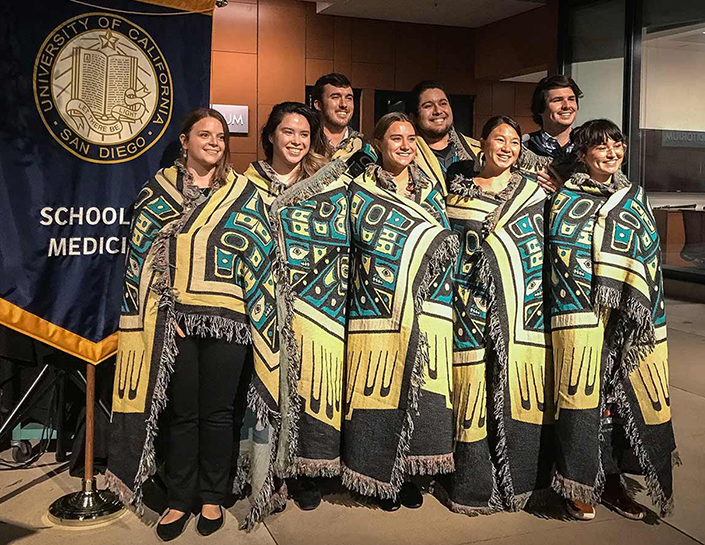 For those interested in engaging in Native American and Indigenous scholarship, both graduate and undergraduate students can enroll in the Native American and Indigenous Studies (NAIS) program within the Department of Ethnic Studies. Professor Andrew Jolivétte (Atakapa-Ishak, Hiyekti Band, Tsikip Clan), director of the NAIS program, said, "You can't really get a top tier education from a world-renowned public institution and not have training in Native American and Indigenous Studies."
The new minor, which was first offered in the Fall of 2020, provides undergraduate students from any background with a stronger understanding of Kumeyaay, California Native and Native American/Indigenous history and culture. Jolivétte, who is also chair of the Department of Ethnic Studies at UC San Diego, encourages all students to take advantage of the NAIS program–even if they enroll in just a single class–to enhance their understanding and appreciation of Native American and Indigenous contributions to society.
For Sierra Sims, a PhD student in Ethnic Studies who is enrolled in the NAIS Graduate Certificate program, the chance to learn from diverse faculty members was part of the draw.
"Learning what we learn and understanding the world in these unique perspectives are done through the teachings of talented, incredible Black, Indigenous, Dalit, queer peoples of varying backgrounds…NAIS has opened the space for these scholars and community members to speak, teach and learn."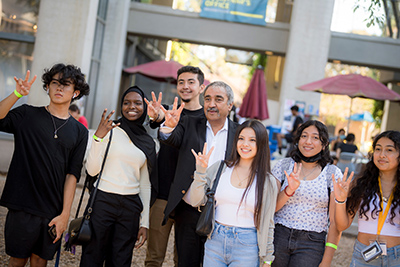 Advancing research through an Indigenous lens
Outside of the classroom, UC San Diego faculty researchers have been engaging Indigenous scholars in the community. The work is led by the university's Indigenous Futures Institute (IFI), co-directed by Assistant Professor of Education Studies Theresa Ambo (Tongva/Luiseño) and Assistant Professor of Anthropology Keolu Fox (Kānaka Maoli). Both came to UC San Diego through the President's Postdoctoral Fellowship Program. Through a cluster hire funded by the University of California's Advancing Faculty Diversity program, IFI will welcome additional scholars to its diverse cohort of Indigenous faculty focused on designing just futures.
"We earnestly work to place Indigenous Peoples in the driver seat of research initiatives," said Ambo. "We also advocate for Indigenous communities in the research partnerships and offer educational programs for the campus community."
Currently, IFI is supporting a community-driven project titled, "Unmapping UC Motkoolahooee," which examines the history and cultural significance of present-day La Jolla through the collection of archival research and oral histories from members of the Kumeyaay Nation. The project got a big boost with a recent $400,000 grant from the Lumina Foundation's Racial Justice and Equity Fund. The grant will also support other forthcoming IFI initiatives that will highlight the work of Indigenous scholars in the community. Some of these include an elective course currently titled, "Colonialism, Campuses, and the Kumeyaay Nation" that will be introduced in the Spring of 2023 and plans for a campus exhibit about Motkoolahooee.
By promoting partnerships with Kumeyaay scholars and supporting faculty diversity, Chancellor Khosla has made a long-term commitment to honor the Native American and Indigenous communities at UC San Diego and the surrounding area. These community partnerships include the creation of the Chancellor's Associates Scholarship Program (CASP, which will celebrate its 10-year anniversary in 2023.
These efforts are critical to building an equitable university where individuals from all cultures, backgrounds and identities can find a sense of belonging. As the ITRC's Student Assistant Melanie Estrella explained, "Growing up, I didn't have a tribal community…Coming here, I've found a home away from home."
Topics:
Share This:
Stay in the Know
Keep up with all the latest from UC San Diego. Subscribe to the newsletter today.