UC San Diego Physician-Scientist Richard L. Gallo Elected to National Academy of Medicine
Pioneer in research on the skin's innate immune system recognized for groundbreaking contributions in the field of dermatology
By:
Published Date
By:
Share This:
Article Content
Richard L. Gallo, MD, PhD, the Irma Gigli distinguished professor and founding chair of the Department of Dermatology at the University of California San Diego, has been elected to the National Academy of Medicine. Known worldwide for his work in human immunology, skin biology and the microbiome, Gallo is credited with discovering that the skin produces antimicrobial peptides and acts with the microbiome to protect against infection and regulate inflammation.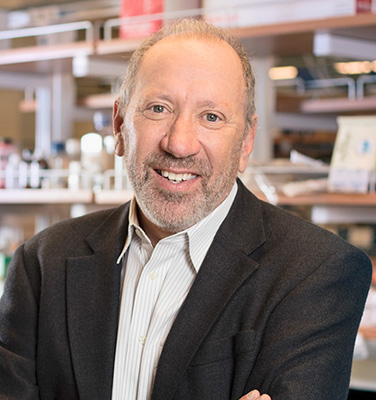 Considered one of the most prestigious honors in the fields of health and medicine, election to the National Academy of Medicine is reserved for individuals who have demonstrated outstanding professional achievement and commitment to service—and who have made major contributions to the advancement of the medical sciences, health care and public health. New members are elected by current members of the academy, which addresses critical issues in health, science, medicine and related policy and inspires positive actions across sectors.
"Not only is Dr. Gallo a trailblazing researcher, but he is also a dedicated mentor who has helped launch the successful careers of many scientists and physicians around the world," said UC San Diego Vice Chancellor of Health Sciences John M. Carethers, MD. "We are extremely proud of his election to the National Academy of Medicine—a remarkable achievement that lauds his leadership and expertise as a physician-scientist and his myriad contributions to the fields of dermatology, microbiology, allergy and immunology."
Gallo's findings, which revolutionized the medical community's knowledge of the skin microbiome, have led to numerous research breakthroughs and driven novel therapeutic approaches to common skin diseases such as atopic dermatitis and rosacea. Throughout his illustrious career, which has spanned more than three decades, Gallo has authored more than 450 publications—many in high-profile journals—and has been cited more than 75,000 times.
"I am thrilled and greatly honored to be recognized by NAM, and I feel very lucky to be part of UC San Diego," said Gallo. "It has been a joy to work with a remarkable group of colleagues, students and collaborators that has made this possible."
In a study published in Science Immunology in 2021, Gallo and colleagues identified two enzymes that inhibit the body's inflammatory response in the skin when exposed to potential microbial "intruders." This discovery provided a new way to think about skin immune regulation and could change how doctors treat certain types of skin inflammation or other dermatologic conditions.
In 2018, Gallo led a team of researchers in identifying a strain of bacteria, common on healthy human skin, that exerts a selective ability to inhibit the growth of some cancers. His group then performed a successful clinical trial of this strain as a live biotherapeutic for treatment of atopic dermatitis. This work bolstered a body of evidence that the skin microbiome is an important element of human health.
Gallo received his training at the University of Chicago, the University of Rochester, Johns Hopkins Hospital and Harvard Medical School. In addition to his recent election to the National Academy of Medicine, Gallo has previously been elected to the American Association for the Advancement of Science, the American Society for Clinical Investigation, the Association of American Physicians, the American Society of Microbiology and the American Dermatological Association. He also has received numerous awards and named lectureships for his work.
Stay in the Know
Keep up with all the latest from UC San Diego. Subscribe to the newsletter today.