Rady School Leverages AI to Prepare Next Generation of Business Data Scientists
The school provides students with Generative AI understanding and experience so they can use the technology effectively and give their organizations a head start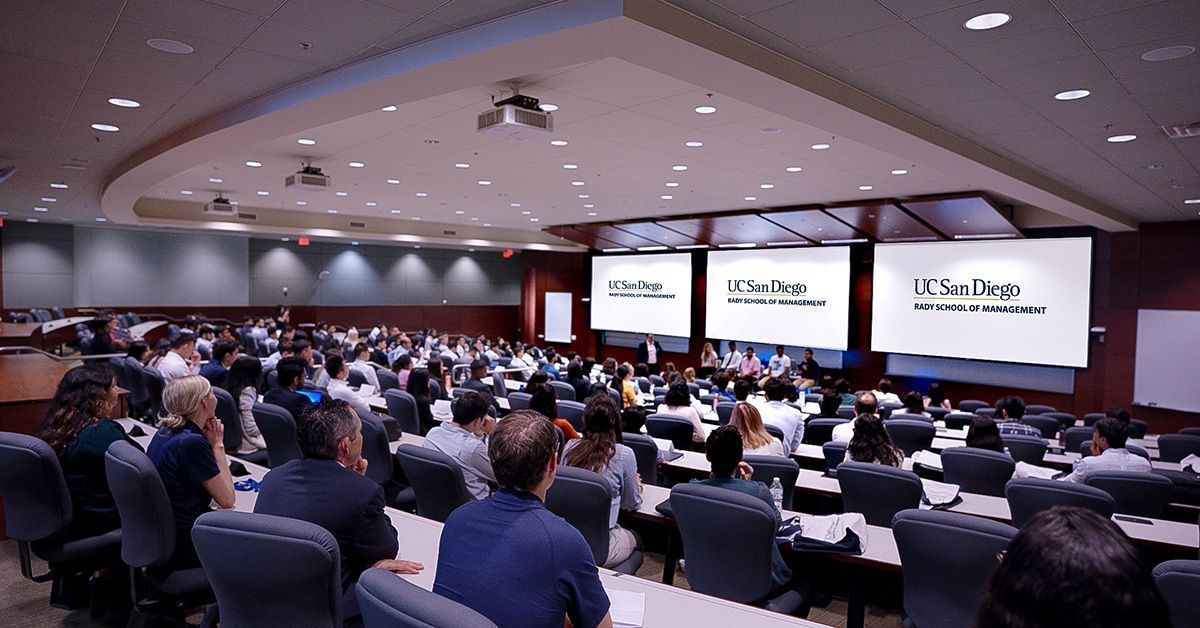 Published Date
By:
Topics:
Share This:
Article Content
The wave of new and improved AI tools has taken the world by storm. Initial experimental studies clearly show the massive impact that Generative AI (GenAI) tools—which are capable of generating text, images and more—are having on societies. Businesses and organizations are already exploring questions such as: Which business processes can be improved with GenAI? Where can costs be reduced? Which job scopes should be changed or expanded?
The Rady School of Management is preparing its next class of graduates to address these issues and more by integrating GenAI into the full-time and part-time Masters in Business Analytics (MSBA) degree programs, which like all of Rady's graduate programs, is Science Technology Engineering and Mathematics (STEM) designated.
"In the MSBA program at Rady we believe that GenAI won't replace humans, but humans who leverage GenAI may replace those that do not," said Vincent Nijs, associate professor of business analytics and marketing and faculty director of the MSBA programs. "Our redesigned curriculum will integrate GenAI to accelerate how students learn both data science and business principles. As a result, our graduates will be able to use these new technologies to impact business outcomes faster and at scale."
In this Q&A, Nijs and Ion Nemteanu, executive director of the MSBA programs, discuss how GenAI is being incorporated at the Rady School and how the new technology is already transforming business across the globe.

Why has GenAI been integrated into the MSBA programs at Rady?
Nijs: GenAI is already transforming the ways people learn and work in many ways. Rather than fight the coming changes, we aim to teach our students skills that will complement what these tools already bring to the table.
We will be able to improve students' math, programming and machine-learning skills in less time. As a result, our students will be able to develop a deeper understanding of the business problems they will solve using GenAI and machine learning during their capstone projects (in which they help an organization solve a real and pressing business challenge) and after graduation. Our part-time MSBA students, who are working professionals, will be able to have an immediate impact and bring value to their organizations as they learn to integrate GenAI into existing business processes or design new ones where different tasks can be maximally supported by GenAI.
In addition, GenAI will reduce the technical barriers to be successful in the program. For example, translating ideas into Python code with these tools will be much more efficient. Every incoming MSBA student along with program instructors and teaching assistants, will have access to GenAI to help in task completion. They basically have a personal AI tutor and can spend more time on valuable tasks like data exploration, applying advanced analytics and creating a tangible impact on the business problems they are trying to solve. Developing talent that has this experience, along with strong business acumen, will create business data scientists that are perfectly equipped to solve the business problems of the future and find innovative ways to help businesses grow.
Why is data science critical for business?
Nijs: The Bureau of Labor Statistics projects data science job growth of 36% by 2031, which is much faster than the average for other roles. This is because businesses have access to huge amounts of data about their customers, supply chains, markets, devices, services, etc. So much so that developing creative ways to access, analyze and find patterns is particularly challenging but also necessary to stay competitive. Not only do business data scientists have to find meaningful insights, but they have to do it fast and at scale. GenAI can help business data scientists achieve these goals.
Business data scientists are integral to helping organizations make informed decisions, improve their business processes, design and develop new products, effectively market their products and more.
How is GenAI being integrated into the MSBA program?
Nijs: We see GenAI as both a skill multiplier and a skill extender. That means students offered GenAI-enhanced learning will be stronger in terms of both their depth and breadth of understanding and abilities. By taking this big step forward we will have to work on new and better ways to continue challenging our students. GenAI-assisted learning will allow us to increase class expectations with respect to both the quantity and quality of student work. We are also creating customized GenAI policies for each MSBA class to ensure students are able to leverage these tools appropriately to maximize learning.
Students will also learn to use GenAI responsibly. Checking the work and using GenAI as a partner, but making sure that it's not hallucinating and that the work they submit is valid, credible and returns appropriate results. No matter if GenAI was or wasn't used for a particular task, we require that students can understand and explain every detail of their work. Students need to learn how to partner effectively with GenAI which takes practice.
How is GenAI already transforming businesses and how is Rady preparing students for these changes?
Nemteanu: These technologies are still so new that the first major experimental studies are just starting to come out. They clearly show the massive impact these tools can have on individual and company performance.
For example, a paper published in Science demonstrated that ChatGPT was able to reduce the time required for a business writing task by 40% while at the same time increasing the quality of the work. After using AI, participants were also significantly happier. Why? Likely because it helped them complete tedious work at a much faster pace.
Our full-time students are going to have the real-world experience of using these technologies, building analytic solutions better and faster, something that will resonate with hiring managers. Students in our part-time MSBA program, who are working professionals, are going to be able to take what they learn and immediately apply it in their organization and have a lasting impact on near-term and long-term strategies and business goals.
Why should UC San Diego undergrads consider this program?
Nemteanu: We believe that GenAI-assisted business analytics can add an extremely valuable layer of skills for many UC San Diego graduates. Studying data science for business (aka Business Analytics) is important because business is a science--whether it's finance, marketing, supply chain--they require data and analysis to ensure every decision is data driven and credible.
If you have a technical undergraduate degree, we can bolster your job market outcomes (i.e., job title and salary) by helping you translate and enhance your skillset and set you on a GenAI-assisted path that solves business problems using data science tools. If you have strong domain expertise in a substantive area, e.g., biology, we can augment your abilities with a high-powered data and GenAI literate skillset. In short, a master's degree in Business Analytics can supplement any background and contribute to a very exciting future with amplified career opportunities.
Topics:
Share This:
Stay in the Know
Keep up with all the latest from UC San Diego. Subscribe to the newsletter today.