Q&A: Medical School Minute
Medical Students Share Answers to Frequently Asked Questions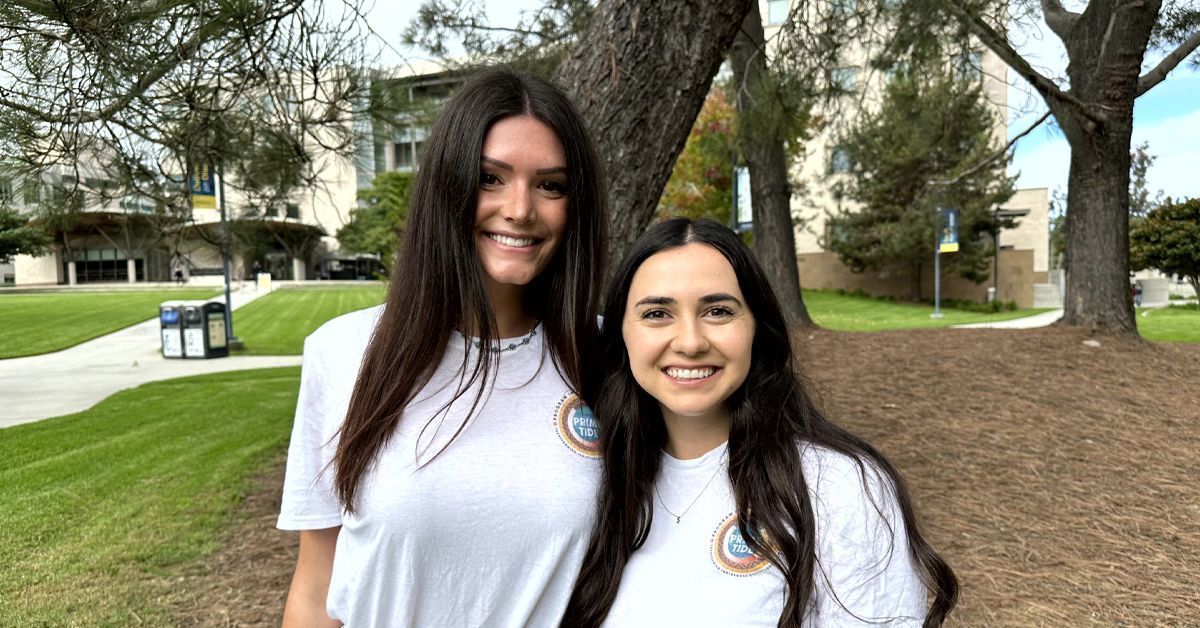 By:
Media Contact:
Published Date
By:
Media Contact:
Topics:
Share This:
Article Content
November is recognized as Native American Heritage Month, a time to recognize the rich ancestry, traditions, history and contributions of Native people. The University of California San Diego School of Medicine sat down with two students who are citizens of the Chickasaw Nation to learn more about their stories.
Rachel Maguire and Marissa Stinnett are both first-year medical students in the School of Medicine's Program in Medical Education – Transforming Indigenous Doctor Education (PRIME-TIDE).
Q: What led to your interest in medicine?
Maguire: I've been an athlete my whole life, so I've been in and out of doctor's offices and specifically in college, I was frequently visiting my sports medicine physician. Through those visits, I learned that there are unique interpersonal relationships that go into medicine and that a physician's role as an advocate is incredibly impactful. Being a member of Chickasaw Nation, I've always wanted to give back to my Native American community and to be able to advocate for them in the current complex health care system.
Stinnett: For me, I grew up with a mom who was a physician, so I was introduced to the world of medicine at an early age. I went into undergrad as a pre-med major because I thought that's what I was supposed to do. Fall quarter of my freshman year I took chemistry, as well as a Shakespeare class. I didn't do as well in chemistry as I would have wanted, but I loved my Shakespeare class. I switched my major to English, but over the next few years, I kept coming back to medicine. As I had more clinical experiences, I realized that instead of looking at my background as an English major as a weakness, it's actually something that brings me strength because it allows me to put myself in my patient's shoes and understand what best communication skills are necessary in order to make sure that those vulnerable moments are not as scary and a little bit easier to handle.
Q: Why did you choose UC San Diego School of Medicine?
Stinnett: UC San Diego had the combination of what I was looking for in a medical school – being a powerhouse research institution, as well as one that's deeply committed to serving underserved communities. Just stepping on to the campus, there was a feeling of inclusion, understanding and support. It's something I've not experienced anywhere else, and I knew right in that moment, this was the place for me.
Maguire: During interviews I really felt that UC San Diego had a commitment to its community, specifically the underserved communities in San Diego. I felt that my experience is really aligned with the mission of UC San Diego, especially with the PRIME-TIDE program's commitment to serve the Native American communities. I felt there were a lot of opportunities for students to be engaged in the community early on as well, with free clinic and specifically working within tribal community centers. It was a perfect fit for what I envisioned where I would be for medical school.
Q: Why is PRIME-TIDE important?
Maguire: There are not many programs in the country that are geared towards the next generation of physicians being appropriately trained and having the tools to care for indigenous communities. We take classes and learn the specific needs of the indigenous communities that are so unique compared to other communities. As a member of Chickasaw Nation, it's my goal to work within the indigenous community and care for the overall community.
Stinnett: There is a huge need for Native physicians, in general. This is an invaluable program for us because not only are we going to be able to represent our community, but we're also going to be able to better understand our patients' needs in addition to their barriers to care. PRIME-TIDE equips us with the knowledge and fundamentals to provide the best care for our future patients.
Q: What has surprised you most about medical school?
Stinnett: Coming into medical school, I was nervous about possible negative "pre-med" culture that I experienced at my undergraduate institution. However, I could not have been more wrong. Our classmates are not only going to be incredible doctors, but in general, they are wonderful people. I'm excited to continue to learn together and make lifelong memories as a medical school class!
Maguire: What surprised me the most about medical school is the number of opportunities. You can make it what you want it to be, which is incredible. For example, two of our friends established a student interest group within the first couple weeks of school because there was a need for it. The school provided the resources for them to do that. I think it just goes to show that, UC San Diego is very supportive and gives you those opportunities to make it what you want.
Q: What advice would you give to someone thinking about pursuing medical school?
Maguire: I would say to continue your hobbies and anything that you're interested in. If you're really interested in a certain community service or engagement, keep doing that because your hobbies and your interests are what make us such a diverse class. It's important that we can learn from each other and inspire each other.
Stinnett: I think it's important to always remember your "why medicine." Medical school is a long, difficult journey, and being able to reflect on why you wanted to practice medicine in the first place allows you to stay grounded. It makes all the hard work seem less difficult, knowing you're working towards the end goal of caring for your future patients.
Q: What has been your favorite or most memorable experience in your medical education at UC San Diego?
Maguire: It's not academically related, but after Foundations of Medicine, which is our first block of medical school, we as an entire MS1 class went out to La Jolla Shores beach and celebrated the block ending. It was a cool moment where most everyone was out there and we were just having a good time and taking in the San Diego area, as well as just supporting each other.
Stinnett: In addition to that celebration at the beach, the Student-Run Free Clinic has been the most impactful part of my medical education so far. When I had a hard week, and then went to my first free clinic shift, I got to interact with a Spanish-speaking patient who really needed our help. As someone who speaks a little bit of Spanish, it was really rewarding to utilize many different skills to give them the best care possible. Even more so, interacting with patients so early on in my medical education makes me excited to do this every day for the rest of my life. I know there's nothing else I'd rather do.
Q: What do you hope to do in the future?
Stinnett: I hope to stay in San Diego and practice within this community. I'm open to any medical specialty as of now, but I'm most interested in ophthalmology. I hope to conduct research in the field that will allow me to better understand why and how Diabetic retinopathy disproportionately affects Native Americans. I'm excited to explore this while here at UC San Diego School of Medicine so that in the future, I can screen indigenous patients and give them the education that they need to make sure that they can combat this disease to the best of their ability.
Maguire: I'm also still open. I'm thinking more about family medicine and pediatrics right now just because I think the relationships you can build in those two specialties would be very impactful. I hope to work with the Native American community in San Diego specifically, since there is such a large population and really give them the support and advocacy that they deserve.
Topics:
Share This:
Stay in the Know
Keep up with all the latest from UC San Diego. Subscribe to the newsletter today.