Origin Story
A re-imagining of the future through speculative fiction.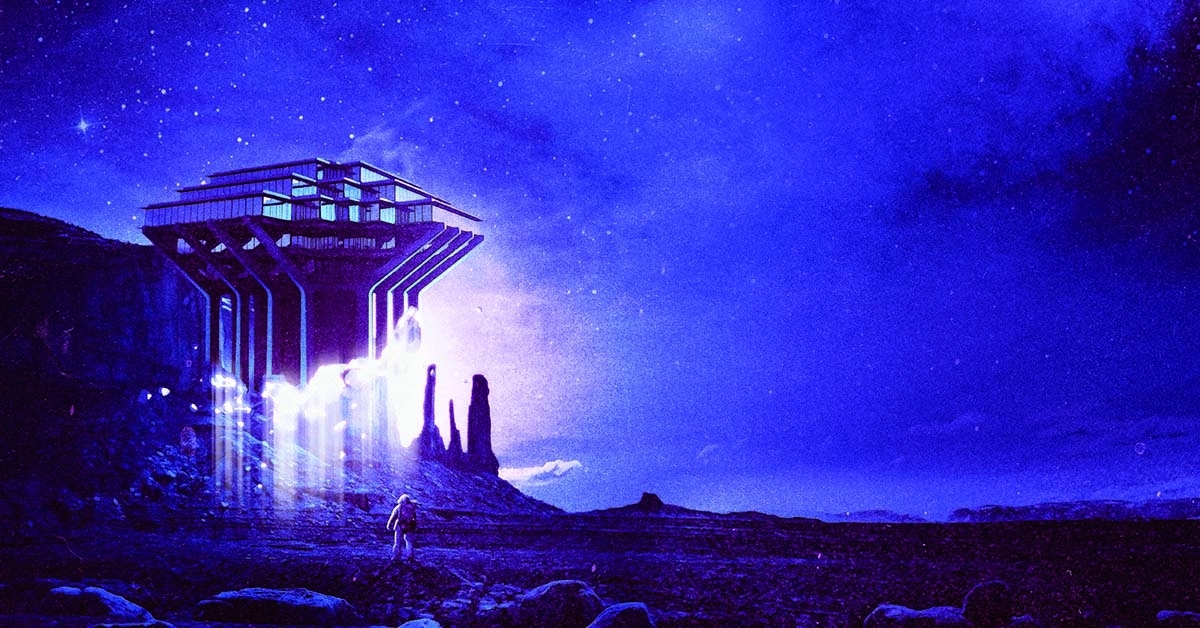 By:
Media Contact:

Published Date
By:
Media Contact:

Topics:
Share This:
Article Content
This story was published in the Fall 2022 issue of UC San Diego Magazine
I am living in Margaret Atwood's Handmaid's Tale. My mind races to a future that looks like the topography of Octavia Butler's Parable of the Sower blending with the post-government-collapse world of David Brin's The Postman. When I close my eyes, I see all at once the possibility of a primitive post-nuclear-war America in Kim Stanley Robinson's Wild Shore, life on the Great Pacific Garbage Patch in The Future is Red by Catherynne M. Valente, and my own post-apocalyptic setting of RESET, where memories are erased in the name of peace.
For some, fiction is not real life. For others, myself included, effective fiction condenses reality and distills it into a droplet of pure life.
Stories have had an influential impact on our physical world: the big screen televisions and interactive games from Ray Bradbury's Fahrenheit 451 and the electric cars and hydrogen cells of Star Wars are now part of our everyday landscape. Fiction, specifically science fiction, has motivated real-life scientific exploration and research. The inventor of the cell phone, Martin Cooper, credited Star Trek as the major source of inspiration. Most recently, The Ministry for the Future by UC San Diego alumnus Kim Stanley Robinson '74, PhD '82 is being touted as a blueprint for world leaders to work together to combat climate change.
So, when I was given the opportunity by UC San Diego Magazine to interview speculative fiction writers who are also alumni, I could not have been more honored. While this university has always been at the forefront of leading-edge research and innovation in the sciences, not many know it is also a fertile ground for storytellers, especially in the speculative fiction realm. In addition to the literary titans Brin, Robinson, and Valente, our alumni also include Aimee Bender '91, Vernor Vinge, MA '68, PhD '71, Luis Alberto Urrea '77, Nancy Holder '76, and Gregory Benford, MS '65, PhD '67. This campus, our campus, is home to authors who have made an impact on millions. And those millions have affected those around them.
Being at the beginning of my own path as an author of speculative fiction, I can't help but wonder: What is it about UC San Diego that has created so many sci-fi and speculative fiction writers? Is it a mere coincidence? A statistical anomaly? Is there something in the water? Or is it from causation and interconnection? When I was offered the opportunity to interview speculative fiction writers who are also alumni, I could not have been more excited to explore this phenomenon.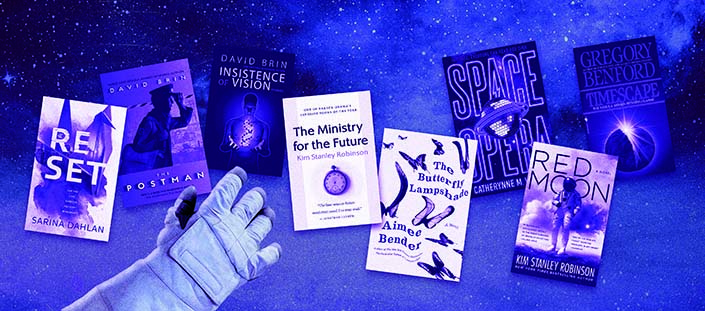 SARINA DAHLAN: There's a phenomenon of UC San Diego having produced so many notable writers in the speculative realm. How did this place play a role in you becoming a writer?
DAVID BRIN, MS '78, PHD '81: UCSD typifies the notion of training broad-minded citizens with breadth requirements. Those who go into STEM fields are asked to taste from far-afield realms like literature, art, history and law. It is breadth that engenders true innovation.
KIM STANLEY ROBINSON '74, PHD '82: I'd agree with that. I was an English major, but UCSD was a scientific school and Muir College wanted you to take a year of science and a year of math as a requirement to graduate. Also, my professors were instrumental. Patrick Ledden was my geometry teacher, and he would also do a literary seminar. I had literature professor Donald Wesling who took my writing very seriously. He would read my stuff the same way he would read James Joyce and make the same level of comments. Also, I had Fredric R. Jameson, who is the most famous living Marxist literary scholar. He's a winner of the Holberg prize, which is the Nobel prize for cultural criticism. I was also in Ursula K. Le Guin's classes. I bothered her during her office hours all the time. So, for me, UCSD could not have been more perfect for an education for a science fiction writer.
DAVID: I also attended a class taught by Ursula K. Le Guin. She was famous in literary circles as being one of the doyens of science fiction. Author Luis Alberto Urrea '77 had her as a professor as well.
CATHERYNNE M. VALENTE '02: I had great relationships with all my professors and they were really wonderful people who were incredibly supportive of me. Leslie Edwards, Tony Edwards, Paige duBois. I wrote my first fiction ever for a writing class at UCSD with Rae Armantrout whom I had no idea is insanely famous in literary poetry circles. Though I was working in science fiction and it's not her genre, she gave me useful feedback on how to be better in my genre. From her, I learned to fight against clichés in writing.
AIMEE BENDER '91: It was in my second half of my time at UCSD that I started taking writing workshops and had a bunch of amazing professors like Fannie Howe, Deborah Small, and William Murray. Fanny Howe was so encouraging and delighted by the strangeness in my stories. Deborah Small was bringing in current events that were happening in the world, and showing how that was affecting her and affecting writing. That was a mind-opener for me.
SARINA: There's something to learning science alongside art. I studied psychology and visual arts. From my art professors, I learned to look at life with a critical eye and see the past as being deeply interconnected to the future. My psychology professors showed me the landscape of the brain is a new frontier. That they, too, were still students of the human mind. To be told by leading scientists that science isn't fixed, that it starts with curiosity, was mind-blowing and empowering. My professors from both disciplines taught me to think for myself.
AIMEE: It's important to foster a kind of openness in the classroom [Bender is a professor at USC]. Of never feeling limited or restricted… of never turning away from genre if the genre is interesting and attentive to language. And never feeling like you have to write in a certain way to be considered literary. Any place that nurtures that openness is helpful to writers.
SARINA: Absolutely. What do you think is the purpose of speculative stories aside from entertaining readers?
DAVID: Fiction writing is the last great form of magic. It's the creation of an incantatory spell that causes changes in reality. I believe we're alive today because of cinema science fiction. The number of nuclear war warning movies—Dr. Strangelove, Fail Safe, WarGames—each of them about potential failure modes has led to changes in procedures. All the virus movies that got more funding for anti-pandemic work. Speculative fiction is a self-preventing prophesy. Our civilization's success depends at least as much on the mistakes we avoid as successes we plan.
AIMEE: It's a way to contend with and think about things that I know I can't really think about another way. It's a way to process the experiences that we're all going through but we're so close to it that we can't except through art.
KIM: Art has to be a maximum of entertainment and education. I try to do both. Speculative fiction is a form of intellectual play. It's the asking and answering of the question, "What if?" Near-future science fiction has turned into climate fiction because climate change is with us. Can't escape it. If you're going to write about our near future, you're going to write about climate change because it's the big story.
CATHERYNNE: I couldn't agree more. I think that science fiction has actually been part of the vanguard of making people aware of climate change. By showing how bad things can get and, in some visceral way, convince people to care. It is about as effective as any multi-million-dollar marketing campaign, inasmuch as it can be. Telling stories about how we get out of a problem is a small part of how we do get out of it.
SARINA: Effective storytelling is a powerful device. How do you see your role as a storyteller?
KIM: What I'm doing is what I call "utopian science fiction." I've been doing that for 30 years now since Pacific Edge, trying all kinds of different angles. Ministry for the Future has caused me to realize that people want a story of things going well in these next 30 years because it seems so dire and it is dangerous. The novel gives you a framework—a vision of us dodging the mass extinction event. Then you can imagine that your little project, whatever you personally are engaged in, is part of a bigger project and will slot in like bricks in a wall. And if everybody does that, we could be okay. A utopian novel gives people a sense that we could get there, or it would be like this if we got there. Hope is a moral obligation. Optimism is a choice.
SARINA: "Hope is a moral obligation" is going to be my mantra from now on.
CATHERYNNE: Part of the power of writing for younger readers is helping them see that empathy is a superpower. With my writing, I make this 'little empathy bomb' and I lob it into the future, and I hope that it goes off for somebody who can build a path.
SARINA: I love the idea of books as little empathy bombs so much. I can honestly say that certain books have changed me for the better, thanks to writers such as you. How has writing changed your own life?
KIM: Ministry for the Future has changed my career. Because of it, I'm now doing consultations. I spent 12 days at COP26 (United Nations Climate Change Conference) in Glasgow, speaking multiple times a day. I'm off to India to do an event with the Dalai Lama. For a while there, I have to admit it was scaring me because I'm just a novelist. But recently when people come to me with a question or a hope, I can pass them along to someone who really does know. So, I have become like a networker, a bridge, a node, or a bridge between actual experts that as good as they are, this world is so big, they didn't know about each other.
DAVID: Writing changed the projection of my life. While studying for my doctorate in astronomy, I wrote as a hobby. The success of my book helped me pay my way through grad school. And my second novel... well, it was a hit. I'm still with NASA's Innovative and Advanced Concepts program. I give futurist consultation for defense agencies and businesses. I'm also running this series of young adult novels and mentoring young writers. There's a role of science in art and art in science. That was my hope when I helped establish the Arthur C. Clarke Center for Human Imagination at UCSD.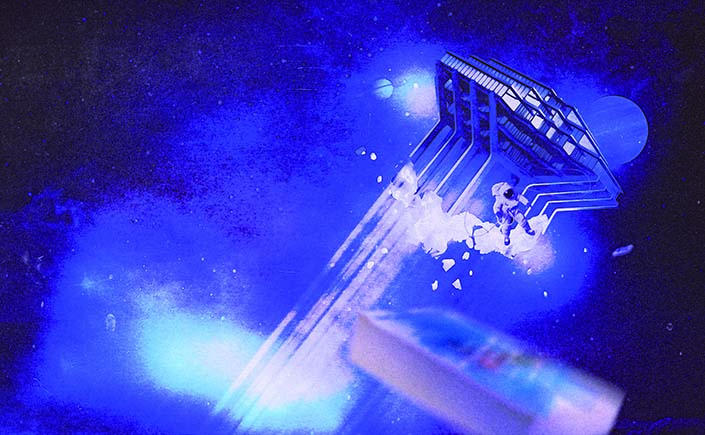 Writers have the power to transport us. They give us a way to close our eyes and see futures that have yet to come, reveal alternate history to show how one decision can alter the path of many, take us to the stars and the bottom of the ocean, and capture worlds woven in dreams.
And their stories matter. The need for stories and the need to tell stories have been embedded in the human psyche since we learned to communicate with one another. They're integral to our human existence.
UCSD—with its breadth requirements of science alongside arts and humanities, professors who are pioneers in their fields teaching young minds to think for themselves, and openness to change—has fostered many sci-fi and speculative fiction writers. In turn, they have been, in their own ways, trying to preempt horrible fictional scenarios from becoming reality, helping young minds form empathy toward other humans, and showing us alternate paths to a utopian world. Lofty goals. Optimistic goals. Necessary goals.
This type of teaching and learning is exactly why I am now a writer of speculative fiction. And that's what's in the water.
Topics:
Share This:
Stay in the Know
Keep up with all the latest from UC San Diego. Subscribe to the newsletter today.