Theoretical Physicist Olga Dudko Named American Physical Society Fellow
Published Date
By:
Topics:
Share This:
Article Content
Olga Dudko, professor of Physics at the University of California San Diego, has been named an American Physical Society (APS) Fellow. The fellowship is a distinct honor — each year, no more than 0.5% of APS's membership is recognized by their peers for election to the status of fellow.
Dudko was recognized for developing a non-equilibrium statistical mechanics theory to study the response of biomolecules, chromosomes and viruses to external forces, thus providing a framework to identify and characterize biological processes from kinetics experiments.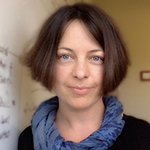 Earlier this year, she discovered a theory of synaptic transmission that revealed synapses with strikingly different properties still exhibit similar patterns and behaviors, and these similarities can be precisely captured through a universal scaling law.
Dudko completed her undergraduate and doctoral work in physics in Kharkiv, Ukraine, and was a postdoctoral researcher in Tel Aviv University and the U.S. National Institutes of Health until 2007, when she joined the UC San Diego Department of Physics.
APS is a nonprofit organization working to advance and diffuse the knowledge of physics through its research journals; scientific meetings; and education, outreach, and advocacy activities. APS has more than 50,000 members, including physicists in academia, national laboratories, and industry around the world.
The APS Fellowship Program was created to recognize members who may have made advances in physics through original research and publication, made significant contributions in the application of physics to science and technology, or have made significant contributions to the teaching of physics or service and participation in the activities of the Society.
Topics:
Share This:
Stay in the Know
Keep up with all the latest from UC San Diego. Subscribe to the newsletter today.