In Memoriam: Nobel Laureate Harry Markowitz Passes at 95
The legendary economist was an adjunct professor the UC San Diego Rady School of Management and benefactor to the school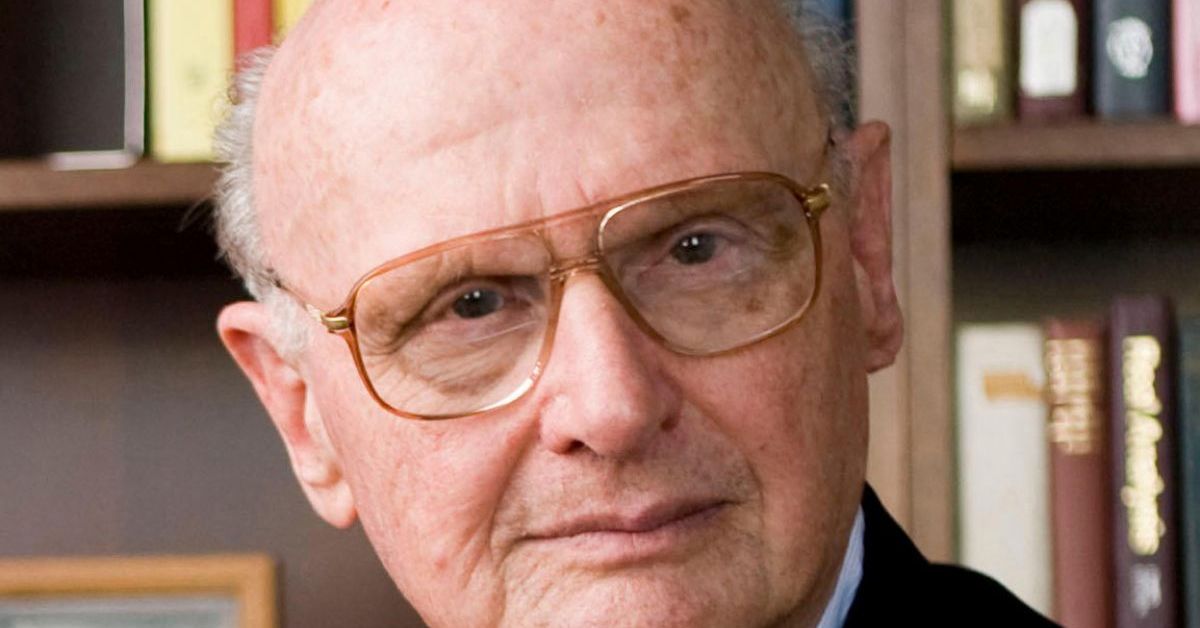 By:
Media Contact:
Published Date
By:
Media Contact:
Share This:
Article Content
Revered economist and Nobel Laureate Harry Markowitz, a former adjunct professor at the University of California San Diego Rady School of Management, died on June 22. He was 95.
Markowitz earned the Nobel Prize in economic sciences in 1990 for his revolutionary research on buying stocks, which changed traditional thinking of portfolio investments. Markowitz's paper "Portfolio Selection," published in the Journal of Finance in 1952, upended the standard thinking on investing, which at the time consisted of simply choosing shares of a group of companies that were thought to have the best prospects.
Known as the Father of Modern Portfolio Theory, Markowitz drew from statistics and advanced mathematics to introduce the theory that the best choice of a portfolio is one that minimizes risk for a given expected return. He was the first to apply these methods to the benefits of portfolio diversification, introducing the world to a new type of investing. This breakthrough has now permeated all aspects of money management.
From 2007 until he retired in 2019, Markowitz, served as an adjunct professor at the Rady School of Management where he taught portfolio theory.
Markowitz and his late wife, Barbara, were also longtime benefactors to UC San Diego. They gave more than $6 million in donations, primarily to support the Barbara and Harry Markowitz Fellowship, which benefits Rady School of Management students. In 2018, Markowitz donated his Nobel Prize medal to the Rady School and it was placed in the Special Collections and Archives at UC San Diego's Library.
"We are deeply saddened by the loss of Dr. Harry Markowitz, who had an indelible impact on UC San Diego," Chancellor Pradeep K. Khosla said. "Much like the global impact of his seminal work in the field of financial economics, Harry changed our campus with his dedicated research, collaboration and generosity. His sustained commitment to this university is reflected not only in the Barbara and Harry Markowitz Fellowship, which he established with his late wife Barbara, but also through the gift of his 1990 Nobel Prize medal to the campus. His legacy of passion for teaching, quest for truth, innovation and love for UC San Diego will continue to inspire our students and faculty for many, many years to come."
Markowitz was born on Aug. 24, 1927, in Chicago. During high school, Markowitz picked up an interest in physics and philosophy. He went on to enter a two-year undergraduate program at the University of Chicago and earned a bachelor's degree in in liberal arts in 1947. He stayed to pursue a master's degree in economics, which he received three years later. In 1954, he also earned a doctorate in economics from the University of Chicago.
It was while conducting research for his dissertation where he developed an interest in applying mathematical methods to the stock market. Jacob Marschak, who was the thesis advisor, encouraged him to pursue the topic, which led to the development of his seminal theory of portfolio allocation under uncertainty, later published by the Journal of Finance.
Related work on investments led Markowitz to be regarded as a pioneer of behavioral finance, the study of how people make choices in practical situations.
His distinguished career includes working on the research staff for the RAND Corporation, International Business Machines Corp (IBM) as well as founding and leading several firms. Throughout his life, Markowitz taught at various preeminent universities including Rutgers University, the University of Pennsylvania's Wharton School, the University of California, Los Angeles and finally UC San Diego.
In 2017, he said "I taught full-time, part-time and lectured all over the world; but the Rady School and UC San Diego are my home."
Rady School of Management dean Lisa Ordóñez remarked, "Our hearts are very heavy at UC San Diego and the Rady School of Management, as Dr. Markowitz's legacy is part of the fabric of our school. In many ways, he embodied the way we approach our research. He introduced the world to radical thinking and did so with a quantitative mindset. He was a legendary economist, but Dr. Markowitz was also a kind, humble man who loved teaching and who was beloved by many of his students. We are extremely grateful for all the ways he contributed to our campus which has truly made a difference."
Allan Timmermann, the Dr. Harry M. Markowitz Endowed Chair in Finance and Investing and distinguished professor of finance at the Rady School of Management, was a close friend with Markowitz.
"We have lost a great individual and friend of the school. He'll be greatly missed by all of us," Timmerman said. "He had a wonderful sense of humor and a calm perspective that made people feel at ease even in times of crisis, like the COVID-19 pandemic and the Global Financial Crisis, when he always saw the bigger picture. I remember being on a panel with him during the Global Financial Crisis in 2008-09. Most investors were deeply troubled by the demise of Lehman and the real estate meltdown, but Harry was cool and clearheaded as always, pointing out that the occasional period with large negative market returns of the magnitude observed at the time was entirely consistent with modern portfolio theory."
Timmermann added, "I always point out to my students that Harry's pathbreaking work on Modern Portfolio Theory continues to be called 'modern' today, even though it was published in 1952. What else remains modern after 70 years?"
In addition to the Nobel Prize in economic sciences, Markowitz was awarded the John von Neumann Theory Prize in 1989. He was also described as "the man of the century" in 1999 by international financial newspaper Pensions and Investments.
Markowitz is survived by his children, Laurie Raskin, Steven Markowitz, Susan Ulvestad and David Markowitz; his stepson, James Marks and 13 grandchildren as well as more than a dozen great-grandchildren.
Stay in the Know
Keep up with all the latest from UC San Diego. Subscribe to the newsletter today.