First Residents Move into Framework, a UC San Diego Community Downtown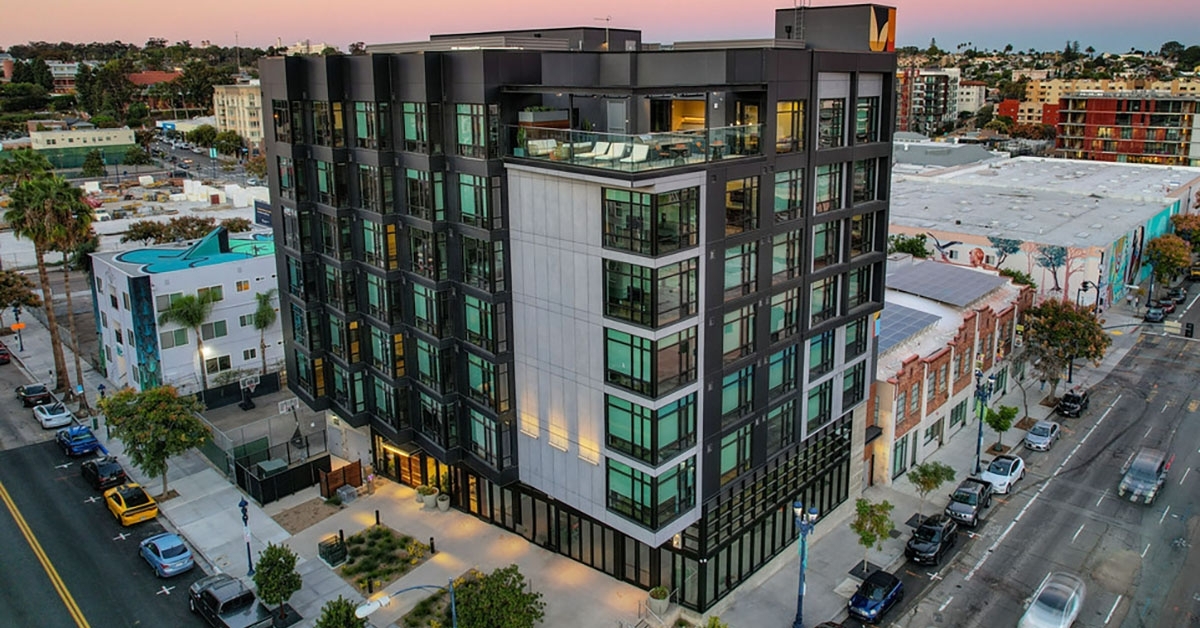 Published Date
By:
Share This:
Article Content
When two UC San Diego Blue Line trolley stations opened on our campus just over a year ago, it marked a significant change in the way the community connected with the campus, and also how the campus could build connections throughout the region.
The trolley not only established a direct, fast and cost-effective commuting option—the Blue Line extension already accounts for 19% of Blue Line ridership—it also supported a strategy to provide access to housing for UC San Diego faculty and staff.
In San Diego, vacancy rates have been critically low for years, with the demand for housing outpacing what was being built. This posed a challenge for faculty and staff looking for rental apartments, particularly in neighborhoods with access to public transit options connecting to the La Jolla and Hillcrest campuses.
For that reason, UC San Diego is working to provide access to transit-oriented rental housing, prioritized for UC San Diego and UC San Diego Health faculty and staff. This housing will span a wide range of rental rates based on apartment sizes, amenities and locations. Rates are set to cover costs, which means that rent will be at the lower end of market rates.
Unlike any other academic medical center in the county, UC San Diego's Hillcrest redevelopment project includes 1,000 new apartments. Plans are also underway to build staff and faculty housing on the east side of our La Jolla campus.
The university is also investing in other properties within walking distance of the UC San Diego Blue Line trolley. The first of which is Framework, a property in downtown San Diego that provides 87 fully-furnished modern studio apartments right around the corner from UC San Diego Park and Market.
Faculty and staff have already started to move in. David Lightfoot is an administrative assistant at the Halıcıoğlu Data Science Institute (HDSI) at UC San Diego. Before joining HDSI, he worked in various departments on campus after graduating from UC San Diego in 2020.
When asked what drew him to the apartment, he shared that he takes advantage of the easy commute to campus, but that the apartment ticked a lot of boxes, "Learning that UC San Diego had bought a brand-new apartment building, in the middle of downtown San Diego, with fully-furnished and reasonably-priced modern studio apartments."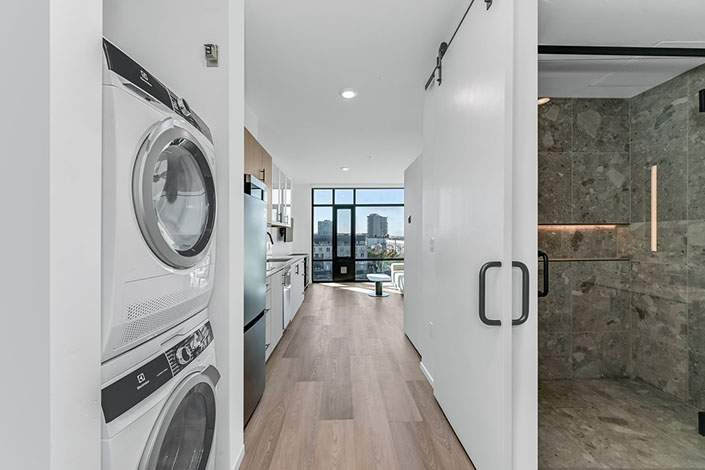 Framework has several innovative automated and app-controlled features. Maybe you like to come home to a bright and warm kitchen? Heating and lighting can be pre-programmed to make that happen. "Having a smart-technology and app-controlled residence allows you to focus on the things you want to do by automating specific tasks, fine-tuning your environment and having access and control remotely from anywhere at any time," Lightfoot said.
When asked what surprised him the most about the space once he had moved in, he added, "There are no physical keys involved—everything you would need a key for you can unlock with your phone through an app or the key fob the leasing office gives you when moving in."
While Framework offers convenience and luxurious modern amenities, the best aspect of all may be the opportunity to build community among other faculty and staff living there. Lightfoot is already taking advantage of the multiple common areas in the building. "I appreciate the convenience of having a gym in the building, the option to do my work in the co-work space and being able to relax at the rooftop lounge with my friends and family," he said.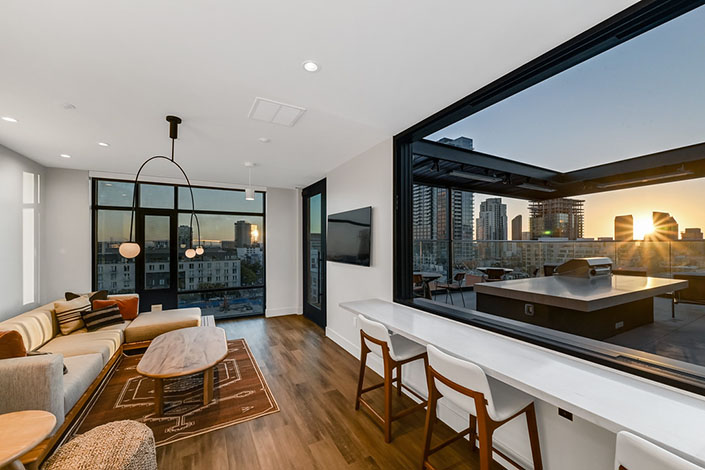 Property manager Xochitl Logan lives at Framework, and is a helpful guide to the building and the neighborhood, including closest local parking options and garage rentals as well as which local restaurants provide a discount to UC San Diego employees. Faculty and staff interested in learning more about Framework are encouraged to watch this video, check out the online gallery and share your interest. Lightfoot noted, "If you are looking to live downtown in a brand new fully-furnished apartment near the Blue Line, Framework is the place for you!"
Stay in the Know
Keep up with all the latest from UC San Diego. Subscribe to the newsletter today.