Published Date
Trolley Stations Open on Campus, Connecting the University Like Never Before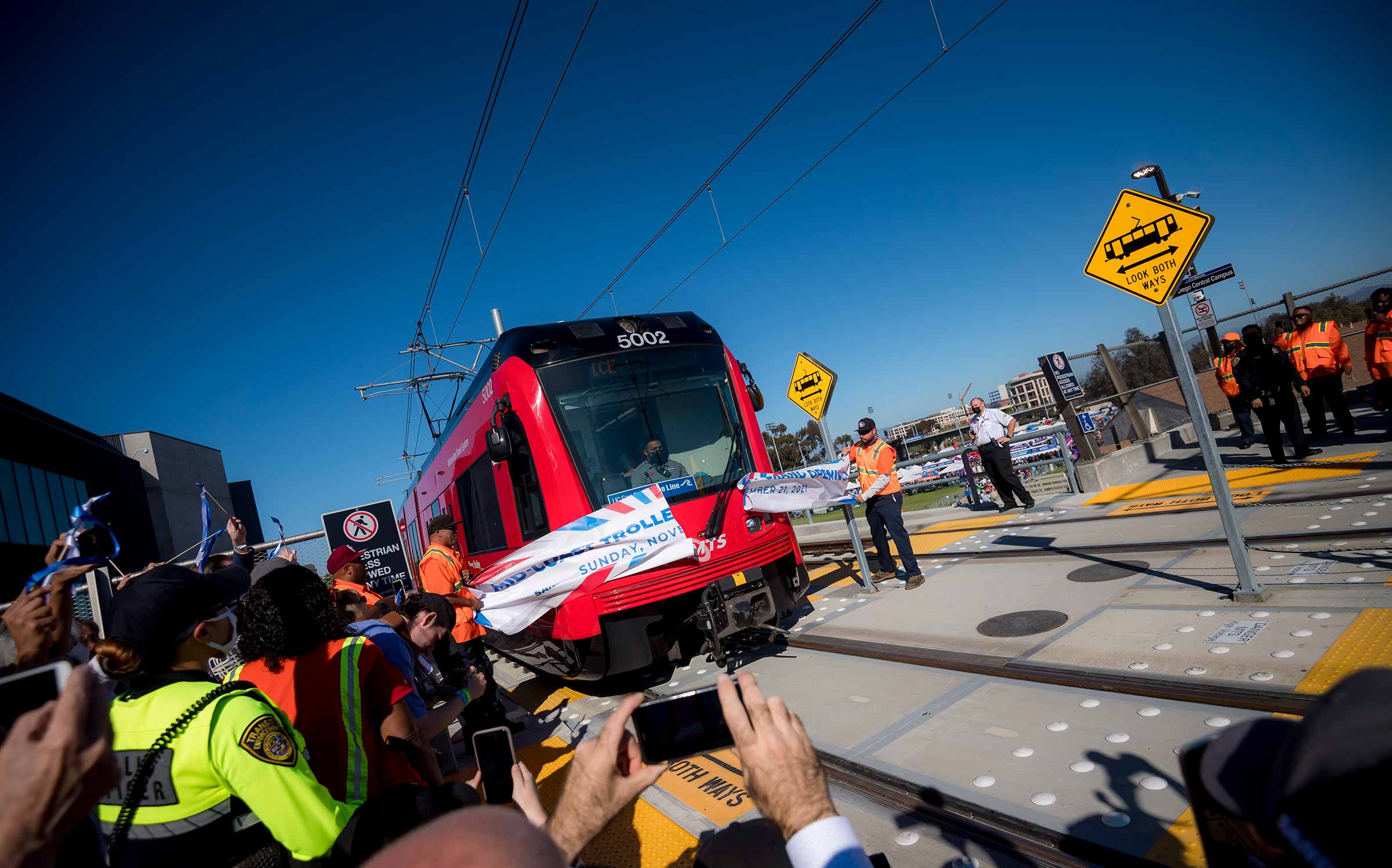 During the celebration, people cheered as a blue line trolley burst through a banner at the UC San Diego Central Campus station, marking the historic opening moment. Photo by Erik Jepsen/UC San Diego Communications.
One of the largest infrastructure projects in San Diego's history, the $2.1 billion Mid-Coast Trolley Extension started as a line on a piece of paper in 1986. After decades of planning, construction of the 11-mile extension of the Blue Line trolley began in the fall of 2016, with a celebration on our campus. Fittingly, the campus celebrated the grand opening with an event for the entire community on Sunday, Nov. 21.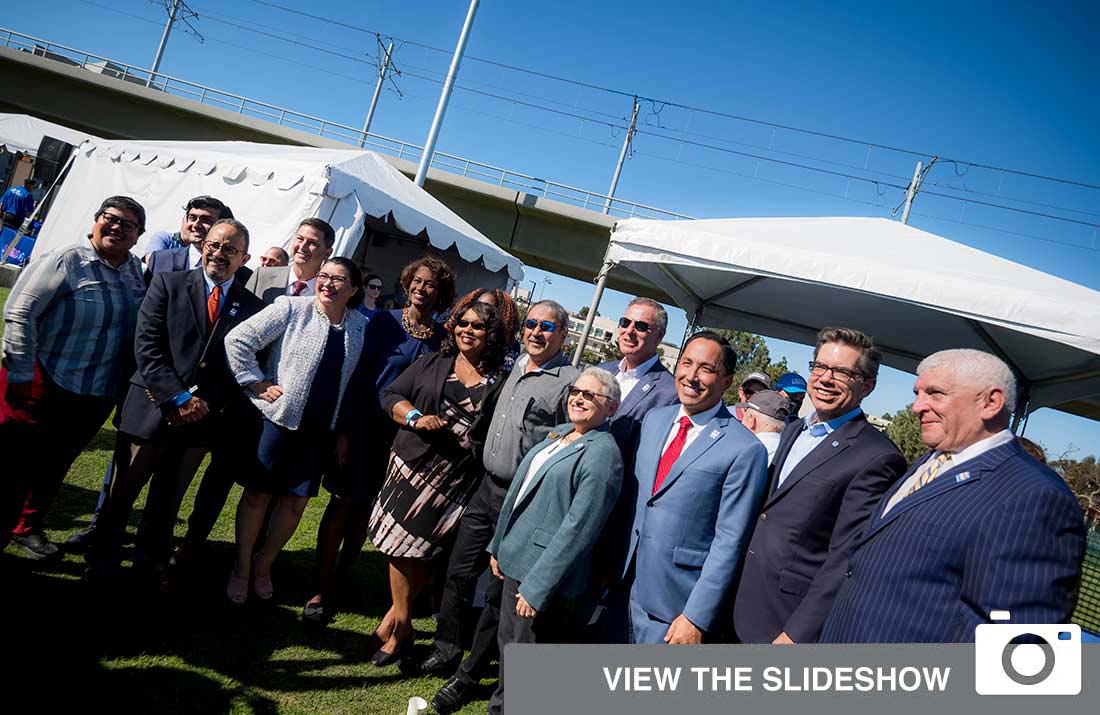 "Two of nine new trolley stations are at UC San Diego, connecting our university to the greater region like never before," said UC San Diego Chancellor Pradeep K. Khosla. "Students and employees who live throughout San Diego now have direct access to the heart of our campus, and students now have direct access to employment centers, shopping and area cultural attractions. Direct, fast and cost-effective trolley service enables everyone to take advantage of the educational, cultural, employment and health care opportunities offered by UC San Diego."
The stations at the main campus and UC San Diego Health offer faculty, staff and students an additional safe, reliable and inexpensive alternative to driving, while helping to reduce roadway congestion and ease parking demands. Riders can also take the UC San Diego Blue Line trolley to Old Town Transit Center and transfer to a free electric shuttle to the San Diego International Airport.
The UC San Diego Blue Line helps patients benefit from UC San Diego Health's world-class patient care and wealth of top-ranked specialty healthcare. "UC San Diego Health is a global destination for world-class health care, but access can be a problem, especially and ironically for local, under-served communities and residents who may struggle with real, daily issues like transportation. The new trolley line, which can bring patients almost to the front doors of Jacobs Medical Center, Moores Cancer Center, the Sulpizio Cardiovascular Center, Shiley Eye Institute and the rest of the La Jolla health campus, means San Diegans, our families, friends and neighbors, will enjoy greater access to the health care they need and deserve," said Patty Maysent, CEO, UC San Diego Health.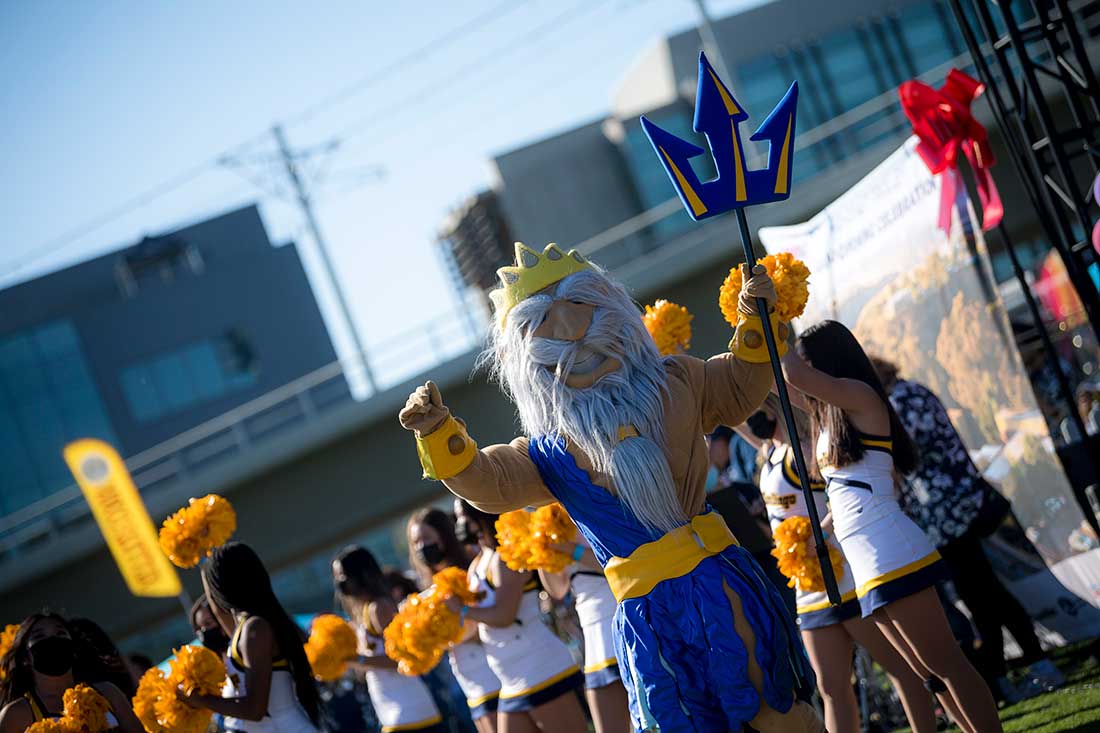 The mood was celebratory at the grand opening party, as thousands of guests were welcomed by UC San Diego Cheerleading, the Dance Team, Pep Band, Lion Dance and King Triton. In addition to enjoying free food and musical performances, the crowd heard from a wide variety of local and national leaders who spoke at the event, including San Diego Mayor Todd Gloria, National City Mayor Alejandra Sotelo-Solis, Administrator of the Federal Transit Administration Nuria Fernandez and Ambassador Carlos González Gutiérrez, Consul General of Mexico in San Diego.
In his remarks, undergraduate student Manu Agni, a fourth year Urban Studies and Planning major and president of Associated Students of UC San Diego shared, "The trolley brings the community closer to UC San Diego, and brings us into the community. I believe that community is about seeing a piece of myself in someone else, and I hope that for every single UC San Diego student, this will help us see ourselves in the entire San Diego region."
During the celebration, people cheered as a blue line trolley burst through a banner at the UC San Diego Central Campus station, marking the historic opening moment.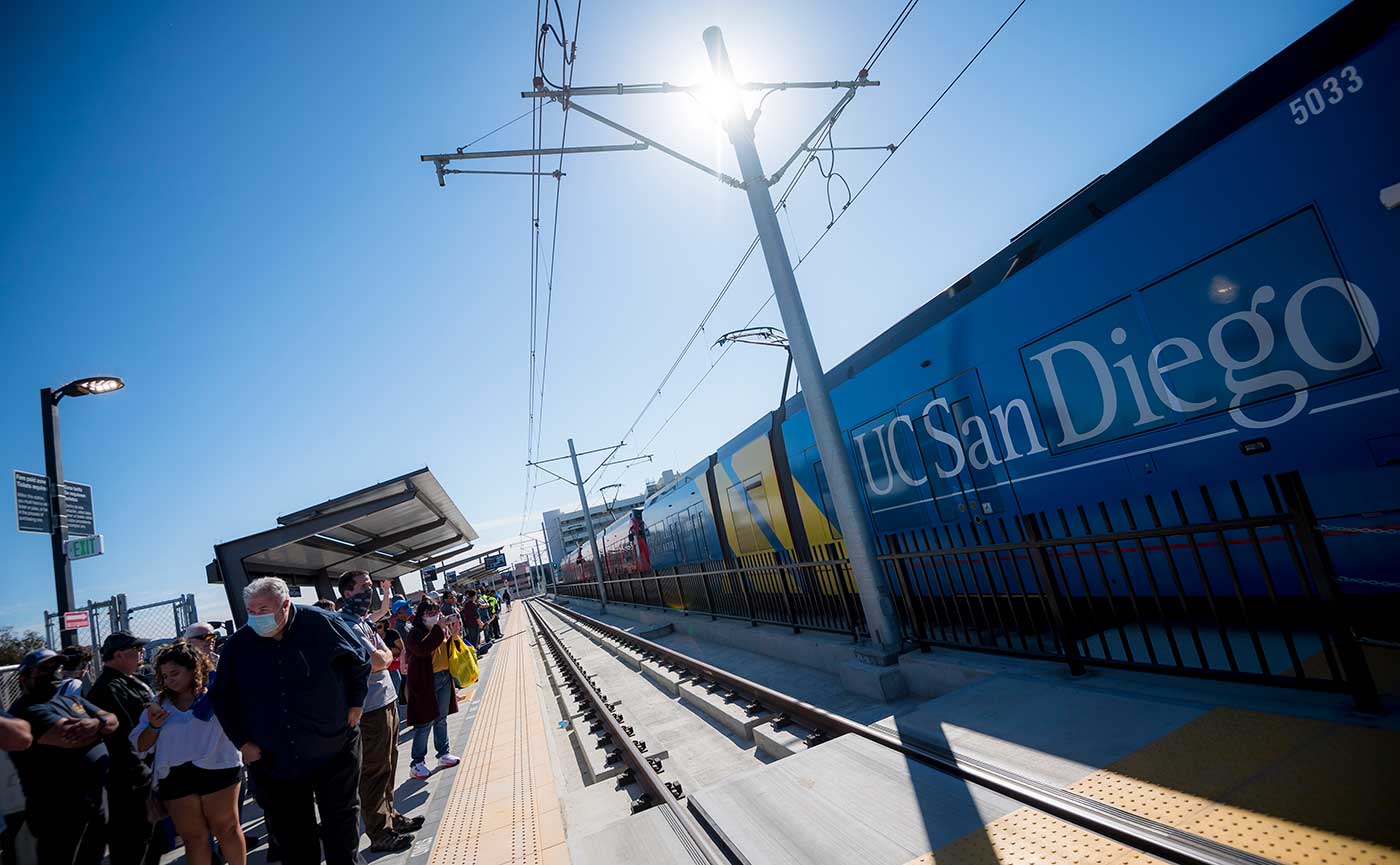 A welcome alternative transportation option
Currently, 60 percent of UC San Diego's faculty, staff and students use alternative transportation for their daily commute. The university expects this percentage to increase, contributing to cleaner air and overall sustainability efforts.
The university has more than 1,500 students and 3,000 employees who commute from Chula Vista, Imperial Beach and National City. Mario Aguilera, director of communications for the Division of Biological Sciences, is one of them. As a teenager, he rode the trolley to his first job at a hotel in downtown San Diego, and now looks forward to riding it to campus.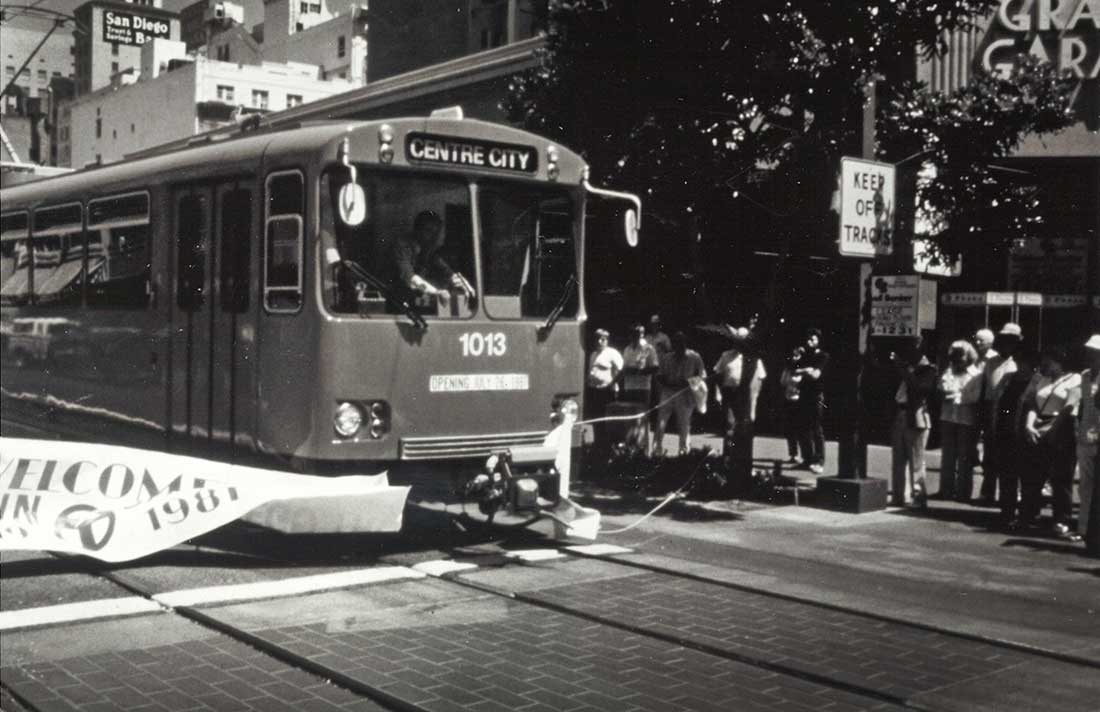 "As a Chula Vista resident, UC San Diego alum and longtime commuting university employee, I've experienced the freeway traffic to La Jolla growing increasingly congested year by year," said Aguilera. "The trolley extension to campus will be a most welcome gamechanger for me and many of my South Bay neighbors and colleagues."
In July, the Blue Line trolley celebrated its 40th anniversary. Alumnus Scott Paulson, Exhibits and Events Coordinator at the UC San Diego Library, can remember the arrival of the first red trolley fleet when he was an undergraduate at the university in the early 1980s, commuting from Golden Hill. He recently created an exhibit on the first floor of the library to celebrate this unique piece of San Diego history.
"One of the new stations is a block or two from where I live," said Paulson, who plans to do more downtown, including attending a variety of programs at UC San Diego Park & Market. "I'm also excited for our students because I think this is going to open up housing options and help them explore San Diego."
Supporting San Diego's dynamic binational region
The Blue Line allows for travel to the Mexican border in a little over an hour. This new access will also strengthen ties with educational institutions in Mexico and UC San Diego's Health Frontiers in Tijuana Student-run Free Clinic and cross border Community Stations.
The Community Stations initiative is directed by Fonna Forman, a political scientist in the UC San Diego Division of Social Sciences, with architect-urbanist Teddy Cruz, a professor of visual arts in the Division of Arts and Humanities. There are currently four community stations in the network, at four different sites in the San Diego-Tijuana region, two on each side of the border. Each is a partnership with a different community organization and each is focused on the particular set of challenges facing those communities.
"The trolley enables us to network all of our Community Stations for the first time—it's a dream," said Forman. "For students who are committed to community-based work, this is an amazing asset, and essential to getting students off the campus and into the world, and opening our doors to the community. The university is increasingly committing itself to experiential education for our students. This connection is going to change the way we do community engaged research and teaching forever."
In November, the San Diego-Tijuana region was selected as the World Design Capital for 2024. UC San Diego Design Lab, Design Forward Alliance and the Burnham Center for Community Advancement were three foundational partners in the community-led effort to secure this prestigious designation.
For San Diego-Tijuana, the World Design Capital initiative has the power to catalyze and transform life in the region through region-wide collaborative projects that will extend past the 2024 designation. One example of this work is the Educators Alliance. Created by UC San Diego Design Lab in 2019, the Educators Alliance includes educators who use human-centered design and design-driven innovation in classes and projects from k-12 through higher education.
"We are committed to instilling design as a way of thinking to equip students from kindergarten through college and beyond with the skills to solve society's most pressing problems," said Mai Thi Nguyen, faculty director of the Design Lab, which is now within the newly opened Design and Innovation Building at the main campus trolley station. "The trolley extending from the border to UC San Diego will propel this designation and make collaboration between the two regions that much stronger."
Triton-tested and approved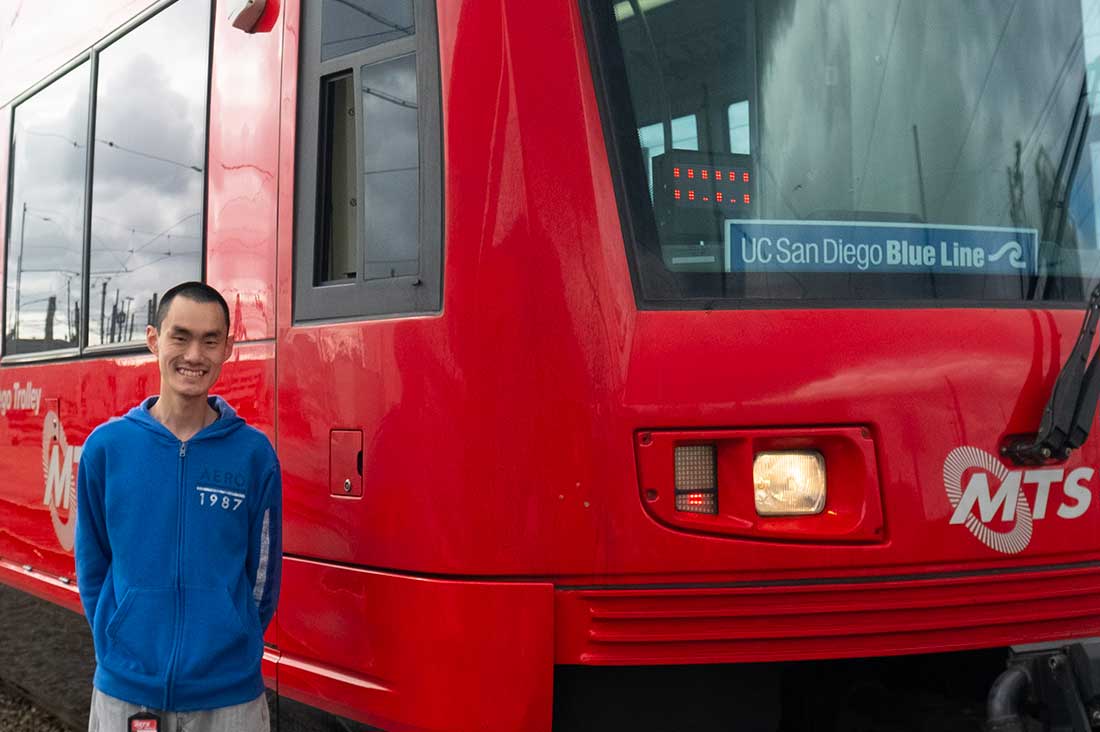 Though fascinated by freight trains as a child, UC San Diego Class of 2020 graduate Henry Wang never assumed he would become a train operator. But his experience with Triton Transit as a shuttle driver motivated him to pursue a career in transportation and he is now a trolley operator at MTS training for supervisory roles. With the new line opening, Wang had the opportunity to test the track on the Blue Line extension, operating the trolley from downtown to UTC and back. "It was just the right moment to join MTS, and a one-of-a kind experience," he said of getting to drive the trolley to his alma mater.
Wang also had some tips for people new to riding the trolley:
For passengers using a wheelchair or walker, it is the middle two doors of each car of the train that will offer a ramp. The door will stay closed, but once the ramp is deployed, the door will open.
When the train is crowded, please stay clear of the doorways. The train will not move if the doors cannot close.
Unlike the bus, there is no pull cord to request a stop on the trolley. It stops at every station, but unless someone is exiting, the doors only stay open for 10 seconds. Pay attention to the stops, know when you would like to get off and prepare yourself to deboard.
Trolley operators can only see riders in the car they are in, however, central control at base can see all three cars from cameras.
But the best tip of all is the fact that the trolley is not impacted by traffic. "I experienced driving the Hillcrest shuttle on I-5," Wang said. "During rush hour, you can't always make it on time."
Now, with the elevated track, Wang says it will be a "smooth ride and a beautiful view."
Stay in the Know
Keep up with all the latest from UC San Diego. Subscribe to the newsletter today.