Collaboration, Creative Partnerships Thrive at UC San Diego Park & Market
University's downtown social and intellectual hub will bring unique, innovative programming to local community in 2023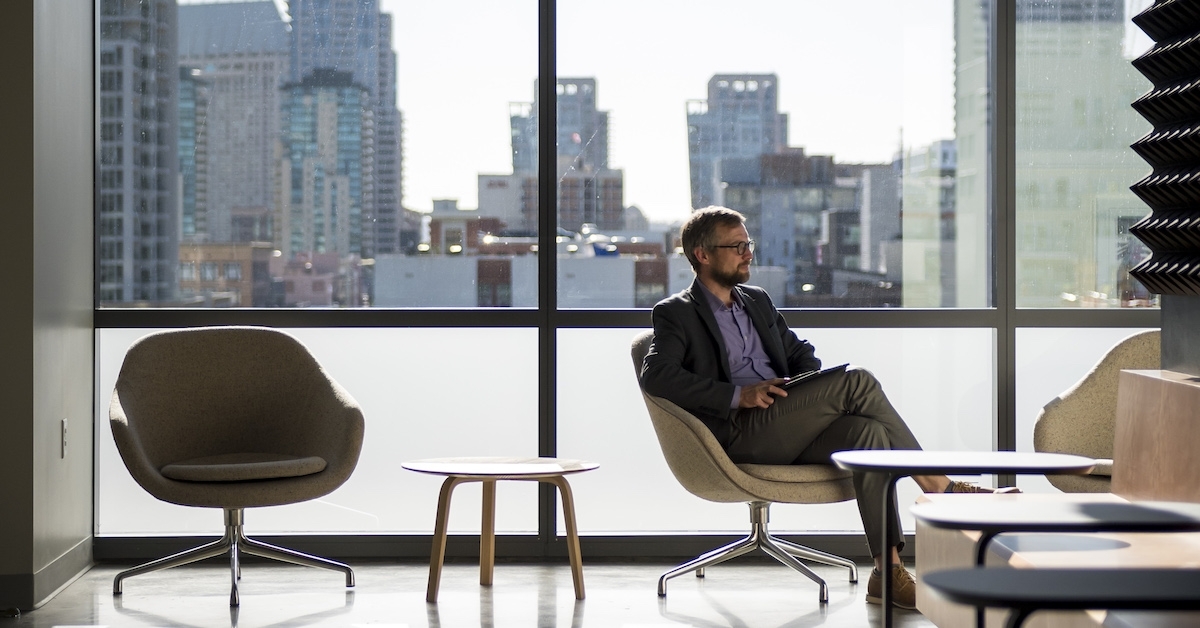 By:
Published Date
By:
Share This:
Article Content
With tenant partner spaces at full capacity, an upcoming concert series exploring intersections of global music genres, a brand-new bistro that inspires meaningful conversations, and an expertly curated lineup of multidisciplinary events, UC San Diego Park & Market is poised to enter 2023—its first full year of operation—as an established destination for arts and culture and a social and intellectual hub for community and civic engagement, learning and collaboration.
The state-of-the-art four-story building, which occupies a full city block at the corner of Park Boulevard and Market Street, has quickly become a mainstay of downtown San Diego's lively East Village neighborhood since its grand opening in May 2022. Just steps away from the Blue Line Trolley connecting it both to UC San Diego's La Jolla campus and the U.S.-Mexico border, and situated around the corner from the university's new Framework rental apartments, Park & Market provides unique, accessible programming and flexibly designed collaborative spaces aimed at expanding minds and forging connections.
Operated by the UC San Diego Division of Extended Studies, the downtown center is a manifestation of UC San Diego's commitment to connecting with the cultural heritage and shared values of the region's diverse social, cultural and economic community. This commitment is reinforced by the presence of strategic tenant partners with permanent homes at Park & Market.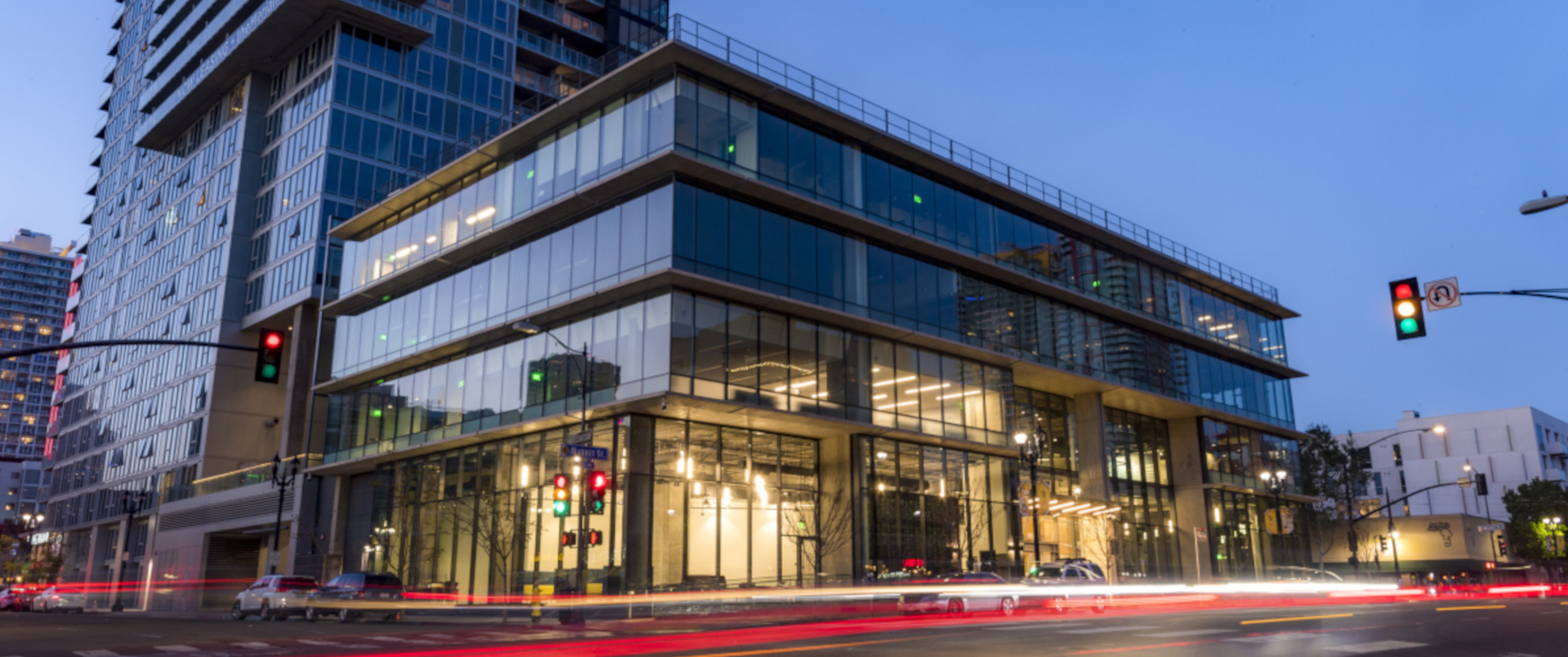 "When we thought of UC San Diego Park & Market, we envisioned a place in the heart of San Diego that would serve as a connector of art, culture, education and social benefit organizations where visitors and tenants can interact to create new experiences and solutions. We have seen this vision come to fruition over the past months. Our tenants are thriving at Park & Market as an integral part of a community that has quickly expanded. We are looking forward to all the upcoming events we have planned for 2023," said Hugo Villar, Dean of the Division of Extended Studies.
Just last month, San Diego Regional Economic Development Corporation moved into its new space in the mixed-use building. The regionally focused nonprofit works with San Diego business, government and city leaders to drive an inclusive economic development framework in order to maximize regional prosperity, enhance global competitiveness and position San Diego effectively for investment and talent.
"Our new home at Park & Market is all we hoped for and more. There's not a day that goes by we don't bump into a community partner or leader in these hallways. With dynamic event and meeting space, sweeping views of downtown, and a spirit of collaboration and community unlike anywhere EDC has ever officed, we are excited for all that's to come," said Mark Cafferty, President & CEO of San Diego Regional EDC.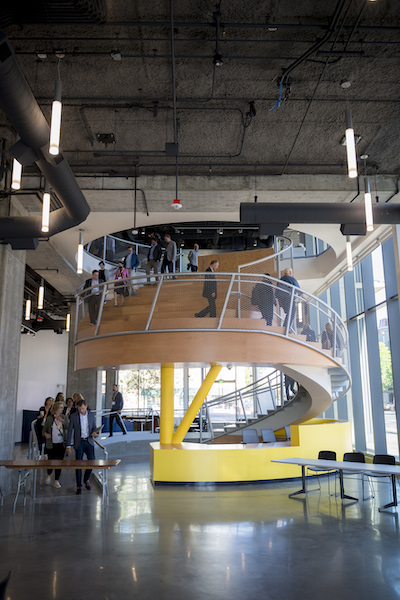 San Diego Regional EDC joins the Burnham Center for Community Advancement (BCCA), Park & Market's inaugural tenant, on Park & Market's fourth-floor "civic collaboratory," a concept made possible through a $3 million gift from local businessman and philanthropist Malin Burnham and his wife, Roberta Burnham. A "think-and-do" tank, BCCA brings San Diegans together across the binational region to identify needs, find innovative solutions and bring big ideas to life.
"There is simply nowhere else we would want to be headquartered. UC San Diego Park & Market really epitomizes BCCA's approach to civic life and community," said Tad Seth Parzen, President & CEO of BCCA. "The campus is situated on the trolley line with a connection to the border, with an open-door policy, where a dynamic mix of people and ideas can gather to learn from each other and solve problems. That is why we like to call it a 'collaboratory,'—it is a nexus point where diverse communities can come together to experiment with new approaches to solve longstanding issues."
Cross-sector partnerships also are central to the mission of Media Arts Center San Diego, which operates the 58-seat Digital Gym Cinema on the second floor of Park & Market, open daily for screenings of independent and foreign films and documentaries—movies that executive director and founder Ethan van Thillo says wouldn't otherwise be shown in San Diego. The cinema also is available for use by community groups and organizations as well as UC San Diego professors, whom van Thillo encourages to promote film screenings as a resource for their students.
"It's an opportunity for us as a nonprofit and UC San Diego as an institution to talk about media literacy and film literacy, and how to watch films, how to curate movies—and how to use them as a way to educate and promote social change," said van Thillo.
From March 9-19, Digital Gym will host the 30th anniversary of the San Diego Latino Film Festival, a tradition with roots at UC San Diego. It's just one of the many events Park & Market already has slated for 2023 that will bring the work of community partners to a wider audience.
Taking what he calls a "collaborative curatorial approach," Andrew Waltz, Park & Market's director of arts management, aims to curate a multidisciplinary experience for individuals who walk through the building's doors. Whether they come to Park & Market for a lecture, yoga class, academic course, musical performance or other event, Waltz makes an effort to strategically combine events in a way that will enrich each visitor's experience.
This fall, Waltz partnered with AIGA San Diego Tijuana to bring the world premiere of the Graphis' Designers for Peace International Poster Exhibition: United with Ukraine, to Park & Market's second-floor public gallery, where it will remain on display through Dec. 31. Located next to the Digital Gym, the gallery has attracted the attention of moviegoers who might not otherwise visit the exhibition. In November, Park & Market served as a vote center location for the San Diego Registrar's office, and voters from the East Village and surrounding neighborhoods were exposed to a live Shakespeare performance happening concurrently as part of the Old Globe's "Globe for All" free theater program. "You could see people voting and then they were checking out Shakespeare. These two things can be additive," Waltz said.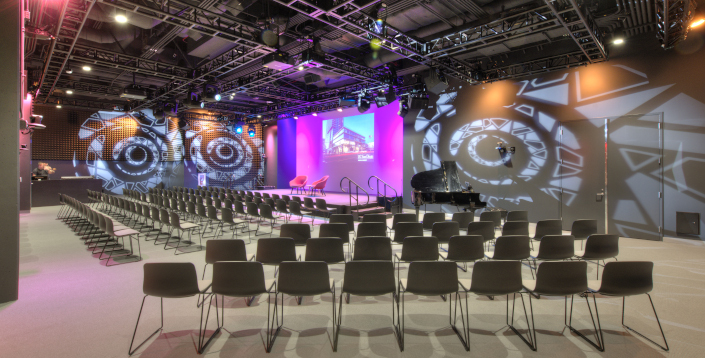 Starting in January 2023, Park & Market will host a new concert series exploring intersections of global music genres, curated and hosted in partnership with leading ethnographer-artist and violinist Yale Strom. Concerts will be held throughout the year at Park & Market's black-box-style Guggenheim Theatre, named for local philanthropists David and Claire Guggenheim, who gave $1 million to the project. The performances will bring both international and local artists to the same stage at Park & Market where audiences will enjoy what Strom calls "mash-ups" of various genres—a concept he says patrons won't find anywhere else in San Diego.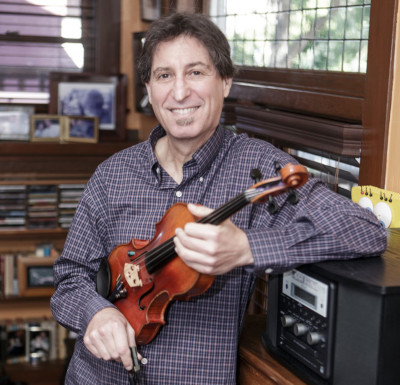 "I am thankful for this amazing opportunity to bring an eclectic, influential variety of musicians to a brand-new venue in downtown San Diego," said Strom. "Preserving folk tradition is incredibly important to me as a musician, as it is to many others we will feature in this concert series. But I also love seeing how artists and genres can mix and complement each other, and look forward to bringing San Diego audiences along with us on this intersectional journey."
The first concert in the series, which will take place Jan. 26, features world-renowned San Diego pianists Irving Flores, Tina Chong and Joshua White, who have never performed together before and will share the stage for an exploration of the piano through jazz, Latin and classical styles. At the end of each concert, Strom will host a Q&A session with the artists that will foster connection and enhance the audience experience.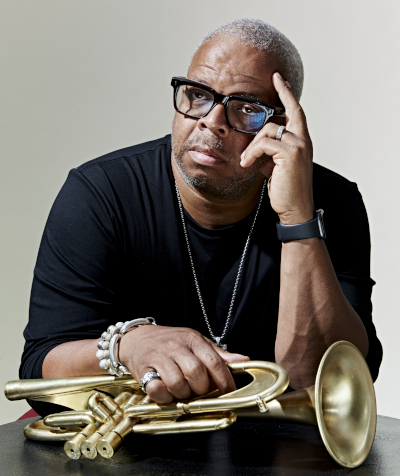 Earlier in the month, on Jan. 16, the venue will welcome celebrated jazz trumpeter and film composer Terence Blanchard for a Martin Luther King, Jr. Day-themed lecture as part of Park & Market's Helen Edison Lecture Series. Cecil Lytle, UC San Diego Professor Emeritus of Music, will interview Blanchard and moderate the event. The following day, Blanchard will perform with the E-Collective and Turtle Island Quartet on UC San Diego's main campus in an evening produced by ArtPower at UC San Diego. A two-time Grammy winner and Academy Award nominee, Blanchard has composed more than 40 film scores and performed in more than 50.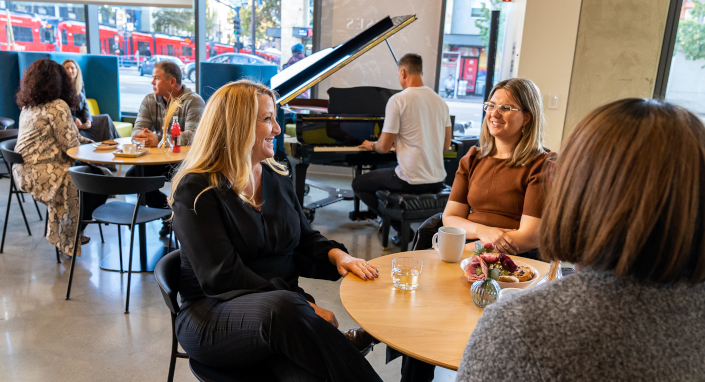 Visitors to Park & Market now can enjoy coffee and light fare at the new Senses Bistro, an Italian inspired espresso and coffee bar on the building's first floor. Similar to its sister restaurant, Bella Vista Social Club & Caffe on the Torrey Pines Mesa near UC San Diego's main campus, the bistro is designed to foster meaningful conversations that lead to creation and action. It also plays host to events like salsa and cabaret nights and pop-up chef dinners with a "twist"—like a dash of art or a side of drama. It's just one of the many creatively designed spaces throughout Park & Market that invite interaction and encourage impromptu connections.
As he continues to curate a unique lineup of concerts, exhibitions, lectures and spoken word events for 2023 and beyond, Andrew Waltz is actively looking for new creative partnerships that will bring these unique spaces at Park & Market to life and reinforce UC San Diego's commitment to providing an inclusive and welcoming destination for all.
"I want to find groups that are doing amazing work, and we can use this building collectively together to showcase what they're doing," Waltz said.
For more information on how to host an event or conference at UC San Diego Park & Market, please contact Todd Miller, Director, Asset Management UC San Diego Division of Extended Studies, at tjmiller@ucsd.edu. Artists and artist representatives interested in booking a performance should contact Andrew Waltz, Director, Arts Management, UC San Diego Park & Market, at awaltz@ucsd.edu.
To learn more about events and performances coming to Park & Market, visit parkandmarket.ucsd.edu.
Stay in the Know
Keep up with all the latest from UC San Diego. Subscribe to the newsletter today.