Changing the World through Renewable Energy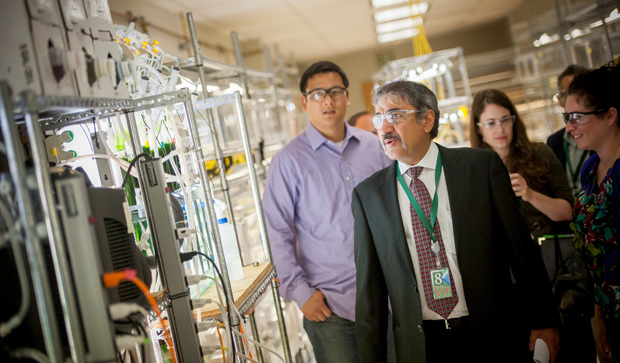 Photo by Erik Jepsen/UC San Diego Publications
Pradeep Khosla spent part of his first day as UC San Diego chancellor venturing off campus to see the work of UC San Diego alumni in action, including a visit to the offices of Sapphire Energy, located on the La Jolla Mesa.
More on Khosla's First Day
The company was founded by UC San Diego faculty members and approximately 25 percent of its scientists are UC San Diego graduates. Sapphire Energy's mission is to change the world by developing domestic, renewable sources of energy that benefit the environment and hasten America's energy independence.
Khosla toured the facility with Sapphire Energy's chief science officer, Alex Aravanis, and the company's director of biotechnology, Yan Poon. He also had the opportunity to talk with UC San Diego alumnus Tim Roane, a Sapphire Energy employee who also received training from UC San Diego's EDGE program, which is designed to prepare San Diego's workforce for the biofuels industry.
Khosla said he was impressed with Sapphire's innovative technology and the company's dedication to reducing the impacts of global warming, one of the biggest challenges facing the planet. He was able to see firsthand how research and business come together in San Diego to benefit the region's economy, employment and industry sectors.
"This is an excellent example of how partnerships between the university and industry can catalyze exciting results that will have a profound impact both locally and around the globe," Khosla said. "The work taking place here is truly impressive."
Stay in the Know
Keep up with all the latest from UC San Diego. Subscribe to the newsletter today.