Three from UC San Diego Elected to American Academy of Arts and Sciences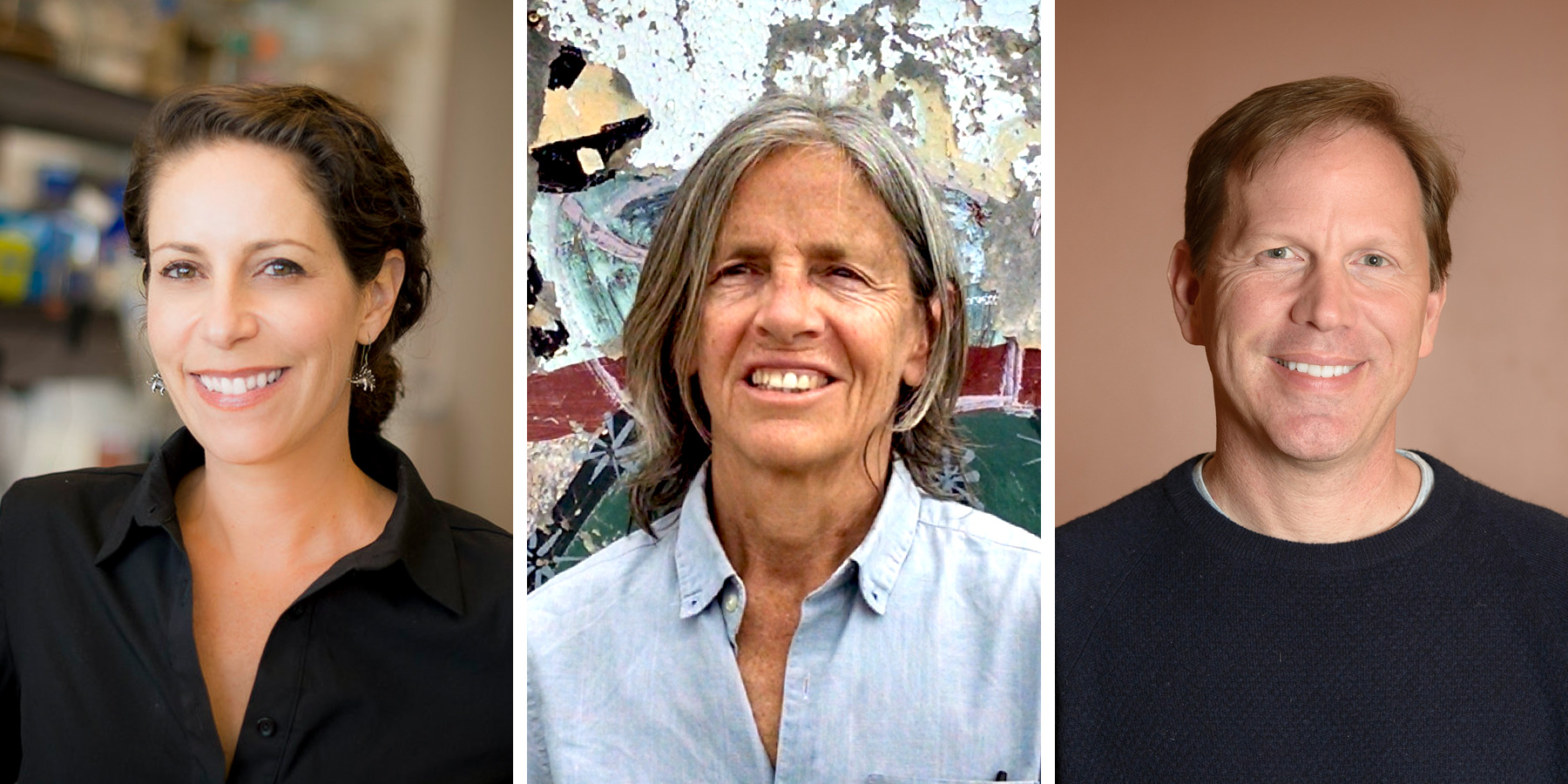 Published Date
Article Content
Three members of the University of California San Diego community, including two professors and one professor emeritus, have been elected to the American Academy of Arts and Sciences—one of the oldest and most esteemed honorary societies in the nation.
Ananda Goldrath, Eileen Myles and Stefan Savage are among the Academy's 2021 class of 252 members. They join fellow 2021 classmates who are artists, scholars, scientists and leaders in the public, non-profit and private sectors, including: civil rights lawyer and scholar Kimberlé Crenshaw; computer scientist Fei-Fei Li; composer, songwriter, and performer Robbie Robertson; and media entrepreneur and philanthropist Oprah Winfrey.
The American Academy of Arts and Sciences has honored exceptionally accomplished individuals and engaged them in advancing the public good for more than 240 years. Professor Walter Munk was the first UC San Diego faculty member elected to the Academy. Since then, more than 80 faculty from disciplines that span the entire campus have received this prestigious honor.
"This year, our faculty are being recognized for three vastly different fields of study: immunology, literature, and cybersecurity," said UC San Diego Chancellor Pradeep K. Khosla. "Having the oldest and most distinguished American national academy honor the career accomplishments of these prestigious faculty both honors their individual successes and spotlights the breadth of expertise and influence of our Triton faculty. UC San Diego's well-established prowess in science, technology and art offers a truly well-rounded experience for our students, our researchers and our collaborative faculty."
In the statement announcing this year's new Academy members, David Oxtoby, President of the American Academy said, "The past year has been replete with evidence of how things can get worse; this is an opportunity to illuminate the importance of art, ideas, knowledge, and leadership that can make a better world."
Following is more information about each of UC San Diego's newest Academy members:
Ananda Goldrath
Goldrath is a Tata Chancellor's Professor in the Division of Biological Sciences and former chair of the Molecular Biology Section. Her work as an immunologist has contributed to the understanding of transcriptional networks that govern the formation and maintenance of long-lived protective immunity. Goldrath's research explores the mechanistic basis underlying memory T cell differentiation as a strategy to program the immune system to meet pathogens or malignancies in the tissues where they first pose a threat. This information has made it possible to beneficially manipulate the immune system to eliminate infection and malignancies. Goldrath is a Pew Scholar and Leukemia and Lymphoma Society Fellow and a member of the Immunological Genome Project, the Leadership Council of the Program in Immunology and Scientific Advisory Committee of the San Diego Center for Precision Immunotherapy at UC San Diego.
Eileen Myles
Myles, professor emeritus of fiction writing in the Department of Literature, began their career in New York City in 1974 as a poet, novelist, public talker and art journalist. While at UC San Diego from 2002 to 2007, they taught courses in poetry writing, short fiction, writing between genres and the libretto, among others. Also during this time, they wrote the libretto for the opera "Hell," composed by Michael Webster with productions in 2004 and 2006. Myles is the recipient of a Guggenheim Fellowship, a Creative Capital/Andy Warhol Foundation Arts Writers grant, four Lambda Literary Awards, the Shelley Award from the Poetry Society of America, and a 2014 artist grant from the Foundation for Contemporary Arts. In 2016 they received a Creative Capital grant and the Clark Prize for Excellence in Art Writing and, in 2019, a poetry award from the American Academy of Arts and Letters. The Publishing Triangle honored Myles with the Bill Whitehead Award for Lifetime Achievement in 2020, recognizing writers in the LGBT community. Their 22 books include "For Now" (2020), "evolution" (2018), "Afterglow" (2017), "I Must Be Living Twice/new & selected poems" (2015) and "Chelsea Girls" (1994).
Stefan Savage
Savage is a cybersecurity researcher who holds an expansive view of the field. He and colleagues bring together computer science and the social sciences in their work by taking into account economics, policy and regulations, not just technology. His team has been instrumental in pointing out security vulnerabilities in cars, which have been addressed by the automotive industry's regulatory bodies and manufacturers. They have tracked the financial transactions responsible for funding email spam campaigns and botnets around the world. The data has been used by government agencies and credit card companies to block these transactions. Savage and colleagues also have designed ways to measure and pinpoint the source of attacks that cripple the internet and large websites, known as distributed denial of service attacks. Savage has received numerous awards for his work, including a McArthur fellowship in 2017, the ACM Prize in Computing in 2015, and three test of time awards from leading academic computer security organizations. He holds the Irwin and Joan Jacobs Chair at the Jacobs School of Engineering and is a professor in the UC San Diego Department of Computer Science and Engineering.
In addition to these three faculty members, alumna Angela Davis is also part of this year's class of fellows. A well known activist who is now on faculty at the University of California Santa Cruz, Davis earned a master's degree from the Department of Philosophy at UC San Diego in 1969. She worked closely with philosopher Herbert Marcuse. Her likeness is now part of the Price Center's Black Legacy Mural, and she is also portrayed on the walls of the Che Cafe.
The American Academy of Arts & Sciences was founded in 1780 by John Adams, John Hancock and others who believed the new republic should honor exceptionally accomplished individuals and engage them in advancing the public good. The 2021 members join the company of those elected before them, including Benjamin Franklin and Alexander Hamilton in the eighteenth century; Ralph Waldo Emerson and Maria Mitchell in the nineteenth; Robert Frost, Martha Graham, Margaret Mead, Milton Friedman and Martin Luther King, Jr. in the twentieth; and more recently Joan C. Baez, Judy Woodruff, John Lithgow, and Bryan Stevenson. International Honorary Members include Charles Darwin, Albert Einstein, Winston Churchill, Laurence Olivier, Mary Leakey, John Maynard Keynes, Akira Kurosawa and Nelson Mandela.
Stay in the Know
Keep up with all the latest from UC San Diego. Subscribe to the newsletter today.