A Prescription Dose of TLC: Tender Loving Canines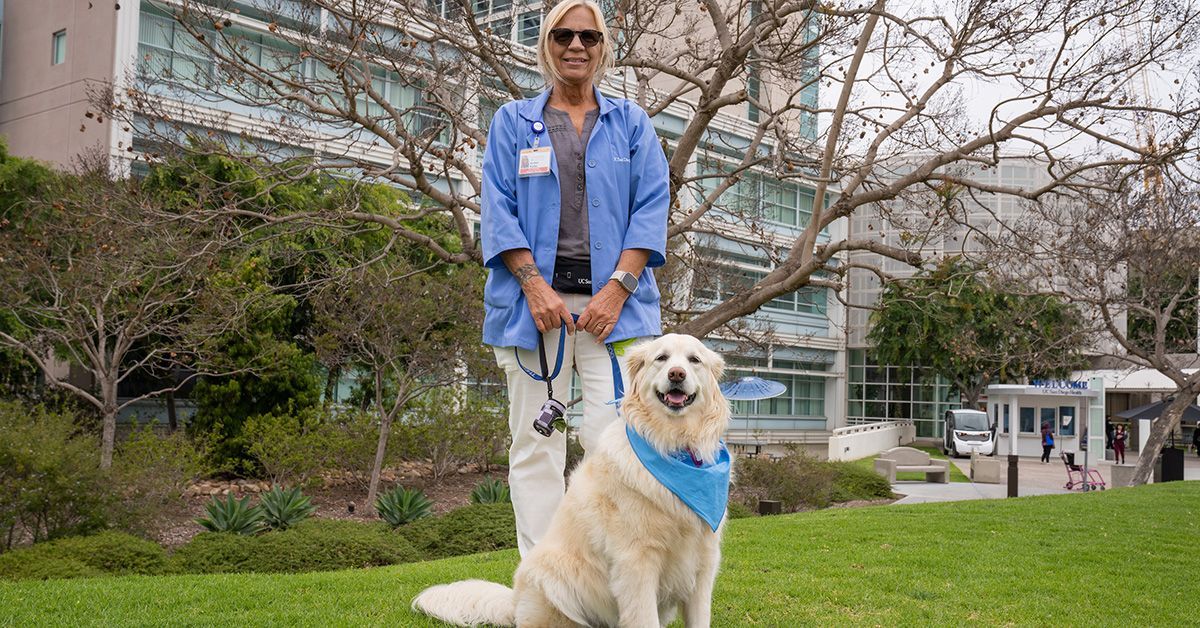 Published Date
By:
Topics:
Share This:
Article Content
After a three-year hiatus due to the COVID-19 pandemic, therapy dogs have returned to UC San Diego Health
In response to the COVID-19 pandemic in early 2020 the Volunteer Services Program at UC San Diego Health was closed as a temporary solution to the crisis at hand, but soon after volunteers were recognized as essential health care workers and a system was established to bring them back safely in June 2020.
However, it was determined at the time that therapy dogs could not return until there was better understanding of how the novel coronavirus spread.
Now, the four-legged companions are walking the halls of the hospital again to bring comfort and joy to patients.
"During the pandemic, we'd coordinate special visits with our dogs to greet staff outside of the hospital, but it wasn't the same," said Elizabeth DeFries, program coordinator and volunteer services lead at UC San Diego Health. "To have them officially back is really exciting, we know that people missed them and the dogs missed the visits, too."
Vest on and reporting to work
For Amber Kiefer, the return to volunteering was an especially exciting moment for herself and her golden retriever therapy dog, five-year-old Willow.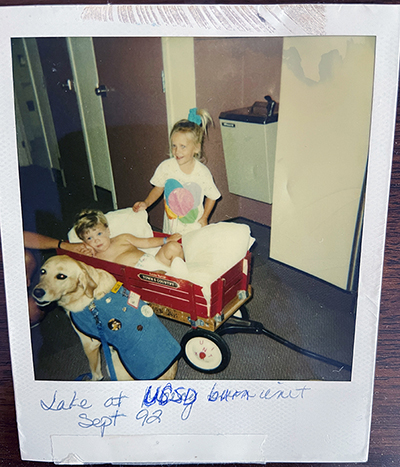 "The pandemic was hard on all of us in many ways, including Willow," said Kiefer. "As part of her volunteer uniform she wears a therapy dog vest, and during the pandemic, she would bring me her vest as if telling me 'It's time to go to work.'"
In May 2023, Kiefer finally put Willow's vest back on as they began a new volunteer role in the Regional Burn Center at UC San Diego Health.
Kiefer and Willow have participated in many different pet therapy programs around San Diego, but the Burn Center holds a particularly special place in Kiefer's heart. Her son, Jake, was treated there more than 30 years ago for burns he sustained while at the beach.
"He was one month shy of his second birthday, and we were finishing up our day at the beach when he stepped on hot coals that were unfortunately buried in the sand," explained Kiefer. "I don't think we could've gotten through that terrifying experience without the special therapy dog visits while my son was hospitalized."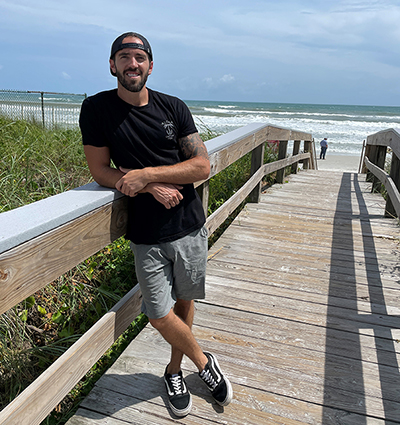 According to Kiefer, Jake sustained a third degree burn on the bottom of his right foot and first degree burn on his hand as he grabbed his foot in pain during the accident.
He was hospitalized for seven days.
"The therapy dog was the only thing that could calm Jake down," said Kiefer. "It was during those visits I said to myself 'someday, I'm going to do this for patients.'"
Providing the comfort of home
A total of nine therapy dogs and their handlers make up the Tender Loving Canine (TLC) Therapy Dog Visitation Program at UC San Diego Health. They are currently visiting both medical campuses at the academic medical center, including UC San Diego Medical Center in Hillcrest and Jacobs Medical Center in La Jolla.
A typical TLC volunteer shift lasts approximately two hours in which the handler and therapy dog will visit, at most, four different units in the hospital.
Requirements for the handlers include proof of immunizations, such as the COVID-19 and flu vaccines, tuberculosis screenings, and badging access for security. The therapy dogs must be at least one year old, have completed a "Canine Good Citizen" training course and be affiliated with a therapy dog organization. The dogs must also be licensed and in good health, have proof of immunization and consistently receive heartworm, flea and tick medications.
"The hospital is a very organized, clean, and sterile environment, so we need to make sure the dogs are keeping our patients safe during these special visits," said Crystal Lee Soberg, program coordinator at UC San Diego Health. "They are also a bit of a contrast to this sterile setting, however, as they bring happiness, laughter, joy and a reminder of home to our patients."
Bringing Paws-itivity to the bedside
The TLC program has been in service at UC San Diego Health for more than 20 years. Returning to the hospital has been an exciting event for the program coordinators, volunteer pet handlers and the dogs, too.
"Everyone has been waiting for this program to return, eagerly anticipating seeing the therapy dogs around," said Layah Steinberg, director of experience operations at UC San Diego Health. "The hospital can be an incredibly stressful environment for patients, their loved ones and the staff providing care.
"The TLC program provides an opportunity to bring some positivity into the environment, thus lowering the stress and anxiety."
For the first patient Kiefer visited, Ronald Regala, it was a welcomed distraction as he received treatment at the Burn Center.
"Ever since I was a kid, we always had a dog, so it's always been a comfort and sense of bond that no one can take away from you," said Regala. "Just having that option here at UC San Diego Health, it definitely gives you some love and joy, especially for patients who need to be here for a long period of time."
The visit also brought joy to Kiefer and Willow.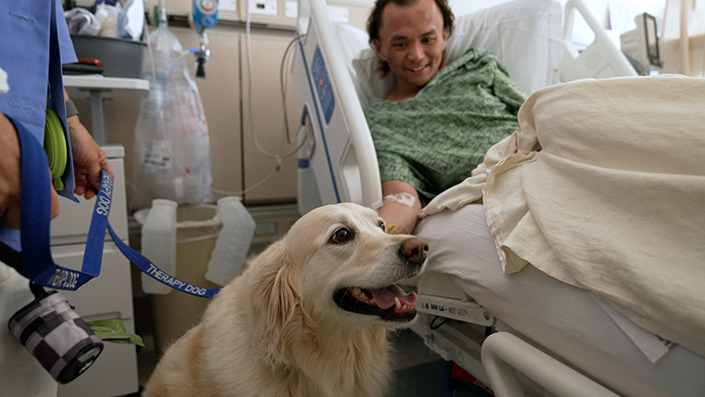 "To see his face and know we helped him just by going in there, was wonderful," said Kiefer. "I love being able to give back to the Burn Center, even this many years later."
The TLC program now offers regular, weekly visits from specially trained pet therapy dogs at UC San Diego Health. Pet visits for patients in the hospital can be planned in advance with the medical care team.
For interested volunteers hoping to take part in the TLC program with their certified therapy dog, the team can be contacted at volsvcs@health.ucsd.edu.
Topics:
Share This:
Stay in the Know
Keep up with all the latest from UC San Diego. Subscribe to the newsletter today.