Toddler Experiences Second-Degree Burn, Goes Home Sooner with New Treatment
New treatment offered at the Regional Burn Center at UC San Diego Health uses an applied synthetic skin substitute to encourage skin growth on burn wound, giving some patients the opportunity to be discharged same-day
Published Date
By:
Topics:
Share This:
Article Content
For Julie Lu, one evening at home began as a night like any other. She had just finished giving dinner to her two-year-old daughter, Mai. They were about to begin their bedtime routine, which started by saying goodnight to family, who happened to be in the kitchen. While receiving sweet dream wishes, one sudden move changed the lives of all in the room.
Mai had reached for the hot-water dispenser unit and knocked it over, inadvertently pouring hot water all over her feet and all over Lu as well.
As a primary care doctor at a local health care organization, Lu says she went into "physician mode" and immediately took her daughter to the kitchen sink to run water over the area, trying to identify where Mai was injured.
"Within seconds, there was hot water everywhere, that's how fast this happened," said Lu. "By the time I pulled off her socks, her feet were already blistering and I knew we needed to get to the emergency department."
It was determined that Mai had sustained second degree burns on the tops of both her feet.
"In my head, I knew it was a second-degree burn. I thought we'd have some wound dressings applied and could go home," said Lu. "I definitely did not expect being admitted to the hospital."
Mai was soon transferred to the Regional Burn Center at UC San Diego Health, where a multi-disciplinary team performed a surgical procedure to clean and dress the wound.
"For young children such as Mai, we often clean and dress wounds under general anesthesia in order to minimize trauma for our patients and their loved ones," said Jeanne Lee, MD, director of the Burn Center.
The Regional Burn Center, turning 50 this year, is verified by the American Burn Association as a pediatric and adult burn center. The team at UC San Diego Health treats approximately 450 hospitalized patients each year, and another 1,000 patients are seen in the outpatient burn clinic. Approximately one third of all admissions and outpatient visits are pediatric patients under the age of 18.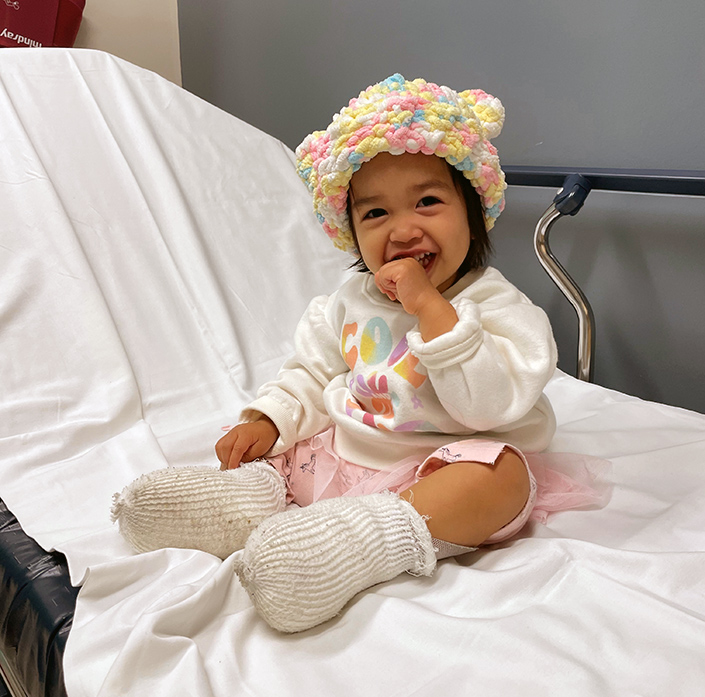 "Mai also qualified for a new treatment option we recently began offering patients that would allow her to go home sooner," said Lee.
The treatment, called Suprathel, is a dressing and synthetic skin substitute that encourages skin growth. It is made of polylactic acid that creates a thin membrane over the wound, which adheres and adapts to the wound bed, thus promoting re-epithelization, or newly formed skin. This process takes approximately seven to 14 days.
According to Lee, most patients with second degree burns qualify for the treatment and are able to go home the same day after it's been applied. After the initial application, patients return to the Burn Center weekly for dressing changes and reapplication of the treatment, if needed.
"The texture of the dressing is a silicone-like material, which remains on the wound and provides an element of pain control as well," said Lee.
Prior to the new treatment option, patient cases such as Mai's may have resulted in a longer hospital stay. Treatment would include daily procedures to clean the wound and re-apply dressings until the wounds are nearly healed before discharge could take place.
"Everyone was so compassionate and understanding at the Burn Center, and after such a long night, I was grateful we could get home sooner so Mai could rest in her own bed," said Lee.
A Family Centered Approach to Treating Burns
Treating children for burns can be especially challenging as coping with fear and anxiety associated with a burn wound is more difficult for younger individuals.
The team at UC San Diego Health takes a family centered approach that ensures the social, emotional and psychological needs are met for pediatric patients and their families. For young patients, toys are often provided by the Child Life Services Program, which provides comfort during hospital stays and outpatient wound change visits.
"The Child Life Services team brought some normalcy to the hospital setting," said Lu. "My daughter had both her feet wrapped up so much that she couldn't really walk, so the team got us a wagon to push her around in and would play with her while I met with the doctor."
Certified Child Life Specialists at UC San Diego Health care for patients from newborns to age 21. The team is a vital part of treatment for children and offers support in developmental growth while they are in the hospital. In addition to providing a fun, developmentally appropriate outlet for children, the toys offered in the program reduce the traumatic impact of their wound or hospitalization, and are also used as an incentive or distraction to young patients so their care teams can more effectively treat them.
The toys and activities are also used for psychosocial interventions to help provide education about burn treatment to pediatric patients, so they better understand and cope with their injuries or diagnosis, as well as to prepare them for upcoming procedures.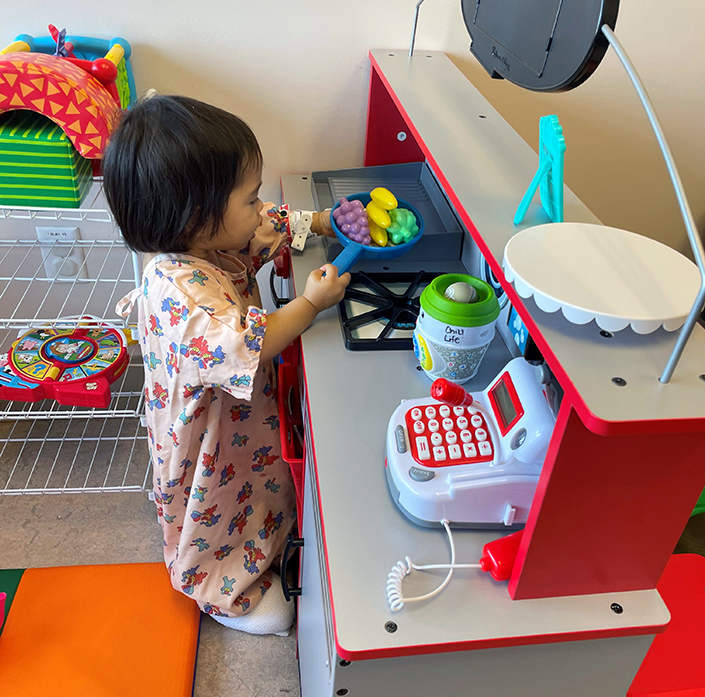 "It's all about working to minimize the potential trauma this experience might have on the child," said Kate Hamelin, certified child life specialist at UC San Diego Health. "Our mission is to educate and empower the children while working to prevent any lasting negative impacts caused by the situation and care received for burn injuries. The toys and activities we provide to our patients help create a safe space for kids in the hospital."
Once a patient leaves the hospital, many of the toys go home with them.
For Mai, she took home her beloved bear, a toy she received from the team upon admission to the hospital.
Embarking on the Healing Journey
Three months after the initial incident, Mai's feet have healed and she's back to wearing normal shoes and walking again.
"The healing journey is a long process, however," said Lu. "The initial wound care with the burn team thankfully only lasted about two months, but Mai's skin is still very sensitive. She is rarely without socks, and we still have to moisturize her feet twice a day."
Lu is using the experience as a reminder that accidents can happen to anyone, at any time.
"I'm a doctor. I council patients. I did all the home safety precautions meant for a toddler, and this still happened to us. It can happen to anyone," said Lu. "It's important to give myself grace and for parents to know of the care available at UC San Diego Health's Burn Center."
"The team at UC San Diego Health was so incredible to us, especially the social workers. There is a wonderful community and burn center support group available as well that I found so valuable and strongly recommend for other parents going through a similar experience.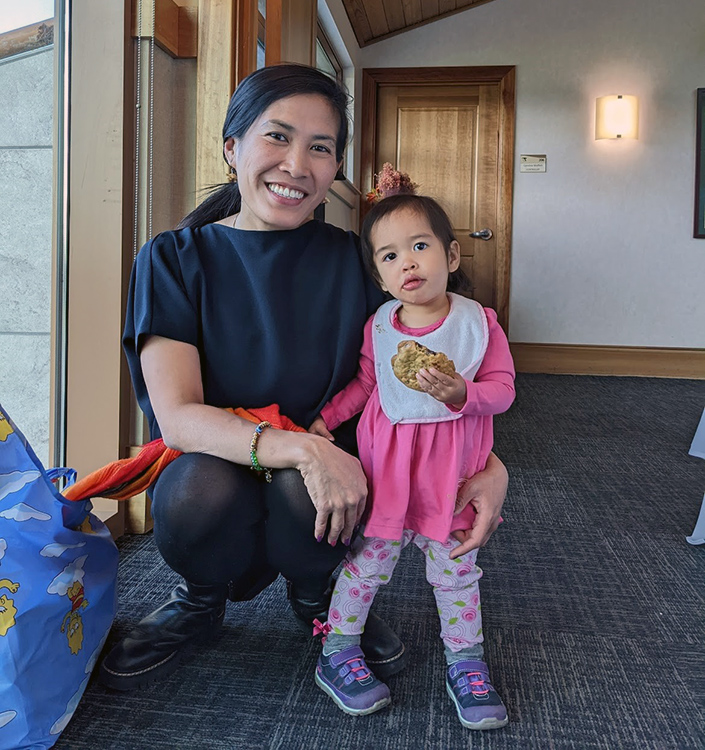 Topics:
Share This:
Stay in the Know
Keep up with all the latest from UC San Diego. Subscribe to the newsletter today.