Partisan Gap on Trust in U.S. Elections Has Grown Even Wider, Survey Finds
The UC San Diego Yankelovich Center Survey also suggests ready and effective real-world remedies
Published Date
By:
Topics:
Share This:
Article Content
Did the 2022 midterms restore trust in American elections? Yes and no. Democrats and independents say they have greater confidence in the system's accuracy and integrity than they did before the election was held. But Republican confidence did not increase.
This is one of the key findings of a national survey from the Yankelovich Center for Social Science Research at the University of California San Diego.
Working in collaboration with nonpartisan election officials in Texas, Georgia, Colorado and Los Angeles County, the research team also ran a survey experiment. They tested the efficacy of actual public-information efforts designed to assure voters of safeguards to their elections, with promising results: Trust in elections went up among participants of all political persuasions – Republicans, Democrats and independents.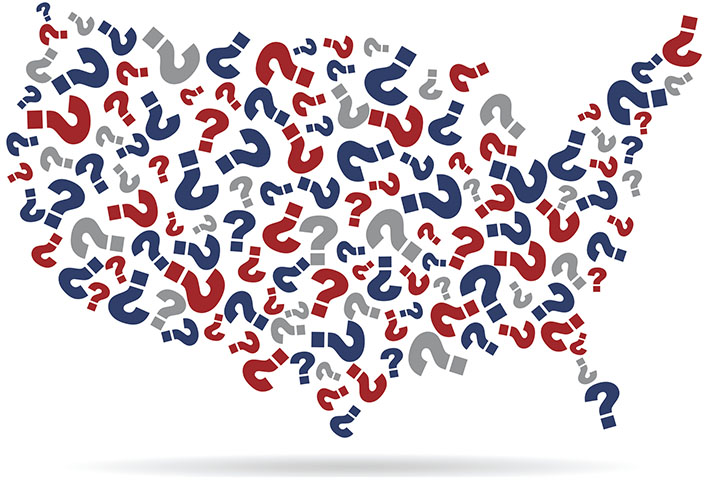 Survey and survey analysis
The UC San Diego Yankelovich Center Survey was conducted with 3,038 eligible voters, drawn to reflect the United Sates' voting age population, from Nov. 17 through 27, beginning after the Associated Press projected control of the U.S. Senate for the Democrats and the U.S. House of Representatives for Republicans. To assess if there was any change in attitudes, these post-election responses were compared to the last pre-election poll conducted by Morning Consult.
Overall, the analysis shows a greater proportion of eligible voters in the U.S. (61%) trust our system "some" or "a lot" after the 2022 contests were called than did going into the election (54%). But that number was driven by a sharp rise in confidence among Democrats and independents.
There is still a significant and persistent partisan gap: According to the Yankelovich Center Survey, Democrats are more than twice as likely as Republicans (85% versus 39%) to view the results of this November's election as accurate, while Republicans are more than five times as likely (43% versus 8%) to suspect significant fraud. Republicans especially but also some independents are most troubled by the counting of mail ballots and the worry that votes are cast illegally.
Other findings of the survey include:
Regardless of partisanship, people have more faith in the integrity of their own state's elections than in other states' and are confident that their own ballot will be counted accurately, suggesting to the researchers that mistrust comes "more from what Americans read or hear about than what they experience directly."
There is a correlation between trust in elections and voter turnout, but a significant majority of those who report distrust still participate.
There is continued educational polarization, from only 43% of those who do not hold a high school degree trusting that the midterm results accurately reflect the vote to 74% of those with advanced degrees.
Looking at other demographic categories: There aren't significant differences by gender but there are differences among age groups, income levels and regions, with older people and people living in the Northeast reporting greater levels of trust, for example. There are also large differences among racial and ethnic groups, with Asian Americans (74%) and Black Americans (68%) registering higher levels of trust in the midterm results than either whites or Latinos (both at 59%).
Survey experiment
In the Yankelovich Center Survey report, the researchers also describe their results of a survey experiment with 9,077 people across the country.
Participants in the experiment were randomly assigned to watch either the "Democracy Defended" ad from Virginia, which introduces elections clerks from all across the state in order to put a human face on those protecting the vote, or a video from Maricopa County in Arizona, providing an in-depth description of the procedures and practices that safeguard election integrity there, or a control video (which was a State Farm ad completely unrelated to elections). They were then asked about their trust in elections. Among those watching the public-information videos, trust rose between 2 and 3%.
The researchers are encouraged by their results, which they plan to analyze in greater detail for publication in a peer-reviewed journal. In the meanwhile, they write, while the shift they document is not on its own enough to overcome existing trust deficits, it "demonstrates that Americans of all partisan stripes are open to learning more about election protections and that this can affect their levels of trust.
"As the 2024 presidential contest approaches," they write, "a robust public information campaign could play a significant role in restoring faith in American elections and potentially reducing the persistent partisan gap in trust that has only grown in the wake of the 2022 midterm."
Thad Kousser, co-director of the Yankelovich Center at UC San Diego, led the research with UC San Diego political science doctoral students Jennifer Gaudette and Mackenzie Lockhart. The academic research team also included UC San Diego political scientist Seth Hill and Mindy Romero of the USC Center for Inclusive Democracy.
The academics partnered with election officials from four states: Texas Elections Director Keith Ingram, Colorado State Election Director Judd Choate, Georgia Elections Division Deputy Director Jesse A. Harris and Los Angeles County Registrar Dean Logan.
The full report is on the UC San Diego Yankelovich Center website.
Topics:
Share This:
Stay in the Know
Keep up with all the latest from UC San Diego. Subscribe to the newsletter today.