Women's Herstory Month Kicks Off by Exploring Reproductive Justice
How storytelling can help shift the reproductive rights narrative
Published Date
By:
Topics:
Share This:
Article Content
Renee Bracey Sherman became pregnant when she was 19 years old. After seeing the positive test result, she immediately knew that she was not ready to become a parent. In what she refers to as "a moment of clarity," she decided to have an abortion. Despite living in a pro-choice family, she kept her experience a secret for six years, living in fear that she would be shamed by others.
Now at 37 years old, Sherman is a reproductive justice activist, abortion storyteller and writer. She was invited to speak as the keynote address for UC San Diego's Women's Herstory Month celebration, focusing on the topic, "Elevating Activist Stories: Storytelling as a Tool for Social Change." Sherman serves as founder and executive director of We Testify, an organization dedicated to providing leadership and support for people who have abortions and amplifying their stories at the intersection of race, class and gender identity.
"Our voices change the conversation and challenge myths and disinformation that is spread about who we are and what our lives are like and why we had our abortions," said Sherman. "When you start to hear the stories, you realize that abortion reasons are as diverse as the people who have them. That's the danger of a single narrative."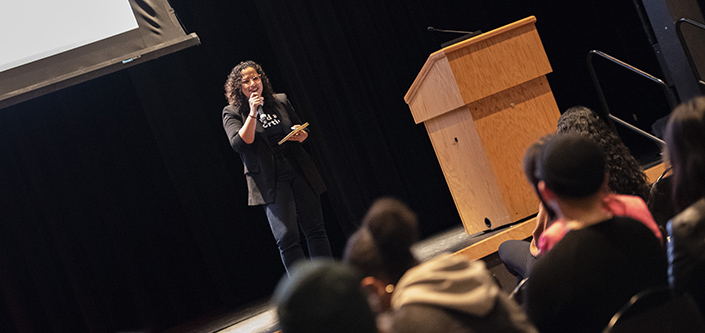 Each year during March UC San Diego's Women's Center collaborates with numerous campus partners to hold a series of events to honor the many contributions of women in history, culture and society; this year's theme is "Celebrating Women Who Tell Our Stories."
"Storytelling is critical for building understanding, empathy and challenging dominant narratives," said Women's Center Director Marnie Brookolo. "It creates space for more diverse experiences to be shared, and ultimately has the power to deepen our connections and understanding of each other. For too long many stories have gone untold, and this month gives us an opportunity to highlight a wide range of experiences, elevating storytelling and storytellers."
Our story to tell
Sherman opened the event by screening a short documentary she helped produce called "Ours to Tell," which offers a glimpse of the values, relationships and spirituality of four people who had an abortion. The film advances a different narrative, one that sheds light on the deeply personal choice each person has to make when they choose if, when and how to grow their family.
Though 62% of people in the United States believe abortion should be legal in all or most cases, a stigma still exists. Sherman spoke about how many people fear being judged or ostracized if they choose to end their pregnancy. And for those who are pro-choice, it is sometimes conditional—such as the belief you should only have the procedure once if needed, or it should only be reserved for a certain age or should only happen for a particular reason.
According to the Bedbible Research Center, 11 out of 1,000 women get an abortion every year, 57% of which are among women ages 20 to 29. "The majority of people who have abortions are people of color, already parenting, and are religious and spiritual," said Sherman. She added, "The majority are living under or just barely above the federal poverty level."
Rather than responding with shame, Sherman urged the audience to embrace people who are making a decision about a pregnancy, one of many health care decisions a person will make during their lifetime. She explained this right to bodily autonomy has become even more challenging, if not outright threatening, since the overturning of Roe v. Wade in June 2022, a Supreme Court ruling that made abortion legal across the United States for nearly 50 years.
"We have a long way to go toward liberation," said Sherman. "This is a historic moment in truly the worst way possible. I believe that's why our abortion stories are so important."
While her talk was anchored by the issue of abortion, her key message was the importance of using a holistic approach to inspiring a cultural shift. This includes showing up for pregnant people with support instead of shame, improving the way pregnant people access health care, helping young people become better educated about safe sex and ensuring all people—regardless of income level or citizenship status—are able to receive reproductive health support from contraceptive methods to abortion services.
"This isn't just about people who are having abortions," said Sherman. "This is about young people who become pregnant and are not supported even if they choose life. This is about how we treat single parents...We talk so badly as a nation about people who become pregnant outside of the perfect norm."
At moments tearing up, and other times speaking excitedly about the possibility for change, Sherman evoked an attitude of hope. She closed with a message of love. "To those of you who've had abortions who are here, I want you to know that I love you, I see you, and when you are ready, I hope that you will share your stories—because your stories deserve to be heard."
Join in Women's Herstory Month events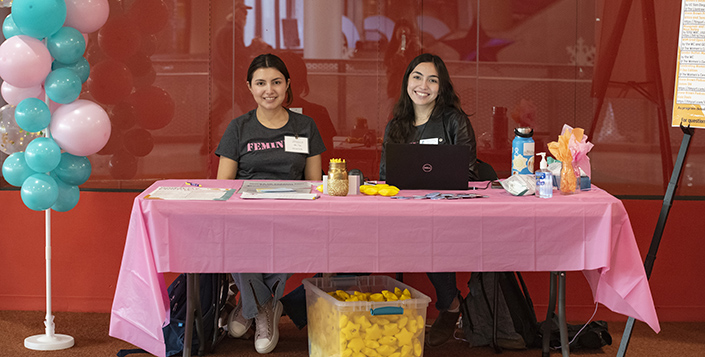 Throughout this month, the Women's Center—along with numerous campus partners—is hosting a series of events that elevate the voices of women through podcast listening sessions, open mic nights, letter writing workshops and more. The Women's Center is one of six campus community centers led by the Office for Equity, Diversity and Inclusion and provides education and support around gender issues with the goal of promoting an inclusive and equitable campus community. Following is a sampling of activities, and the full schedule can be viewed online.
March 7 | 4:30-6:30 p.m.
Film Screening and Q&A with Artist Soni Kum
The event will highlight multimedia artist Soni Kum's work on the stories of stigmatized North Korean "returnees" in Japan—known as "Zainichi Koreans," or Japan-born Korean nationals who repatriated to North Korea after the Korean War. Kum, a third generation Zainichi Korean, centers on questions relating to post coloniality in East Asia, environmental crisis, gender politics and transgenerational trauma across diverse media. Sponsor: Film Studies.
March 8 | 1-2:30 p.m.
Misogynoir and Digital Resistance: A Talk with Moya Bailey
Join Moya Bailey—an African American feminist scholar, writer and activist—to learn the ways in which social media can be used to promote social justice and storytelling. Bailey created the term "misogynoir," which she describes as a combination of misogyny and anti-Black racism. She is also co-author of "#HashtagActivism: Networks of Race and Gender Justice" and "Misogynoir Transformed: Black Women's Digital Resistance." Sponsors: SDSU Women's Resource Center, SDSU Black Resource Center, SDSU Women's Studies Department, UC San Diego Women's Center, and USD Women's Commons.
March 9 | 6-9:30 p.m.
Women's HERstory Month Movie Night @ Muir
Join us for a showing of the biographical movie titled "She Said," the story that served as a launching pad for the #MeToo movement, ending decades of silence about the subject of sexual assault and harassment—demonstrating the impact of when women voice their stories. There will also be a chance to win gift baskets including goodies from women-owned small businesses in San Diego. Sponsor: Muir College Student Affairs.
March 9 | 5-6:30 p.m.
Women's Herstory Month Grad Open Mic Night
Graduate students are invited to share a piece of work that inspires or moves them. We welcome original work, or you can choose your favorite piece to read, from spoken word and poetry to music and short stories. All works are welcomed, though we encourage you to keep in mind the WHM theme, "Celebrating Women Who Tell Our Stories." Pizza and soda will be provided for all attendees, and performers get a special goodie bag! Sponsors: Women's Center and Division of Graduate Education and Postdoctoral Affairs.
March 10 | 2-3:00 p.m.
Letters of Love and Celebration
Women's Herstory Month is all about celebrating women and their accomplishments. Let's take this time to write letters to the women around us who make a difference in our lives--whether it be friends, family, or even letters to yourself. The Women's Center will provide materials throughout the month to write letters or join us on March 10 as we gather to write together while listening to music and partaking in snacks. Sponsor: Women's Center.
March 22 | 12-1 p.m.
Lunch and Listen Podcast Series: Viola Davis
Faculty and staff are invited to join the Women's Center weekly "Lunch and Listen," held virtually every Wednesday. On March 22, the center will present "Being Brave, Speaking Truth, and Finding Me," a podcast featuring author Brené Brown in conversation with actress and producer Viola Davis on her new memoir. Davis reflects on a turbulent childhood, the journey to overcoming trauma, and how she found her voice in the often-brutal entertainment industry. Sponsor: Women's Center.
Stay in the Know
Keep up with all the latest from UC San Diego. Subscribe to the newsletter today.