Uplifting Generations: Asian and Pacific Islander American Students Share Stories of Mentorship
By:
Published Date
By:
Share This:
Article Content
Throughout the month of May, UC San Diego is honoring the legacy and contributions of Asian and Pacific Islander Americans with a lineup of events including feature performances, films, discussions and lectures centered on the theme "Uplifting Generations Through the Spirit of Community."
As part of our campuswide commemoration of Asian and Pacific Islander American Heritage Celebration Month, we asked undergraduate student leaders who identify as Asian and Pacific Islander American to share their personal thoughts and experiences in response to the question, "Describe a mentorship or relationship you have within the Asian and Pacific Islander community that has had a positive impact on you as a student."
Here are four of their stories:
Qui-Shawn Tran (he/him)
College: Warren
Major: Interdisciplinary Music Production and Computing Arts
Charles Lu was the first UC San Diego campus administrator I met who had both studied abroad and represented an Asian American voice in a position of power. Along with being an alumnus of the Fulbright program, he was the director of OASIS, the academic enrichment organization that co-hosts the annual Summer Bridge program.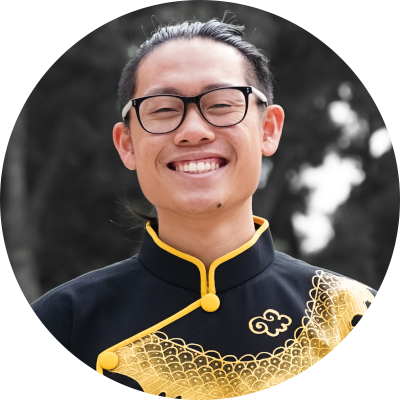 My parents immigrated from Vietnam to the San Gabriel Valley, the mecca of Southeast and East Asian immigration near Los Angeles County, and raised me to be successful in an American system. They didn't go to college but they promised me that a university education would be the life-changing accomplishment I would need to land the best jobs and have all my ducks in a row. My expectations were grand.
Two months into being at UC San Diego, there were no indications of greater purpose between my general education classes and my awkward surface-level introductions at events. My conversations with Charles were opportunities to candidly explain my internal debates of why I struggled with belonging and exploring this great new world. Ultimately, his advice was a straightforward assessment of my character, which affirmed my desire to be a trailblazer—to be proud I was different.
Since those years, music production and technology became my major; I studied abroad in wonderful Copenhagen, backpacked through Europe, fundraised for local musical theaters, performed poetry and spoke at lengths to represent the Asian American experience and decided that being an artist will be my career. Most recently, in April, I became a fellow in the Ivory Bridges Foundation—a fellowship program Charles founded in 2020 to connect first-generation college students to their career dreams.
It's not easy to strive for far-off milestones or to chase dreams when it feels like you're in it alone, but if Charles has shown me anything, it's this: When I get where I'm going, I'm going to turn around and help the next person in line.
Christine Frazier (she/her)
College: Sixth
Major: Ecology, Behavior and Evolution
Like many other individuals who belong to the Asian and Pacific Islander American community, I hold deep and profound respect for my elders. Unfortunately, not everyone gets the opportunity to meet their elders. Although the relationship and person I have chosen to share about is no longer with us nor have I ever met him, I feel a strong connection to him. This person is my grandfather, Godfrey Padayao, or as I call him Papa Padayao. Although I have never met him, he continues to be an inspiration.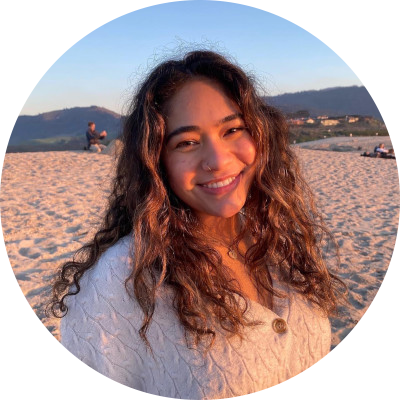 My grandfather was a first-generation Filipino American who was born and raised in Hawai'i. Growing up, my grandfather and his family did not have a lot of money. His family had worked hard and made many sacrifices for him to receive an education. He attended a private Catholic school on O'ahu for most of his primary school education. My grandfather made the move from Hawai'i to the mainland for college where he attended Saint Mary's College in Moraga, Calif. This was a huge stepping stone in my family because no one had attended college before. He was able to graduate and receive a degree in political science. Because of him, the generations to follow have been inspired to continue their educational journeys. Knowing my family's sacrifice to be able to receive any form of education, I acknowledge how lucky I am to have this privilege. Education was and continues to remain something very important in our family.
I am thankful for my grandfather for everything he did to get me and my family here to where we are today. I know that Papa Padayao is with me always and I hope to continuously make him proud.
Sialoi Ta'a (he/him)
College: Warren
Major: Electrical Engineering
The relationship that I have within the Asian and Pacific Islander American community is with my dad. Growing up, I didn't know how to do as much as my dad did. This made me want to learn more about the world and have just as much knowledge and experience as him. I still don't know as much as him but it doesn't stop me from trying to get there. This led me to try multiple sports and take on challenges academically. The sport that I had the most fun in was Track and I was on Varsity Sprints.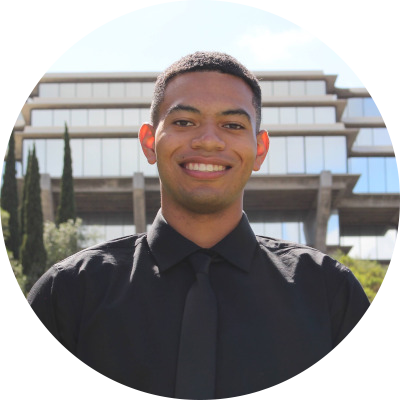 The biggest challenge academically that I faced was teaching myself programming. There was a steep learning curve and I didn't know where to start or how to think like a programmer. After a few weeks of learning step by step online, I was the lead programmer on multiple robot teams at the same time. To this day, I'm still working in robotics and learning how to create intelligent systems.
Learning from my dad has positively affected me as a student athlete by helping me discover what I'm capable of, what I need to improve on, and more importantly how to keep trying even if something doesn't work out the first time.
Mira Gupta (she/they)
College: Muir
Major: Global Health
The Asian and Pacific Islander American community at UC San Diego is so vast and culturally diverse. Two pillars of our community are Windi Sasaki (Associate Director of Asian Pacific Islander Middle Eastern Desi American Programs and Services or APIMEDA) and Brian Crie (APIMEDA Programs and Operations Coordinator).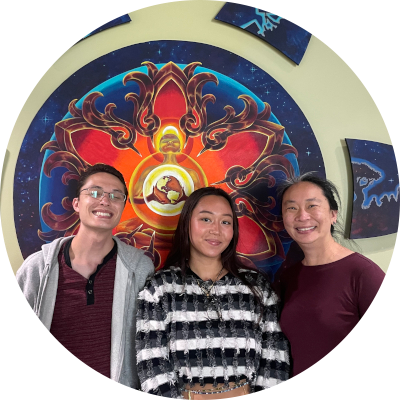 Both Windi and Brian have been mentors, friends and comrades throughout my college experience. They have been there for me, helping me in my transition to becoming a student leader as co-chair for the Asian Pacific Islander Student Alliance (APSA). Brian sat in on our board meetings, and demonstrated to me the importance of allowing folks to take up space and advocate for their own ideas. They showed me what it means to be an effective leader.
Windi and Brian's knowledge, expertise, and experience as UC San Diego alumni helps to unify our APIMEDA student population and provide resources for underrepresented students, including sharing local food recommendations and engaging in conversations about the radical Asian and Pacific Islander American history at UC San Diego. They have helped guide me to new opportunities to be a voice for others and myself at UC San Diego. Windi shared job opportunities, and vouched for me to be a student representative on campus. They were there for me when no one else was.
In moments where I feel overwhelmed, I know I can always go to Windi and Brian. They welcome me with open arms and hold space for me to just be. They embody empathy, care and community. I will forever be grateful for their guidance, their wisdom and their genuine compassion for me and so many others.
Stay in the Know
Keep up with all the latest from UC San Diego. Subscribe to the newsletter today.