UC San Diego Professor Uses Photography to Draw Together Different Disciplines
Published Date
Article Content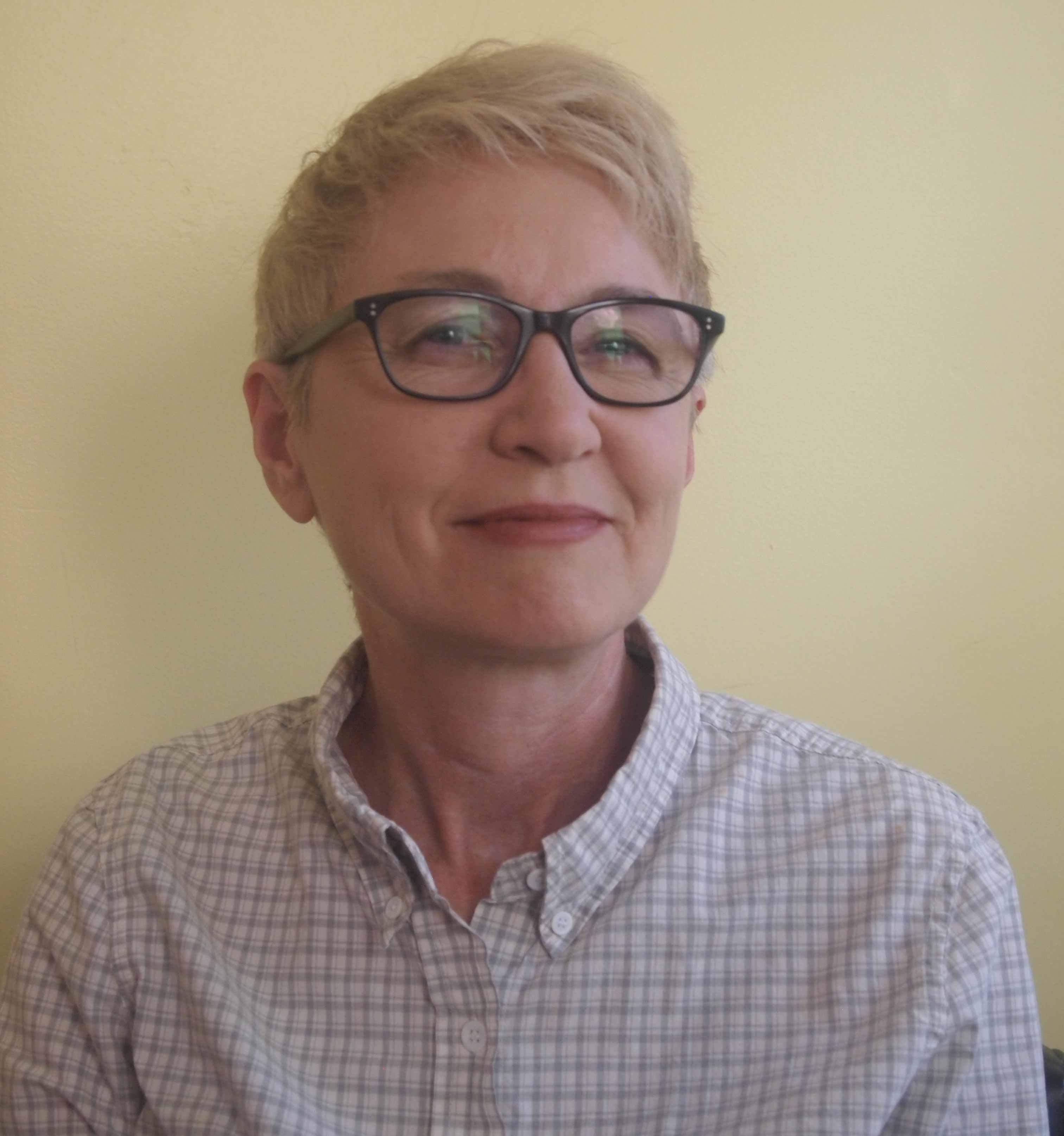 University of California, San Diego Department of Visual Arts Professor Lisa Cartwright has spent her career working across different disciplines.
"As a scholar of art and media, I have always focused on practices in which the poles of art and science come together around aesthetic form, modes of knowledge, or visions of the future," acknowledged Cartwright.
True to form, this month Cartwright is curating two coinciding exhibitions and a workshop that uses photography to draw together different disciplines. Both exhibitions feature works in photography and video by Connie Samaras, professor of art at UC Irvine. Samaras is internationally renowned for her photographic and video works centering on structures in places like Antarctica, Dubai and the American Southwest.
"Like some of our faculty in the Department of Visual Arts at UC San Diego, Samaras engages in research-based art practice that engages with global visions of science, technology and the built environment," noted Cartwright.
The unifying title for the two exhibitions, sponsored by the Department of Visual Arts and the Qualcomm Institute, is Connie Samaras: Speculative Landscapes. It features Samaras' photography and video from the series Edge of Twilight, V.A.L.I.S, and After the American Century. The exhibitions take place in the galleries of the Structural and Materials Engineering (SME) Building and Atkinson Hall, two campus landmarks designed to foster innovation across the arts and sciences.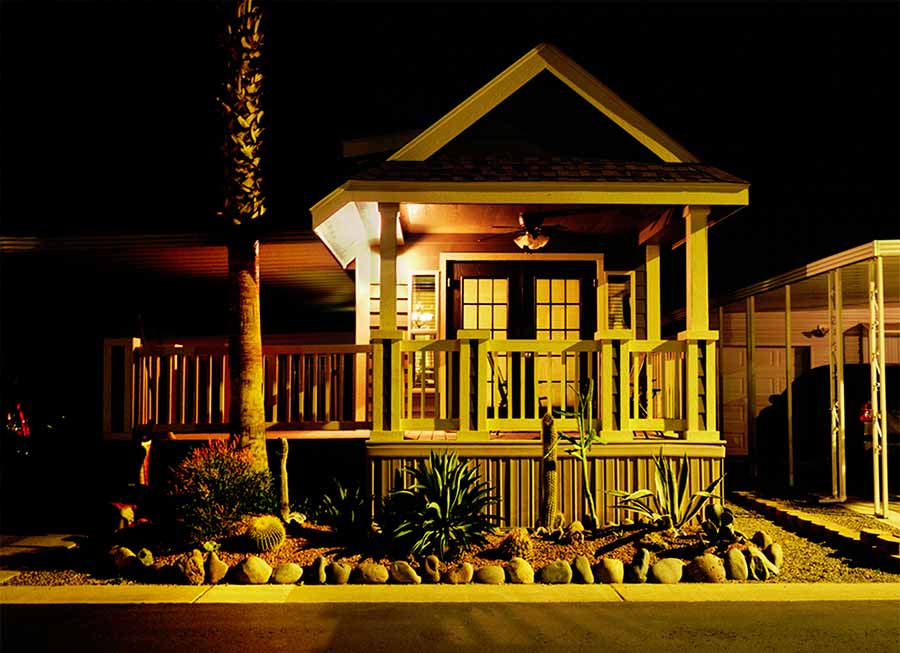 Running from April 4 – 22, 2016, works from Edge of Twilight is on display at the Visual Arts Gallery, SME. Samaras shot Edge of Twilight in the aftermath of the 2008 economic crisis. The series captures a modest visionary landscape, a women's retirement community made up of RV homes set in a remote desert location somewhere in the American Southwest.
"Edge of Twilight is composed primarily of shots of domestic exteriors, personalized with light strands and lawn ornaments. These are juxtaposed with oversized portraits that make iconic some of the inhabitants of this idyllic place," explains Cartwright.
In contrast and conversation with Edge of Twilight, the photographs from the V.A.L.I.S. series were shot at a scientific research station at the South Pole with support from the National Science Foundation. V.A.L.I.S. or "Vast Active Living Intelligence System" is titled after a novel by Philip K Dick. It is on view at the gallery@calit2 and in the ground floor hall of Atkinson Hall from April 4 to June 3.
"Like literary works of speculative science fiction, the V.A.L.I.S. series of photographs and video invites us to think more deeply about the stakes and consequences of human impacts as we shape another generation of research at the poles," notes Cartwright.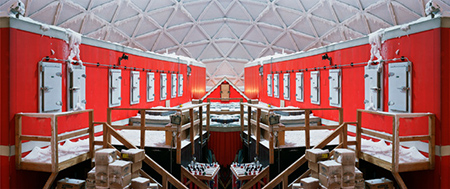 Also on display along with V.A.L.I.S. is a video from After the American Century, a series in which Samaras captures laborers who worked around the clock on the architectural transformation of Dubai, a cityscape transformed with astonishing speed during the economic boom of the first decade of this century.
Delving into the research that informs these exhibitions, Cartwright, with Elizabeth Wolfson of Brown University, has organized Feeling Photography: a Workshop on Affect and Transmedia taking place April 15 from 10:00 a.m. to 4:00 p.m. at the Cymer Conference Center, SME. Funded by the UC Humanities Research Institute, this workshop will include talks by scholars of photography and culture Elspeth Brown (University of Toronto), Shawn Michelle Smith (School of the Art Institute of Chicago), Ken Gonzales-Day (Scripps College), Kelli Moore (NYU), Kamala Visweswaran (UC San Diego), and David Serlin (UC San Diego).
An opening panel and reception for the Connie Samaras: Speculative Landscapes exhibitions will follow the April 15 workshop from 5:00 – 7:00 p.m. at the Atkinson Hall Auditorium and gallery@calit2. Cartwright will serve as moderator for the panel, which will feature readings, presentation and discussion with Connie Samaras, Lisa Bloom (Stanford), Ken Gonzales-Day, and Anna Joy Springer (UC San Diego).
Cartwright, known for her writing about visual culture and the body in feminist science and technology studies, is the author of the books, "Practices of Looking," and "Screening the Body," among other works. Cartwright, while a visual arts professor, holds additional appointments in the Department of Communication, the graduate Science Studies Program and the program in Critical Gender Studies at UC San Diego.
During Winter Quarter 2016, the Department of Visual Arts launched its new major in speculative design, an area of study created to prepare student-artists for the 21st-century professional marketplace. For more information about the visual arts department and Cartwright's exhibitions, please visit the website.
Stay in the Know
Keep up with all the latest from UC San Diego. Subscribe to the newsletter today.