UC San Diego Named SDG&E Energy Champion
Award reflects university's commitment to achieve energy innovation and efficiency
By:
Laura Margoni

Laurel Wilkinson
Media Contact:
Published Date
Article Content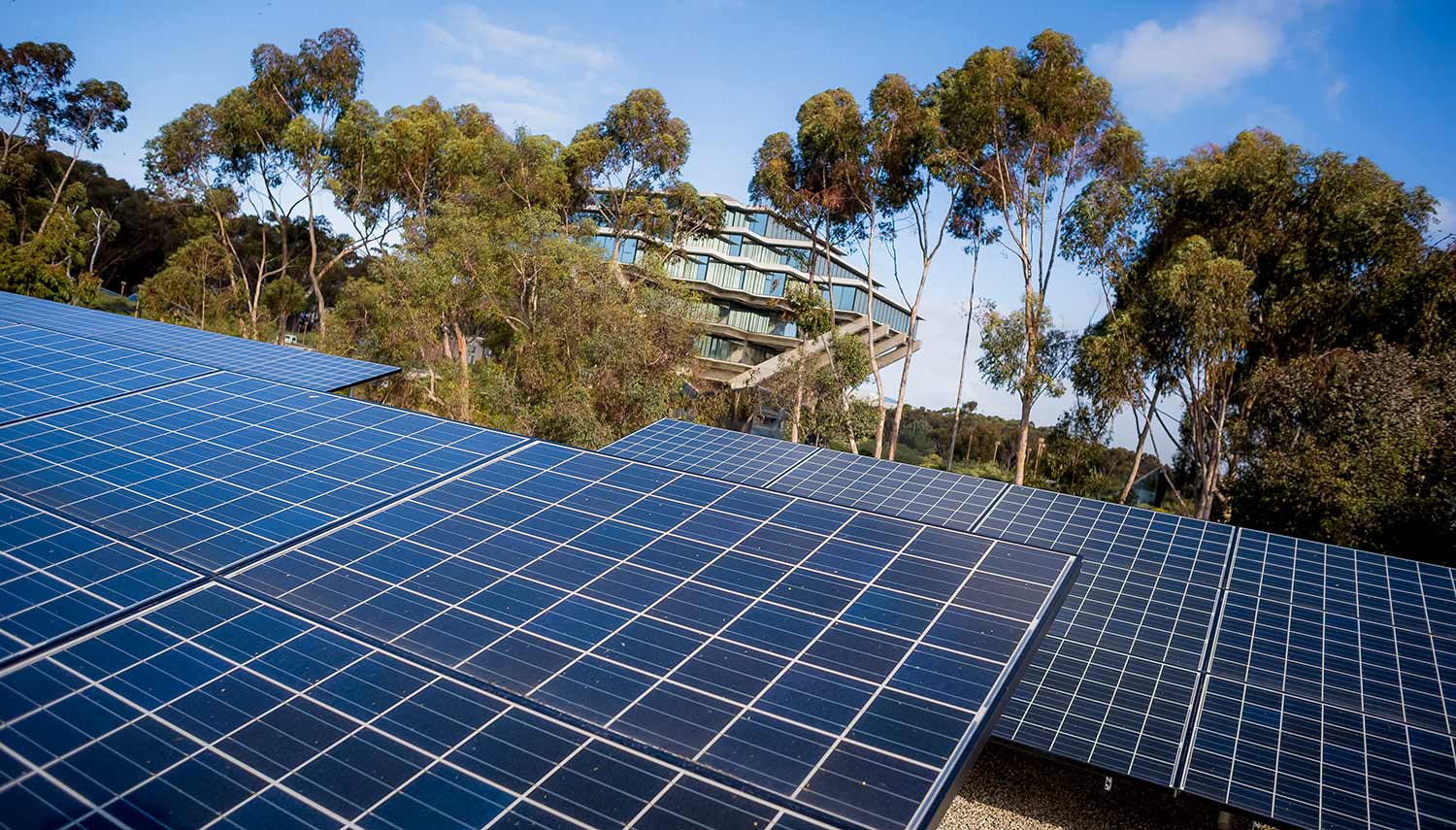 The University of California San Diego was honored as an Energy Champion of Higher Education at SDG&E's 11th annual Energy Showcase. UC San Diego, along with 10 other local organizations, was commended for its "remarkable commitment to sustainability, energy efficiency and conservation." The university was recognized for its continued search for innovative and diverse energy sources to support the needs of its residents, laboratories and learning and medical facilities as part of the University of California System's larger mission to be carbon neutral by 2025.
"We are honored to receive this award," said Gary C. Matthews, vice chancellor for Resource Management and Planning. "SDG&E's recognition of UC San Diego's commitment to energy efficiency highlights the university's role as a living laboratory in the world of energy, promoting the principles of research and innovation to find novel and varied sources of energy."
Supporting approximately 45,000 employees and students and 16 million square feet of buildings, UC San Diego requires a strong energy infrastructure to support the needs of its community. Though the university already generates approximately 85 percent of its energy onsite, it is still a net importer of peak electricity. With the help of SDG&E incentives, the campus has implemented a series of energy retrofits and technological advancements to reduce its reliance on expensive and inefficient energy. High-power battery systems and energy storage thermal tanks have reduced the cost of energy while a lighting retrofit pilot project in Geisel Library and the installation of demand-controlled ventilation systems in 12 laboratory buildings have increased campus energy efficiency. Overall, UC San Diego's partnership with SDG&E facilitated a 28 whole building, monitoring-based commissioning study that resulted in average energy savings of 20 percent.
"The energy efficient upgrades that UC San Diego has implemented are commendable, and we look forward to continuing to work with the campus to help them achieve their sustainability goals," said Caroline Winn, chief energy delivery officer for SDG&E. "The energy industry is changing rapidly and we are committed to improving the way energy is delivered by utilizing new, smart technologies that benefit all of our customers."
Stay in the Know
Keep up with all the latest from UC San Diego. Subscribe to the newsletter today.