UC San Diego Artist Ernest Silva Dies at 65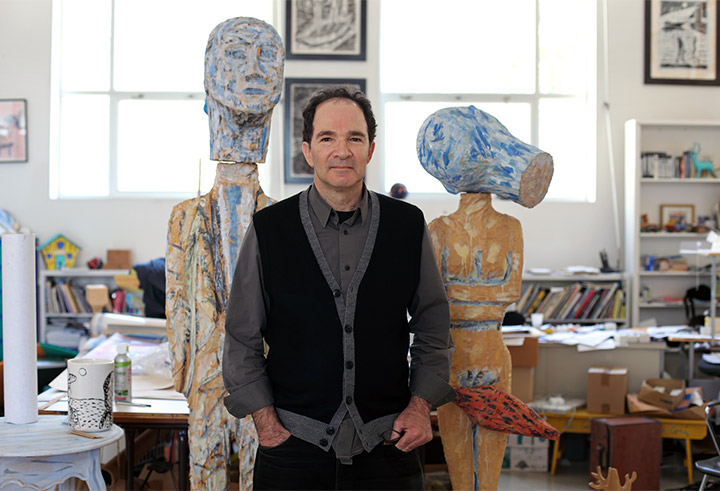 Ernest Silva in his UC San Diego studio, 2013. Photo by Monica Nouwens
Related Links
Painter and sculptor Ernest Silva, professor emeritus of visual arts at UC San Diego, died on Feb. 24. He was 65. Silva joined the faculty in 1979 and retired in 2013.
One of his final exhibits was "Volcanos and Full Moons," a survey of his work last year at the Oceanside Museum of Art. To San Diegans, Silva might be best known for "The Rain House," his installation at the New Children's Museum, a colorful creature-covered playhouse featuring the sounds of rain.
"Ernie was a cornerstone of the visual arts department at UC San Diego for more than 30 years," said department chair Jordan Crandall, "with contributions to teaching, service and leadership that are immense, profound and innumerable. We have all been touched, in one way or another, by his generous and kind spirit, his sharp critical insights, and the deep knowledge and dedication he brought to his art. He will be deeply and profoundly missed."
Silva's critiques of student work were incisive and encouraging, said filmmaker Jean-Pierre Gorin, professor of visual arts whose tenure at UC San Diego coincided with Silva's. Among his most popular classes were studios in painting and drawing.
"He never imposed his way of doing things on the students," Gorin said. "He was a moral anchor. He did the right thing in relationship to his work, his students and his colleagues. He kept himself above the fray."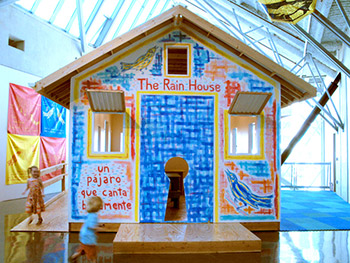 Ernest Silva's "The Rain House," 2008-present, at the New Children's Museum in San Diego.
Silva's art captured an innocence that appealed to a wide audience, but also held depths of meaning revealed to viewers who took the time for close examination.
"His capacity for wonderment was very much a part of his art," Gorin said. "Unlike many other contemporary artists, he was not looking at popular culture. He was going back further, when popular culture did not exist as we know it today. He was inspired by very basic folk elements, legends, textures. His work was sophisticated in its simplicity."
In a series of paintings in the early 1990s, Silva depicted a deer on a raft afloat on blue water that reflected a full moon.
"I'm a representational artist," Silva said in a 2001 interview with San Diego's Arts Magazine. "Not in the sense that my work looks photographic in the way the eye sees, but primarily that I work with images of people and images of the natural world—whether it's landscape or the ocean. I tend to see myself as a visual poet and I don't really work with linear narratives. But I work with places and people in such a way that what I hope is that it triggers, on the viewer's part, contemplation. And when they start to relate—when they start to look at the images I assemble and internalize them—they know there's some sort of story taking place."
Reviews of Silva's work appeared in Arts magazine, ARTnews, the Los Angeles Times, the San Diego Union-Tribune (now UT San Diego), Art in America and many other publications.
He received a National Endowment for the Arts (NEA) Fellowship in Painting in 1989 and an Excellence in the Arts Award from the University of Rhode Island in 2001. Silva's work appeared in "Made in California: Art, Image and Identity 1900-2000" at the Los Angeles County Museum of Art. Silva was a co-creator, along with San Diego gallery owner Mark Quint, of "IN/SITE 92," an exhibition of site-specific art in San Diego and Tijuana as well as exhibits in galleries, bookstores and museums.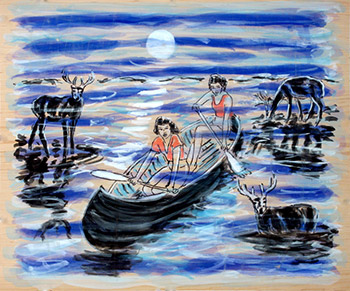 "In the Night," 2009, by Ernest Silva.
Silva was born Dec. 11, 1948 in Providence, R.I. He earned a bachelor's of fine arts degree from the University of Rhode Island and a master's of fine arts from Temple University's Tyler School of Art. Silva's work was featured in more than 50 solo exhibitions and at least 200 group shows, at museums and galleries in New York City, Chicago, Los Angeles and many other American cities, as well as in Italy, Denmark, Mexico and other international locales.
Reviewing an exhibit of Silva's work, ARTnews writer Susan C. Larsen said, "These lyrical paintings are direct and unself-conscious…eager to reveal themselves vividly and clearly. In this era of self-conscious expressionism, Silva's work has a peculiarly American romanticism, akin to that of Poe or Ryder in its appreciation of the fierce beauty of the barren and the melancholy. His recurrent imagery…suggests a dreamer's landscape. But there is nothing here of slumber. The dreamer's eyes are open and he is wide awake."
Silva is survived by his wife Susan Silva; two stepsons, Marcus and Vaughan Mabee; his 93-year-old mother Theresa Silva; sister Ann Casey; and brother Ronald Silva.
Stay in the Know
Keep up with all the latest from UC San Diego. Subscribe to the newsletter today.