UC San Diego's Graduate Programs Ranked Among Best in Nation by U.S. News & World Report
Chemistry and engineering programs receive top marks in latest ranking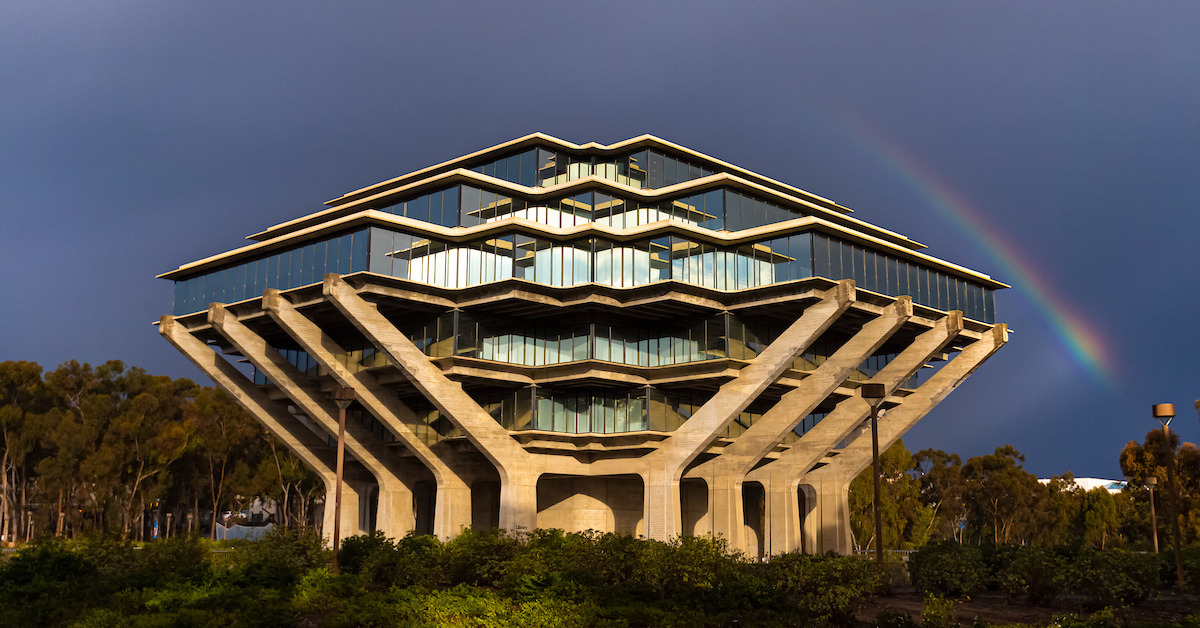 Published Date
By:
Share This:
Article Content
Graduate programs and professional schools at the University of California San Diego have once again been recognized for their excellence by U.S. News & World Report. The 2023-2024 Best Graduate Schools rankings, released today, named nine of the campus's graduate programs among the top 10 in the nation.
In the latest annual ranking, UC San Diego's graduate education in chemistry received praise across an array of specialties. The overall ranking for the university's chemistry program rose one spot to 20th in the nation, with biochemistry jumping eight spots to eighth in the nation. The following specialties also ranked highly: inorganic chemistry (14), theoretical chemistry (15), and physical chemistry (17).
U.S. News has also previously named a selection of other UC San Diego graduate programs as among the best in the nation, including: political science (8), fine arts (10), psychology (12), and economics (14).
"We are pleased our rigorous and academically diverse graduate education programs continue to be recognized by U.S. News & World Report," said Chancellor Pradeep K. Khosla. "Empowered by our world-class faculty, top-ranked academic curriculum and comprehensive student support, UC San Diego graduate students conduct groundbreaking research, emerge as leaders in their fields and uncover innovative solutions to some of society's most pressing issues—as students on campus and throughout their careers."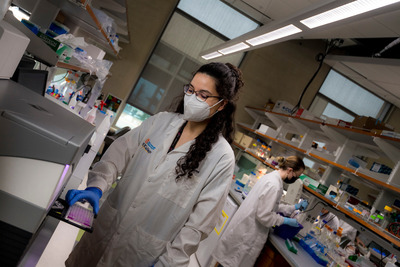 From its start in 1960 with an inaugural class of 107 graduate students, UC San Diego has evolved into a world-class institution with top scholars spanning over 120 programs. The Division of Graduate Education and Postdoctoral Affairs (GEPA) is a critical resource for students, offering innovative professional development programs and working closely with campus partners to ensure long-term success after graduation.
"The latest U.S. News & World Report rankings continue to showcase how UC San Diego is at the forefront of so many academic disciplines," said Dean of Graduate Education and Postdoctoral Affairs James Antony. "Graduate education here, which includes contributions from over 10,000 graduate students and postdoctoral scholars, is making an indelible impact. Tritons are at the forefront of knowledge creation that transforms not only our community and region, but the nation and the world."
Below is a sampling of UC San Diego's programs and specialties that ranked among the top 20 in the nation:
Engineering
Bioengineering (5); Computer Science: Systems (8); Computer Engineering (10); Engineering (12); Computer Science (12); Computer Science: Programming Language (12); Computer Science: Artificial Intelligence (12); Computer Science: Theory (12); Electrical Engineering (14); and Aerospace Engineering (18).
Physical and Biological Sciences
Discrete Mathematics (5); Physics of Living Systems (5); Chemistry: Biochemistry (8); Algebra (10); Condensed Matter (13); Inorganic Chemistry (14); Geometry (15); Theoretical Chemistry (15); Physical Chemistry (17); Chemistry (20); and Math (20).
Scripps Institution of Oceanography
Geophysics (8) and Earth Sciences (9).
Uncovering new discoveries through research and education
In its latest 2023 report, UC San Diego is listed as a top-ranked university for graduate students studying chemistry. The UC San Diego Chemistry & Biochemistry Graduate Program has over 60 faculty members performing cutting-edge research, ranging from uncovering how aerosols impact the environment to investigating complex biological problems associated with neurodegenerative diseases.
Recently, UC San Diego researchers received a $1.3 million grant from the W. M. Keck Foundation for a project that could help scientists better understand the role misfolded tau proteins play in causing neurodegenerative diseases such as dementia. The principal investigators on the project are from the Department of Chemistry and Biochemistry and the Halıcıoğlu Data Science Institute.
Last fall, biochemists at UC San Diego shed new light on how the harmful S. pyogenes disarms a peptide called LL-37—our bodies' natural defense against the bacterium responsible for serious infections such as toxic shock syndrome. The work was led by Department of Chemistry and Biochemistry Professor Partho Ghosh's lab, alongside School of Medicine's Department of Pediatrics Professor Victor Nizet. Researchers hope the findings will be useful going forward in designing drug therapies that combat the growing number of strep A infections worldwide.
Further, U.S. News & World Report has ranked the Jacobs School of Engineering 12th overall in the nation and eighth among public engineering schools. The bioengineering program within the engineering school is ranked fifth in the nation. The school's computer science specialization in systems placed in the eighth spot within its respective category. The Jacobs School's computer engineering program, which is a collaboration between the computer science department and the electrical engineering department, ranked 10th in the nation.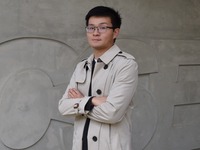 UC San Diego computer scientists recently co-led research on smartphone spyware apps, which allow people to spy on spouses, partners, colleagues and more. The team found that these apps are not only hard to notice and detect, but they also will easily leak the sensitive personal information they collect. If you want to know if your device has been infected by one of these apps, you should check your privacy dashboard and the listing of all apps in settings. Enze Liu, the first author of the recent paper and a computer science Ph.D. student at UC San Diego, shared that spyware apps pose a series of real-life problems and that the team hopes to raise awareness for everyone, from victims to the research community.
Led by bioengineering professor Karen Christman, a research team has also developed a new injectable biomaterial that can reduce inflammation in tissue and promote cell and tissue repair. The biomaterial was tested and proven effective in treating tissue damage caused by heart attacks in both rodent and large animal models. Martin Spang, the first author of the paper that outlines these findings, earned his Ph.D. in Christman's group in the Shu Chien-Gene Lay Department of Bioengineering at the Jacobs School of Engineering.
UC San Diego also continues to attract the brightest minds as they pursue the next step of their higher education journey as graduate students. Last September, five UC San Diego bioengineering and bioinformatics graduate students were honored as 2023 Siebel Scholars. The program recognizes the most talented students in the world's leading graduate schools of business, computer science, bioengineering and energy science. Doctoral candidate in mathematics Gregory Patchell was also recently named one of two UC San Diego 2023 Champions of Integrity. Patchell was recently honored for his volunteer work on academic integrity at the university's 13th annual Integrity Awards.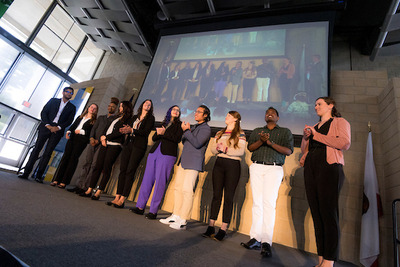 Graduate education that shapes the next generation of leaders
At UC San Diego, graduate students undertake vital research and apply that research in efforts to address critical problems facing the state and society. Each year, graduate students have the opportunity to showcase the impact of their research at Grad SLAM, an annual UC-wide contest. Bolstering their presentation skills in front of a live audience, participants compete at their home university before squaring off against fellow UC students for the systemwide title and a cash prize.
The Division of Graduate Education and Postdoctoral Affairs (GEPA) also provides academic, financial, social, community and health resources to its student population. GEPA supports graduate students as they apply for a variety of prestigious fellowships, such as the National Science Foundation Graduate Research Internship Program and Fulbright U.S. Student Program Research Award.
Each year, U.S. News ranks professional school programs in business, education, engineering, law, medicine and nursing, including specialties in each area. The rankings are calculated based on expert opinion about program excellence and statistical indicators that measure the quality of a school's faculty, research and students. The data comes from statistical surveys of more than 2,150 programs and from reputation surveys sent to more than 23,200 academics and professionals, conducted in fall 2021 and early 2022. U.S. News has delayed the release of its ranking of medical schools and law schools this year.
To read the complete U.S. News and World Report's 2023-2024 Best Graduate Schools list, visit the publication's website. For a complete listing of UC San Diego rankings and accolades, visit the Campus Profile.
Stay in the Know
Keep up with all the latest from UC San Diego. Subscribe to the newsletter today.