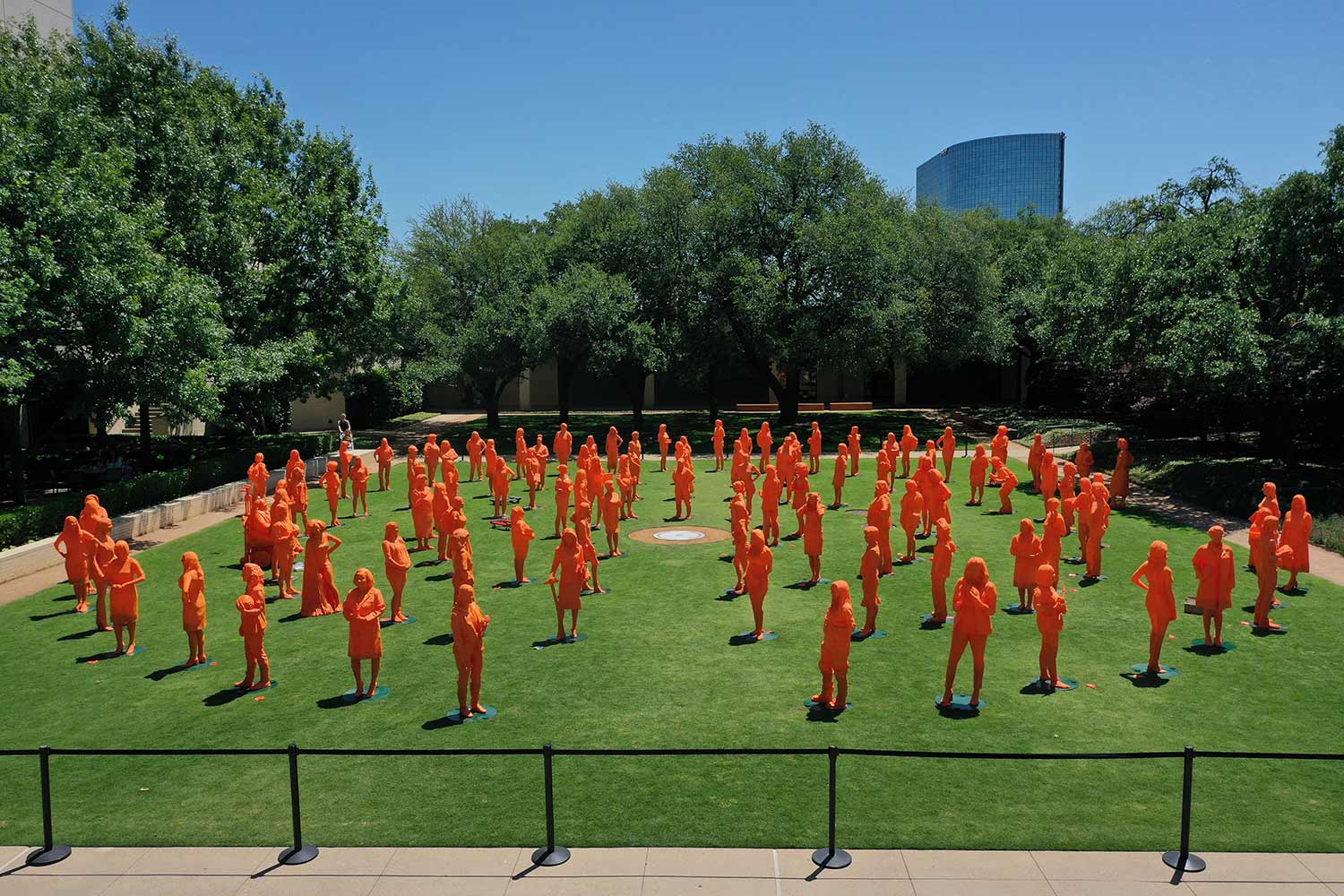 UC San Diego Women Scientists Featured in Statue Exhibit at the Smithsonian
A few steps away from the delicate pink and white blooms of the Japanese cherry trees in Washington D.C, a striking collection of 120 bright orange statues of women, including the statues of two UC San Diego scientists, are currently on exhibit in the National Mall. This month, the Smithsonian is celebrating its own spin on Women's History Month called Women's Futures Month: a forward-looking celebration of the power of women and girls in science, technology, engineering and mathematics (STEM) to shape a better world.
From March 5 to 27, the Smithsonian will present "#IfThenSheCan - The Exhibit," a collection of 120 statues of women in STEM—the largest collection of statues of women ever assembled in one location, at one time. Dotting the Smithsonian gardens and within the museums, the life-size 3D-printed statues represent a diverse group of contemporary women STEM role models in a variety of fields, from teaching robots how to dance, protecting endangered species of bats, to leading the development of video games like Fortnite. The goal of the installation is to serve as a platform for young girls to see women successfully pursuing a STEM career. The idea is that IF she can see it, THEN she can be it.
The exhibit is part of IF/THEN, an initiative spearheaded by Lyda Hill Philanthropies to activate a culture shift among young girls to open their eyes to STEM careers. All STEM role models being celebrated at the exhibit were chosen by the American Association for the Advancement of Science (AAAS) and Lyda Hill Philanthropies to serve as AAAS IF/THEN Ambassadors—high profile role models for middle school girls.
Among the AAAS IF/THEN Ambassadors are Claire Meaders and Beata Edyta Mierzwa, two UC San Diego scientists who share a passion for science outreach and education.
Claire Meaders: Researching the best ways to teach STEM and build students' sense of belonging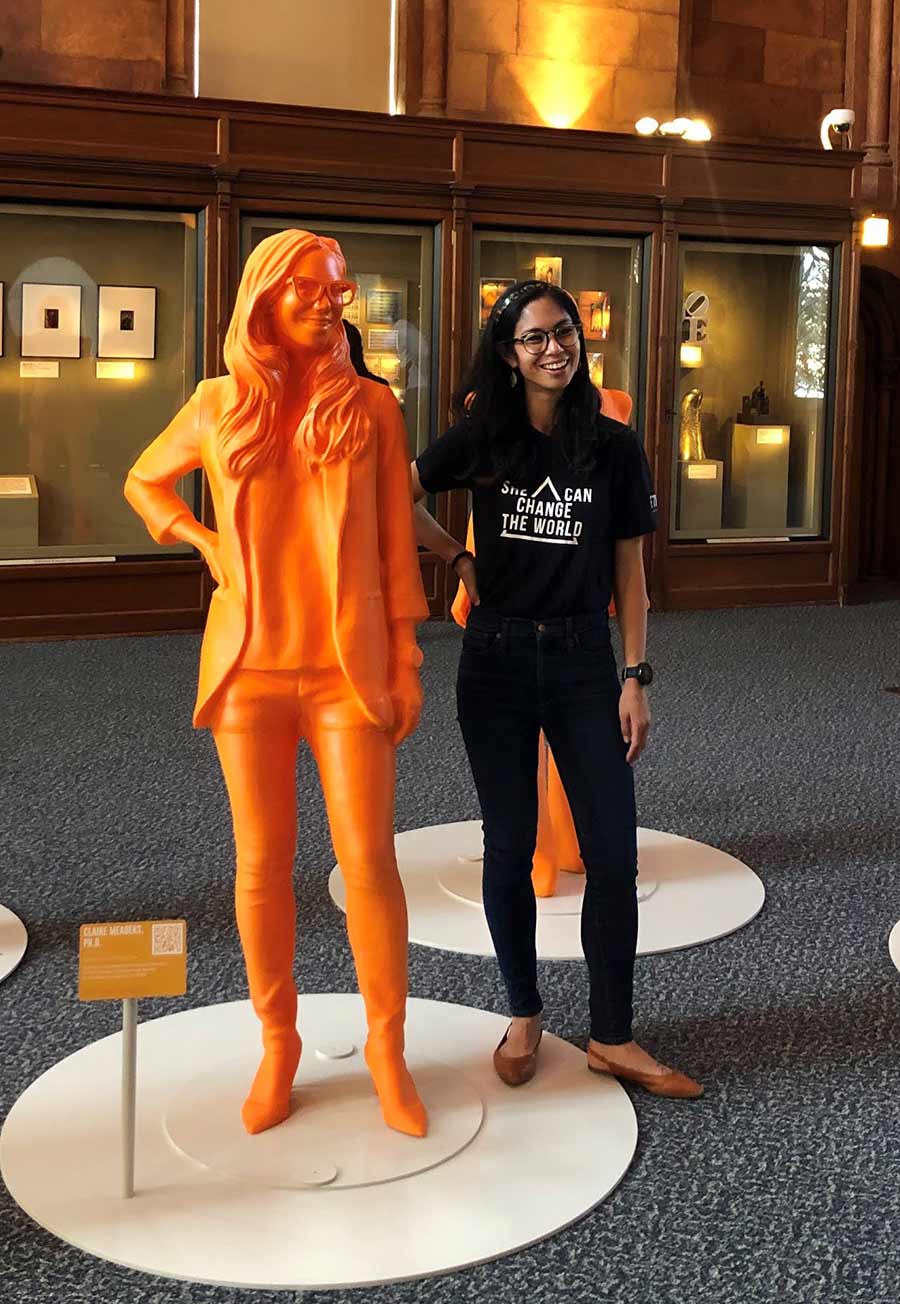 Early in her scientific career, Claire Meaders, assistant teaching professor in UC San Diego's Division of Biological Sciences, knew she wanted to impact the lives of young aspiring scientists. In her first semester of graduate school and throughout her doctoral studies, Meaders volunteered with Science Club for Girls—a non-profit organization dedicated to fostering excitement and literacy in STEM for girls and young women from underrepresented communities.
What started as a way to briefly escape the academic bubble during her doctoral studies quickly turned into a passion for finding new ways to teach science to undergraduate students. After receiving her Ph.D. in the Department of Organismic and Evolutionary Biology from Harvard University, she transitioned away from the lab bench to focus on discipline-based education research as a postdoctoral fellow at Cornell University.
"I fell in love with the field, and loved how applicable our work was," said Meaders.
Now, in her current role at UC San Diego, Meaders focuses on two aspects of science education: student experiences and non-content instructor talk in the classroom. Her group uses surveys and observations to assess how the availability and knowledge of campus resources affect student experiences and feelings of belonging. She also researches the prevalence of non-content instructor talk—or verbal communication that surrounds academic content, including how instructors encourage students—in classrooms, with the goal of exploring how this language affects learning outcomes.
Although her research focuses on supporting students in higher education who are already interested in STEM, Meaders was drawn to the IF/THEN initiative because of its mission to get students interested in STEM in the first place.
"I really love that this organization helps me feel like I'm working at various stages of students' careers to both support their interests and help them thrive," said Meaders.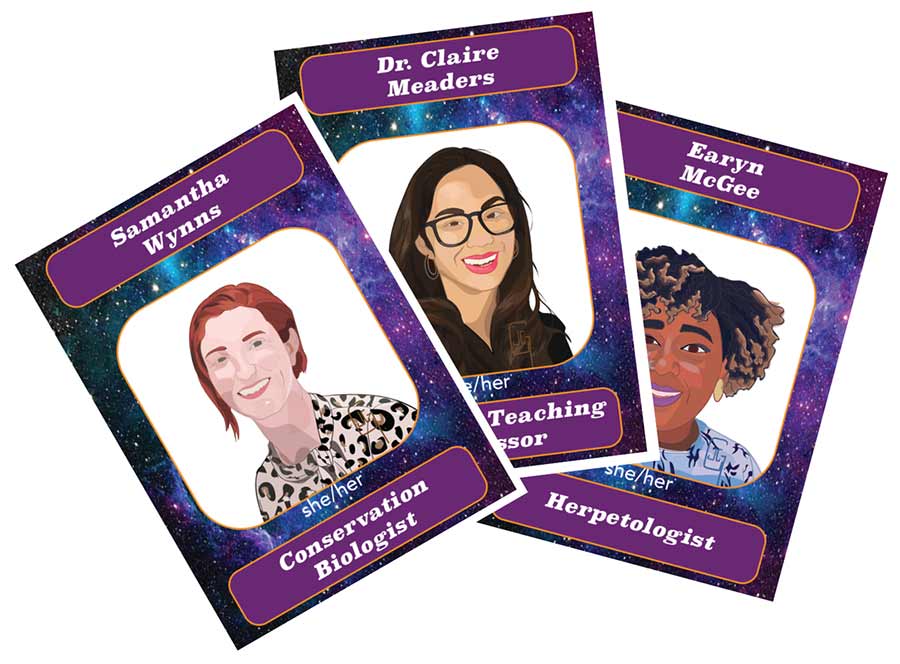 As part of IF/THEN, Meaders collaborated with Samantha Wynns, a conservation biologist and science educator with the Great Basin Institute and National Park Service, and Dr. Jaye Gardiner, a postdoctoral fellow at the Fox Chase Cancer Center and science illustrator (both fellow AAAS IF/THEN Ambassadors), to design a lesson plan for middle school students. The "In Their Eyes: Conservation + Comics" project taught conservation biology and emphasized diversity in science using science comics and trading cards of women scientists. The goal of the project was to positively impact students' attitudes and behaviors regarding conservation and their identity as scientists.
They found that after participating in the curriculum, students had fewer stereotypes of scientists—achieving the mission of IF/THEN by opening their eyes to STEM careers.
"I think programs like this are so important for showing students what's possible," said Meaders.
Beata Edyta Mierzwa: Sharing the beauty of science through art and fashion
Growing up without a role model to show her that combining art and science was possible, Beata Edyta Mierzwa, postdoctoral fellow at UC San Diego and the Ludwig Institute for Cancer Research, thought she had to choose between her passions for a successful career. A young Mierzwa would be surprised to see her now, thriving in all of her passions—molecular biology, art and fashion.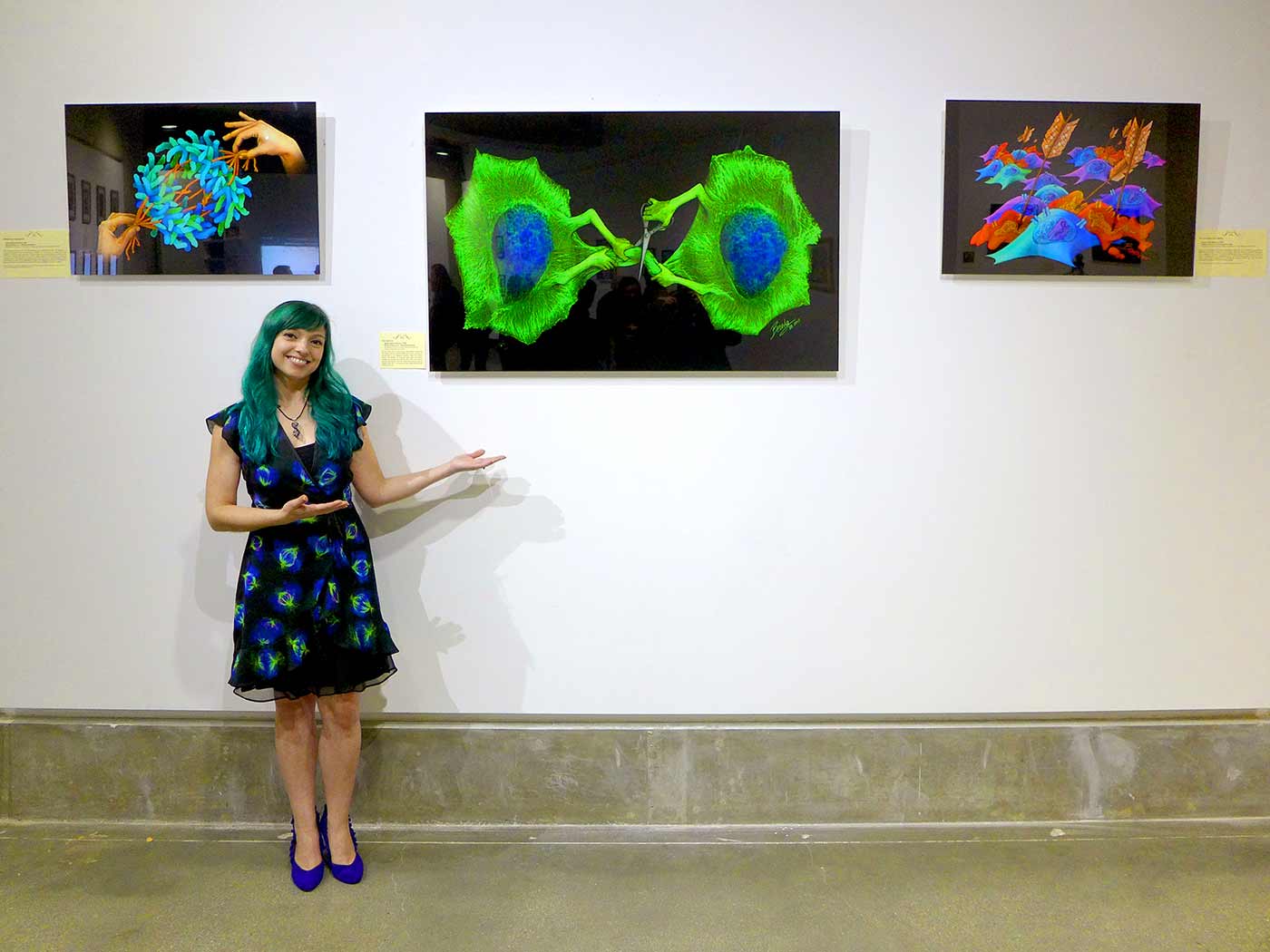 As a molecular biologist, Mierzwa researches how different cells of the body divide to help uncover vulnerabilities in cancer cells. As an artist, she draws— turning difficult-to-understand scientific concepts into metaphorical illustrations. And as a fashion designer, she creates science-inspired clothing made of fabric printed with real microscopic images of cells.
It took her a while to realize that she didn't have to choose between her passions. When she started her Ph.D. at the Institute of Molecular Biotechnology in Vienna, Mierzwa focused entirely on her lab work. It wasn't until midway through her doctoral studies, after creating her first science drawing, that she realized the incredible power that visual aids have for effective science communication. In her piece entitled "The Final Cut" which illustrates her research on the final step of cell division, Mierzwa added arms and a pair of scissors to the bright green and blue daughter cells to show them literally cutting the connection between them.
"It is truly fascinating to see how using visuals to explain complex material helps spark genuine interest and excellent scientific questions," said Mierzwa. "This has fueled my mission to inspire students who don't fit the traditional stereotype of a scientist or have never been engaged by science before."
Mierzwa joined IF/THEN because she realized the impact a role model can have in the lives of young girls. If she had a role model at a young age, her path may have been different.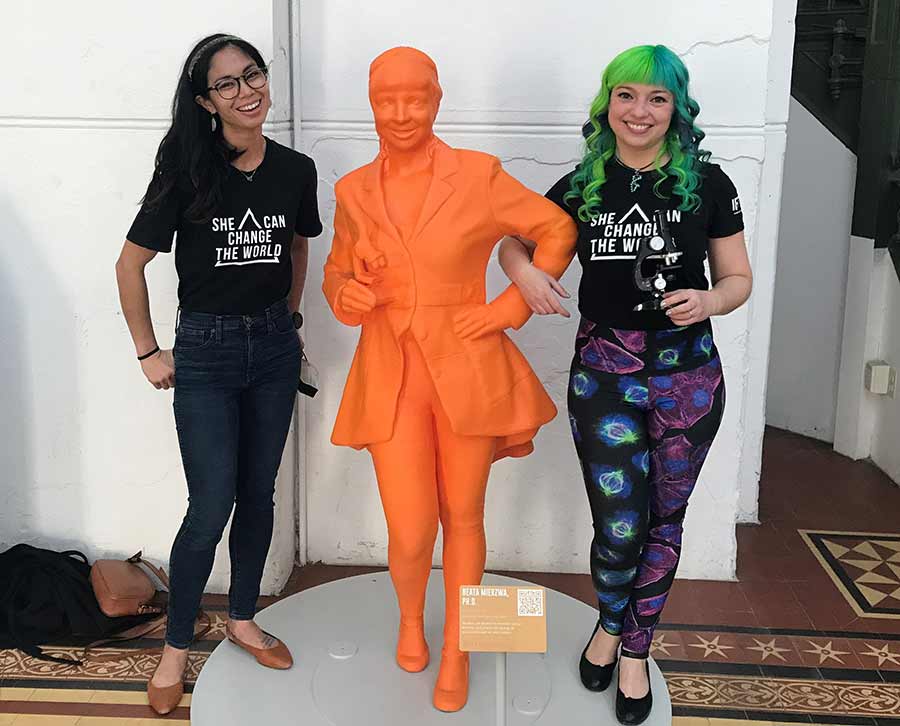 "I want to make sure that girls with multiple interests have access to role models that highlight creative careers in STEM," said Mierzwa.
As part of IF/THEN, Mierzwa has been working on a soon-to-be-released science-themed video game called Microscopya. The video game takes players on a journey through the molecular world inside the cell, with hand-drawn illustrations and puzzles based on real scientific concepts. She believes this work, the exhibit, and the IF/THEN initiative provide an invaluable resource for exchange and collaboration to inspire future generations of scientists.
"By highlighting the connection between science, art and creativity, I want to bring new and unconventional minds into the field, so these girls can contribute their creative ideas and make groundbreaking discoveries," she said.
Gabriela Goldberg is a Ph.D. candidate studying brain development using stem cell-derived mini brains in the Biomedical Sciences Graduate Program at UC San Diego. Outside of the lab, she likes to go backpacking in the mountains around Southern California, find new dog-friendly places to take her rescue pit bull and buy more plants to replace the ones she overwatered.
Stay in the Know
Keep up with all the latest from UC San Diego. Subscribe to the newsletter today.