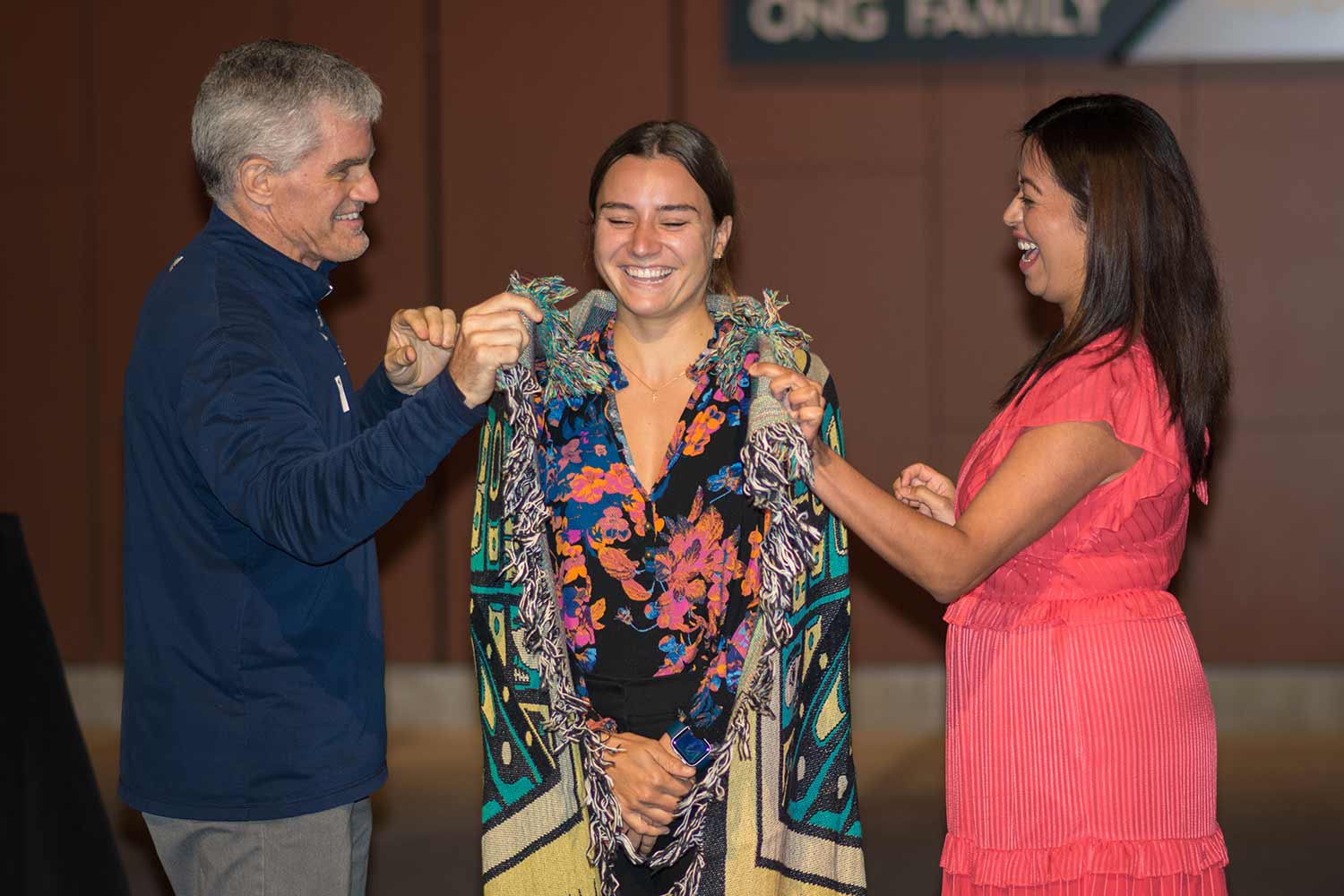 UC San Diego Welcomes Native American Medical Students with Blanket Ceremony
As an intimate crowd gathered in the courtyard of the Medical Education and Telemedicine Building, an excited energy filled the space. It would be a night of firsts for the UC San Diego School of Medicine. When attention finally turned to the center podium, a group of medical students huddled together in the audience, smiling in anticipation.
On the evening of Nov. 10, the School of Medicine held their inaugural American Indian Medical Student Blessing Ceremony and Blanket Presentation. Blanket ceremonies are a pan-Indigenous practice that celebrate individuals going through life-changing events. On this night, eight Native American medical students would be recognized for their growing contributions to the community, as they transitioned from students to student-doctors.
This ceremony is the latest in a series of recent initiatives by the School of Medicine to promote Native American recruitment, retention and educational programming. A sense of community pride was shared amongst the Native students, staff, faculty and local representatives in the crowd.
Beyond a land acknowledgement
The night began by addressing the university's role as a land grant institution. UC San Diego was built on the unceded territory of the Kumeyaay Nation, whose people remain a vital part of the local community. San Diego County also has the highest number of Tribal Nations in the country, but still only 1 percent of UC San Diego medical students identify as American Indian or Alaska Native.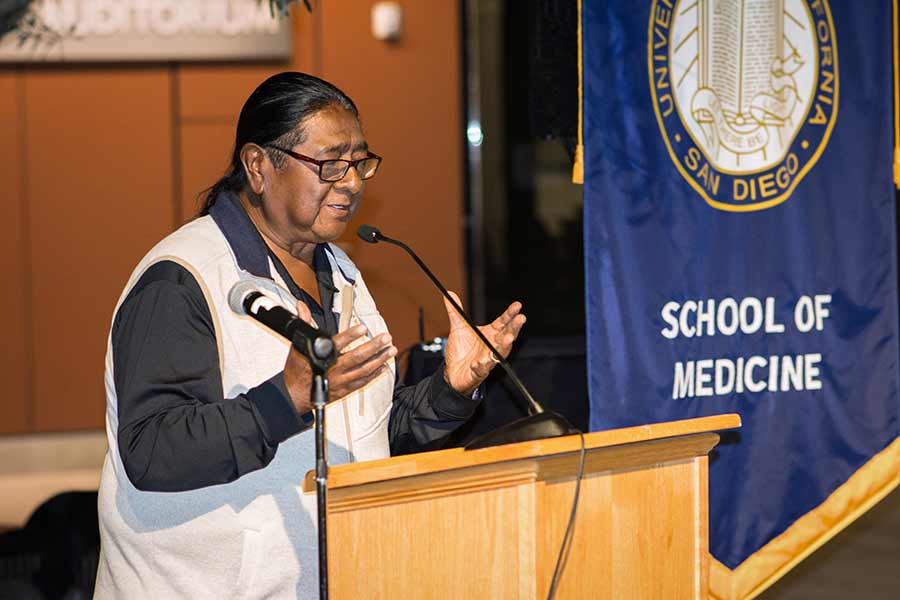 "Being a land grant institution gives you a responsibility to serve not just Tribal communities on that land, but across the entire country," said Alec Calac, a public health MD/PhD student and member of the Pauma Band of Luiseño Indians, a local Tribe in San Diego County. "As the region's only academic medical center, we have an affirmative obligation to educate Tribal members. I think UC San Diego has done a lot of honest introspection on this in recent years, and the presence of these eight students shows we've come a long way."
Dr. Michelle Daniel, vice dean of medical education, spoke for the school's leadership as she greeted the students and promised them a culturally responsive medical education.
"We humbly believe that you will teach us just as we will teach you, and we welcome that partnership," she said. "Together, we hope to eliminate the disparities and inequities that for Indigenous people have been centuries in the making."
Several of the students are also part of the PRIME-Health Equity Program, which teaches them practical skills to address health disparities. For many, the event was also a celebration of the $2.6 million the school recently received to launch a new PRIME program on Native American health. This funding will help the School of Medicine expand their class size by admitting six new American Indian and Alaskan Native medical students to the program next fall.
The need for Native American doctors
Training Native American doctors is a critical step towards addressing health disparities in their communities. This was a central message of the Kumeyaay leaders in attendance, including Daniel Tucker, former chairman of the Sycuan Band of the Kumeyaay Nation.
"We need doctors at home to keep our Native people intact," he said, before leading a blessing for the space and the students.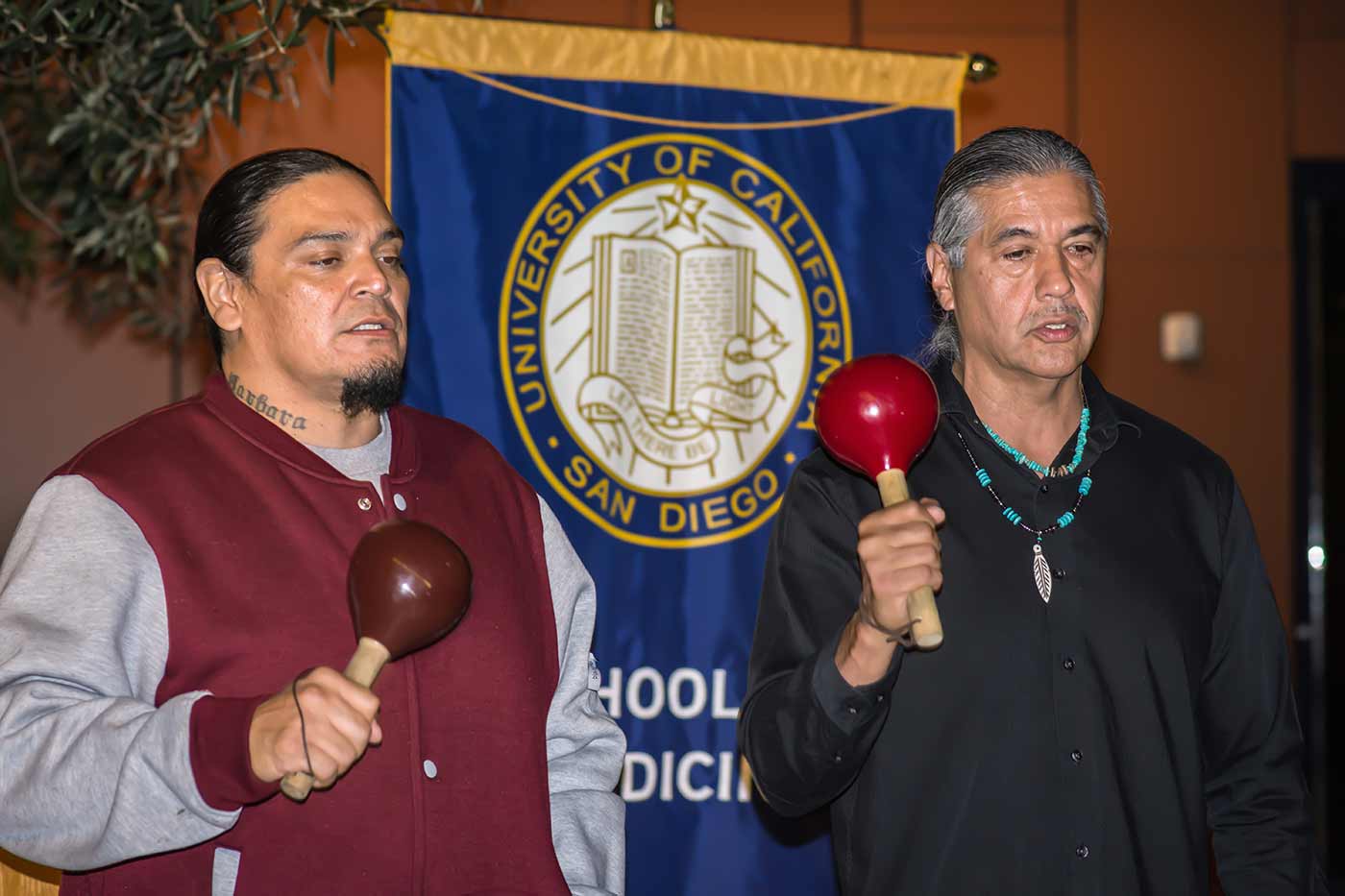 This sentiment hit home for Brianna Irons, second-year medical student of the Chickasaw Nation.
"I was able to be with my grandfather for my virtual White Coat Ceremony, which was amazing," she said, referring to the rite-of-passage event that ushers first-year medical students into the profession. "Whenever we're together he always says, 'The Chickasaws need doctors.' It's the most beautiful thing to hear him say it and for him to recognize what I'm doing. I always reply, 'I know, that's why I'm here.'"
Following a moving performance by Kumeyaay bird singers Jamie LaBrake and Blue Eagle Vigil, LaBrake expressed his hope for continued collaboration between UC San Diego and the Kumeyaay Nation.
Me vs. We
Elena Hood, director of the Intertribal Resource Center at UC San Diego, also welcomed the students into the growing Native community on campus. During her speech, she encouraged the students to reflect on their motivations for pursuing medical school.
"So many people all around us are focused on the question of, 'What's important to me? How do I get ahead?'" said Hood. "But that's not the way it is for Indian people or Indian communities. We're not focused on the me; we're focused on the we."
This relational nature of Native American cultures was a major theme celebrated throughout the night.
"What better way to give back to your people than to serve in the health sciences," said Hood, "taking care of our babies, our children, our elders and our communities."
Fruits of their labor
After these demonstrations of unity and support, it was time for the main event. One by one, each student's name and tribe were announced, as Native American faculty members cloaked them with a "Blanket of Knowledge" from Eighth Generation, a Seattle-based brand owned by the Snoqualmie Tribe. Cameras flickered as the proud students stood together.
Paul Michael Acosta, second-year medical student of the Arawak tribe, reflected on the significance of the evening.
"It means everything," he said, growing emotional. "I reach out to every Native applicant that gets interviewed, so I know how many of these amazing young people want to come and study here. They all have rich Native traditions that they want to bring to this institution, but without proper support, a lot of us don't make it to medical education."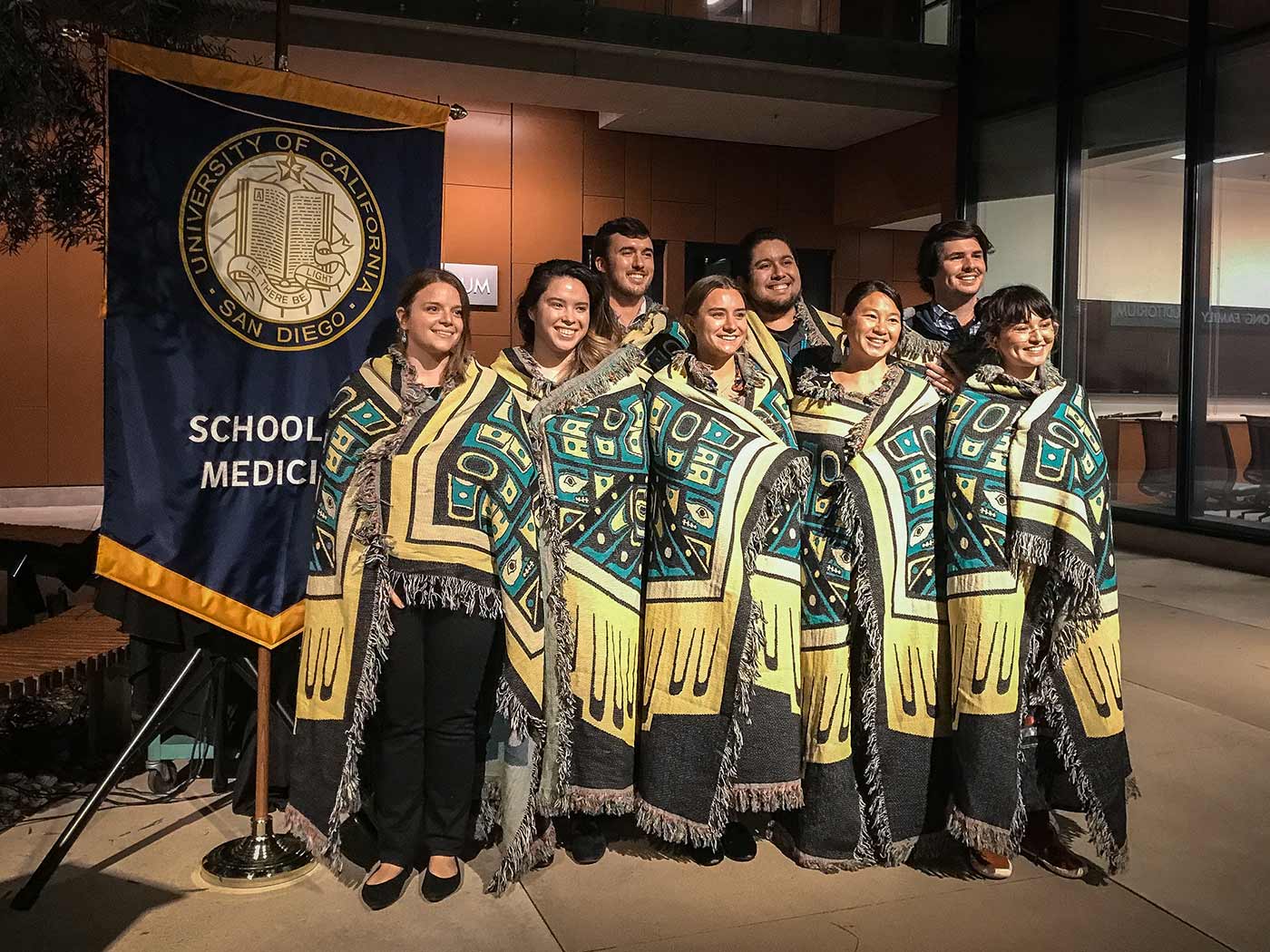 Acosta says events like this are huge in helping Native students feel welcome and valued.
"This was one hour on a Wednesday night, but it took a lot of behind-the-scenes work to make that hour happen," he said. "To see my colleagues and feel all the support tonight—it's really special."
When Calac started medical school a few years ago, he was the only Native student in his class. Now, he stands among a growing family of Native peers. As national president-elect of the Association of Native American Medical Students (ANAMS), and founder of the local ANAMS chapter at UC San Diego, he and his classmates have had a major hand in shaping the school's new initiatives. He is hopeful their work will leave lasting change for future generations of Native medical students.
"When you institutionalize student-led initiatives it really helps them become permanent," he said. "This is our first blanket and blessing ceremony at UC San Diego School of Medicine, but I could easily see myself attending the 50th."
Stay in the Know
Keep up with all the latest from UC San Diego. Subscribe to the newsletter today.