UC San Diego Staff Named LEED Fellow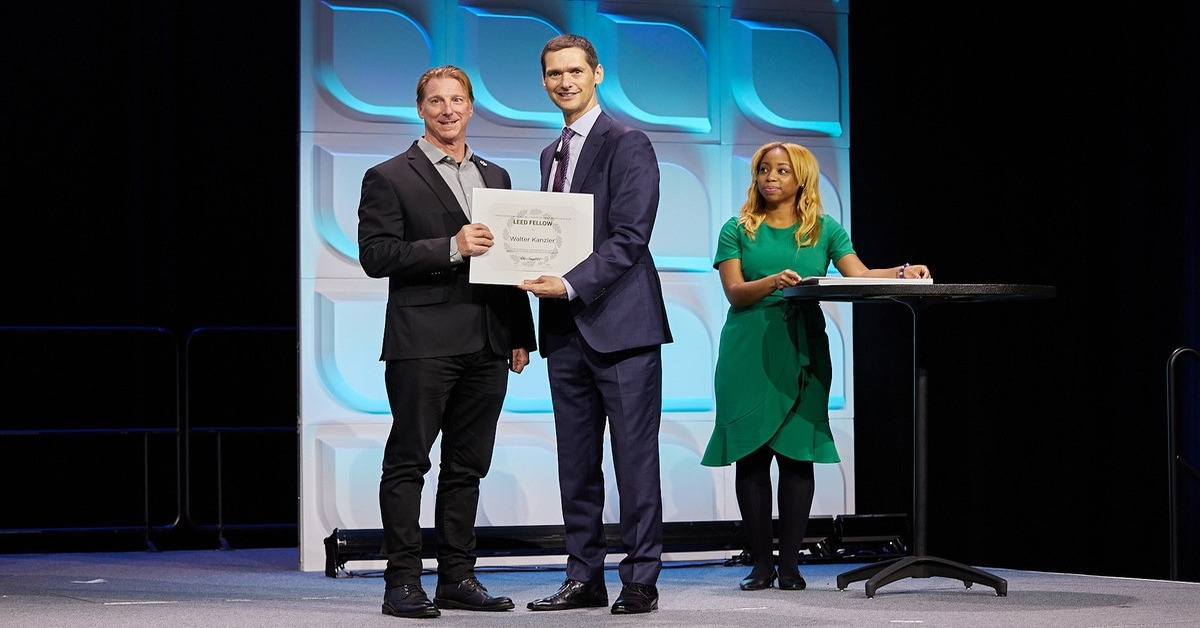 By:
Published Date
By:
Share This:
Article Content
Walt Kanzler, UC San Diego's senior director of Project Quality Management, has been selected as a 2022 Leadership in Energy and Environmental Design (LEED) fellow, joining the ranks of fewer than 300 LEED fellows around the world. Fellows are considered exceptional practitioners and leaders within the green building community who have demonstrated mastery of the technical application of LEED. Kanzler and 20 other professionals were honored at a recent ceremony held by the U.S. Green Building Council (USGBC) and Green Business Certification Inc.
"It is such a rare opportunity to be selected, recognized and given the chance to continue advocating for sustainable solutions for our campus and the University of California system at large," Kanzler said. "I am honored and humbled to join this exceptional group of sustainability leaders."
To become a LEED fellow, individuals must be nominated by their peers and have at least a decade's worth of exceptional impact with LEED. USGBC influences how buildings are designed, constructed and operated through LEED, the world's most widely used green building rating system, where projects earn points in how they address energy, water, waste, site, transportation, materials, health and indoor environmental quality. The points are translated into four levels of LEED certification, Certified, Silver, Gold and Platinum.
Originally trained as a green architect, Kanzler has 20+ years of experience in sustainable planning, design, construction and facilities management. He joined the university in 2017, and describes his work as being "at the intersection of capital program management and facilities management." In short, Kanzler ensures that everyone working on campus projects understands and implements UC San Diego's green building program requirements.
At UC San Diego, all new buildings are at a minimum LEED Silver certified, with the majority LEED Gold and LEED Platinum. A decade ago, UC San Diego celebrated its first LEED Platinum certified building, the Charles David Keeling apartments at Revelle College. Today, there are over five million square feet of new LEED certified buildings being built here on campus. Some noteworthy new projects include:
The LEED Platinum designed Franklin Antonio Hall, home to research laboratories bringing together researchers from different departments to solve a wide range of problems facing society;
The LEED Gold designed Epstein Family Amphitheater, an open-air 2,650 seat amphitheater and public greenspace near the Central Campus station of the UC San Diego Blue Line trolley; and
The LEED Gold certified Design and Innovation Building, with four distinct spaces to incubate and accelerate groundbreaking ideas: The Basement, Maker Space, The Design Lab and the Entrepreneurship Center.
Kanzler also highlighted North Torrey Pines Living and Learning Neighborhood, specifically how the neighborhood's energy efficient design takes advantage of San Diego's temperate climate, sunny weather, prevailing winds and the campus's oceanside location.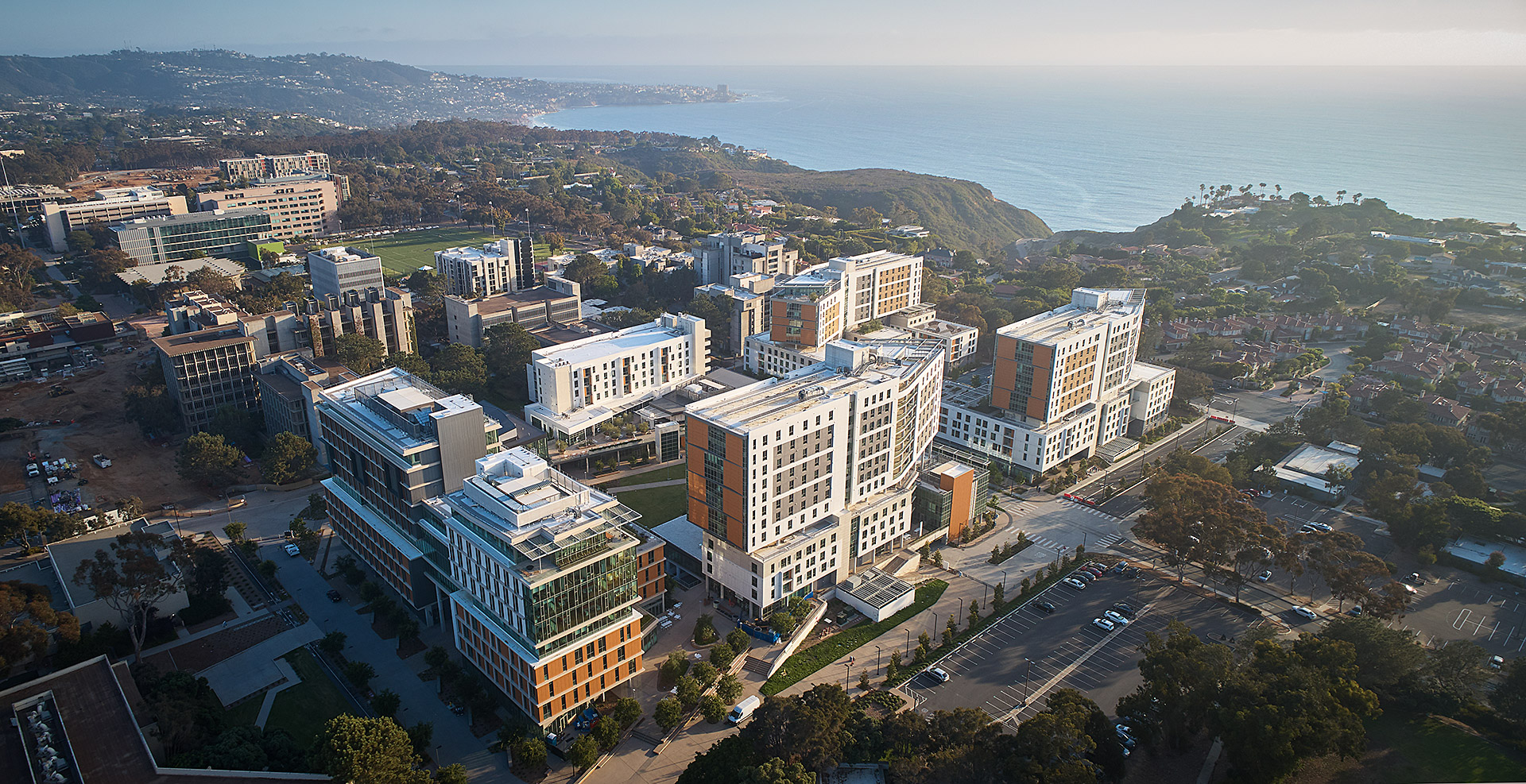 "North Torrey Pines Living and Learning Neighborhood was completed right at the beginning of the pandemic, when some of the features, like natural ventilation, were a plus," Kanzler explained, adding that students are able to open windows and have fresh air in all of the neighborhood's housing. In addition, the west-to-east orientation of residential buildings allows for minimal heat gain through passive solar design, while high performance window glazing and insulated walls helps to limit overheating.
"Every building in North Torrey Pines Living and Learning Neighborhood is LEED Platinum certified," Kanzler said. "The energy use is very low and exceeds the California building code."
Many of the same energy efficient design elements were applied in Theatre District Living and Learning Neighborhood, which is set to open next fall. What stands out to Kanzler about this neighborhood, however, is the ramble—a grassy, verdant pathway and common space that winds between each residential building and creates a parklike natural setting just beyond residents' front porches.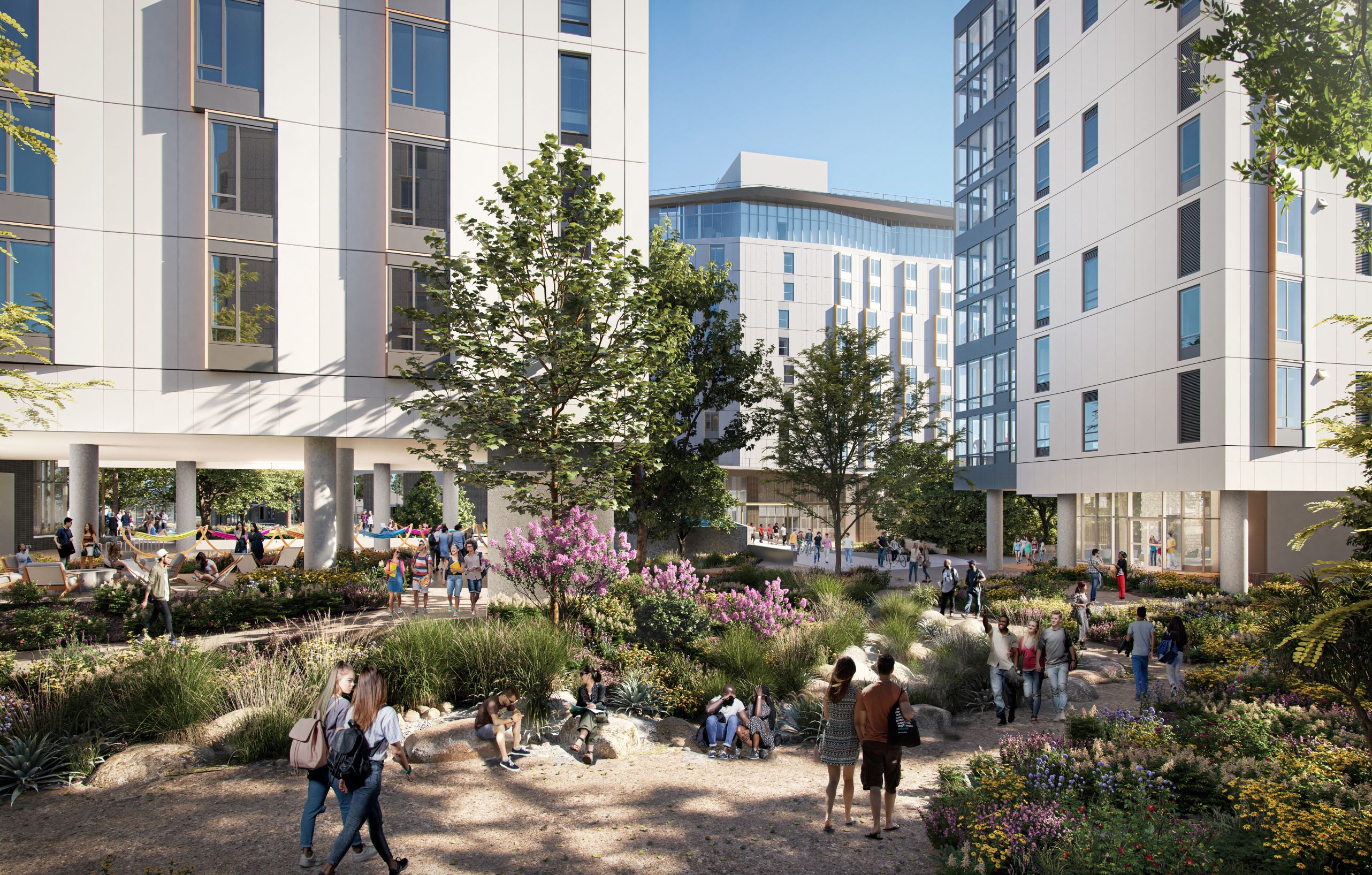 Beyond serving as a greenspace where students can step into nature and relax, the ramble has another more practical purpose: it will create a bioswale, or a natural stormwater runoff system, while also integrating native and adaptive plants into the campus design. Over the next 20 years the 220 new trees on the site—which was previously a parking lot—will sequester over 46 tons of CO2 and prevent 65,000 gallons of stormwater runoff annually.
"We've tried to deliberately design features like a bamboo garden and a meditation pavilion into our projects," Kanzler said, noting that research has shown that experiences with plants, landscapes and nature can improve mood, reduce stress, support the ability to focus and bolster social connections. "Being able to see nature from your home or workspace makes your experience that much better. We've brought the outside in and created a natural welcoming setting where people will want to be."
For students who are interested in getting involved or learning more about UC San Diego's green building program, Kanzler recommends enrolling in the Urban Studies and Planning class USP 169, Introduction to Green Building, an upper division course that explores sustainable strategies in the built environment including site, energy, water, materials, waste and health. He also suggests students look into UC San Diego's Sustainability Resource Center, Housing, Dining and Hospitality's Econauts program and the Triton Solar Decathlon initiative. Even if students aren't sure if they belong in an environmental-focused organization or career, Kanzler encourages students to get involved and give it a shot—they might be surprised.
"Sustainability is very rewarding work and I have always felt a true sense of commitment to the future and the world around us by being involved with green building projects," Kanzler said. "Making a difference by approaching challenges with a sustainability lens is a choice we can all make in our own unique ways."
Stay in the Know
Keep up with all the latest from UC San Diego. Subscribe to the newsletter today.