UC San Diego Opens the Design and Innovation Building
A place where disruptive ideas come together to spark learning, technology, collaboration and new ventures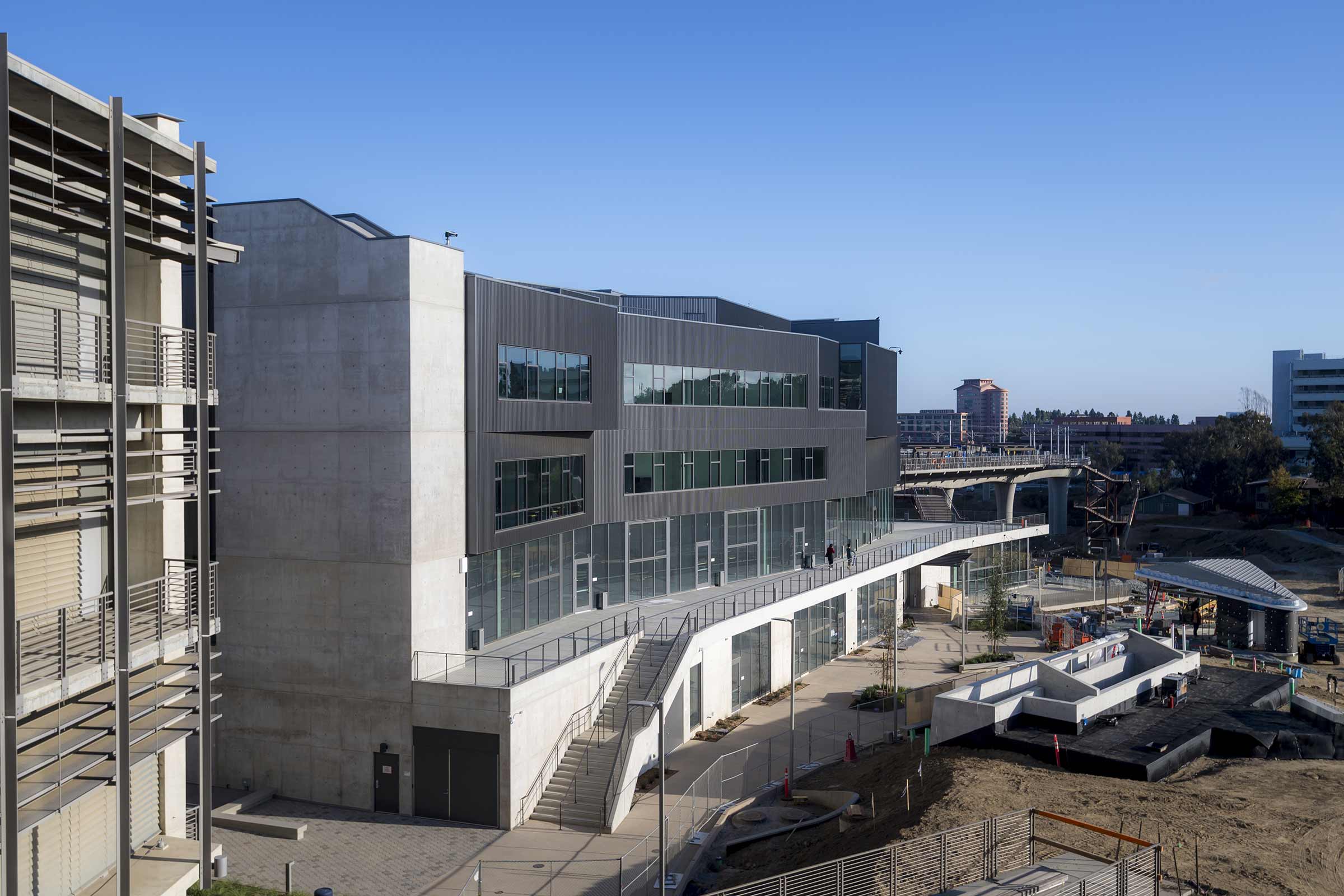 The Design and Innovation Building is a 74,000-square-foot space dedicated to sparking disruptive ideas, products and services. Photos by Erik Jepsen/UC San Diego Communications.
As a billion-dollar research enterprise in the heart of one of the most densely concentrated innovation hubs in the nation, UC San Diego is a unique place where fresh ideas are translated into solutions to benefit society. The university has launched over 1,000 startups and is seventh in the nation for the issuing of patents. Today, UC San Diego is super-charging the region's capacity for new discovery by opening the Design and Innovation Building, a 74,000-square-foot space dedicated to sparking disruptive ideas, products and services.
"The Design and Innovation Building is a showcase for the dynamic energy of UC San Diego," said Chancellor Pradeep K. Khosla. "The building is designed to gather faculty and students across disciplines, engage our staff and visitors, forge connections with industry and fully embrace the process of invention, from start to finish."
Enhancing experiential learning
The Design and Innovation Building includes four distinct spaces to incubate and accelerate groundbreaking ideas: The Basement, Maker Space, The Design Lab and the Entrepreneurship Center. All four provide opportunities for students to guide products through the full lifecycle—design, prototype creation, testing, fabrication and commercialization—bringing products to market and ideas to impact.
"UC San Diego students benefit from having access to the equipment, expertise and funding that drives knowledge forward," said Executive Vice Chancellor for Academic Affairs Elizabeth H. Simmons. "This space will bring a university world-renowned for innovation to new heights of problem-solving and creativity."
Eric Shnell just graduated from UC San Diego in June with a degree in mechanical engineering. He is the founder of Craitor, a startup originally formed by a team of UC San Diego students in the spring of 2018. Collaborating with the U.S. Marine Corps, his startup sought to make a 3D printer that was rugged and portable enough to be used by service members in the field to manufacture military-grade parts from advanced high-temperature plastics and other materials.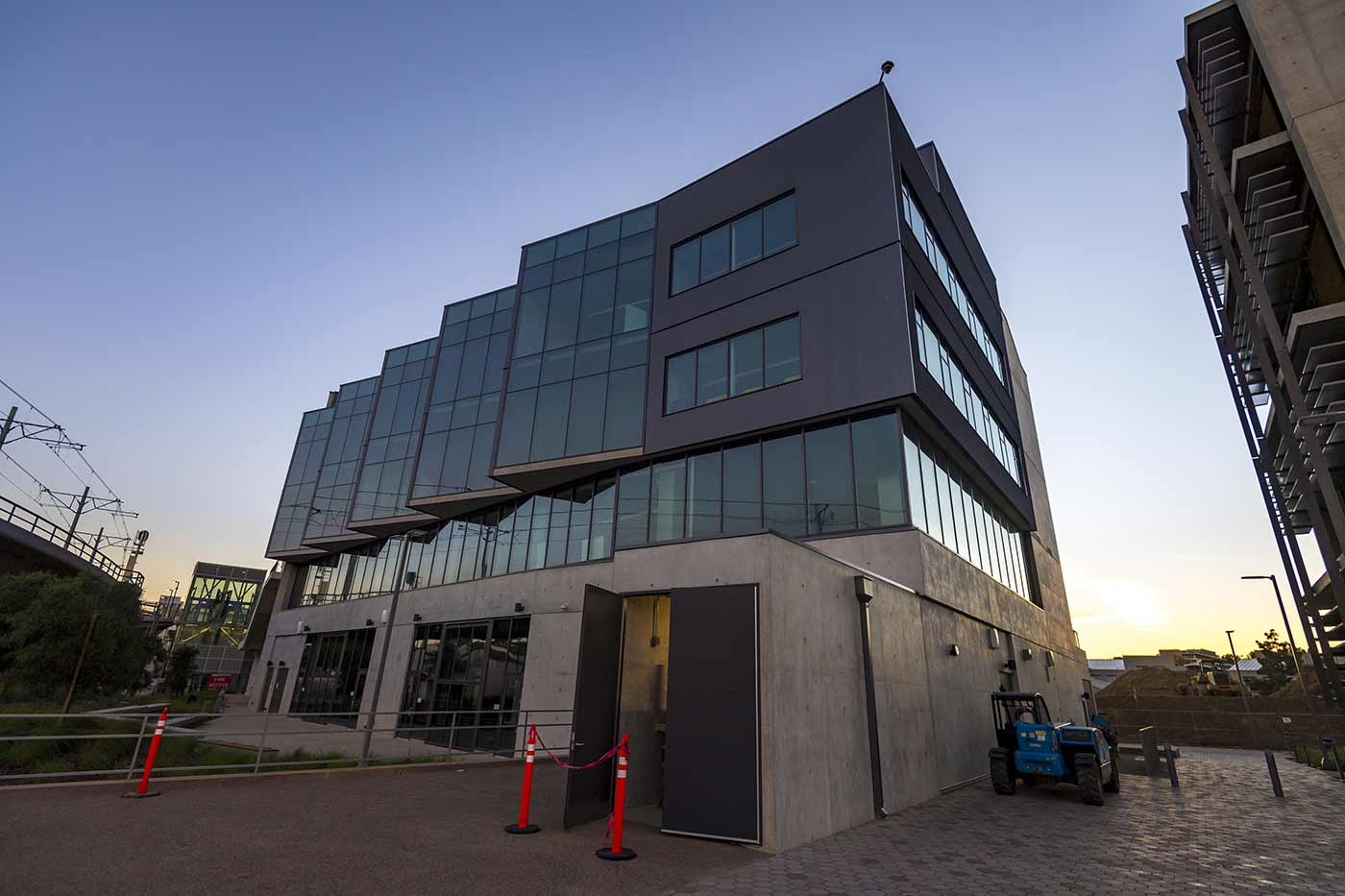 "The Design and Innovation Building is more than just a place to work, it represents the future of entrepreneurial and innovative collaboration," said Shnell. "Everyone is there to support each other and find a way to make their goals and dreams into reality. The most unique, and important part is the melting pot of entrepreneurs, innovators and mentors, bringing people from many walks of life together for a unified purpose—innovation."
Shnell noted that he intends to fully leverage connections that are sure to form around the new Design and Innovation Building. "Whether student entrepreneurs, researchers, makers, community members, mentors or investors, this is a place for creative collaboration," Shnell continued. "My team and I look forward to continuing our roles as peer mentors and mentees at the new Design and Innovation Building."
What's inside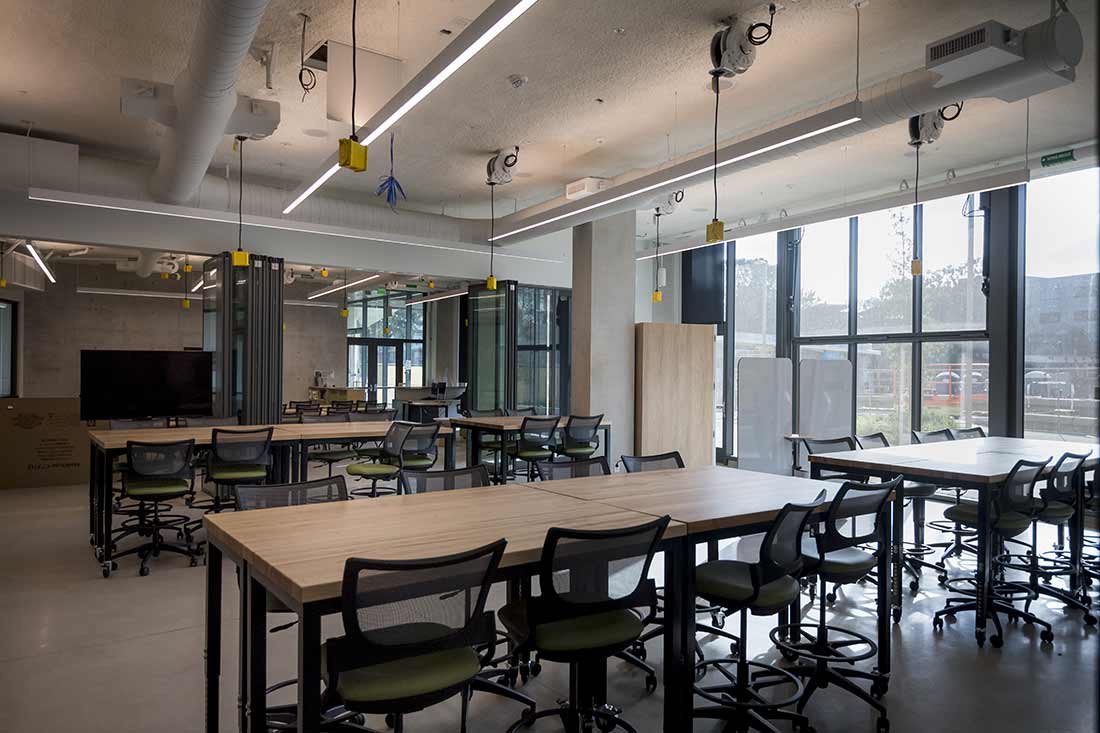 The Basement, which is located on the ground floor of the Design and Innovation Building, is UC San Diego's campus-wide entrepreneurial hub. It guides UC San Diego students' new ventures from conceptualization to market readiness, providing flexible resources that expand access to experiential learning. In 2020, 69 student startup teams provided 58 internships and 29 jobs.
"The Design and Innovation Building will shape a new generation of diverse students, building a critical mass of creativity, experimentation and invention, and The Basement continues to fuel this journey," said Jacques Chirazi, director of Student Entrepreneurship and the Blackstone Launchpad. "We are excited to launch this new space where students, industry and investors can work collaboratively on inclusive solutions to address market and societal challenges that positively impact the world around us."
On the second floor, an adaptable workshop, UC San Diego's Maker Space, provides the region with the resources necessary to invent—from product design technology to fabrication tools like 3D printers, laser cutters and metal working tools. The Maker Space is managed by the Qualcomm Institute, a unique campus entity distinguished for drawing people together across disciplines for boundary-breaking exploration.
"The Design and Innovation Building houses an outstanding new campus facility," said Ramesh Rao, director of the Qualcomm Institute. "The Maker Space is designed to combine access to spaces where teams can shape metal, wood and foam or 3D print composite materials with spaces where student teams can assemble a project over a period of time. We are eager to facilitate the dynamic use of the space for scheduled classes, as well as support student teams and community partners."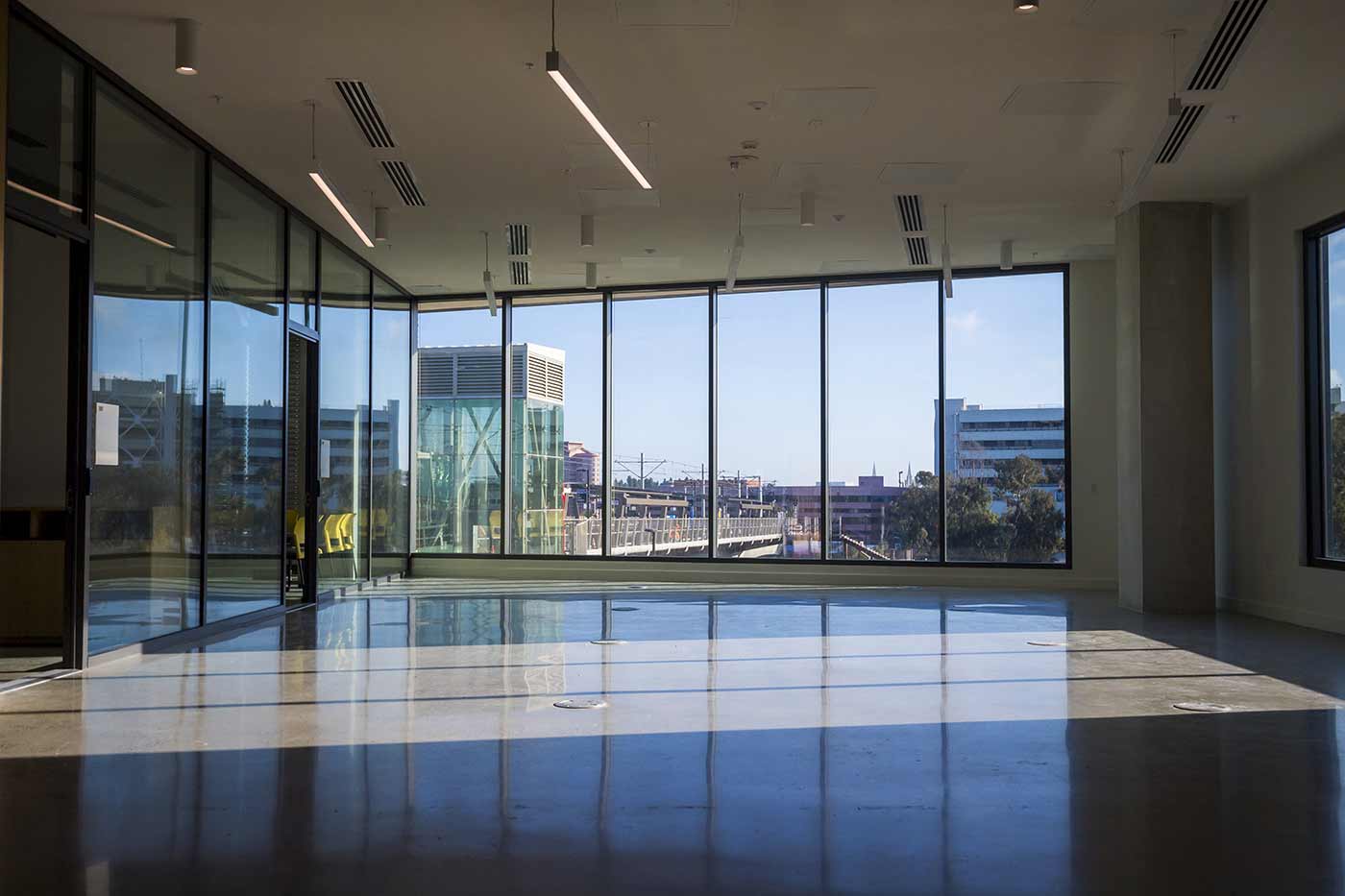 The third floor of the building features the Design Lab at UC San Diego. The Design Lab was established to inaugurate a major international center for human-centered design, which looks at problems holistically, understanding how people will interact with new technologies. At the Design Lab faculty from the arts, humanities, engineering and the sciences join forces to solve complex issues related to education, health, mobility, communication and urban planning.
Mai Thi Nguyen, faculty director of the Design Lab, said, "The Design Lab's research has been guided by the goal of making a societal impact and translating research to a broad audience. Our new space will contribute to weaving design into the fabric of academic, research and public life at UC San Diego and beyond."
One group that hopes to take advantage of this space is UC San Diego's Indigenous Futures Institute. Through educational, scientific and environmental co-design with Indigenous Peoples, the Indigenous Futures Institute brings together global Indigenous communities to study, access and harness science and technology, and dream up abundant and plentiful Indigenous futures in an age of climate crisis, global pandemics and the denial of Indigenous sovereignty. Co-directors Theresa Stewart Ambo (Luiseño/Tongva/Tohono O'odham) and Keolu Fox (Kānaka Maoli) look forward to building a network of Indigenous futurists who would have the opportunity to be in residence at the Design and Innovation Building.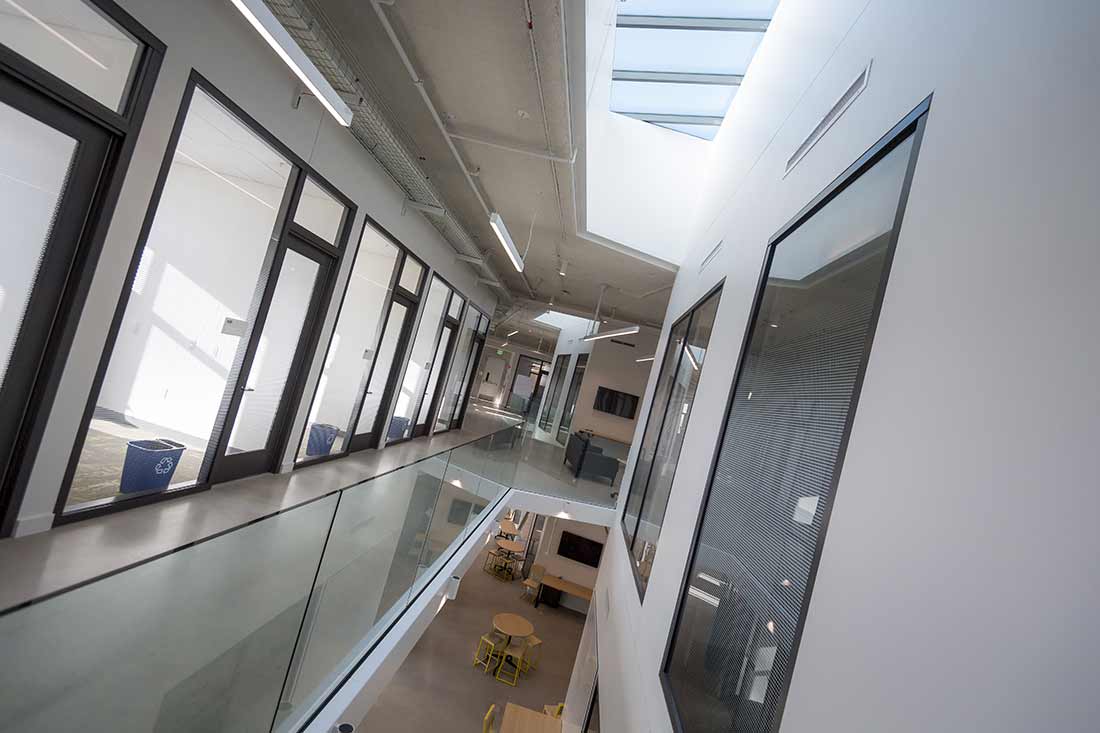 The fourth floor of the Design and Innovation Building will feature an Entrepreneurship Center that creates an environment where the community innovation ecosystem collides with university innovators and entrepreneurs. It provides communal space, as well as meeting rooms for community entrepreneurs and funders to accelerate the creation and launch of UC San Diego companies and other organizations.
"The Design and Innovation Building is a symbiotic environment, bringing people from across our regional innovation ecosystem together with our most entrepreneurial students and faculty," said Associate Vice Chancellor for Innovation and Commercialization Paul Roben. "The space will push the limits of ingenuity and define new standards on how to apply and scale innovation and entrepreneurship."
A destination for the community
The campus community is encouraged to visit Patent Models: A Celebration of American Invention, an exhibition within the Design and Innovation Building that celebrates American ingenuity, sponsored by Qualcomm Incorporated. Running through the spring, the exhibition features 15 patent models from the collection of Hagley Museum and Library in Wilmington, Del. From 1790 to approximately 1880, patent models, or small-scale models of an invention, were required by the U.S. Patent Office when submitting a patent application. These models showcase the breadth and depth of American industry and ingenuity—from telecommunications to medicine to the maritime trades and beyond. They also showcase the diversity of inventors over a nearly-50-year period, revealing a global community of inventors who participated in the American intellectual property system. Of special note are patent models from women inventors, highlighting the significance of inclusive innovation.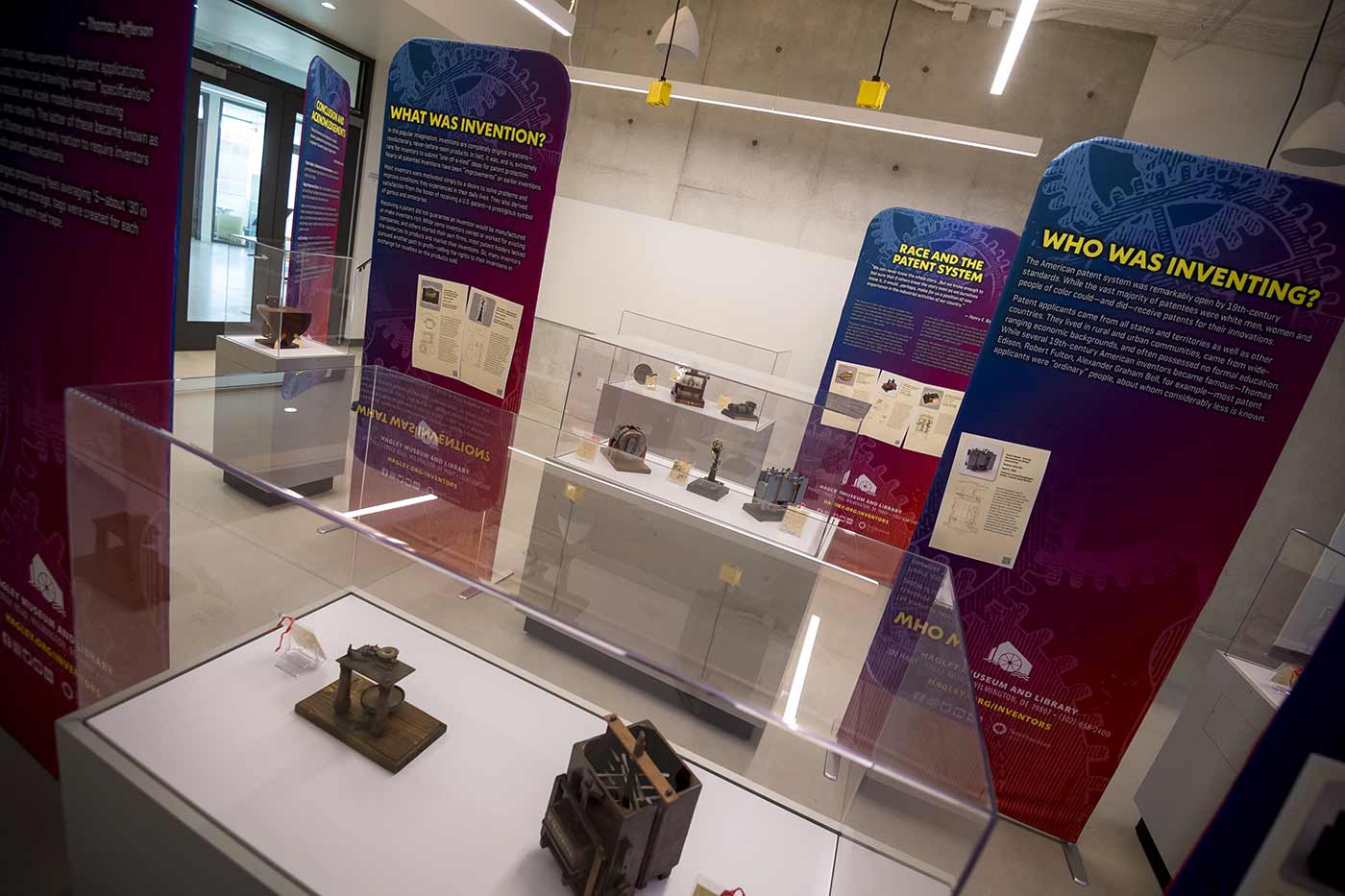 The Design and Innovation Building is located at the first of two new campus stations on the UC San Diego Blue Line trolley, which will open on November 21, further connecting changemakers from across the region. From the trolley platform, riders can witness work in progress through large windows on the Design Lab's exterior. In addition, the San Diego Metropolitan Transit System (MTS) is collaborating with the university to link the biotech hubs north of campus to this area, supporting internships, research partnerships with the private sector and technology transfer.
"The Design and Innovation Building is a new model, where people collaborate in an open spirit," said Robert Continetti, Senior Associate Vice Chancellor for Academic Affairs. "There is a real need for a space where diverse and disruptive ideas come together, and this new building provides one."
Stay in the Know
Keep up with all the latest from UC San Diego. Subscribe to the newsletter today.