UC San Diego Scientists Race to Document Mexico's Maya Ruins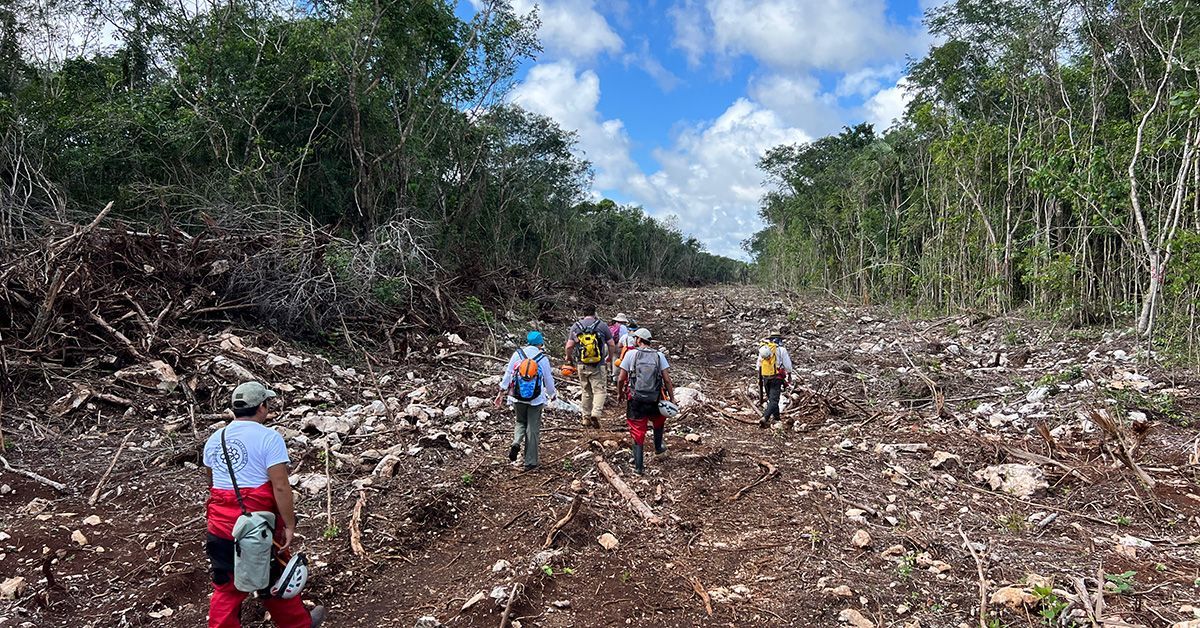 Published Date
By:
Share This:
Article Content
When archaeologist Dominique Rissolo's phone rang last summer, it was a colleague from Mexico's National Institute of Anthropology and History (INAH) calling with a time-sensitive request.
The team at INAH were scrambling to meet a huge challenge in the face of the Maya Train, an enormous infrastructure project under construction in southern Mexico. Projected to run nearly 1,000 miles long, its path starts in Palenque and weaves through dense jungle to make a complete circuit of the Yucatán Peninsula. In some cases, this proposed route cuts within 100 feet or even directly over caves containing centuries-old Maya ruins.
Helena Barba Meinecke, a professor and researcher with INAH, asked whether Rissolo and his colleagues could return to the Mexican state of Quintana Roo to aid her team in taking laser scans of known sites and sites newly discovered during the clearing of the train's right-of-way.
"There wasn't much time to lose," said Rissolo, a research scientist with the UC San Diego Qualcomm Institute (QI) and an associate director of the Scripps Center for Marine Archaeology. "Our Mexican colleagues have considerable expertise and are committed to documenting and safeguarding the nation's cultural patrimony, but the scale and pace of the Maya Train project is in some ways unprecedented."
International Partnerships to Preserve the Ancient Past
On Rissolo's last trip to the Yucatán in 2015, he was part of an international team of archaeologists and engineers that clambered into a cave in the Yucatán jungle to document an ancient underground shrine. Built by the Maya on the eve of Spanish conquest and shielded by the cave's walls, the shrine was in remarkable condition. The wooden rafters and mortar supporting its ceiling, assembled between the 14th and 15th centuries, were still intact.
"It's one of the best-preserved and most beautiful examples of temple architecture in a cave," said Rissolo.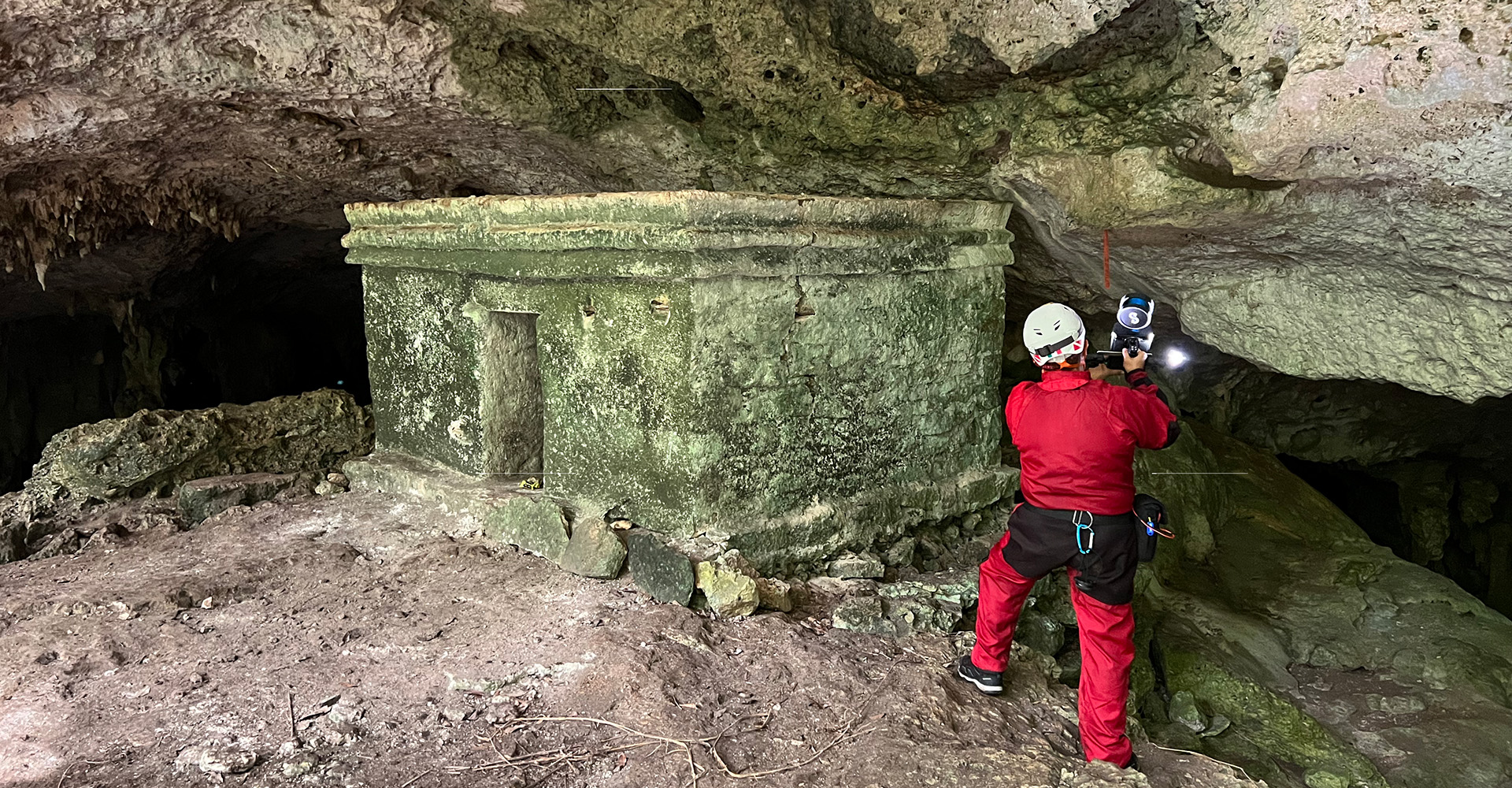 During that trip, Rissolo worked with INAH partners to take detailed scans and imagery of the shrine and surrounding cave, which goes by Ocho Balas ("Eight Bullets") or Oratorio ("Oratory"). The researchers combined data from laser scanning and structure-from-motion photogrammetry to create an interactive, digital "twin" of the site, a permanent snapshot that QI and INAH could use to learn more about Maya antiquity.
Since that time, Rissolo and Holley Moyes, a professor in the UC Merced Anthropology and Heritage Studies Department, acquired even more advanced scanning technology. A mobile device that can recreate environments in stunning 3D detail, the Hovermap, as it's called, has been deployed via drone to map four caves in Belize.
The effort is part of Moyes's collaboration with contemporary Maya partners to study and preserve ancient Maya architecture and artifacts, including documenting ritual cave use within the context of Maya ideologies. Followers of such belief systems, for instance, may have created surviving architectural features such as "paseos" as entrances to the underworld.
"I've never seen these [paseo] structures in Belize or Guatemala," said Moyes. "They're one of these regional variants that we see only in the Yucatán. It's unique to this region as far as I can tell."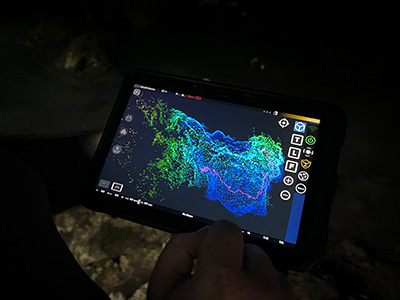 Sharing Knowledge
As the Maya Train project paused while officials waited for news on a newly discovered set of ruins that lay in its path, members of INAH and QI surveyed three heritage sites, including Ocho Balas, in a single week during the fall of 2022. The work was conducted in partnership with the Quintana Roo Aquifer System Research Center (CINDAQ), a non-profit responsible for facilitating research in the state's underwater caves.
In many ways, Rissolo said, the trip was an exercise in testing whether the team from QI's Cultural Heritage Engineering Initiative (CHEI) could conduct detailed documentations of at-risk sites on a short timeline. In the process, they needed to ensure the data they captured—data that INAH would pass on to Maya Train officials to inform the railway's route—were both accurate and thorough.
The researchers walked each cave system, scanning ruins, stalagmites and stalactites in 20- to 30-minute increments. According to Scott McAvoy, a QI data systems analyst who accompanied Rissolo on the trip, the Hovermap helped researchers accomplish in a day what had taken them weeks in 2015. With the device in hand, researchers could now scan as they walked, crawled, climbed or even paddled through caves and other challenging environments, instead of relying on laser scanners mounted to tripods.
Once separated by international lines, CHEI researchers shared their knowledge of this game-changing device's operating system with their Mexican counterparts and let them take the lead.
"It was really interesting and powerful to be able to hand this device off to our colleagues," said McAvoy. "It was empowering in my eyes for the people on the ground to do the documentation."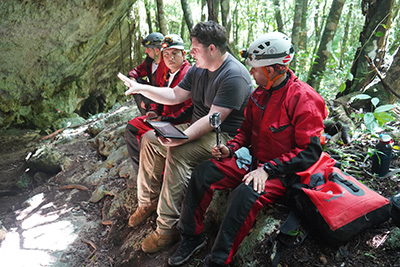 The researchers finished their stint in the Yucatán with scans from Ocho Balas, Las Manitas— named after the centuries-old reddish-brown handprints that decorate its walls and ceiling—and the greater cave system leading to Hoyo Negro, a cenote with a name that translates to "Black Hole," where Rissolo and colleagues have discovered the bones of prehistoric animals, including a new species of giant ground sloth, and the skeleton of a young woman who lived and died more than 10,000 years ago.
"These sites provide us with important information not only on various aspects of a social, economic and political nature…but also on climate and landscape changes in the region," said Barba Meinecke. "The Mexican government, in collaboration with INAH, has several projects underway that will make it possible to share our results. All of this will be available in museums inaugurated within this project's framework."
A Future for the Past
Back in the dry, air-conditioned rooms of QI's Atkinson Hall, Rissolo, McAvoy and CHEI Director Falko Kuester, also a professor with the UC San Diego Jacobs School of Engineering's Departments of Structural Engineering and Computer Science and Engineering, have been analyzing the data collected during this latest trip.
To build a record that can be of use to both archaeologists at INAH and decisionmakers with the Maya Train project, the researchers are using a combination of structure-from-motion techniques and LiDAR to create a digital twin and dynamic flythrough visualizations of each cave. With virtual reality facilities like CHEI's WAVE, a series of sweeping, high-definition screens that transport the user to faraway locales in an instant, the experience becomes even more immersive.
The CHEI team is now partnering with the Scripps Center for Marine Archaeology, an initiative of UC San Diego's Scripps Institution of Oceanography that unites experts in marine archaeology, oceanography and engineering, in this and other heritage preservation work.
QI researchers return to Mexico next month to conduct scans at Chichen Itza, a pre-Columbian Maya city under INAH's stewardship and the site of a future Maya Train station.
"Creating, analyzing and sharing the digital twins of heritage sites in the Yucatán Peninsula is critically important for their analysis, understanding and long-term stewardship," said Kuester. "As such, this collaborative project seeks to provide actionable data to decisionmakers, while creating a foundation to plan and prepare for, respond to and recover from extreme events and the perils of time, all important steps toward creating a future for the past."
"Even with Cancun and the resorts of the Riviera Maya close by, the vast interior of the Yucatán Peninsula remains an exciting frontier for discovery," said Rissolo. "Every path in the jungle leads to new views into the ancient past."
The Maya Train is set for completion in 2024.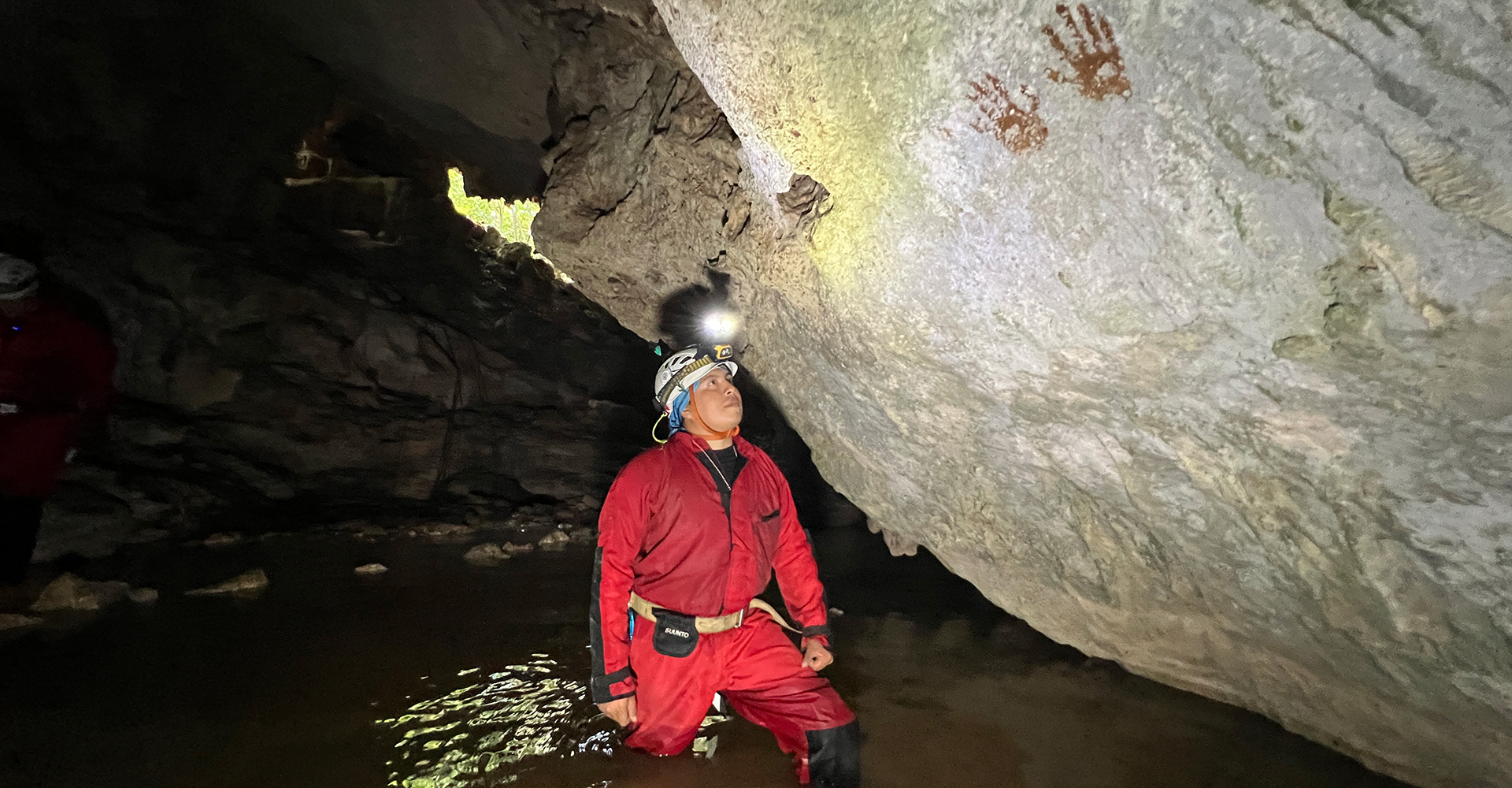 Stay in the Know
Keep up with all the latest from UC San Diego. Subscribe to the newsletter today.