UC San Diego Receives $16 Million NIH FIRST Award
The UC San Diego FIRST Program will enhance diversity in the biomedical sciences with the recruitment of diverse, early-career researchers and new programs to improve faculty recruitment, retention, inclusion and success.
Published Date
By:
Share This:
Article Content
A five-year, $16 million grant from the National Institutes of Health (NIH) Common Fund's Faculty Institutional Recruitment for Sustainable Transformation (FIRST) Program will enable the University of California San Diego to recruit 12 diverse, early-career research faculty in the biomedical sciences. This is the largest grant ever received by UC San Diego to enhance faculty diversity and will propel the institution to become a national model for inclusive excellence.
Of the 10 institutions within the University of California system, UC San Diego is the only institution thus far to receive FIRST Cohort funding.
A diverse biomedical workforce is critical for enhancing scientific innovation and health equity, but the number of women and underrepresented researchers is exceedingly low and has not changed for decades, especially at academic research institutions. The NIH has identified the lack of mentoring, guidance in career development, access to professional networks and integration into the fabric of the institution as contributing factors to the disproportionately low numbers of underrepresented faculty and women in the biomedical workforce.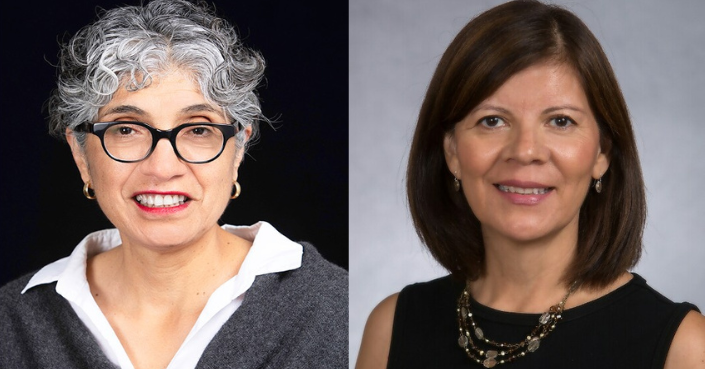 Led by JoAnn Trejo, PhD, MBA, professor of pharmacology at the School of Medicine and assistant vice chancellor of health sciences faculty affairs, and María Elena Martinez, PhD, professor of public health at the Herbert Wertheim School of Public Health and Human Longevity Science and associate director of population science, diversity and community engagement at Moores Cancer Center, the new UC San Diego FIRST Program aims to transform institutional culture towards inclusive excellence by hiring a diverse cohort of biomedical scientists in four research disciplines – cancer, cardiovascular diseases, infectious diseases/immunology and neurosciences.
"UC San Diego is among the most enriched biomedical research environments in the world but lacks faculty diversity and effective programing to enhance inclusive excellence similar to other research-intensive institutions," said Trejo, who earned her MBA from the Rady School of Management in 2015. "The interdisciplinary nature of our four chosen research clusters and the strength of existing cross-campus faculty collaborations between health sciences, biological sciences, engineering, physical sciences and social sciences will ensure that the FIRST Program has an impact on the entire biomedical research enterprise across the university."
The FIRST Program will also implement and strengthen multiple evidence-based programs developed by the Health Sciences Office of Faculty Affairs to enhance faculty recruitment, retention, success and inclusion. The FIRST Program will build upon the success of existing faculty development programming focused on becoming an effective mentor, building a respectful and inclusive culture, and improving grant writing.
"The FIRST Program is the expansion of a pilot initiative to recruit and hire a cluster of underrepresented faculty in the health sciences," Martinez explained. "The introduction of the cohort model into our hiring and onboarding efforts enables us to foster a supportive community for faculty hired through the FIRST Program. Our goal is to enhance the faculty member's career development, which will be the key to their long-term success at UC San Diego."
The FIRST program's evaluation plan will demonstrate how cluster hires and evidence-based faculty development programs can enhance the academic advancement and success of underrepresented faculty and improve the institutional climate for all faculty.
The UC San Diego FIRST Program will jump start University of California President Michael V. Drake's and UC San Diego's commitment to the STEMM Equity Achievement Change program, or SEA Change, an initiative from the American Association for the Advancement of Science, that aims to advance institutional transformation in support of diversity, equity and inclusion.
"Creating lasting solutions that positively impact the world requires a diversity of experience, perspective and thought," said Chancellor Pradeep K. Khosla. "Through the collective impact of our new FIRST Program and our Faculty Diversity Hiring Initiative, we are transforming our research community to shrink health care disparities and to inspire more equitable solutions."
The FIRST Program funding arrives on the heels of two other university-wide initiatives that focus on enhancing faculty diversity. UC San Diego recently received $1 million in grants through the University of California's Advancing Faculty Diversity Program to increase faculty diversity, spur innovative research and infuse culture into the curriculum.
The first cluster hire is dedicated to recruiting 13 faculty whose teaching and research converge at the intersection of Black Studies and topics in science, technology, engineering and math (STEM). The university's second award will expand the number of faculty in the fields of Chicanx and Latinx life, history and culture. A total of 14 new hires will be made to grow the number of course offerings available through UC San Diego's Chicanx/Latinx Studies Program and Latin American Studies Program.
"Advancing faculty diversity is a key priority within UC San Diego's Strategic Plan for Inclusive Excellence," explained Vice Chancellor for Equity, Diversity and Inclusion Becky Petitt. "As UC San Diego continues to enroll an increasingly diverse student body, we seek to cultivate an equally diverse faculty who can support an enriching and meaningful teaching and learning environment."
To advance the institution's collective efforts towards inclusive excellence, UC San Diego has committed to investing in FIRST initiatives and programs to support a diverse, equitable, and inclusive campus. UC San Diego's strategies focus on transformational efforts that demonstrate measurable improvements in diversifying faculty, improving the campus climate; removing institutional and systemic barriers to access and inclusion, and promoting opportunity for communities historically underrepresented in research universities.
Co-investigators for the UC San Diego FIRST Program include Maripat Corr, MD, professor of medicine, School of Medicine; Vivian Reznik, MD, MPH, professor of pediatrics and public health, School of Medicine and the Herbert Wertheim School of Public Health and Human Longevity Science; and Deborah Wingard, PhD, professor of public health and Sonia Jain, PhD, professor of public health, both from the Herbert Wertheim School of Public Health and Human Longevity Science. The program is funded by the NIH Common Fund (U54CA272220).
Stay in the Know
Keep up with all the latest from UC San Diego. Subscribe to the newsletter today.