UC San Diego Plans to Significantly Increase Campus Density in Fall 2021
Safety and vaccine efficacy will shape students' return to an on-campus college experience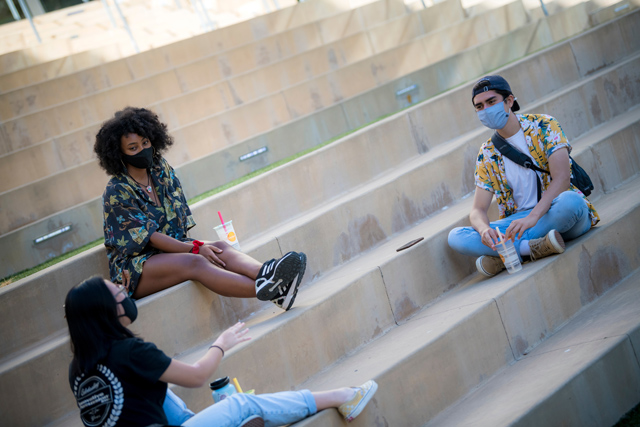 Published Date
Article Content
After successfully preventing outbreaks of COVID-19 through its nationally recognized Return to Learn program, the University of California San Diego has announced plans to have a campus nearly fully occupied for fall 2021. The plans center on the safety and efficacy of COVID-19 vaccines — the campus expects to have about 90 percent of students and 85 percent of on-site staff fully vaccinated by fall quarter.
Under this premise, campus residence halls will be near 100 percent occupancy, with no more than two students per room. Teaching will primarily be delivered through in-person instruction in campus classrooms. Appropriate remote learning options will be made available for students who are unable to arrive from abroad due to visa delays or travel restrictions.
Facial coverings will continue to be required in all public spaces. Physical distancing guidelines in most settings are expected to be reduced from 6 to 3 feet when people are masked, per new evidence on the efficacy of distancing. With continued viral surveillance—such as testing and wastewater monitoring—athletic events will return as well as social gatherings for students, such as concerts.
The fall campus plan is flexible, offering the university the ability to respond quickly should state and county public health guidelines or conditions change.
All students will be required to test for COVID-19 upon arrival to campus; however, campus leadership does not expect to require vaccinated students to continue routine asymptomatic testing. Students and onsite staff who are not fully vaccinated will be required to participate in the asymptomatic testing program. Symptomatic and asymptomatic testing will remain available to all campus community members who wish or need to be tested.
Testing, contact tracing, wastewater monitoring, and other surveillance methods have allowed the university to be one of the few colleges in the nation to maintain low rates of infection despite the presence of a large student body on campus. UC San Diego has had nearly 10,000 students living on campus since fall 2020 and thousands more on campus daily to attend in-person classes. For most of the school year, the infection rate among these students has been less than one-half of one percent.
"We're ready to return to campus," said Chancellor Pradeep K. Khosla. "Our students, faculty and staff went above and beyond throughout the pandemic to keep one another safe while continuing to learn, create and conduct research. While we learned many new ways to connect and serve our students over the past year, we are ready to reconnect in person, as safely as possible, in spaces specifically designed for collaborative learning and discovery."
To support high vaccination rates at the start of the fall 2021 term, the campus will launch a comprehensive vaccination education and outreach campaign to students informing them of the benefits and encouraging full vaccination prior to arrival.
Comprehensive surveillance methods will remain in place to stay ahead of the virus
While testing rates are anticipated to be scaled down compared to the 2020-21 school year (UC San Diego processed more than 150,000 student tests since Jan. 2021), the campus' expansive daily wastewater detection program will remain fully operational.
"We will continue to have a strong set of precautionary measures in place," said Dr. Robert "Chip" Schooley, professor in the Department of Medicine at the UC San Diego School of Medicine and co-lead of the Return to Learn program. "For example, our convenient COVID-19 test kit vending machines will remain for those who still need asymptomatic weekly testing prior to vaccination and those who need symptomatic testing."
With 126 wastewater samplers, more than any other university in the nation, the samplers monitor more than 340 buildings across campus daily for the SARS-CoV-2 virus.
"Our wastewater program has been a highly sensitive tool for detecting infections and can detect a single asymptomatic individual in a building with several hundred residents," said Return to Learn project co-lead Natasha Martin, associate professor of medicine at the UC San Diego School of Medicine. "As we experienced this school year, when we see a concerning signal in a given building, we alert the individuals living or working there to get tested. The high response rates to these alerts enables us to detect infections earlier than our routine testing program and we will continue to use this wastewater-triggered testing for the 2021-22 academic year."
While the campus plans to have most classes indoors, the outdoor classrooms constructed this year will continue to be available as well.
Air filtration in all buildings will continue to be maximized to provide indoor air that is as clean and fresh as possible. For the past year, UC San Diego's Resource Management and Planning has worked to improve airflow and will monitor and adjust air quality and air conditioning as buildings become occupied.
A return to a "normal" student life experience, with lessons learned from the pandemic
While students can expect a bustling campus next year, UC San Diego will be forging a new normal. Telehealth and other online appointments and services will still be available. Yet, students can look forward to more in-person interaction at student events as well as campus-sponsored programing.
"UC San Diego's success mitigating COVID-19 since the start of the pandemic can, in large part, be attributed to the dedication of our students behaving in a way that is considerate for their health as well as the health of fellow Tritons," said Alysson M. Satterlund, vice chancellor for Student Affairs. "We are proud of their efforts and look forward to engaging with our students to foster their development intellectually, socially and culturally."
A hybrid of online student programming will be offered to complement in-person activities. These programs will serve students in and around campus as well as those abroad.
Most businesses, such as those at UC San Diego's Price Center and the Student Center, will be open again. Plexiglass barriers are unlikely to remain a long-time fixture on campus, due to advances in knowledge of how COVID-19 transmits through aerosols (which plexiglass does not prevent). Though little evidence shows that the virus transmits through touching common surfaces, hand sanitizer stations will remain on campus for multiple purposes.
For more information about UC San Diego's Return to Learn, go to the program's website.
Stay in the Know
Keep up with all the latest from UC San Diego. Subscribe to the newsletter today.