UC San Diego Neurosurgery Chair Named President of Congress of Neurological Surgeons
Alexander Khalessi, MD, MBA, is the first University of California faculty member to be elected president of the leading academic society for neurosurgical professionals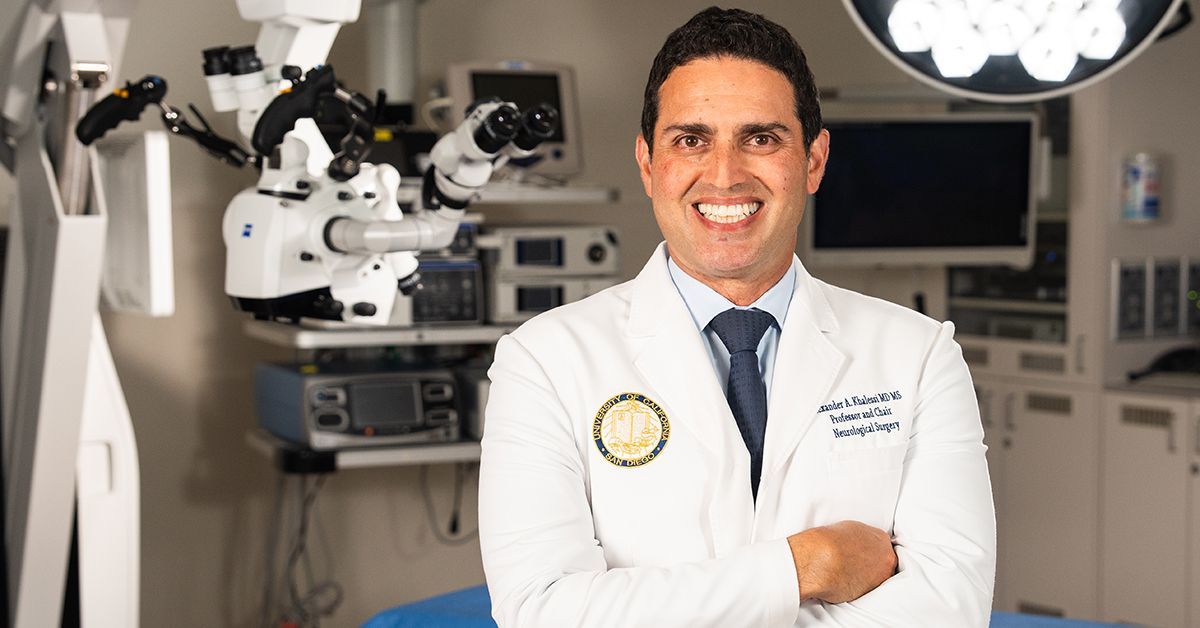 By:
Media Contact:
Published Date
By:
Media Contact:
Share This:
Article Content
Marking a historic first for the University of California (UC), Alexander Khalessi, MD, MBA, chair of neurological surgery at UC San Diego Health, professor of neurological surgery, radiology and neurosciences and the Don and Karen Cohn Chancellor's Endowed Chair in Neurosurgery at UC San Diego School of Medicine, has assumed the presidency of the Congress of Neurological Surgeons (CNS), the leading academic society for neurosurgical professionals with more than 10,000 members worldwide. Khalessi is the first California neurosurgeon and first UC faculty member to be elected to the role.
Aptly occurring at our nation's capital, the presidential transition was solidified with the passing of the president's gavel at the society's 2023 annual meeting. We spoke with Khalessi as he prepared to accept the prestigious position to learn more about what this role means to him, why neurosurgical care at UC San Diego Health is unique and his predictions for the future of neurological surgery.
What does it mean to you to be elected to this prestigious role?
This role is personally very meaningful to me because it demonstrates the trust of my peers to be a steward for our specialty. I'm deeply grateful for that trust and the opportunity to recognize and elevate individuals who can make profound contributions that take our specialty to the next level. I'd also be remiss to not acknowledge the hard work of my faculty partners and my family who have given me the space and opportunity to contribute to our specialty in this way.
As you begin your role as CNS president, what's on your to-do list?
I see significant opportunities to spur innovation by inviting engineers, neuroscientists and entrepreneurs into the operating room. We want to ensure the best minds have visibility to the current limits of neurosurgical capabilities so they can work on new techniques, visualization approaches, device implants and better delivery methods to restore brain and spine health in our patients.
It's also a priority for me to create early awareness of our specialty among medical students and residents, especially women and members of underrepresented groups. Having a shared identity with your physician is an important trust builder that improves patient outcomes, so it's critical that the neurosurgical community mirrors the communities we serve.
There are also persistent harmful gaps in access to the standard of neurosurgical care, especially in conflict zones and resource-constrained areas of the world. I hope to leverage the CNS' robust online education portfolio to offer easy access to the best surgical protocols to treat head and spine disease and injuries. As the preeminent global educational organization in our specialty, the CNS is uniquely positioned to reduce these inequalities.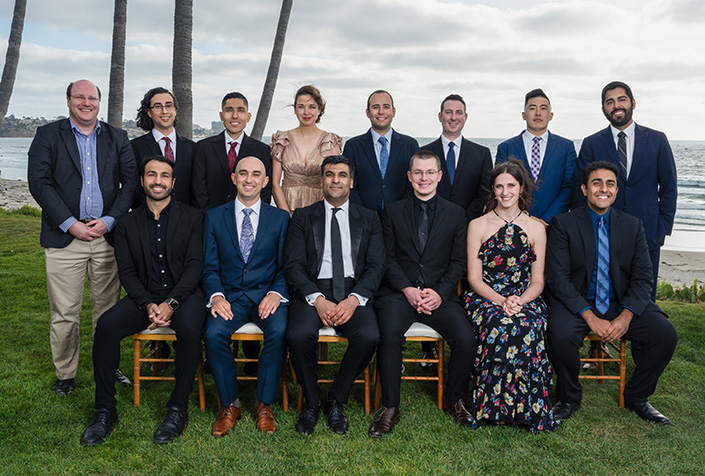 What's your favorite part about being a neurosurgeon?
You only have to experience saving somebody's life or reversing blindness or paralysis to recognize that's something you want to do every day. In addition, for me, the combination of technically demanding procedures, deeply meaningful humanistic interactions with our patients and the ongoing challenge of diseases we have yet to conquer is deeply compelling. I can't imagine a better profession in the world.
What makes the UC San Diego Department of Neurological Surgery unique?
There are so many things that make our department special. We have outstanding world-class surgical faculty who are practicing at the very highest level with destination programs that draw patients from around the world with very complex neurological problems. We have talented, dynamic residents who are changing the way surgery is done and are going to be the future leaders in our specialty. And we have terrific partners in the Department of Neurosciences, which consistently remains #1 in the nation for National Institutes of Health (NIH) funding, the Departments of Engineering and Computer Science, and in institutes on the Mesa that will allow us to solve the most challenging questions in neurological disease.
Among many advances, this singular environment has produced a revolutionary new treatment for stroke called thrombectomy, which was advanced right here at UC San Diego. Using a thin wire called a catheter we can now relatively quickly, safely and minimally invasively remove a stroke-causing blood clot, which has saved millions of lives and reduced disabilities. We are truly entering a "penicillin era" for stroke.
We also recognize you can't innovate and define what's next unless you have mastered the existing standard of care. I'm proud that we hold every major subspeciality designation available today, which means no one needs to leave San Diego to receive world-class neurosurgical care. Among many accolades, we recently became one of the first health organizations in California to receive advanced certification in spine surgery by The Joint Commission, and we are consistently ranked among the top 25 best hospitals in the nation for neurosurgery & neurology care by U.S. News & World Report. Each of these accomplishments are due to the enormous dedication and efforts of our skilled faculty, residents, advanced care providers and department staff.
Taken together, I can't imagine a better place to defeat challenges in treating neurologic disease.
What are your predictions for the future of neurosurgery?
I think the neurosurgical field is in the strongest position it's ever been to revolutionize patient care. There are tremendous advances taking place in materials science, engineering and computational power that will allow us to access the brain and spinal cord in unprecedented ways. I believe the next decade will be transformational for patients with neurosurgical conditions, and I'm proud that our UC San Diego faculty and residents are at the forefront of advancing path-defining therapies and technologies—including stem cells, high-resolution brain sensors and robotics—that will drive us towards this new future.
How do you spend your free time?
I have a wonderful partner in my wife Sara, a lawyer, and we live a very active life with our two young sons, Wilder and Pierce. We love exploring San Diego's beautiful beaches and visiting our city's internationally recognized parks and museums. I personally enjoy stand up paddle boarding and skiing. The new Rady Shell at Jacobs Park and Epstein Family Amphitheater are also breathtaking venues to catch a show.
To learn more about UC San Diego School of Medicine Department of Neurological Surgery educational programs, visit neurosurgery.ucsd.edu/education.
To learn more about specialized neurological surgery care at UC San Diego Health, visit health.ucsd.edu/care/neurological/neurosurgery.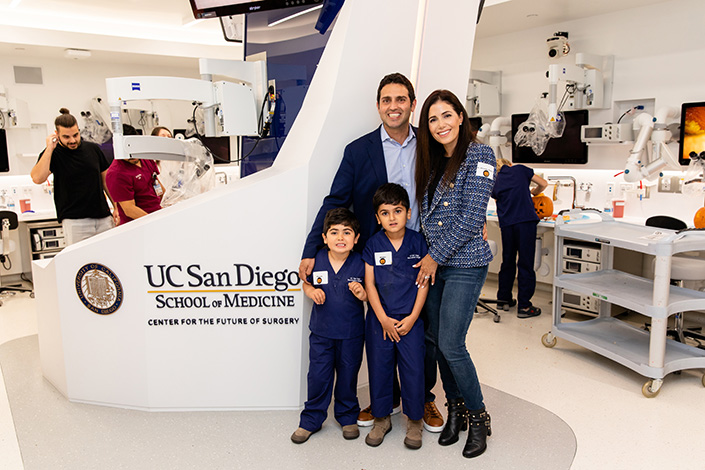 Stay in the Know
Keep up with all the latest from UC San Diego. Subscribe to the newsletter today.