UC San Diego Names Corinne Peek-Asa as New Vice Chancellor for Research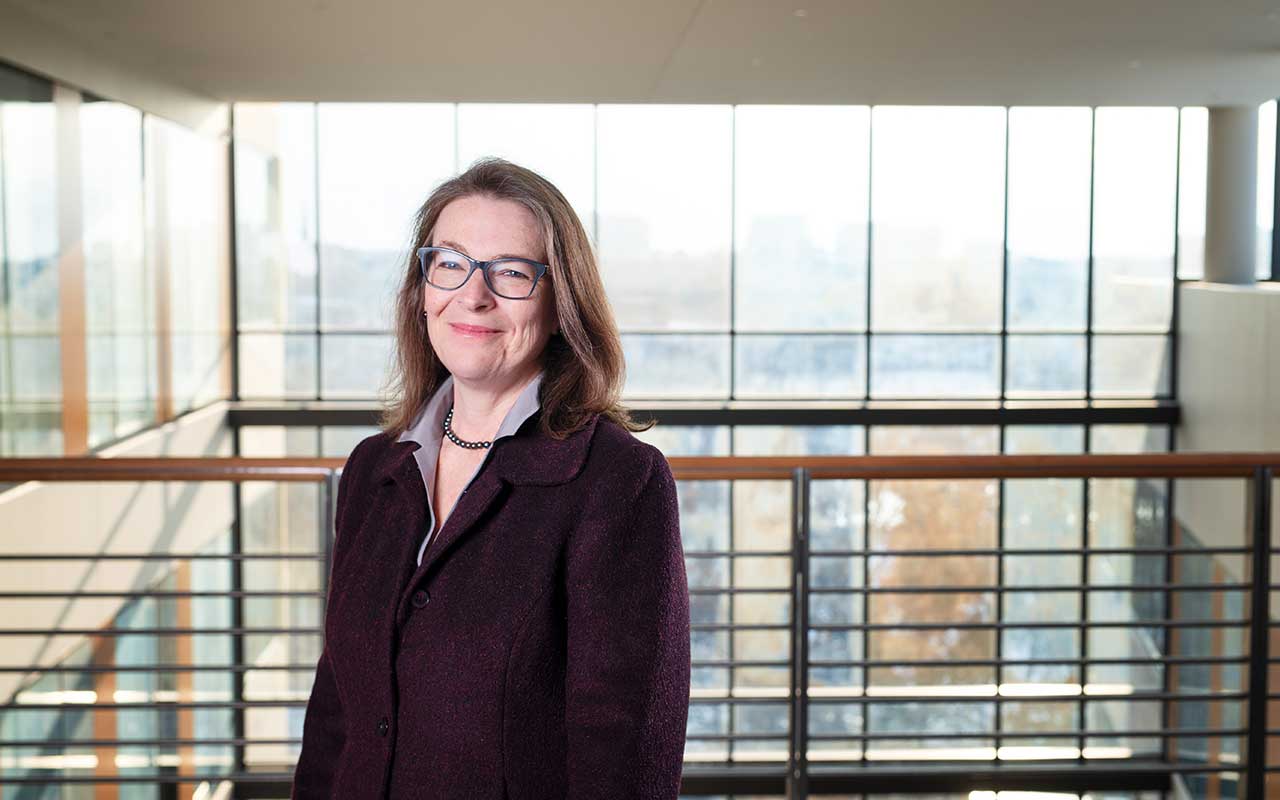 Published Date
Article Content
Corinne Peek-Asa has been appointed as UC San Diego's new Vice Chancellor for Research, effective January 1, 2022.
Peek-Asa replaces Sandra A. Brown, who announced her retirement in January 2021, following more than a decade of exceptional service. Brown will resume her UC San Diego faculty position as Distinguished Professor of Psychology and Psychiatry, and continue as co-director of two large NIH-funded research consortia.
Dr. Peek-Asa joins UC San Diego from the University of Iowa, where she served as the Lowell G. Battershell Distinguished Professor and associate dean for Research in the university's College of Public Health. A pioneer in the field of international injury and violence epidemiology, she currently directs one of six NIH-funded International Trauma Training Programs and previously served as the director of the interdisciplinary CDC-funded Injury Prevention Research Center from 2006 to 2020.
"Cori's significant experience in conducting nationally funded research gives her keen insight into the challenges and opportunities for the principal investigators of UC San Diego's annual $1.54 billion research enterprise," said Chancellor Pradeep K. Khosla. "Her collaborative approach, deep expertise and leadership will continue to expand and diversify our research program, and enhance the global prestige and distinction of our scholarship, innovation and entrepreneurship, and groundbreaking discoveries and therapies."
"The opportunity to join a dynamic, comprehensive university that is known for its interdisciplinary collaboration is one that I could not pass up," said Peek-Asa. "I am thrilled to join UC San Diego during a pivotal time for the university and I am looking forward to working with the incredible students, faculty and staff to raise the visibility of our research enterprise."
Peek-Asa is distinguished for her work in injury prevention and policy science, including programs addressing road safety, interpersonal violence, acute care and workplace violence. As founding principal investigator of an NIH-funded International Trauma Training Program, she introduced sustainable violence and injury research and training in 11 institutions throughout the world, including the implementation of the first trauma registries in eight institutions in five countries. Peek-Asa also has built a reputation for her collaborative approach, working to integrate causal epidemiology with prevention science and non-traditional partnerships across multiple industries and organizations. Her work has advanced the evidence base for policy, including contributions to national and state policies on healthcare violence.
The impact of Peek-Asa's work to reduce the burden of traumatic injury and violence led to her recognition as a ResearchAmerica! Public Health Hero in 2010. She helped establish, served on the board of advisors for and served as the president of the Society for the Advancement of Violence and Injury Research. Peek-Asa has served on the Board of Scientific Counselors for the National Institute for Occupational Safety and Health, and she is currently an appointed committee member of the National Academies' Transportation Research Board. She also serves on the National Academies of Sciences, Engineering and Medicine's Committee on Accelerating Progress in Traumatic Brain Injury Research and Care, and she was elected to the National Academy of Medicine in 2020.
As vice chancellor for Research, Peek-Asa will oversee UC San Diego's annual $1.54-billion research enterprise and serve on the Chancellor's Cabinet. She will work closely and regularly with all academic vice chancellors and advise on research matters for faculty and students as well as promote campus research programs; coordinate campus policies and practices related to university interaction with industry; and create new opportunities for enhancing research activities and research funding on campus through partnerships with other institutions, foundations and federal and state granting agencies. Peek-Asa will serve as an advocate for equity, diversity and inclusion with the Office of Research Administration (ORA) and in research at UC San Diego. Her faculty appointment at UC San Diego will follow the traditional process of review by the academic unit, Committee on Academic Personnel and the administration.
"I would like to sincerely thank Dr. Kit Pogliano, dean of Biological Sciences, for providing exceptional leadership as the chair of the search advisory committee and for ensuring that all voices were heard during the search process," said Khosla. "I am also grateful to the members of the search advisory committee and wide-ranging input from members of the campus community for their thoughtful contributions and insights, which have resulted in a successful conclusion to the search."
Khosla continued, "I extend my sincere appreciation to Vice Chancellor Sandra A. Brown for her decade of visionary leadership of UC San Diego's world-class research enterprise."
Stay in the Know
Keep up with all the latest from UC San Diego. Subscribe to the newsletter today.