UC San Diego Health Named National Leader in Delivering High-Quality Patient Care
The region's only academic medical center is recognized by Vizient as 2023 Birnbaum Quality Leadership Top Performer for the fifth consecutive year
Published Date
By:
Topics:
Share This:
Article Content
UC San Diego Health has been recognized as a top performer in the 2023 Bernard A. Birnbaum, MD, Quality Leadership Ranking by Vizient, Inc. for its excellence in delivering high-quality patient care. This achievement represents the fifth consecutive year that UC San Diego Health has been ranked among the top ten academic health systems in the United States.
"This incredible accomplishment is a direct result of the exceptional care provided each day by our multidisciplinary teams throughout our health system," said Patty Maysent, CEO of UC San Diego Health. "We are extremely proud to have achieved this national honor now for five years in a row, which recognizes health care providers that accomplish impressive outcomes on key measures that define quality patient care and delivery."
This year, 784 participating hospitals were segmented into four cohorts for the Vizient Quality and Accountability Ranking. The ranking measured performance on the quality of patient care in six domains: safety, mortality, effectiveness, efficiency, patient centeredness and equity.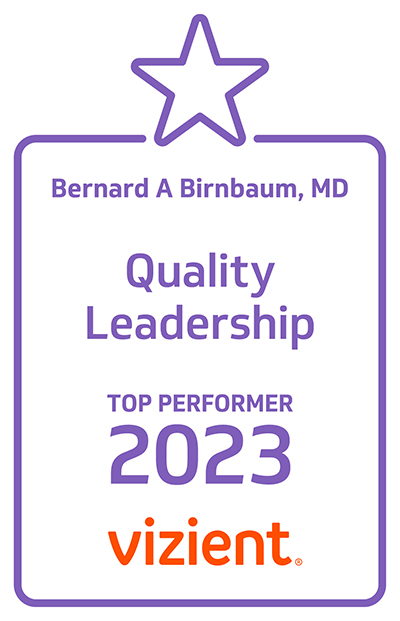 UC San Diego Health is ranked five out of 116 health care systems in the "Comprehensive Academic Medical Centers" cohort.
"Achieving this recognition for the fifth consecutive year is a tremendous accomplishment, with only a few academic medical centers in the nation having accomplished this in the past," said Christopher Longhurst, MD, chief clinical and innovation officer at UC San Diego Health. "This demonstrates that our health care system is committed to continuous improvement in order for our teams to achieve optimal patient outcomes at every interaction, resulting in lower readmission rates and decreased infection risk."
The ranking also factors in measures from the Vizient Clinical Data Base and includes performance data from the Hospital Consumer Assessment of Healthcare Providers and Systems Survey, and the National Healthcare Safety Network with the Centers for Disease Control and Prevention.
The Vizient Quality and Accountability Study has been conducted annually since 2005. The study helps participating hospitals and health systems understand their performance against their peers and identify structures and processes associated with high performance in quality and safety across a broad spectrum of patient care activity.
The recognition period is for work spanning from July 1, 2022 through June 30, 2023.
"It's extremely impactful to see the consistency in our team's performance and our ability to continually provide highly reliable patient care at UC San Diego Health," said Chad VanDenBerg, MPH, chief quality and patient safety officer at UC San Diego Health. "This honor reflects the comprehensive care provided to our patients with a focus on quality, safety and the overall patient experience."
UC San Diego Health ranked No. 1 in San Diego in the 2023-2024 U.S. News & World Report "Best Hospitals" survey and was placed on the "Best Hospitals National Honor Roll" for the first time in 2023, a distinction awarded to only 22 hospitals nationwide. The region's only academic medical center ranked nationally in 10 specialties and "high-performing" in 18 common procedures and conditions, which cover a spectrum of care from heart procedures and treatment options for acute kidney failure, to orthopedic and cancer surgeries, and stroke care.
UC San Diego Health is also recognized as having the highest level of safety from The Leapfrog Group, with an "A" for both campuses. Further, the Centers for Medicare & Medicaid Services recognized UC San Diego Health as a five-star institution for the quality of our care.
UC San Diego Health is dedicated to delivering outstanding patient care through commitment to community, groundbreaking research and inspired teaching. The 799-bed academic health system includes UC San Diego Medical Center in Hillcrest and Jacobs Medical Center, Sulpizio Cardiovascular Center, Moores Cancer Center, Shiley Eye Institute, Koman Family Outpatient Pavilion and Altman Clinical and Translational Research Institute, all in La Jolla, as well as primary care and same-day services at clinics throughout Southern California.
Topics:
Share This:
Stay in the Know
Keep up with all the latest from UC San Diego. Subscribe to the newsletter today.