UC San Diego Health Celebrates Inaugural Improvement Excellence Awards
The ceremony recognized the work of individuals and teams whose improvement projects made a positive impact for providers, staff and patients at UC San Diego Health
Published Date
By:
Topics:
Share This:
Article Content
Leaders at UC San Diego Health recently celebrated the institution's inaugural Improvement Excellence Awards ceremony. The event recognized and celebrated the work of individuals and teams whose improvement projects made a positive impact on UC San Diego Health's strategic goals and patient care.
"UC San Diego Health team members are caring, creative problem solvers who maintain and continually improve our culture of high reliability," said Patty Maysent, CEO at UC San Diego Health. "More than 10,000-strong, our employees regularly find ways to positively impact the care we deliver to our patients and their families in our hospitals and clinics each day."
In total, 11 projects were recognized as winners in their category at the ceremony out of 51 submissions received. The projects awarded represent the work of more than 500 employees.
"UC San Diego Health's unprecedented growth has pushed us to become better, more consistent and more agile," said Ashley Gambhir, executive director of transformation at UC San Diego Health. "Efforts like these projects demonstrate how UC San Diego Health relentlessly strives to be an incredible place to work and receive care."
To qualify for an award, the project submissions must align with at least one of UC San Diego Health's strategic goal categories of excellence, which include:
Pursuit of Quality
Patient Experience
Improving Access
Advancing Health Equity
Fostering a Culture of Belonging
Efficiency of Operations
Judging for the submissions was conducted by a panel of 10 UC San Diego Health employees who represented a range of departments at UC San Diego Health, including health justice and equity and population health. Criteria considered when reviewing submissions included: benefit to the organization and patients, sustainment, scalability (either internal or external) and creativity.
"We attract, recruit and retain the absolute best staff at UC San Diego Health," said Margarita Baggett, RN, MSN, chief clinical officer at UC San Diego Health. "The remarkable efforts highlighted in these award nominations bring purpose, meaning and joy to our work and ensure patients are receiving the highest level of care. It's an honor of ours to recognize the team members involved in the work at this year's Improvement Excellence Awards."
2023 Improvement Excellence Award Winners
Improvement of the Year – Fostering a Culture of Belonging
UC San Diego Health leaders collected feedback, identified best practices and created a collection of resources that managers can utilize to ensure team members feel that the organizational culture is one that is welcoming and where all employees feel valued, seen, heard and treated with respect.

Improvement of the Year – Efficiency of Operations: Eliminating Discharge Barriers
The Trauma Progressive Care Unit at UC San Diego Health's Level 1 Trauma Center in Hillcrest plays a critical role in maintaining continuous patient flow, as most patients are admitted directly from trauma and the surgical intensive care unit. To achieve organizational discharge delay goals, the unit deployed a standardized discharge process amongst the interdisciplinary team utilizing improved workflows and a discharge board for transparent communication. Since project implementation, the unit's average discharge delay/month has steadily decreased, outperforming the organizational goal. Overall, the project has shown great promise in improved patient outcomes and decreased wait times for inpatient hospital beds.

Local Transformation – Pursuit of Quality for Patients Post-Surgery
Early mobilization is an integral part of the Enhanced Recovery After Surgery Program at UC San Diego Health, ensuring that surgical patients are mobile as early as possible post-surgery to improve their health outcomes. Specifically, within 12 to 16 hours of being admitted to the nursing unit after surgery, it's recommended that patients are participating in a minimum level of activity, such as marching in place or walking, as it helps patients recover after surgery.

To follow early mobilization compliance rates, a team in the surgical oncology unit at Jacobs Medical Center created the program "Stepping on UP," which offered education to staff on the importance of early mobilization and utilized a tracking board centrally located in the nursing station of the unit. The tracking board listed which patients met early mobilization requirements, which was updated by the nursing team as the mobilization was completed.

Local Transformation – Patient Experience: Inpatient Quiet-At-Night Program
Inpatient surgical services nursing units at UC San Diego Medical Center in Hillcrest partnered with the Office of Experience Transformation in discovering new ways for patients to receive the sleep they need while in our care. Studies have shown that a serene hospital setting promotes less stress, improves rest and sleep, healing, functional and psychological wellbeing, less incidence of delirium, decreased use of sleep-promotion pharmaceuticals, and better medical outcomes for patients. Additional benefits include reduced length of stay, decreased hospital costs and improved patient experience.

The program included adoption of an 11 p.m. to 5 a.m. "Quiet Hour," which consisted of dimming hallway lights, mitigating environmental noises, and upgrading call lights in shared patient rooms to allow patients to watch TV quietly while using headsets.

The nursing team also offered patients a sleep menu to ensure each patient's personal night time preferences are accommodated, such as closing blinds, dimming the computer monitor, or providing extra bedding. The menu also includes the option to receive a Quiet Kit, which contains a sleep mask, earplugs, and a calming aromatherapy patch.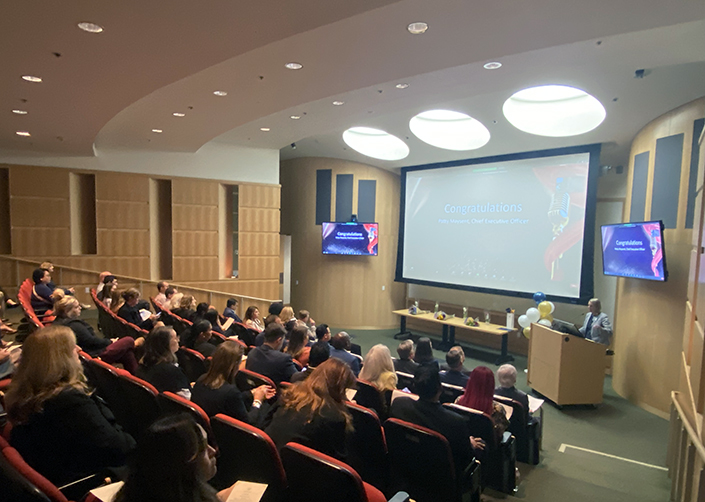 Local Transformation – Improving Access: New Patient Access in the Adult Cystic Fibrosis Program
The Adult Cystic Fibrosis Program increased appointment availability by implementing a new patient scheduling intake process that provided new patients with a telehealth visit. Since offering telehealth appointments to new patients, the percentage of new patients scheduled within seven days increased from 20% to 45%.

Local Transformation – Fostering a Culture of Belonging: Nurse Training and Incentive Program Improvements
The Precepting with Pride Program — a training program for experienced nurses who teach clinical skills to new nurses — implemented a structured, evidence-based curriculum that increased the number of standards taught, enhanced teaching strategies and doubled the number of teaching hours and professional development hours provided.

This team also worked with many stakeholders to not only negotiate an increase in hourly preceptor incentive but streamline the process for nurses to request and receive the incentive. As a result of this program, nurse participation rates and satisfaction increased supporting the organization's efforts to decrease reliance on contract labor and decrease nurse vacancy rates.

Local Transformation – Efficiency of Operations: Collaboration of Multi-Disciplinary Teams for Quality Improvement
Through implementing a weekly, one-hour meeting called "Power Hour," a multidisciplinary group of team members, including nurses, nursing leadership, advanced practice providers and physician leadership collaborated to identify and address themes and trends to improve quality and safety. The meeting helped identify and immediately address any timely issues, such as patient discharges, rapid response times, rounding needs and more, which helped sustain a high quality of care provided to patients.
"Our amazing team at UC San Diego Health has become masterful at quickly adapting to our dynamic, complex and responsive industry, and these awards recognize and reflect that incredible work," added Gambhir. "As a result, we're seeing enhanced processes that ensure patient safety, improve patient experience and increase operational efficiency and sustainability."
Topics:
Share This:
Stay in the Know
Keep up with all the latest from UC San Diego. Subscribe to the newsletter today.