By:
Judy Piercey

Patrick Riedling
UC San Diego Fuels Regional Economy, Impacts State
With $16.5 billion contributed to California's economy and more than 100,000 jobs created statewide, the university is an economic powerhouse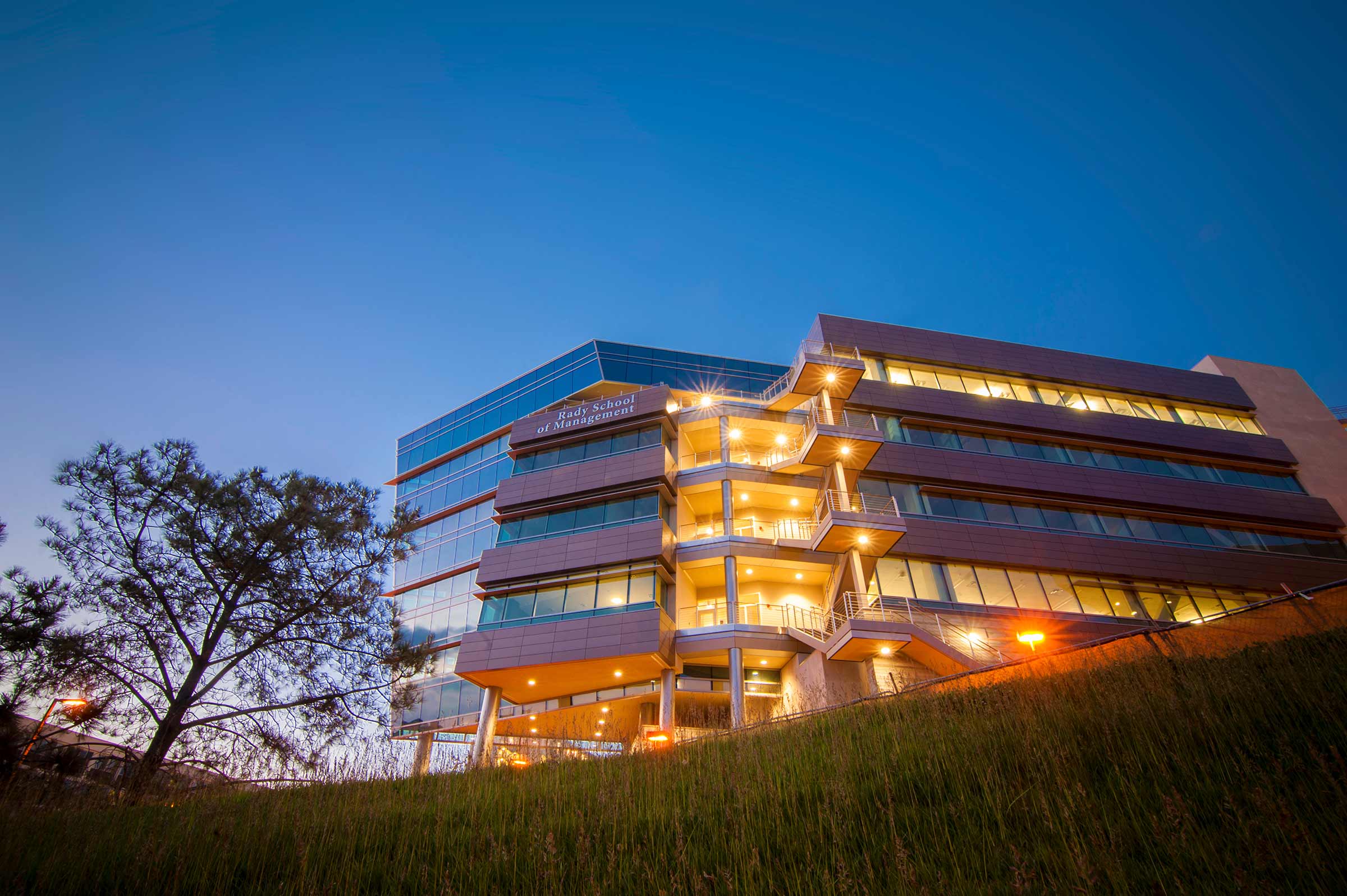 Photos by Erik Jepsen/UC San Diego Publications
The University of California San Diego's scenic main campus in La Jolla overlooks and offers access to the beautiful Pacific Ocean. But we don't just ride waves, we make them. Ranked worldwide as a top 15 research university, UC San Diego is one of the region's largest contributors of economic, research and community impacts.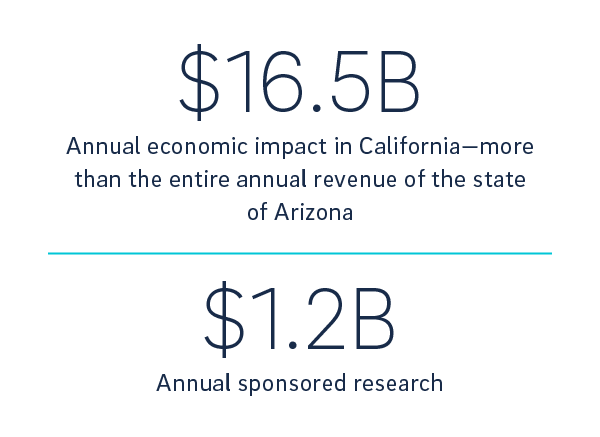 Nearly six decades of public and private investment have created a world-renowned university with more than $5 billion in annual revenues and $1.2 billion in annual sponsored research. A new economic impact report recently compiled by Tripp Umbach, one of the nation's leading consultancy group for higher education institutions, details UC San Diego's estimated $16.5 billion in annual economic impact in California—more than the entire annual revenue of the state of Arizona. Umbach completed the report using the university's official numbers from fiscal year 2018.
Regional Economic Generator
A powerhouse in education, research, health care and community involvement, UC San Diego plays a vital fiscal role in the region. Locally, estimated sales of active UC San Diego-related companies in the county, including those utilizing licensed technology, total $32.4 billion. As one of the region's largest trainers of a skilled workforce, 74,071 jobs throughout San Diego County are related to UC San Diego, including those at companies that license technology and startups. By 2032, the annual economic impact of the university on the county is projected to be $12.9 billion.
"UC San Diego generates wealth, health and well-being for all San Diegans," says UC San Diego Chancellor Pradeep Khosla. "Since the last economic impact report prepared for the university in 2008, UC San Diego's overall economic impact on the county has more than doubled, and the number of jobs supported has grown by 120%. In this new 'research age,' UC San Diego has emerged as a world-renowned scientific, medical and engineering innovation hub that is providing real solutions to some of the planet's most challenging issues."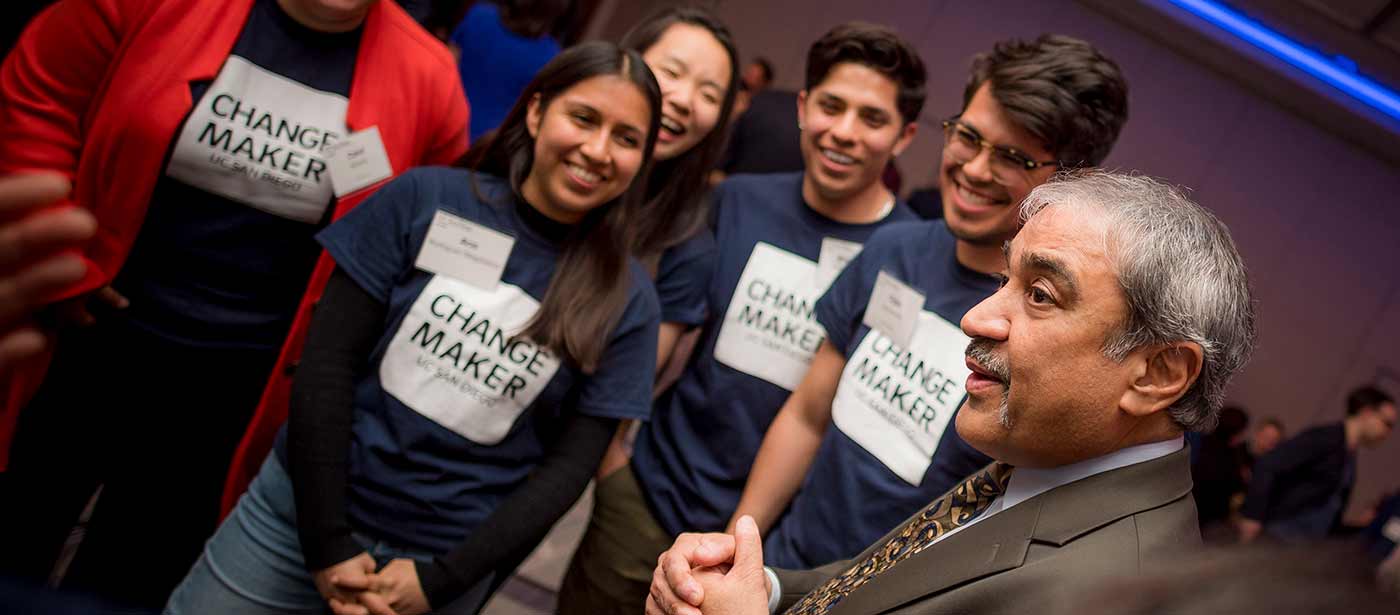 UC San Diego is a comprehensive doctorate-granting research institution that enrolls more than 39,000 (fall 2019) undergraduate and graduate students annually. The university's graduate and professional schools include the School of Medicine, Graduate Division, Jacobs School of Engineering, Rady School of Management, School of Global Policy and Strategy, Scripps Institution of Oceanography and the Skaggs School of Pharmacy and Pharmaceutical Sciences. UC San Diego Health—the region's only academic medical center—is widely recognized as one of the premier health care systems in the United States. Locations include UC San Diego Medical Center, Jacobs Medical Center, Komen Family Outpatient Pavilion, Moores Cancer Center, Shiley Eye Institute and Sulpizio Cardiovascular Center.
Students are educated by some of the top minds in various fields—UC San Diego has hosted 16 Nobel Laureates, and faculty have won MacArthur Awards, Pulitzer Prizes, Fields Medals, Grammy Awards, Tony Awards and the Presidential Medal of Freedom among countless other noteworthy awards. There are more than 200,000 UC San Diego alumni worldwide.
State Impacts
Since 2008, UC San Diego's annual economic impact in California has more than doubled from $7.2 billion to $16.5 billion, an increase of 129%. The total number of jobs supported in California increased 158%, from 39,000 to 100,492. The study projects that UC San Diego will generate $18.8 billion in annual economic impact for the state of California by 2023.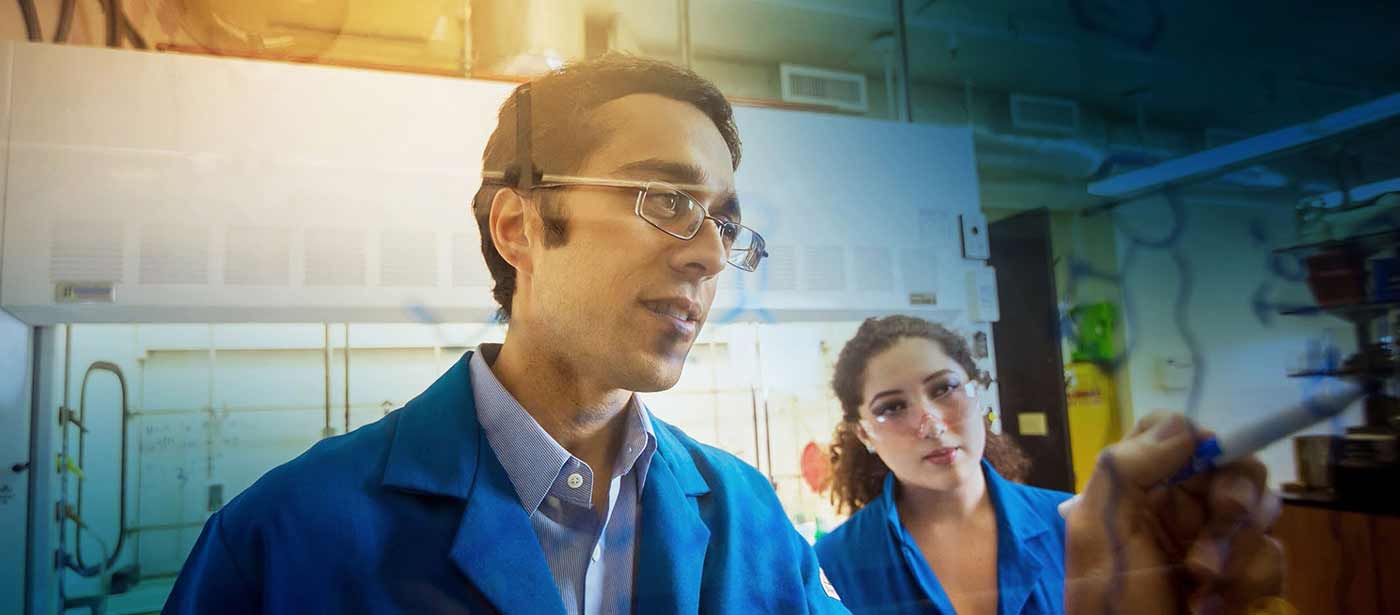 "UC San Diego is a massive gravitational force in San Diego, pulling in great minds, creative entrepreneurs, and considerable financial resources to produce ground-breaking research, medical solutions that change and save lives, and business clusters that send out endless ripples of jobs and tax revenue for our regional and state economies," says Toni Atkins, President pro Tempore of the California State Senate. "When you also consider the thousands of UC San Diego graduates each year who go on to make their mark on the world in innumerable ways, this institution's positive impact on San Diego and California cannot be overstated."
Workforce Development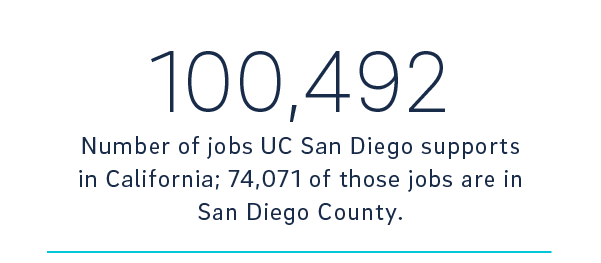 UC San Diego believes students from all economic backgrounds should have access to a world-class education that offers a foundation for true impact, from jobs to revenue to the environment. That's why we provide academic opportunities through The Preuss School UC San Diego, which serves first-generation students bound for greatness. The campus celebrated 9,325 students graduating from the university last spring, and our Extension program registers 137,000 learners annually.
Shaping San Diego's skilled workforce and improving the community goes beyond training future workers. For example, the UC San Diego School for Global Policy and Strategy recently launched a Civic Leadership Academy, which provides professional development for locals working in public service and policymaking roles. The aim of the academy is to provide learning opportunities and access to our university's faculty and research expertise to address current and challenging topics affecting the San Diego region.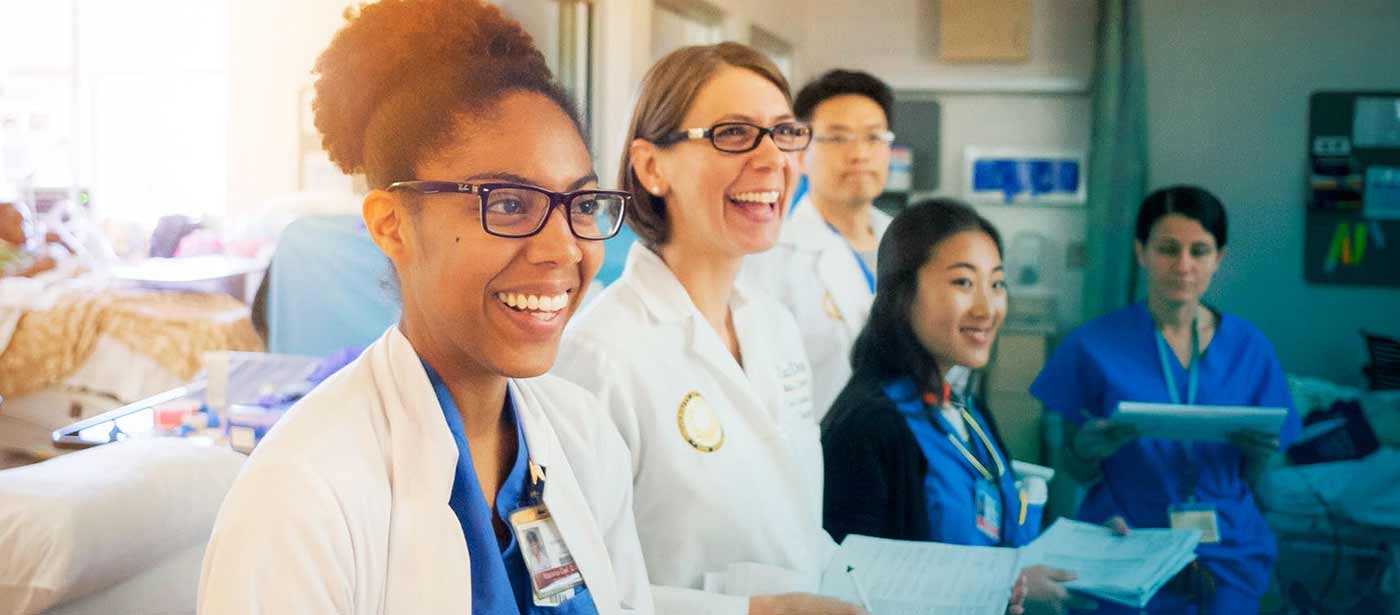 Destination Healthcare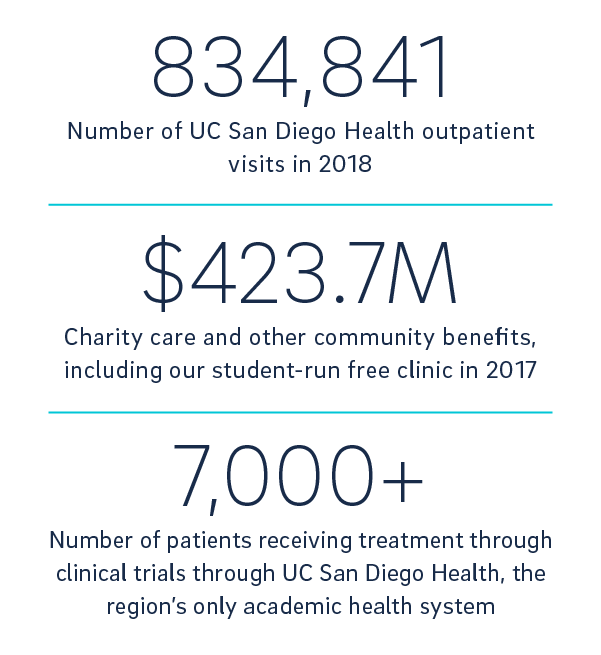 Jacobs Medical Center at UC San Diego Health opened its doors in November 2016 after nearly a decade of planning and construction. Overnight, the facility—509,500 square feet, 10 stories and 245 beds—was active with people caring for those requiring hospitalization. This advanced medical center has become a destination for those seeking care in our region and beyond. Medical services include advanced surgery, cancer care, cardiac rehabilitation, clinical trials, birthing options and more.
UC San Diego Health is the region's only academic health system, and includes both the UC San Diego School of Medicine and the Skaggs School of Pharmacy and Pharmaceutical Sciences. Since the university's last economic impact report, outpatient visits have nearly doubled from 476,000 to more than 834,000, an increase of 75 percent. More than 7,000 patients receive treatment through clinical trials. In addition, UC San Diego Health supports more than $423.7 million in low or no-cost health care programs or services to underserved populations in the community—including $77 million in direct charitable care provided at UC San Diego Health hospitals.
Seeds of Innovation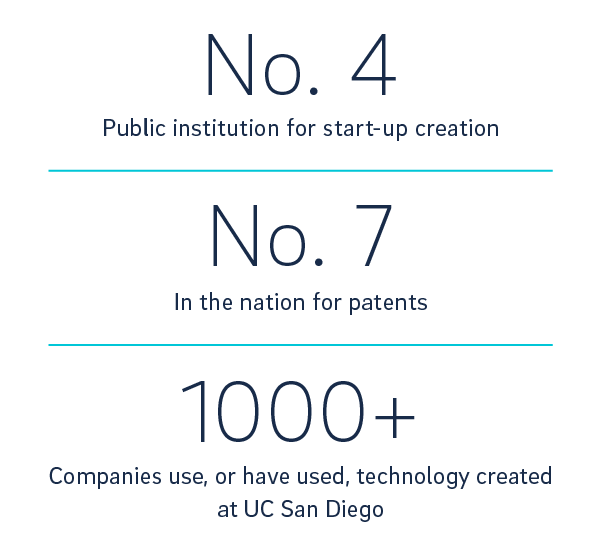 The San Diego region has become a model for innovation and entrepreneurship, and that's largely attributable to UC San Diego and the many aligned research and development institutions on the Torrey Pines Mesa. In fact, we're building a "Robot Valley" here in San Diego. When UC San Diego launched the Contextual Robotics Institute five years ago, a high-level goal was to encourage the growth and development of a robotics cluster here in our region. The goal is being achieved, as evidenced by the Contextual Robotics Institute annual forum held each year in November on campus.
Our research has helped launch licensed start-ups—more than 1,000 companies around the world use or have used technology we created, providing hundreds of jobs and fueling acquisitions by tech giants like Cisco and Apple. UC San Diego is the nation's 4th strongest public university in start-up creation and 7th in the nation for patents.
Focus on the Future
In 2021, UC San Diego will open a new 66,000-square-foot facility in downtown San Diego at the corner of Park Avenue and Market Street. Built through a partnership with developer Holland Partner Group, Park & Market connects the university to the downtown innovation community and to neighborhoods throughout San Diego's urban core. The project includes a 34-story residential tower—managed by Holland Partner Group—as well as performance and program space for outreach, innovation and research and volunteer opportunities. Ideally located on the UC San Diego Blue Line trolley route, this urban education and enrichment center is adding an academic element to the already bustling downtown innovation scene.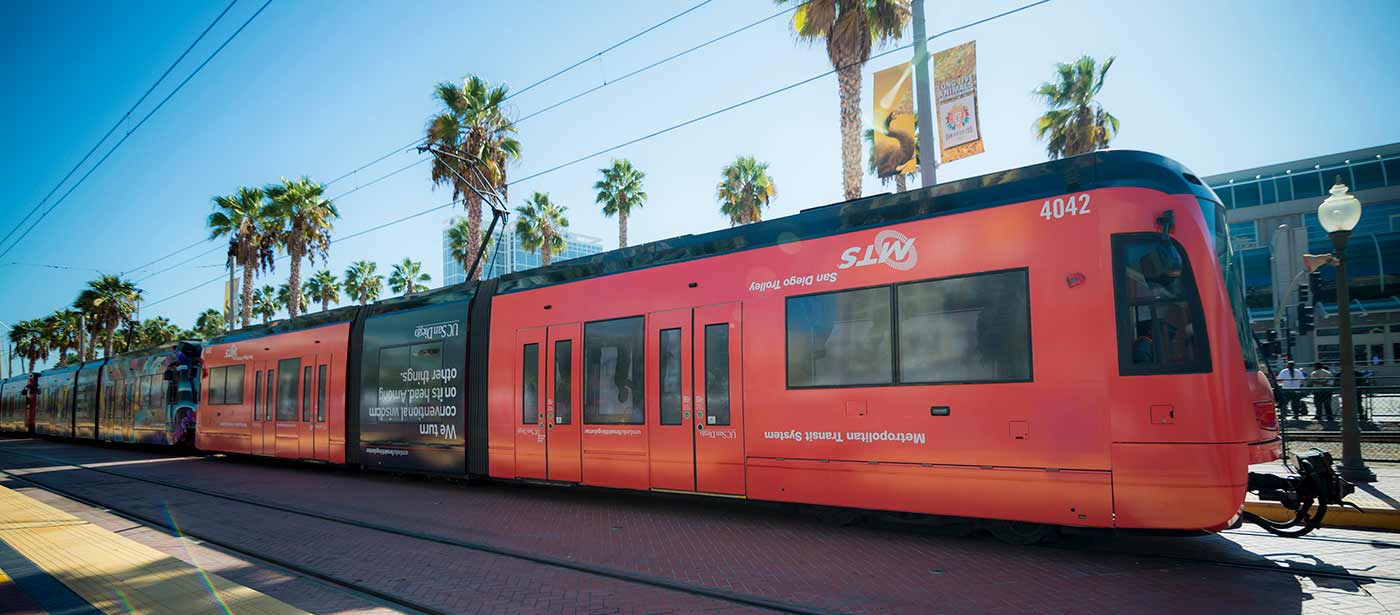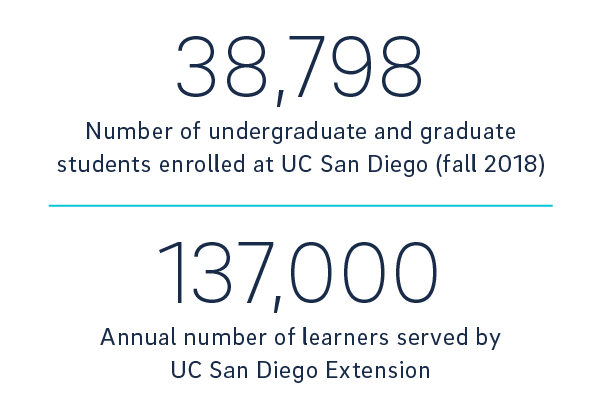 A project of the San Diego Association of Governments (SANDAG), the Mid-Coast Corridor Transit Project is an 11-mile extension of the UC San Diego Blue Line Trolley, which is expected to start service in 2021. The Trolley will serve new major activity centers such as the VA Hospital, UC San Diego and Westfield UTC, providing an effective campus commuting alternative for faculty, staff and students at UC San Diego. The campus is projected to be the nation's largest residential campus by 2028. The trolley will open UC San Diego to the entire regional community, from the San Ysidro port of entry through Chula Vista, downtown San Diego, and directly into the heart of our campus in La Jolla.
At the University of California San Diego, we embrace a culture of exploration and experimentation. Established in 1960, UC San Diego has been shaped by exceptional scholars who aren't afraid to look deeper, challenge expectations and redefine conventional wisdom. As one of the top 15 research universities in the world, we are driving innovation and change to advance society, propel economic growth and make our world a better place. Learn more about UC San Diego's economic impact.
Stay in the Know
Keep up with all the latest from UC San Diego. Subscribe to the newsletter today.