UC San Diego Extended Studies Showcase 2023 Highlights Valuable Services for Campus and Community
Full Day Event Offers Panel Sessions, Tours, and Arts Experiences
Published Date
By:
Share This:
Article Content
Learning, discovery, and exploration meet in spectacular fashion on Thursday, September 21, when UC San Diego Division of Extended Studies hosts Showcase 2023. Featuring in-person experiences at UC San Diego Park & Market, combined with virtual webinars, this partnership event will highlight valuable services and programs available to UC San Diego faculty and staff, community and arts organizations, and small and large businesses in all industries.
"The Extended Studies Showcase provides a unique opportunity to demonstrate some of the ways the division is able to support UC San Diego faculty and staff, corporate and community partners, and local and global audiences, in reaching their goals and audiences," said Dean Hugo Villar. "We look forward to inspiring new partnerships that leverage the range and diversity of our services and programs.
In addition to the hundreds of courses and certificate programs Extended Studies has offered to lifelong learners for nearly 60 years, the division also fuels economic and cultural growth through partnerships, programs, and services. Resources include everything from grant research and proposal assistance, program development and administration, and custom upskilling and professional training to event management, space rentals, arts collaborations, television programming through UCSD-TV, and much more.
To demonstrate firsthand how Extended Studies is engaged in collective impact, Showcase 2023 will allow for exploration of the variety of ways that the division partners both on and off campus.
"We are grateful to the many partners across campus and throughout our local and global communities who partner with us every day to realize their goals and make an impact," said Dean Villar. "They are the best example of the tangible, real-world successes that can be achieved when organizations collaborate and innovate together. It's our honor to be able to share in their accomplishments and to showcase what's possible."
Extended Studies Showcase 2023 kicks off with an in-person exploration of the state-of-the-art, multilevel, mixed use UC San Diego Park & Market facility in downtown San Diego
Attendees will enjoy a light breakfast, followed by a leadership welcome with Executive Vice Chancellor Elizabeth H. Simmons and Extended Studies Dean Hugo Villar and a partner panel discussion, featuring Carlos D. Jensen, PhD, Associate Vice Chancellor of Educational Innovation; Wendy Hunter Barker, Assistant Dean, Strategy and Operations at the Rady School of Management; and Colleen Kollar Smith, Executive Director of the Campus Performance and Events Office.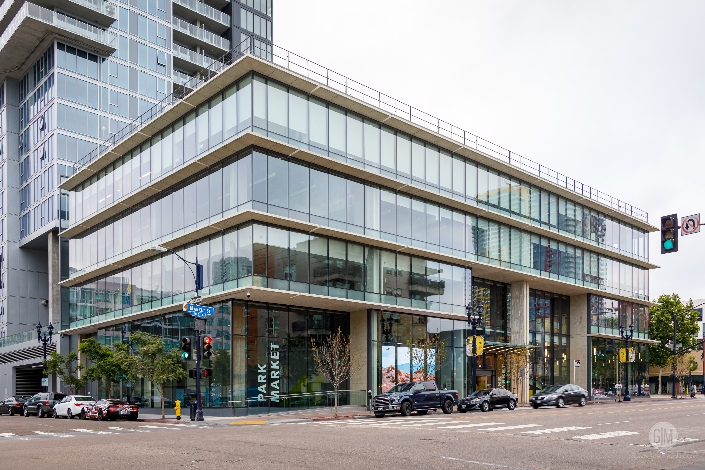 After the morning keynote presentations, attendees can keep the learning going with the Taste of Extended Studies educational session, Building a Culture of Innovation and Cultivating an Entrepreneurial Mindset, presented by Greg Horowitt, Director of Innovation Design at the UC San Diego Office of Innovation and Commercialization. Dive into leadership skill building in this bite-sized course demonstrating how continuing education impacts workforce development.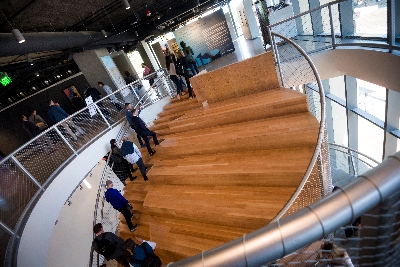 From there, experience the numerous facilities and features Park & Market offers to faculty, event managers, community organizations, educators, and the general public via tours of classroom, meeting, and event spaces, as well as arts and culture amenities in the Digital Gym Cinema and public art gallery.
The Showcase event continues with virtual breakout sessions throughout the afternoon, allowing for remote attendee participation. These sessions will demonstrate successful collaborations with partners ranging from corporations, technology leaders, and academic communities to school districts, healthcare professionals, and nonprofit organizations.
Specific topics include Keeping PACE: Supporting Parents, Caregivers, and Families, moderated by Extended Studies Education and Community Outreach and featuring panelists from Excellence & Justice in Education Academies, Reality Changers, and the National School District; Unlocking Potential: How Our Partners Got Their Lean Six Sigma Superpowers, including speakers from The Athon Group, UC San Diego Health, and Dexcom; and United for Success: Building an Inclusive Pipeline into Tech and Healthcare Careers.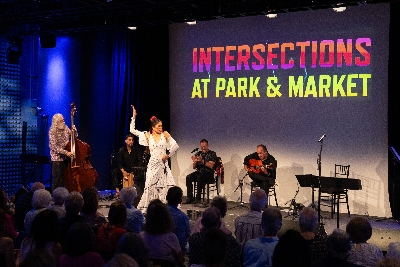 The day is capped off at Park & Market with an art reception, highlighting a new exhibition, Sol y sombra: Immigrant Experiences in California, and a musical performance with Park & Market's acclaimed Intersections Concert Series, featuring the Don Byron Quartet.
"Showcase 2023 is an added layer to the ongoing conversation with our UC San Diego campus colleagues and the many other community organizations and friends from around San Diego, California, and the world – including partners across the University of California," added Dean Villar. "There are unlimited opportunities in partnering with Extended Studies, and we look forward to forging new relationships at the Showcase and beyond."
Everyone is welcome to discover how UC San Diego Division of Extended Studies can amplify organizational goals and impact, cultivate communities, and develop cultural enrichment. Registration for Showcase 2023 is open now.
Stay in the Know
Keep up with all the latest from UC San Diego. Subscribe to the newsletter today.