UC San Diego Celebrates 30 Years of UCSD-TV, Announces New Arts and Culture Channel
An Anniversary, a New Channel, a Gallery Retrospective, UCSD-TV Celebrates 30 Years
Published Date
Article Content
On March 15, 1993, a small group of UC San Diego employees gathered to flip a single switch, and UCSD-TV hit the airwaves, launching the first television platform in University of California history.
Over the three decades since its launch, UCSD-TV has delivered engaging content about science, health, public affairs, and the arts to millions of viewers around the world and opened doors for all—regardless of background or education level—to enter, learn, and grow along with UC San Diego.
Mary Walshok, former dean of UC San Diego Extended Studies and an integral part of the launch of the station, gives credit to former UC San Diego Chancellor Dick Atkinson. "You have to credit Dick Atkinson—who was then chancellor and exceedingly entrepreneurial—who wanted to connect the activities and the knowledge coming out of the research university with the broader community," said Walshok. "He called me, as the new dean of what was then called Extension, and said, 'Do we want a low-power TV station?' And I said 'Absolutely!'"
Since that time, UCSD-TV has welcomed thousands of guests on the channel to talk about a range of topics, from scientific exploration to advances in medicine, engaging current affairs, and uplifting cultural arts. Over the years, guests have included the likes of American astronaut Sally Ride, famous molecular biologist Francis Crick, and former President and First Lady Barack and Michelle Obama, to name a few.
As UCSD-TV grew, so did its community. The TV station was so successful that in 2000, UCSD-TV launched UCTV as a service for all University of California campuses. Today, viewers can watch the channel 24 hours a day from anywhere in the world. Last year, UCTV's videos were viewed over 60 million times; more than half of UCTV's viewers watch from outside of the U.S.
UCTV reached a major milestone in January 2022 when it acquired its one-millionth YouTube subscriber. Combined, UCSD-TV and UCTV have created over 700 video series spanning 300 categories. Among the channel's most viewed videos are "Sugar: The Bitter Truth," a lecture by Dr. Robert H. Lustig about the damage caused by sugary foods; a performance of famous German composer Carl Orff's "Carmina Burana" by the UC Davis Symphony Orchestra, the University Chorus and Alumni Chorus, and the Pacific Boychoir; and "The Moment in Time: The Manhattan Project," to name a few. View the UCSD-TV 30th-anniversary commemorative video here.
The UCSD-TV 30th-anniversary celebration was held on Tuesday, April 25 at Park & Market, UC San Diego's unique downtown hub. The evening kicked off with the unveiling of the UCSD-TV 30th Anniversary Retrospective Gallery—a colorful exhibition highlighting famous UCTV moments from three decades—in Park & Market's second-floor gallery space.
Around a hundred community members gathered to join in the festivities, including representatives from UC San Diego and UCTV leadership. Among them were Pradeep Khosla, chancellor, UC San Diego; Hugo Villar, dean, UC San Diego Division of Extended Studies; Corinne Peek-Asa, vice chancellor, UC San Diego Research; Mary Walshok, former dean, UC San Diego Division of Extended Studies; Ed Abeyta, associate dean, UC San Diego Division of Extended Studies; Natalie Walsh, executive director, UCTV; and philanthropists Claire and David Guggenheim.
During the commemoration's opening remarks, UCTV Executive Director Natalie Walsh announced the launch of a new Arts and Culture channel that will connect UC San Diego, Park & Market, and community partners to create inspiring arts programs in the region.
"For 30 years, UCSD-TV has built an impressive library of content around science, technology, medicine, and the humanities and arts. We see an opportunity to expand our arts coverage in order to tap into the diverse and robust artistic expression happening all around us. Today, we are excited to announce UCTV's new arts channel," said Walsh.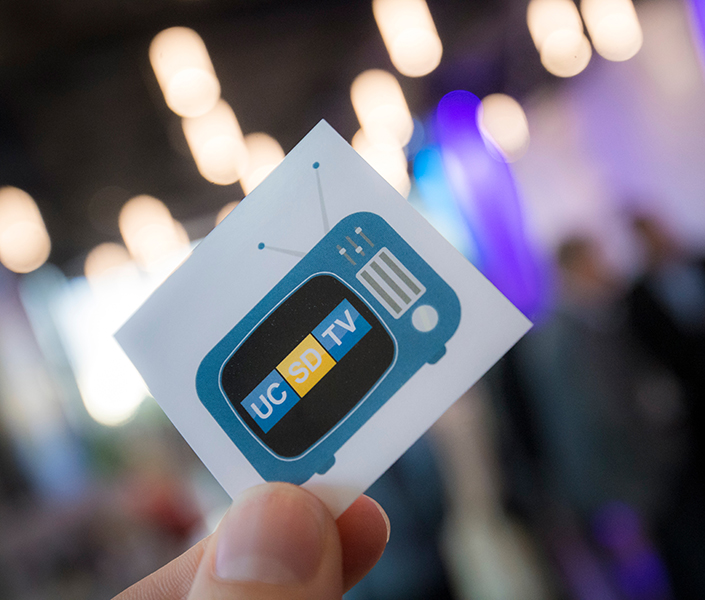 The celebratory evening also featured a panel discussion on ​​the future of the arts in the San Diego region. It was moderated by Dean Nelson, director of the journalism program at Point Loma Nazarene University and host of the Writer's Symposium by the Sea. Nelson was joined by Leah Goodwin, appointed by Gov. Newsom in early 2023 to the California Arts Council; Adrian Arancibia, co-founder of the legendary Taco Shop Poets and professor of creative writing at Miramar College; and Susanna Peredo Swap, founder and executive director of Vanguard Culture. The panelists discussed local artistry and audiences, the importance of diversity in art, and ways to grow and elevate the arts as a platform for regional voices.
"I am so proud of all the engaging educational programming UCSD-TV has created over the past 30 years," said Chancellor Pradeep Khosla. "And I am excited about upcoming opportunities to showcase even more of the amazing arts and culture at UC San Diego. If the past is any indication, the next 30 years will be even better."
The community is invited to experience the UCSD-TV 30th Anniversary Retrospective Gallery, on display through October 25, 2023, at Park & Market. Come celebrate 30 years of informative and transformative interviews and discussions with thought leaders, culture creators, and industry experts from around the globe. Gallery guests will be moved and inspired by presentations from leading creators and experts like Angela Davis, Michelle and Barack Obama, Sally Ride, Dalai Lama, Vicente Fox, James Cameron, John Lithgow, Anthony Fauci, Cornel West, and others. For more information, visit this link.
Stay in the Know
Keep up with all the latest from UC San Diego. Subscribe to the newsletter today.