Published Date
UC San Diego Breaks Ground on a Multi-Phase, Multi-Billion-Dollar Redevelopment of Hillcrest Medical Campus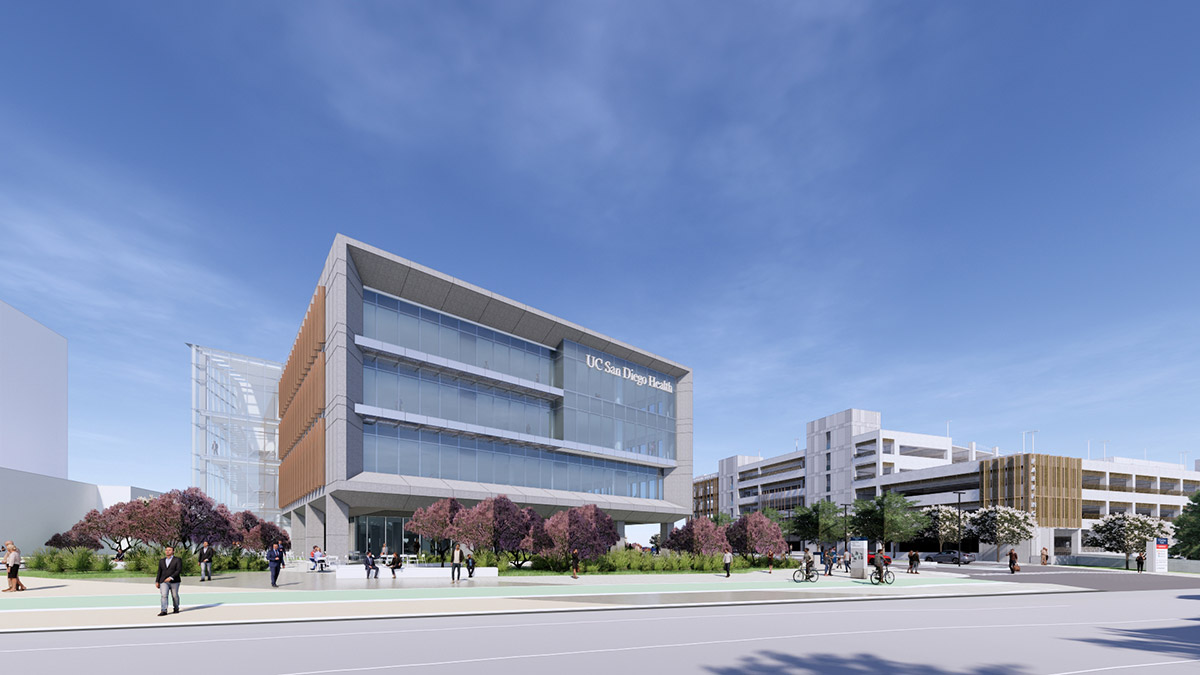 The first phase of redevelopment includes a 250,000-square-foot outpatient pavilion and a 1,850-space parking structure.
Construction began this week on an approximately 10-acre site on the Hillcrest Campus. It marks the first phase of a multi-phase plan to redevelop the full medical campus, providing new facilities, new technology, increased capacity, expanded care offerings and other community services and amenities.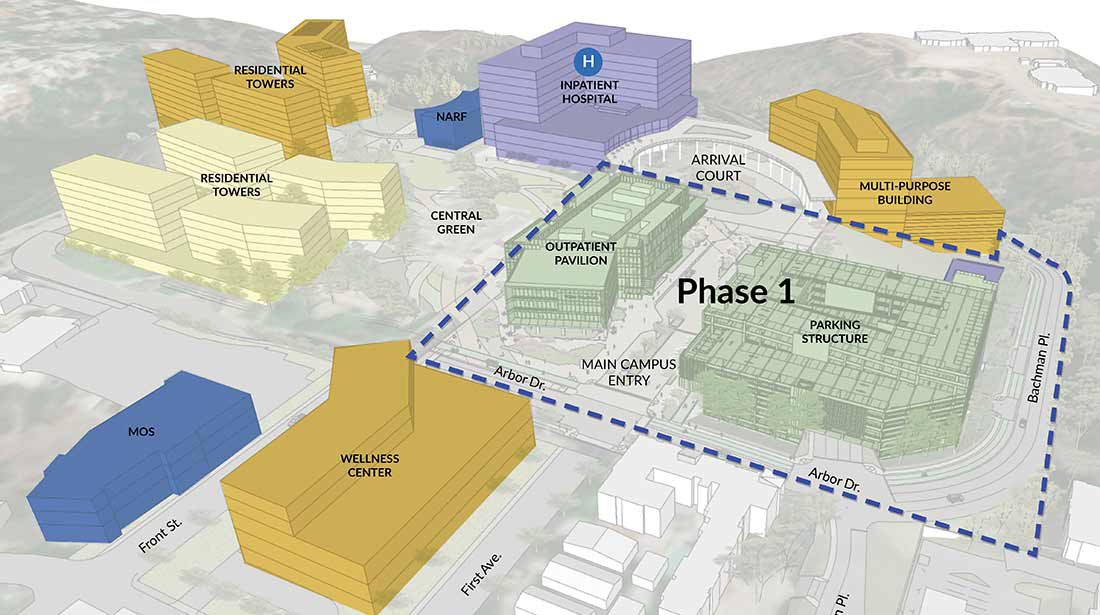 "The transformation of UC San Diego Medical Center in Hillcrest is part of an overarching goal to bring the most advanced science and research to our communities to help people lead better, healthier lives," said UC San Diego Chancellor Pradeep K. Khosla. "The reimagined medical center will provide expanded opportunities for faculty, staff and students to use their knowledge and expertise for the benefit of our region through a broad scale of services and innovative treatment options."
The first phase of redevelopment includes a 250,000-square-foot outpatient pavilion anticipated to open in 2025, which will house specialty clinical programs including oncology, neurosurgery and orthopedics, as well as ambulatory surgery operating rooms, gastroenterology procedure rooms, advanced imaging, infusion and radiation oncology.
This phase also includes a 1,850-space parking structure anticipated to open in at the end of 2023, which will allow for the demolition of the existing Bachman and Arbor parking structures, consolidating patient and employee parking for improved patient and caregiver access and experience.
Community and campus access will be improved by creating a new road connection at Bachman Place and Arbor Drive and extending First Avenue to the north to create a new patient-centric drop-off corridor. Widening sections of Arbor Drive and Bachman Place will accommodate multimodal and transit vehicles, including a new grade-separated bike lane coordinated with the proposed SANDAG Uptown Bikeway improvements.
As the existing hospital must continue to operate throughout construction, building a new hospital required a complete redevelopment of the campus through a thoughtfully sequenced phasing plan, outlined in the 2019 Hillcrest Campus Long Range Development Plan. The 2019 LRDP is the third comprehensive long-range plan for the physical development of the campus, following plans created in 1978 and 1995.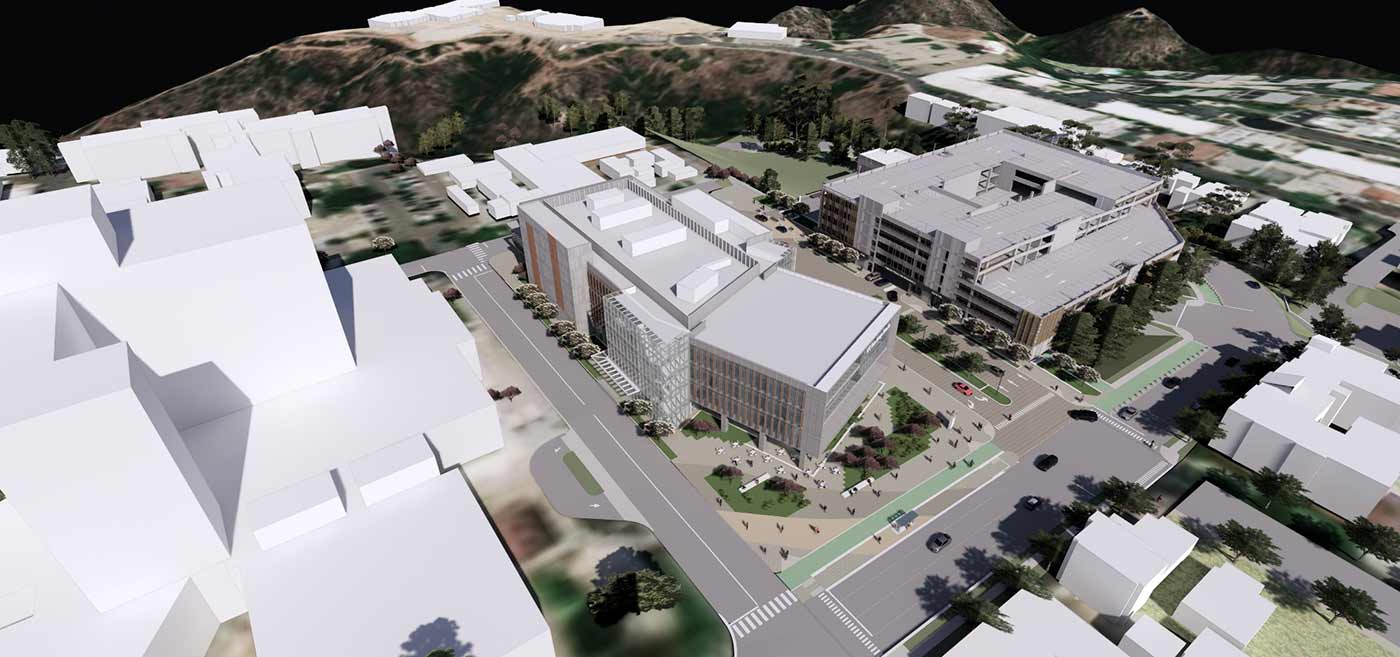 "The new hospital will provide new facilities, new technology and increased capacity, while expanding care offerings and addressing the growing demand for specialty care," said Patty Maysent, CEO, UC San Diego Health. "It will be the cornerstone of a modern medical campus and a premier destination for health care."
Over the next 15 years, construction on the $2.5-$3 billion project will continue on the Hillcrest Campus in five major phases, during which the majority of the existing buildings, both temporary and permanent, will be demolished and replaced. These phases were created to reduce impact on the surrounding community while ensuring current, critical campus functions remain operational.
Chair of the Department of Emergency Medicine at UC San Diego Health Ted Chan said of the renovation, "I came to UC San Diego Health in the early 1990s as a resident and have stayed on as faculty in the emergency department ever since. During those decades, our emergency department has cared for nearly 1.5 million patient visits—through so many severe flu seasons, the AIDS crisis, wildfire disasters and, of course now, the COVID-19 pandemic. As our region has grown particularly in the central and south county areas, it's clear we need a new and expanded Hillcrest facility, one that will serve our community, like our current facility has done for so many years, for the many decades ahead."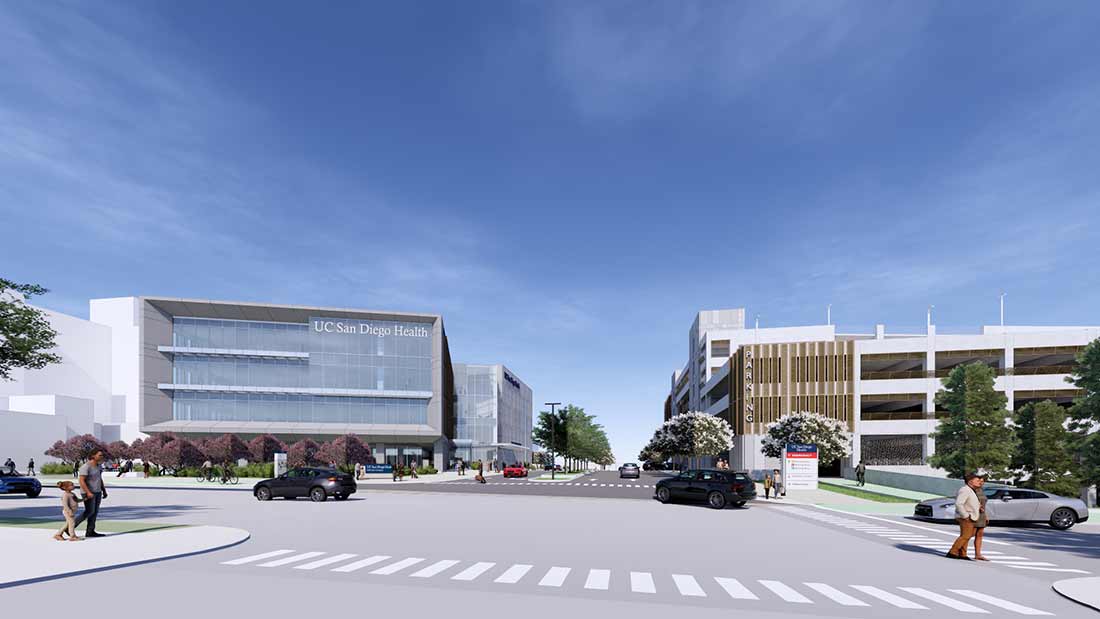 UC San Diego has had a presence in Hillcrest since 1966, when the university began operating the former county hospital. Nearly half of the buildings on the Hillcrest Campus were constructed prior to 1970. The redevelopment provides an opportunity to design and build modern, sustainable and efficient medical facilities, but it is also necessary to comply with seismic safety provisions of the California Hospital Code, which ensures that in the event of a major seismic event, essential facilities like hospitals will continue to operate.
The Hillcrest Campus has a Level 1 Trauma Center, Regional Burn Center, Comprehensive Stroke Center and provides care for all patients in the community, including those who are uninsured and under-insured. Already a premier destination for patients in our region, the Hillcrest site will deeply expand its capabilities to care for the community, elevating the already exceptional care and medical education UC San Diego provides to the region.
"It is a hospital of strength, grit and tremendous character with a rich history," said Lisa Rhodes, chief administrative officer for the Hillcrest Campus. "The teams who work in Hillcrest have this in common: they love the Hillcrest Campus, our mission and our patients. It brings me great satisfaction to be on the precipice of Hillcrest's journey and to renew its status as a beacon of world-class health care, and I am honored to help lead that process. The result will be magnificent and will truly transform our staff, patient and community experiences."
Stay in the Know
Keep up with all the latest from UC San Diego. Subscribe to the newsletter today.