UC San Diego Announces Second Cohort for Blue Economy Accelerator
Six new startups tackle ocean challenges in StartBlue Program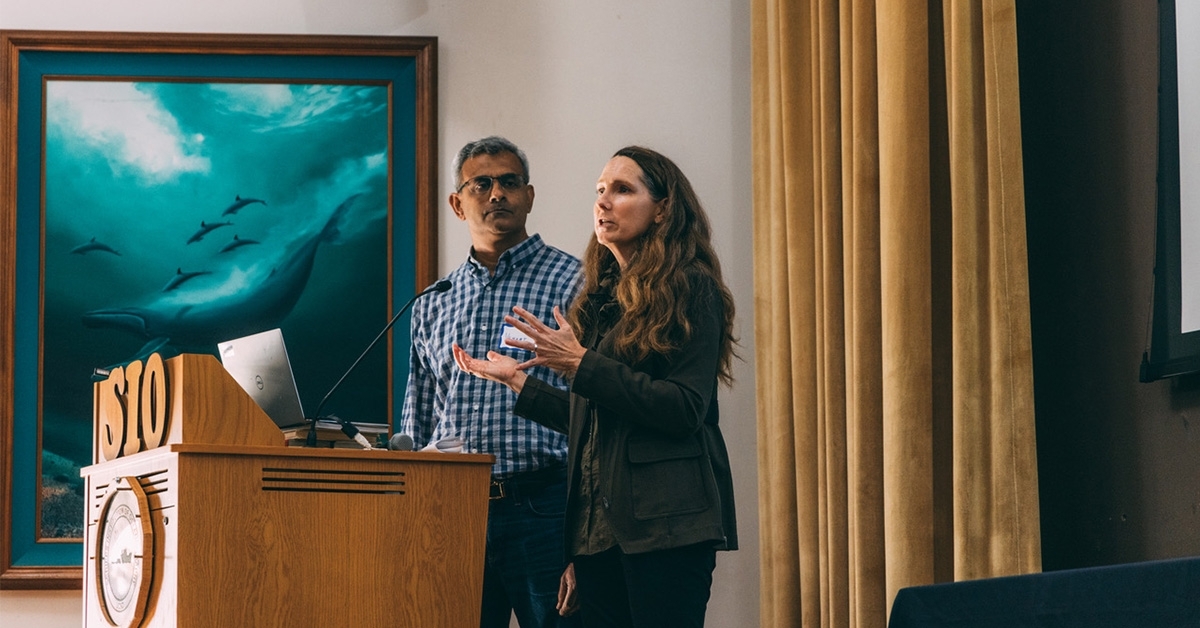 By:
Media Contact:
Published Date
By:
Media Contact:
Share This:
Article Content
University of California San Diego's Rady School of Management and Scripps Institution of Oceanography have selected the second cohort for the StartBlue program, an accelerator for startups dedicated to tackling ocean-focused challenges and solutions. The announcement builds on the success of the inaugural StartBlue cohort and contributes to the region's growing blue economy.
"There's a lot of innovation and excitement in San Diego's blue economy," said Vanessa Scott, Director of Corporate Affiliates, Business Development, Industry Outreach, and Innovation at UC San Diego's Scripps Oceanography and Director of the StartBlue Accelerator. "With Rady School's expertise in launching startups and supporting the business community, Scripps Oceanography's proven leadership and expertise in blue technology and participation from regional blue economy leaders, the StartBlue Accelerator exemplifies what UC San Diego offers in terms of innovative, interdisciplinary business solutions. After seeing everything our first cohort has accomplished, the opportunities available for our second cohort are remarkable."
The StartBlue program supports science and engineering startups in the rapidly growing and highly vital blue tech sector, devising new solutions that can be integrated into science, industry, investment and government networks.
Startups accepted into the second StartBlue cohort include:
Amphitrite Robotics, developing a hybrid, modular remotely-operated/autonomous underwater vehicle (ROV/AUV) with enhanced vision-based autonomous navigation and mapping capabilities for aquaculture, offshore energy, underwater cinematography, and marine robotics research.
Aras Photonics, creating novel Integrated Photonics solutions in the technological domain of LiDAR for ocean and coastal monitoring, health and data communications.
Berkeley Marine Robotics, developing autonomous swarm robotic systems with underwater laser communication to help ships reduce biofouling-related emissions and ports protect marine ecosystems.
CoilReef, building a removable reef system for beach erosion mitigation, aquaculture, carbon sequestration and more.
Ocean Soteria, designing a purple zombie sea urchin population management service.
Octopus Garden, developing aquaculture technology to modernize seaweed farming and bring seaweed products into the dietary mainstream.
All teams have roots in the region and most are affiliated with UC San Diego, whether as students, faculty or alumni. Two have female founders and one founder is on active military duty.
The first cohort concluded with a Demo Day in May and is already making waves in the wider blue economy. The seven teams that completed the first round of the program have together raised $35,000 in donations, won over $200,000 in prize money and received $7.5 million in grant funding. Algeon Materials was accepted into the Creative Destruction Lab program. CalWave Power Technologies Inc successfully completed a historic wave energy pilot supported by a United States Department of Energy award.
Teams, which participate at no cost, are in the midst of developing new businesses around science and engineering solutions to crucial ocean challenges. Each startup in the second cohort receives Scripps science and Rady entrepreneurship curricula, one-on-one mentorship, and facilitated access to potential partners, customers, and sources of investment. Workshops focus on skill development such as grant writing and pitching. Conferences, pitch competitions, and industry association memberships offer teams valuable visibility and connections.
The StartBlue program is made possible thanks to a grant from the U.S. Dept of Commerce's Economic Development Administration, contributions from California Sea Grant, San Diego Gas & Electric, The Beyster Foundation for Enterprise Development, Ocean Visions, and the Builders Initiative, as well as a philanthropic donor match from members of the Scripps Director's Council. Active participation of program partners integrates StartBlue into the pipeline of regional resources that support the visibility, growth, and scale of ocean startups.
A 2020 study from TMA BlueTech identifies 4,320 maritime, water, and blue economy establishments in San Diego generating direct revenues of $16.2 billion and providing more than 114,000 direct jobs, an increase driven by the growth of smaller, more specialized companies. America's marine economy was worth about $373 billion as of 2018, per figures from the Department of Commerce. The nation's blue economy and its blue tech sector are rapidly growing to address the historic challenges and opportunities presented by climate change and the need for innovation posed by the U.N. Sustainable Development Goals.
Those interested in sponsorship or corporate mentorship opportunities can get more information on the StartBlue Accelerator and register for updates at: http://StartBlue.ucsd.edu/
Stay in the Know
Keep up with all the latest from UC San Diego. Subscribe to the newsletter today.