UC San Diego Alumnus Edward Lee '85 Leads with Care as a u.care Ambassador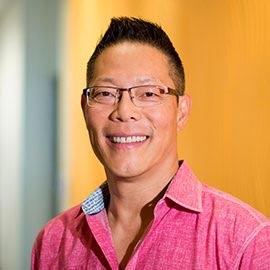 Not all heroes wear capes—or carry Triton tridents—but UC San Diego u.care ambassador Edward Lee '85 demonstrated what leaders are made of during last year's Day of Caring.
UC San Diego Day of Caring, also known as u.care, is a 1,960-minute giving day that commemorates UC San Diego's founding year and showcases the many ways the UC San Diego community cares about our world.
UC San Diego alumnus and former Alumni Board member Edward Lee '85 was among more than 200 u.care ambassadors in 2021 whose influence within his social and professional networks resulted in close to $65,000 raised in fewer than two days. Lee topped two of the leaderboard categories with the highest number of shares as well as total dollars raised.
Lee explains his decision for becoming a u.care ambassador as an opportunity to convey the unmet—and sometimes unknown—financial needs of our students struggling with food and housing insecurity.
"With continued announcements of record-breaking donations to UC San Diego, it's easy to think there aren't any financial needs. When I explain that those huge donations are usually dedicated to specific buildings or projects, many people are surprised. Sharing the reality about food and housing insecurity on campus, as well as the work towards achieving greater diversity and inclusion in our Triton community, made people more willing to donate."
Now approaching its fourth year, u.care will begin at 6 a.m. on Thursday, May 12 and conclude at 2 p.m. on Friday, May 13.
Our u.care ambassadors are the foundation for the success of u.care each year. UC San Diego is grateful for the leadership of Ed Lee as well as the hundreds of ambassadors who showed their care through u.care.
To learn more about becoming an ambassador, visit the u.care website.
Stay in the Know
Keep up with all the latest from UC San Diego. Subscribe to the newsletter today.