UC Regents Approve UC San Diego Science Research Park Development
Published Date
By:
Share This:
Article Content
At the September meeting, the University of California Regents approved the design of Science Research Park, where corporate, non-profit foundation and academic partnerships will advance the university's research objectives, support commercialization and provide students with real-world challenges and experiences that prepare them to contribute to the future workforce.
"UC San Diego is a global research and academic medical powerhouse, and among the top universities in the nation for startup creation," said UC San Diego Chancellor Pradeep K. Khosla. "The vision is for Science Research Park to become the epicenter of research development, innovation and commercialization in the southwestern United States, attracting new thinking, ideas and partners to the region."

In November, the university announced that Wexford Science & Technology, LLC would develop 14 acres within the 23-acre Science Research Park on UC San Diego's East Campus. Science Research Park will be Wexford's seventeenth fully integrated innovation district developed in partnership with and anchored by a leading university or research institution.
Science Research Park will support innovative research companies, entrepreneurs and researchers who are seeking to improve the human condition and drive regional economic impact. The expansion of the Science Research Park will be prioritized for tenants seeking an affiliation with the university in the form of joint research, internship opportunities for UC San Diego students, provision of research, scholarship and endowment funding and other collaborative relationships. The tenant mix will focus on technology, life science and other disciplines of instruction and research currently conducted or desired in the district. A diversity of tenant sizes (including for-profit and non-profit entities), research incubators and accelerators will form a thriving research ecosystem.
Current Science Research Park tenants include La Jolla Institute for Immunology and the Center for Novel Therapeutics, and tenants of the future Science Research Park buildings will build off of existing biotech success in the community. Most of the new building space—over one million square feet—will be dedicated to technology, life science research, office and convening spaces.
The project also includes open and accessible lobbies, plazas, parks, art, pop-up activations and civic lounges that offer free and open space for people from the community to meet, connect and work. Free programming on entrepreneurial support, innovation challenges and business growth will be open to the public. Science Research Park will also include restaurants, retail, meeting space, fitness facilities and two above-grade parking structures for tenants and visitors.
Project components:
Parking Structure One – 8 deck levels / approx. 1,760 spaces
South Building – 9 stories / approx. 325,000 square feet
North Building – 8 stories / approx. 375,000 square feet
Parking Structure Two – 7 deck levels / approx. 1,360 spaces
East Building – 9 stories / approx. 400,000 square feet
Science Research Park will be developed over the next decade in two phases. The first phase, anticipated to start in the third quarter of 2024, will include Parking Structure One, the South Building and the North Building. Phase two, anticipated to start in the second quarter of 2028, will include Parking Structure Two and the East Building.
Adjacent to UC San Diego Health's La Jolla campus and the Mesa graduate student housing neighborhood, Science Research Park is within a 10-minute walk from the Executive Drive and UC San Diego Health La Jolla stations of the UC San Diego Blue Line trolley. The project is designed to maximize pedestrian connectivity within the site and to the adjacent neighborhoods, with enhanced connections to nearby transit options.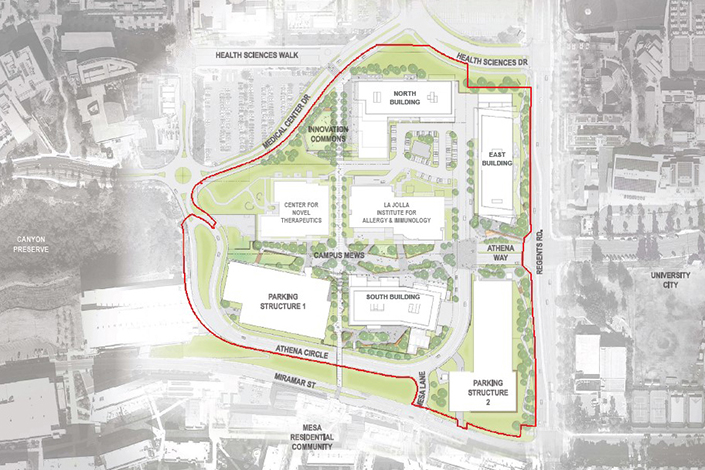 All future Science Research Park tenants would benefit from UC San Diego's extensive alternative transportation incentives:
Subsidized transit passes and a free campus shuttle.
More than 130 short- and long-term storage areas for bicycle and micromobility devices.
Access to the UC San Diego Health La Jolla trolley station via an express campus shuttle.
In addition, the realignment of Health Sciences and Medical Center Drives will provide an area for rideshare drop offs and campus shuttle stops.
A full range of sustainability practices for building design and operations are included in the budgeting, programming and design effort for the project, which is targeting Leadership in Energy and Environmental Design (LEED) Gold certification for the three buildings and PARKSMART Silver certification for the two parking structures.
The development of Science Research Park will augment and enhance the instructional and research base of UC San Diego, provide flexibility for UC San Diego to meet changing program requirements, enhance the campus's instruction and research programs by providing opportunities for interaction between industrial and academic activities and act as an intellectual resource to enhance UC San Diego's ability to continue to attract and retain top researchers and scientists. The project was recently shortlisted for the Best Education and Higher Education P3 Award, which is a further testimonial to the unique role top research universities play in driving innovation.
Stay in the Know
Keep up with all the latest from UC San Diego. Subscribe to the newsletter today.