Two Transformative Campus Projects Get the Green Light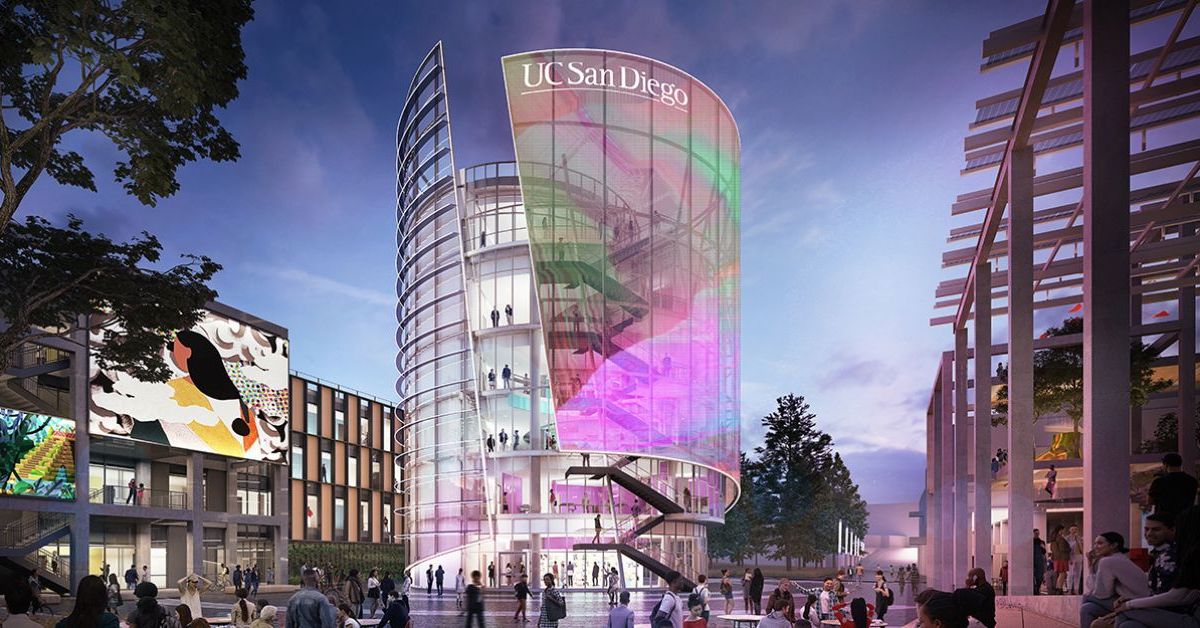 Published Date
By:
Share This:
Article Content
The University of California Board of Regents approved two key campus projects during the March meeting, Triton Center, a new integrated central hub for student support, and Ridge Walk North Living and Learning Neighborhood, which will provide instructional space and apartment style below-market undergraduate student housing. Construction on both projects is anticipated to start this summer.
"Designed to greatly enhance the student experience, these projects mark an exciting milestone for UC San Diego," said Chancellor Pradeep K. Khosla. "They offer new housing and expanded academic space, support interdisciplinary research and cultivate community among students and our regional neighbors—all in pursuit of the intellectual, physical and cultural transformation of our campus."
Triton Center, anticipated to open in 2026, is dedicated to expanded and centralized support for students at the heart of the UC San Diego campus. The Student Health, Mental Health and Well-Being Building will consolidate and expand access to health, mental health and well-being resources. This includes urgent care, primary care, pharmacy services, wellness and the new home of Counseling and Psychological Services (CAPS). Co-locating mental health and medical providers facilitates improved access to both services, increased referral completion rates from both provider areas, improved collaboration of care for co-treatment and immediate access to urgent consults and referrals.
In addition, to further students' academic success and personal development, the Student Academic Resources Building will feature an expansion of the Teaching + Learning Commons program and facilities for the Transfer Student Success Hub, Global Initiatives and campus support and administration. The tutoring and academic counseling provided by the Teaching + Learning Commons has helped improve graduation rates and shorten time-to-degree.
Triton Center will also include an Alumni and Welcome Center, serving as a home away from home for our alumni as well as an engaging campus gateway for students, faculty, staff and visitors alike. A multi-purpose building with a 500-person event space and art gallery will provide space for celebration and connection. The project also includes public realm improvements and accessible parking.
The four buildings of Triton Center are designed to create an integrated, energetic central hub for UC San Diego. This will become the welcoming epicenter for campus activity and finally assigns the address of 9500 Gilman Drive to a specific place on our campus.
New Student Housing Planned for Fall 2025
The University of California Board of Regents also approved Ridge Walk North Living and Learning Neighborhood during the March meeting. This is the last of three new housing neighborhoods in three successive years planned to open by 2025, adding 5,700 beds to the UC San Diego campus. When the project opens in the fall of 2025, Ridge Walk North Living and Learning Neighborhood will accommodate 2,400 undergraduate students and support the university's academic mission by providing updated administrative and teaching space for Thurgood Marshall College, the School of Global Policy and Strategy and the Department of Economics in the School of Social Sciences.
The neighborhood includes 19 new classrooms and a 150-seat lecture hall for campus-wide academics as well as student dining, wellness programming, student support services, study lounges, co-working spaces and public realm improvements, such as outdoor gathering spaces and public art. The project also includes a glass blowing craft studio which will be open to the public, similar in size to the studio at the UC San Diego Craft Center located in the North Torrey Pines Living and Learning Neighborhood.
It will be located west of Geisel Library in the interior of the campus, and connected to the rest of the university through Ridge Walk, which links the majority of UC San Diego's undergraduate colleges and encourages the movement of people and bikes throughout the campus and to mass transportation options.
Second Living and Learning Neighborhood to Open This Fall
In 2020, the university's first Living and Learning Neighborhood, North Torrey Pines Living and Learning Neighborhood, became the new home for Sixth College and the School of Social Sciences and the School of Arts and Humanities. With open spaces, art, dining, the new Craft Center and residential space for 2,000 undergraduate students, it soon became a buzzing hub for the entire campus.
UC San Diego's second Living and Learning Neighborhood, Theatre District Living and Learning Neighborhood is scheduled to open in the fall of 2023. The neighborhood will feature a new undergraduate college, Eighth College, which will help ensure that students continue to benefit from a world-class education in the smaller, more intimate environment offered by UC San Diego's college system.
Angela Booker, associate professor in the Department of Communication, was appointed as the inaugural provost of Eighth College in January. Through the many facets of her work, Booker has demonstrated a deep commitment to student success and the vision of Eighth College and its theme of "Engagement and Community," through which students can develop an understanding of their own identities' vis á vis broader communities. Booker's work in areas including access to math learning as a civil rights issue and her long-time partnership with the Town & Country Learning Center in Southeast San Diego, as well as her research and writing in the areas of social justice, community service and organizing for policy change, and the inclusion of young people in civic participation, make her uniquely suited to leading UC San Diego's newest college.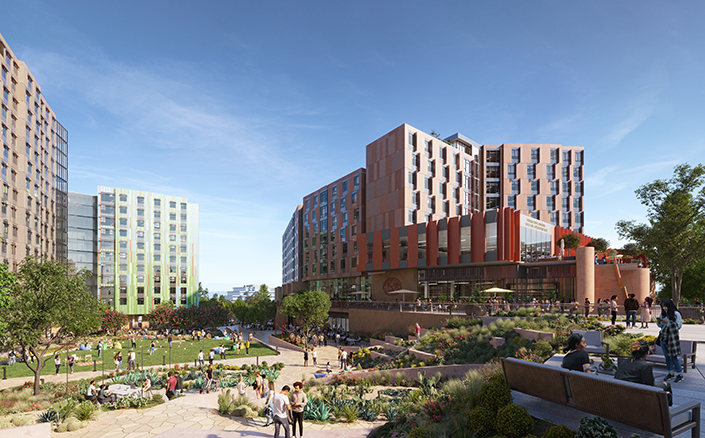 New Undergraduate Student Housing
UC San Diego ranks third in the nation for student housing inventory, just behind Penn State University and UCLA. By providing below-market on-campus housing, the university frees up housing in the local market, helps lighten traffic on adjacent roads and provides students with a live-learn college experience.
"It's important to live on campus your first year when you are new to the college system," said Dharma Truong, a fourth-year student studying environmental chemistry and international business. "UC San Diego's two-year housing guarantee also brings housing stability for students who come from low-income families or students who do not have family support."
Providing access to below market rate housing for UC San Diego students will continue to be a top priority for the university. The university's goal is to house 65 percent of all students by 2035 and continue to make progress toward a four-year housing guarantee at 20 percent below market rate.
When it opens, Theatre District Living and Learning Neighborhood will provide housing to 2,000 additional undergraduate students. Elijah Mosley, a fourth-year student studying public health, serves as a resident assistant. "Before students move into the on-campus residences, we get everything ready," he said. "Resident assistants build a sense of community and belonging. We put together welcome bags, make introductions and assist people with the move-in process. It's a matter of getting students their keys, pin codes—really just helping students transition as easily as possible."
Mosley explains he wants to pass on what was given to him as a student new to UC San Diego, "I am a first-generation college student, so I had no experience of what happens at college. My resident advisor at the time was so welcoming, hospitable—it helped put me at ease during my first weeks of school."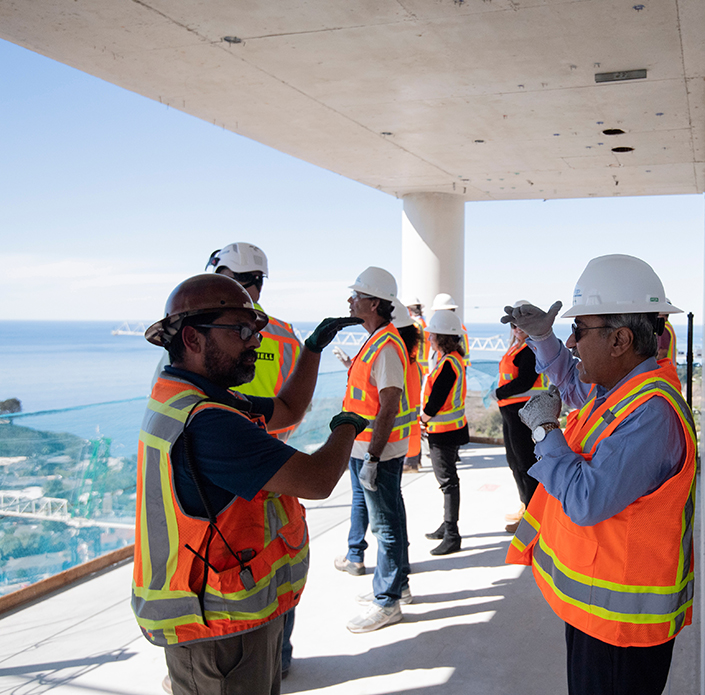 Stay in the Know
Keep up with all the latest from UC San Diego. Subscribe to the newsletter today.