Training the Next Generation of Cancer Scientists
National Cancer Institute training grant has supported UC San Diego scholars since 1984
Published Date
Article Content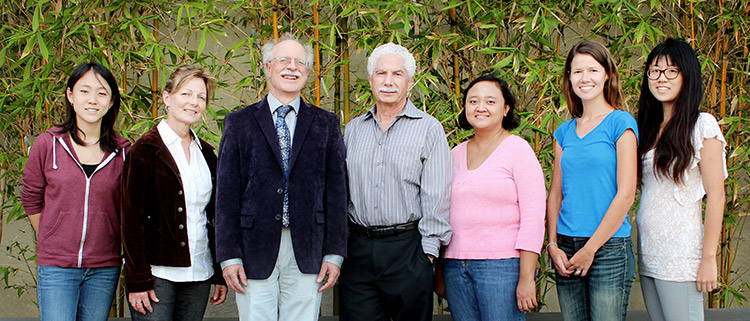 The University of California, San Diego received a $2.5 million Institutional Ruth L. Kirschstein National Research Service Award from the National Cancer Institute (NCI), part of the National Institutes of Health (NIH), to support four predoctoral and six postdoctoral scholars in the campus's cancer training program. First awarded in 1984, the grant is the single longest-running NCI training grant at UC San Diego. The 2014 grant renewal will provide funding through 2019, when it will have completed 34 years of training for cancer investigators.
The cancer training grant, administered through the department of chemistry and biochemistry in the UC San Diego Division of Physical Sciences, focuses on the study of growth regulation and oncogenesis, with the goal of understanding cancer from a cell biological and biochemical perspective. To date, the program has supported the advanced training of more than 200 predoctoral and 100 postdoctoral trainees.
"Past trainees have made many key discoveries that have paved the way for the ongoing revolution in personalized cancer therapies," said Daniel Donoghue, Ph.D., professor of chemistry and biochemistry and training program director. Donoghue also serves as provost of UC San Diego's Sixth College. "We are delighted that NCI has recognized the importance of our work by continuing to fund our trainees for the next five years. We can expect more key discoveries through this program."
Among the researchers who have completed the training program are Beth Baber, who established a pediatric cancer institute—The Nicholas Conor Institute—in 2009 and Kun Ping Lu, a current Harvard University faculty member who identified a new cancer target that is now being developed therapeutically. Daniel Knighton, another past trainee, collaborated with his mentor in the cancer training program to solve the first crystal structure of a protein kinase in a large family of cancer targets.
"All of us at some point in our lives will be touched by cancer, sadly the number one cause of mortality in San Diego," said Scott M. Lippman, M.D., director of UC San Diego Moores Cancer Center. "We are in the beginning phases of a transformation in the detection and treatment of cancer, the rate of which will depend on our ability to train the next generation of cancer scientists who will lead the innovative efforts, scientific discoveries and technology development that could change how we treat cancer tomorrow."
The training program is comprised of 32 participating faculty members, including seven faculty who are members of the National Academy of Sciences, one Nobel laureate, four Fellows of the American Association for Cancer Research (AACR), one past president of the AACR and one Lasker Award recipient.
All participating faculty are members of UC San Diego Moores Cancer Center, which acts as an umbrella for the various UC San Diego units including the department of chemistry and biochemistry, the Division of Biological Sciences, the School of Medicine, the Salk Institute for Biological Studies, as well as the Ludwig Institute for Cancer Research.
"This generous award will promote vital research productivity and allow synergistic scientific interactions between brilliant minds working in different organizations towards advancing our understanding of basic cell biological events that cause cancer," said David Cheresh, Ph.D., associate director for Innovation and Industry Alliances at Moores Cancer Center, distinguished professor of pathology, and co-chair of the training program. "Together we can identify drugs and innovative strategies for new cancer therapies."
Key supporters of the cancer training program include Lippman; Suresh Subramani, executive vice chancellor of academic affairs at UC San Diego; David Brenner, vice chancellor of health sciences at UC San Diego; Web Cavenee, director of the Ludwig Institute of Cancer Research, San Diego Branch and 32 participating faculty mentors.
More information about the cancer training program can be found online at cancertraining.ucsd.edu.
Stay in the Know
Keep up with all the latest from UC San Diego. Subscribe to the newsletter today.