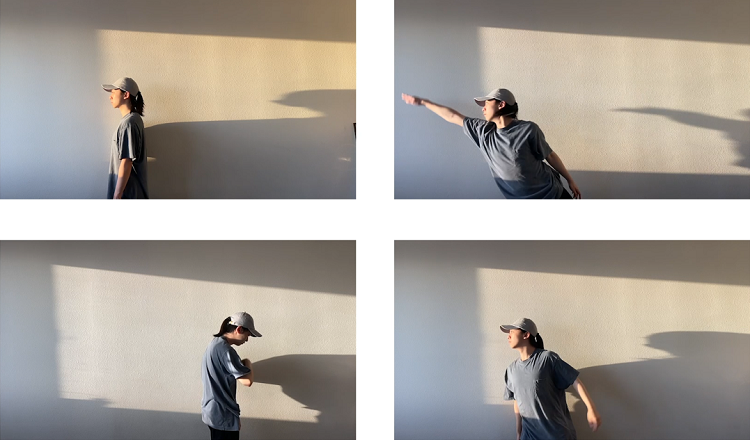 Theatre and Dance Students Take the Lead in Spring Quarter's Virtual Productions
It's safe to say when undergraduates Simon Martin and Marcella Torres-Sanchez realized their last quarter as theatre and dance majors was going to be online only, they felt what many of their classmates felt: what about the final, in-person productions?
Faculty in the Department of Theatre and Dance had the same concern and, in large part encouraged by students, quickly changed course to present the final shows—a three-act play, a comprehensive dance performance, and multiple student-led projects—online, keeping the creative process alive for the full campus community.
"The word that comes to mind when I think of the students in the Department of Theatre and Dance is 'drive,'" said Stephen Buescher, head of undergraduate acting. "As universities across the nation are wondering what to produce and how to do it in this moment of crises, I am proud to say that the students of UC San Diego are taking a leading position."
A time to dance
Community has always been an integral part of the dance curriculum, and undergraduate students typically present their work in a run of evening performances during spring quarter. Led by Distinguished Professor of Dance Patricia Rincon, this year's New Directions: An Experimental Dance and Digital Performance will premiere online June 4, 5 and 6, featuring 11 distinct pieces choreographed and performed by students.
"In the era of 'shelter-in-place,' these artists have found a new dance language that is like none other before," Rincon said. "These pioneering dance-makers have taught themselves how to make dance in spaces that were previously unimagined. The result is a journey that takes the viewer through a diverse array of stories and emotions, each profound, each unique."
Supported by the Margaret C. Marshall Dance Endowment, this year's New Directions is the first of its kind, and will potentially pave the way for future, digital dance-making. Torres-Sanchez, who graduates in June, is seizing the opportunity.
Growing up in Mexico, Torres-Sanchez started dancing at the age of 3. She received certification from Mexico's Lux Boreal Dance Company, and later received an associate's degree in visual and performing arts from San Diego City College before transferring to UC San Diego to double major in dance and education studies.
In addition to being a Chancellor's Associates Scholar, she is this year's Patricia Rincon Diversity Award honoree, given for her contributions to the university dance community and her own work as an activist artist.
"Marcella's voice as a dance-maker is clear and precise, as she researches her subject matter and refines her approaches," Rincon said. "Challenges are motivations in her journey."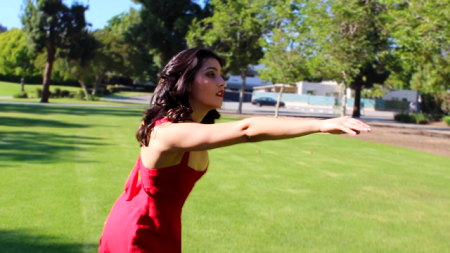 Rincon said adapting the choreographed work "Flores Ma(r)chitas" (Wilted Flowers) from a staged, in-person dance to one presented on video has changed the undergraduate: because of this new platform, Torres-Sanchez has decided to pursue a MFA in dance and technology so her stories can be shared by many, both live and digitally.
Performed by Torres-Sanchez and fellow dance major Karla Espejo-Rodarte, "Flores Ma(r)chitas" is a collaborative dance film that addresses the increase in femicides throughout Mexico: the murder of women solely based on their gender. "This century has witnessed the marginalization, discrimination, abuse and violence to which women have been subjected, and to which even in many democratic countries they (are) still subjected," Torres-Sanchez's creative statement reads.
"Commuting from Tijuana, Marcella has been deeply affected by the shelter-in-place orders, both emotionally and artistically," Rincon said. "As an artist with vision and immense talent, Marcella is also a tenacious fighter and visionary. She is one who believes that humanity and education are important factors to influence the world post COVID-19."
Storytelling through the digital stage
Premiering June 2 and running through June 6, theatre students will take the virtual stage in the three-act production of "Mr. Burns," written by Anne Washburn. Each act will premiere on a different night, then repeated over two additional days.
Originally planned as a singular production with the same creative crew, the department decided to enlist three student directors—one for each act—with their own actors, designers and stage managers: in essence, three different shows in one production.
Natalie Calderon, a second-year theatre and communications double major who is directing Act I, said she had a lot of questions about how the production was going to come together, but felt encouraged to be a part of a "new frontier" of producing theater.
"The most important aspect for me was that the audience be taken away from their screens," she said. "I find that screens are distracting, and right now, we are using them for work, school and play. I needed a way to dissociate from these elements."
Calderon said she was inspired by the deaf and blind communities, specifically in regards to experiencing theater. Act I is "like a podcast," she said, which was a first for Calderon. She conducted extensive research about immersive theater, and said she learned about the importance of communication. For her, the immersive experience was the right decision.
"With our country under quarantine, I thought immersion would allow our audience to step out of the home, away from the screen, and enjoy being in the presence of other people," she said. "This way of performing Act I allows us to not only explore a different mode of performance that enhances our senses, but also opens our doors to other communities."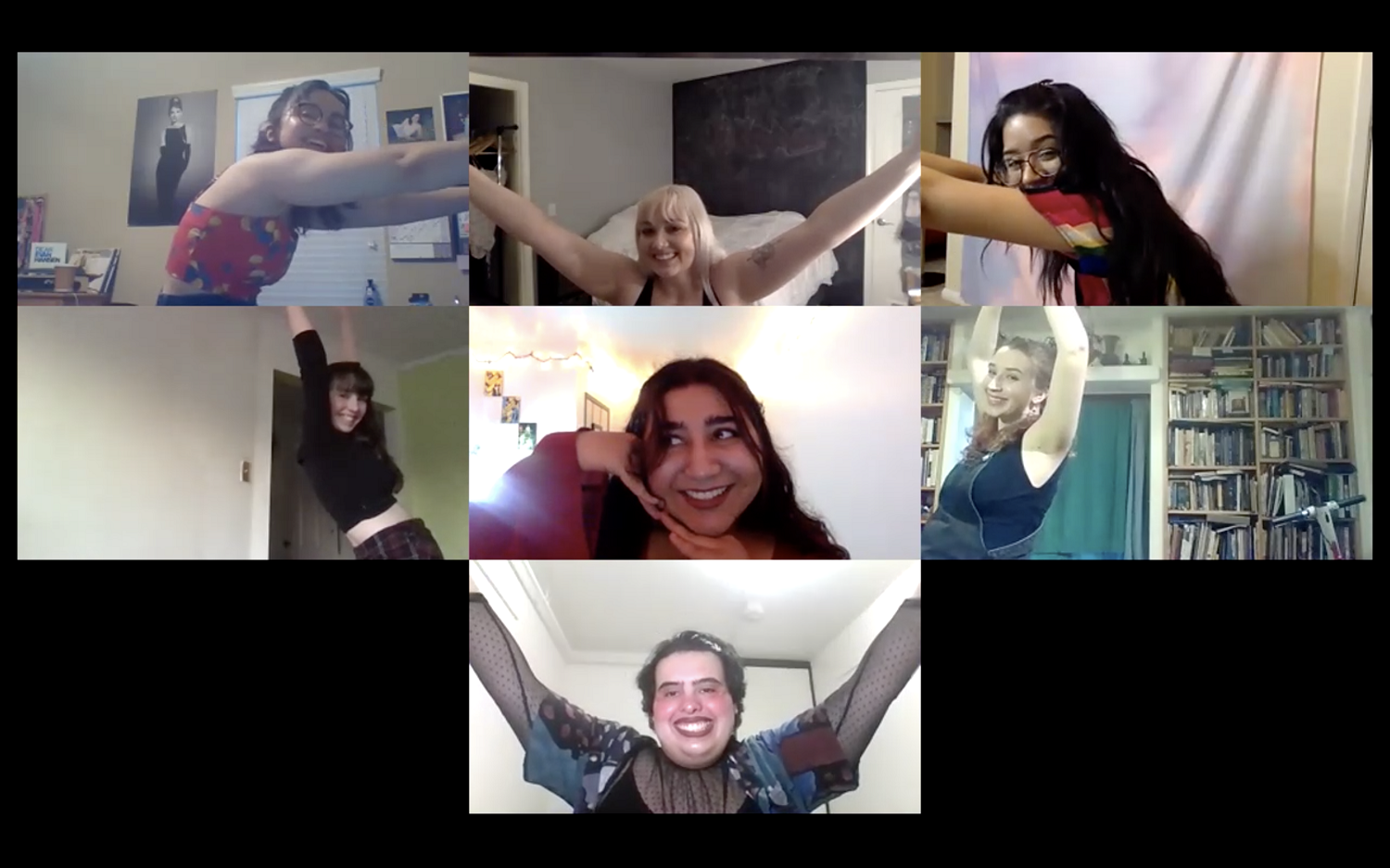 For Act II, theater major Simon J.O. Martin shifts direction by adding visuals, keeping the storytelling intention of the play intact. And while at first Martin wanted to keep a sense of "normalcy" for theater-goers, he realized the entire production could create a new normal through our mandated use of technology.
"We get to see a glimpse of how human storytelling has evolved through different technological periods, through the lens of our modern media," Martin said. "We took this format and really made it our own. I think it shows growth in what theater can be, and in the accessibility of theater."
Tristan Samson, a double major in both theater and dance who is directing the closing act of "Mr. Burns," said he was concerned about putting Act III together in a way that was still considered theater. Ultimately, all aspects of theater making—from lighting cues to stage management—encompass the true experience for the viewer, he said, and one he wants to retain as a conversation between the audience and the production itself.
"This talk invites community, as theater brings together so many art forms that are able to create a harmonious and discordant collaborative process," he said, adding that he, too, has felt disoriented during the pandemic.
"Let us realize through this disorienting collaborative process that fragmentation can still bring a community together," he said.
Showcasing each aspect of theater-making is not lost on Buescher, who readily credits all involved: the actors, music and stage directors, digital and sound designers, scenic and costume designers, and, perhaps most of all, the stage managers. "The innovation and problem solving that has come from the students has been inspiring, to say the least," he said.
Moving the LAB online
Encouraged by how readily students embraced this new platform, the department brought back their popular LAB series, a place where students present their own projects. Launched in winter quarter, commitment for LAB primarily rests with the students, as department staff provide guidance and support only, allowing the student work to take center "Zoom" stage.
In all, there are 11 LAB projects being presented, each featured in the department's Spring 2020 Virtual Studio. "Viral," with 18 remote cast members, premiered May 25 and "Dial Q for Quarantine"—a Zoom whodunit—aired May 31, though both are available to watch through the end of the quarter.
Several LAB projects use the pandemic as a source of inspiration, while others provide a designated place to feature student work that extends beyond the last three months. "Drive-In," for example, is a salon that will showcase the work of MFA graduate student costume designers, and "Richard II" is a solo project by Cody Sloan that uses one actor to tell the classic Shakespeare tale.
"We are rediscovering something that we all inherently knew," Buescher said, "that the act of creation leads to increased energy and abundant joy. All our students are staying immersed in their craft, while forging community amidst isolation. This is a sensitive time and a difficult time, but we forge ahead. We imagine."
Stay in the Know
Keep up with all the latest from UC San Diego. Subscribe to the newsletter today.