Published Date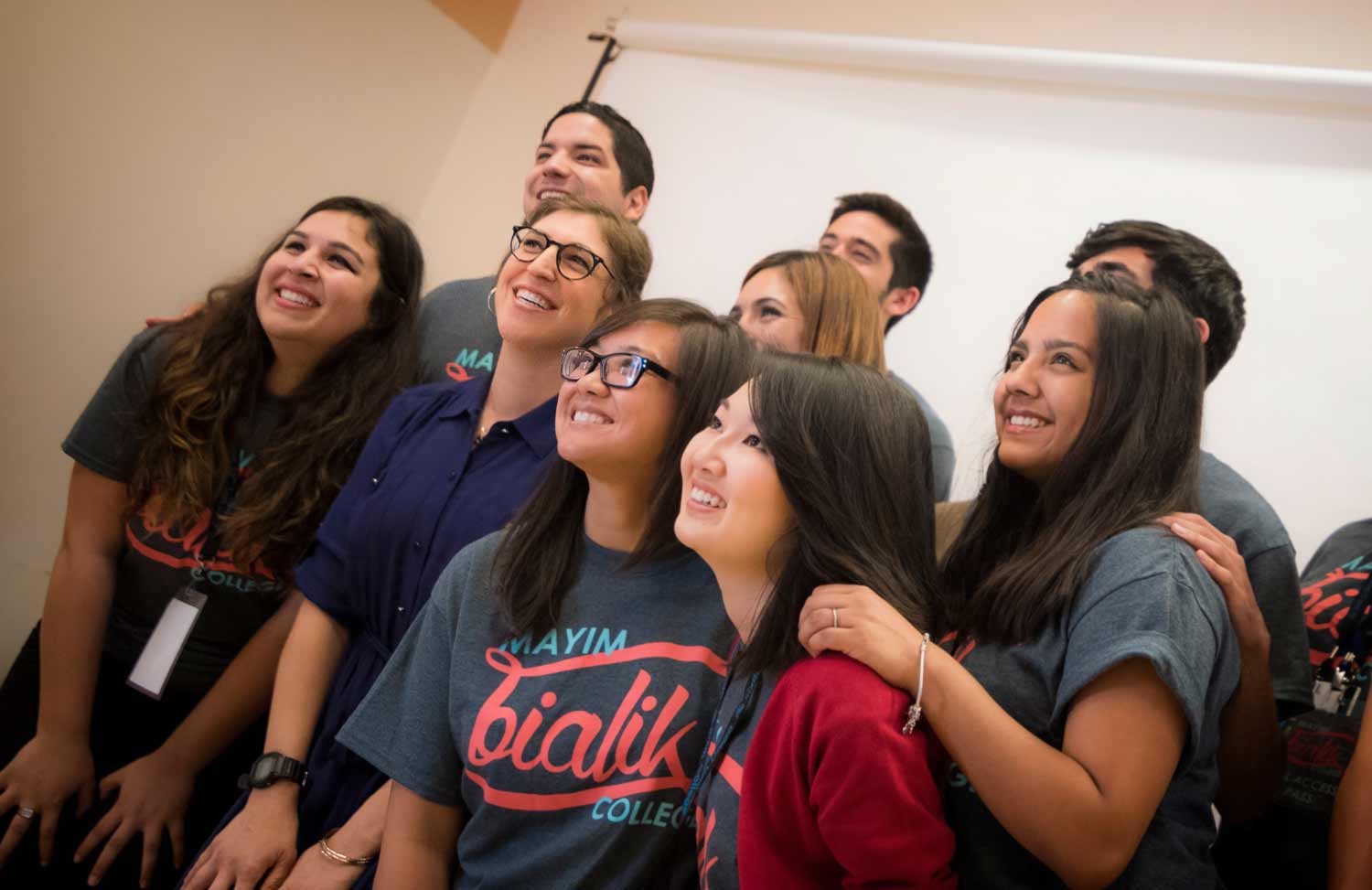 'The Big Bang Theory's' Mayim Bialik Shares Experiences as an Academic, Actor and STEM Advocate
She fell in love with the neuron during her first semester in college, and from there her passion for science took off with a bang. As a trained scientist, Mayim Bialik's portrayal of neurobiologist Amy Farrah Fowler on the CBS sitcom "The Big Bang Theory" comes naturally. The show is currently the top-rated comedic television series in the nation, and Bialik uses her celebrity to serve as a female role model and advocate for STEM education (science, technology, engineering and math), a cause she feel strongly about.
The three-time Emmy-nominated actress was invited to share her story with the UC San Diego community on May 27 at an event sponsored by Sixth College. To acknowledge her visit, Sixth College was renamed "Mayim Bialik College" for the day of her appearance. More than 700 attendees gathered at RIMAC Arena for her talk, where she shared her experiences as the child star of the 90s show "Blossom," the pursuit of her doctorate in neuroscience from UCLA and landing her current role on "The Big Bang Theory."
"We invited Mayim Bialik to UC San Diego because she is highly educated and a great model for our students—plus 'The Big Bang Theory' is hugely popular, so it was a win-win," said Dan Donoghue, provost of Sixth College. "Our goal was to create a memorable program for our students. Listening to Mayim speak as a strong advocate for STEM education, and particularly the challenges that confront many young women in high school and college, was very inspiring. We hope that she will feel a connection to our campus and want to come back each year on the same day—her day at Sixth College."
The crowd sang the theme song to the "The Big Bang Theory" as Bialik took the stage, led by local guitarist Peter Sprague, bassist Mack Leighton and vocalist Leonard Patton. Sixth College student Oscar Bolanos and recent alumna Shayma Hesari acted as emcees for the event, and alumnus Jeff Curtis presented a basket of memorabilia from UC San Diego and Sixth College, including T-shirts with the phrase, "Mayim Bialik College 5/27."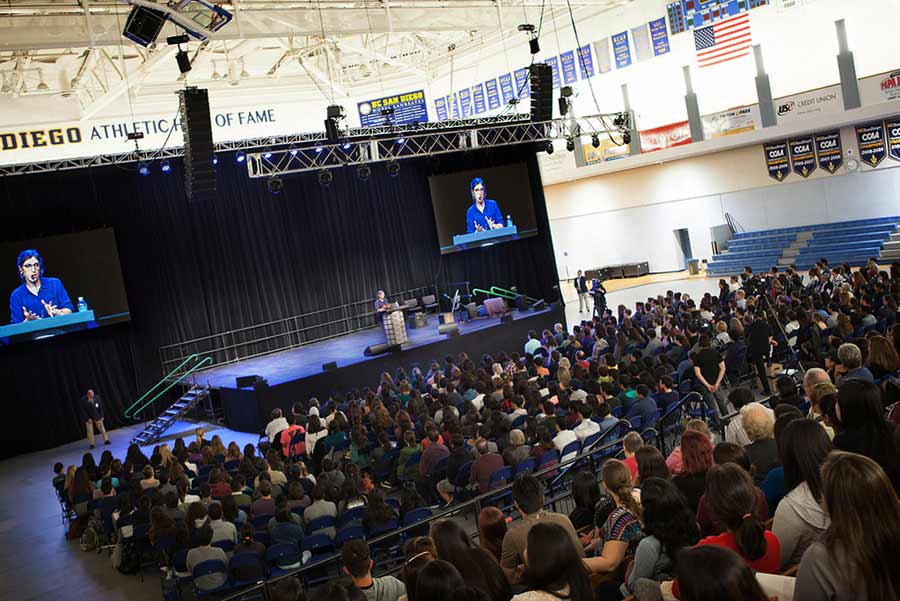 Sixth College promotes experiential and interdisciplinary learning among students and approached Bialik to speak because her career spans the arts, sciences and contemporary media. "Mayim Bialik is someone who embodies all three defining principles of Sixth College—culture, art and technology," said Christian Olmstead, a Sixth College sophomore who served on the event planning committee. "She is an empowering female figure in the arts and sciences who helps to remind us that you can succeed by following your passions."
Born in San Diego and raised in Los Angeles, Bialik started acting in 1986 with small parts in series like "MacGyver" and "Facts of Life." Her star was launched after playing a young Bette Midler in the movie "Beaches," which led to her being cast in the lead role in the NBC primetime show "Blossom" in 1991 at age 14. During that time she was tutored by a dental student from UCLA, the person Bialik credits not only for introducing her to the enjoyment of science, but also the way she learns.
"This was the person who made me believe I could be a scientist," said Bialik. "I was never a terrific math or science student at all. I thought it was for boys; all the boys said so." She continued, "I think having a female role model really helped me, too. To see this bubbly, excited person who just loved biology so much and this was her life. And it wasn't just that she gave me that passion; she also gave me the skill set."
According to the actress, science has remained the dominant force in her life, even as her fame as an actress has continued to skyrocket. She uses her celebrity as a platform to promote science education for all, especially young girls. Her goal is to put a female face on science and highlight the importance of educational equity. "Name a newspaper, name a magazine, they won't do an article about STEM advocacy, but they will do an article about an actress on 'The Big Bang Theory' and her love for STEM advocacy," she said.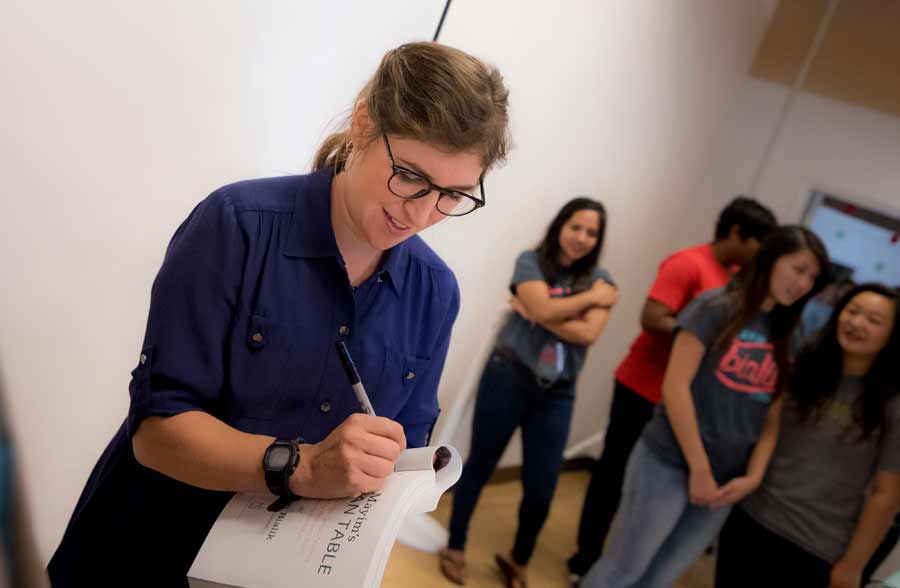 Before her formal talk, more than 200 students had the chance to attend a meet and greet with Bialik, where she posed for pictures and signed autographs. Students donned "Bazinga" shirts and struck funny poses with her—one asked if she would replicate a prom photo, to which Bialik enthusiastically complied. The reception included food based on her recipe book, "Mayim's Vegan Table."
Bialik admitted that she doesn't watch television and had never seen "The Big Bang Theory" prior to being cast in the third season finale. She was brought on as a main character in the fourth season, along with Melissa Rauch who plays another female scientist, Bernadette. Contrary to rumor, Bialik says does not contribute to the script writing, though her cast mates always comment on the fact that she is the only one who "knows what everybody's lines mean."
Near the end of the presentation, students had the opportunity to ask the Bialik questions, which ranged from her favorite music to her most memorable fan encounter as well as more serious questions such as ethical challenges in neuroscience. She shared that the monkey used in several scenes on the show is named "Squirt," and is the same star from the movie, "The Hangover." She imparted that she cried when she met Stephen Hawking, who appeared on an episode in 2012. And when she was asked who she would switch lives with for a day if she had the chance, she jokingly replied in the guise of her character—"Kaley Cuoco-Sweeting!" (who plays Penny on the show).
On being both an actor and an academic, Bialik says that her first love will always be science.
"Once you become a scientist that becomes the lens through which you see the world, at least that has been my experience," said Bialik "Once you know about what a rainbow is made of, every time you see one, that's where your brain goes. I don't think, ooh, what a pretty rainbow. I think about color and wavelengths and refraction." She continued with, "I am definitely an artist…but it doesn't color my world the way being a scientist does."
Stay in the Know
Keep up with all the latest from UC San Diego. Subscribe to the newsletter today.