The Fifth Annual Women in Leadership Event Celebrates and Inspires Trailblazers
Published Date
By:
Share This:
Article Content
An Olympic Gold Medalist, a MacArthur Fellow and the first woman to serve as director of the NASA Jet Propulsion Laboratory will share insights with an expected crowd of 1,000 people when UC San Diego presents Women in Leadership May 25 at 6:30 p.m. in the Price Center East Ballroom. Hosted by Sally Ride Science at UC San Diego and moderated by journalist Lynn Sherr, the event is free and open to the general public with pre-registration.
"Women in Leadership unites students, faculty, staff and the community in an inspiring—and necessary—discussion that challenges the status quo," said Chancellor Pradeep K. Khosla. "UC San Diego is one of the top research universities in the world in part because we recognize that women's leadership in cutting edge research, excellence in teaching and impactful service enhances every facet of our institutional mission. Female scientists bring in many of the biggest research grants awarded to our university, and half of all deans and five out of eight college provosts at UC San Diego are women, which demonstrates our deeply embedded commitment to elevate and empower phenomenal women leaders, which, in turn, elevates and empowers our entire university."
In its fifth year, the annual Women in Leadership event honors Sally Ride, who shattered the highest glass ceiling—the stratosphere—when she blasted off aboard space shuttle Challenger on June 18, 1983, becoming the first American woman to fly in space. After retiring from NASA, Ride served as professor of physics at UC San Diego. She also co-founded the nonprofit organization Sally Ride Science at UC San Diego with life partner Tam O'Shaughnessy and three colleagues to inspire young people in science, engineering, technology and math (STEM) and to promote STEM literacy.
To commemorate Ride's belief that, "you can't be what you can't see," three trailblazing women come together each year to share their experiences and their vision for how to empower women to become effective leaders. This year's distinguished panel are all remarkable women who have broken barriers and led the way for others in their fields: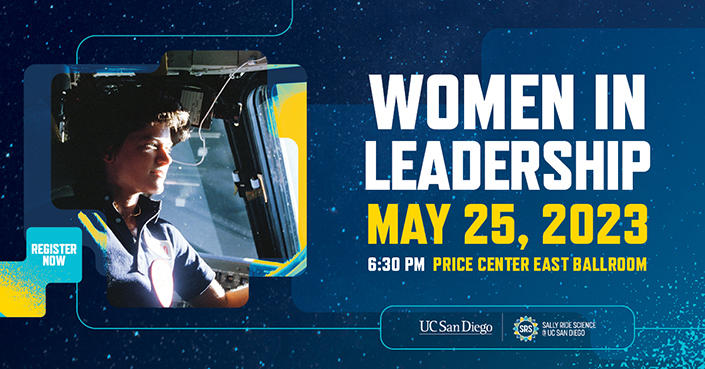 Erin Jackson, speedskating Olympic gold medalist and STEM advocate
Jackson is the first Black American woman to win a World Cup speedskating gold medal and the first Black woman to win an individual gold medal at the Winter Olympics. She is also a passionate advocate for STEM education. Jackson earned a bachelor's degree in materials science and engineering, cum laude, from the University of Florida and intends to pursue a master's degree in materials science and a career in biomedical engineering.
Laurie Leshin, geochemist, space scientist and director of NASA Jet Propulsion Laboratory
Before her role overseeing future human spaceflight at NASA Headquarters, Leshin was director of science at Goddard Space Flight Center. She also served as president of Worcester Polytechnic Institute before becoming the first woman director of the Jet Propulsion Laboratory (JPL)—a role that also includes serving as vice president at California Institute of Technology, which manages JPL for NASA. She holds a bachelor's degree in chemistry from Arizona State University, and master's and doctoral degrees in geochemistry from California Institute of Technology.
Natalia Molina, professor of American studies and ethnicity at USC, award-winning author
Molina's work lies at the intersections of race, gender, culture and citizenship. She is a distinguished professor at the University of Southern California and the author of two award-winning books. A 2020 MacArthur Fellow, Molina will continue to explore the themes of race, labor, immigration, gender and urban history in her forthcoming book "Place-making at the Nayarit: How a Mexican Restaurant in Los Angeles Nourished its Community."
The conversation will be led by Lynn Sherr, an award-winning journalist. Sherr spent more than 30 years with ABC News covering a wide range of stories at "20/20" and "World News Tonight," from women's issues and social change to investigative reports, politics, science and the space program. She is the author of The New York Times bestseller, "Sally Ride: America's First Woman in Space."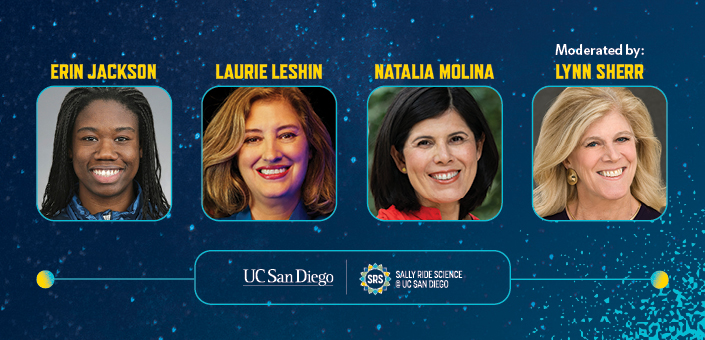 O'Shaughnessy conceived of the first Women in Leadership event in 2018 to mark the U.S. Postal Service's release of a Forever stamp honoring Ride. "Sally Ride Science started Women in Leadership because we believe in preparing young people to meet the challenges of the future with the inner belief that they can become leaders," O'Shaughnessy said. "When our panelists and moderator share illuminating stories about their own paths to leadership, they help us envision how we can inspire girls to become leaders."
Get inspired at this celebration of trailblazing women—registration for this year's Women in Leadership is open now.
Stay in the Know
Keep up with all the latest from UC San Diego. Subscribe to the newsletter today.