Team of UC San Diego Entrepreneurs Pushes Biomedicine Forward with Virtual Reality
A group leverages range of campus resources, including the QI Innovation Space and The Basement, to launch a growing company.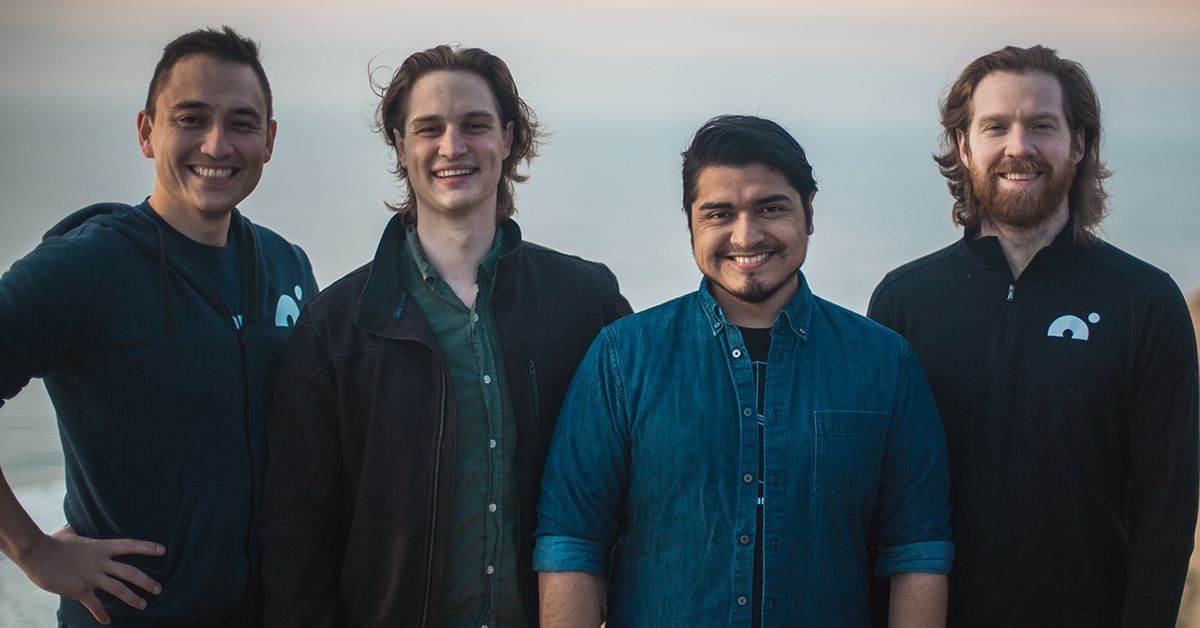 By:
Published Date
By:
Topics:
Share This:
Article Content
If you were looking for a poster child for the strength of UC San Diego's entrepreneurial ecosystem, the company Nanome would be a strong contender.
Founded by Steven McCloskey '15, Keita Funakawa '16, Edgardo Leija '14 and Samuel Hessenauer '16 in 2016, Nanome offers software that brings molecular interactions to vivid, three-dimensional life in virtual, augmented and mixed reality. The interface has proven successful in accelerating drug discovery and has attracted clients that include over half of the world's top 20 pharmaceutical firms. Nanome's educational software has been downloaded by more than 250 universities.
But not so long ago Nanome's founders were UC San Diego undergraduates trying to figure out how they could get a company off the ground.
Disciplines Collide
The idea for Nanome was initially born of McCloskey's frustration with the lack of tools available to nanoengineers for complex 3D modeling and simulation. Part of the first UC San Diego NanoEngineering graduating class and inspired by a family member fighting cancer, McCloskey saw virtual reality on the nanoscale as the future of biomedicine.
"Our goal is to provide the tools necessary to help people build new proteins and molecules and eventually also simulate their interactions," McCloskey said in a 2016 interview. "You can see how the world works at this fundamental level, and re-make it."
But while McCloskey had the drive and engineering background, he knew he would need collaborators, especially on the creative side, to achieve the kind of impact he was looking for.
In the meantime, Funakawa was interested in the unexplored territory between art and technology. This was reflected in his activities at UC San Diego, including undergraduate studies, where he was a management science major with a minor in digital arts media. His work-study jobs included student photographer with the Qualcomm Institute (QI), which harnesses technology to spark innovation across disciplines, and assistant curator of ArtPower's Filmatic Festival.
Filmatic, which explores the intersection of art and science as well as the future of film, gave Funakawa his first taste of virtual reality.
"[Virtual reality] absolutely blew my mind," Funakawa recalled. "It was the pinnacle of my passions for the arts and technology. I felt this must have been [what it was] like to be a painter in the early 19th century [or] when photography was invented… This was the next big thing."
For the festival, Funakawa was tasked with finding students who might display their virtual reality projects. That was how he encountered McCloskey, who not only agreed to join the festival, but also recruited Funakawa as an enthusiastic partner for the nascent startup.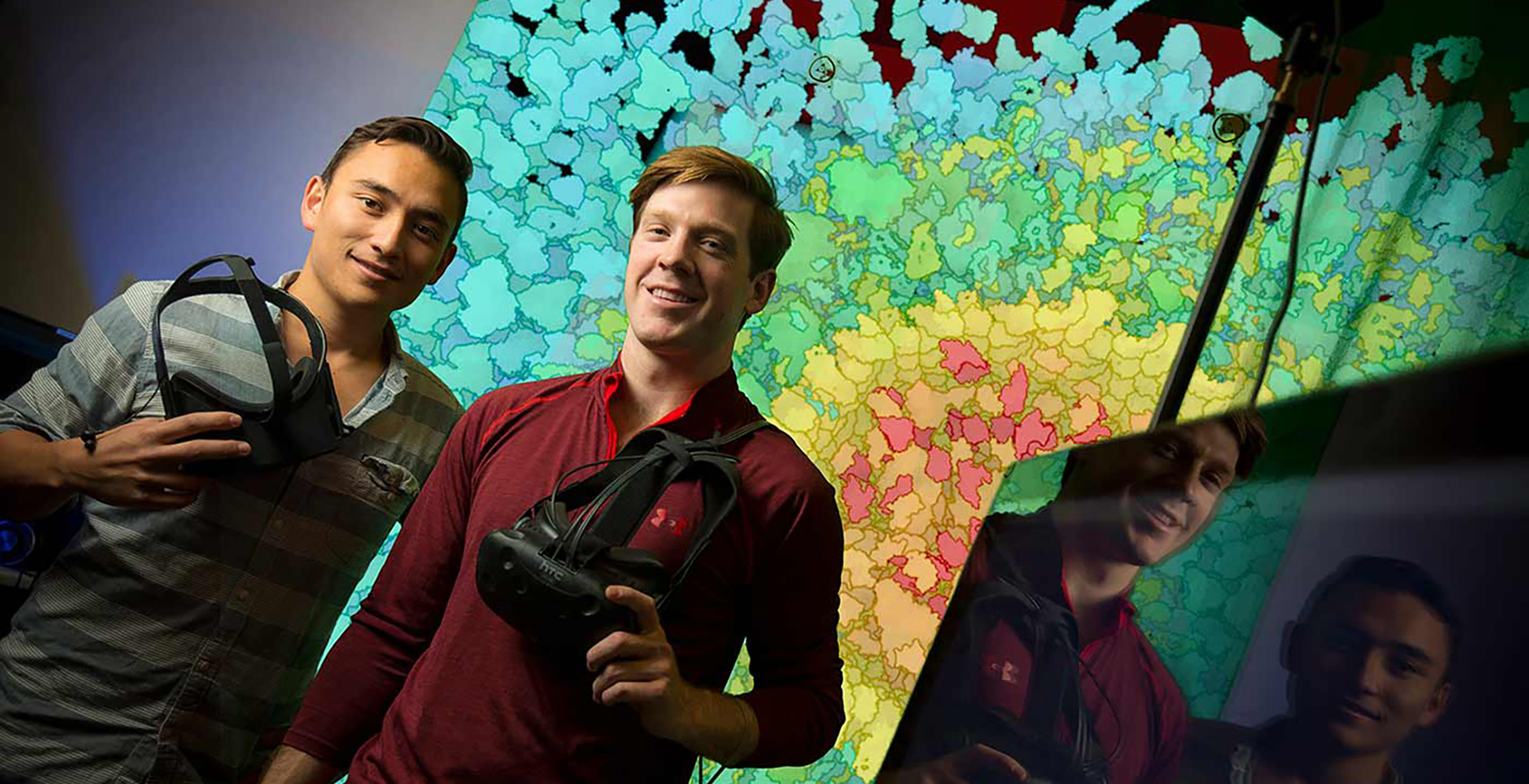 Funakawa and McCloskey have been working together ever since.
McCloskey also recruited two other undergraduates to join the enterprise: Edgardo Leija '14 (Cognitive Science), whom McCloskey had met at a San Diego Zoo Tech to Reconnect event, and Samuel Hessenauer '16 (Electrical and Electronics Engineering), a rugby teammate who bonded with McCloskey chatting about theoretical physics and electrical engineering on the field.
Resources Galore
From the beginning, the group leveraged a range of resources across campus.
"The complaint I heard the most [from our fellow entrepreneurs] was that UCSD was so fragmented, and there were so many different things available," said Funakawa. "But for us, it was the opposite—we thought, "There's so much opportunity! There are so many things to take advantage of!' We ended up touching upon pretty much every program that had to do with startups and entrepreneurship…
"We knew what we were trying to do was really difficult, really resource-intensive," he continued. "We figured we could use all the help we could get."
At first, the students met in the Structural Materials Engineering Building, which had a section dedicated for artists to collaborate with nanoengineers.
They also found mentors in Benjamin Bratton, a faculty member in Visual Arts, and VR expert Jurgen Schulze, then a research scientist at QI (now a senior engineer at Qualcomm Inc.). Bratton found space for the team in his Design and Geopolitics Lab, while Schulze helped them access early VR headsets as the students began developing product prototypes.
In the meantime, McCloskey leveraged the National Science Foundation-funded Innovation Corps (i-Corps) through UC San Diego Jacobs School of Engineering. The program, led by the school's von Liebig Entrepreneurism Center (now part of the Institute for the Global Entrepreneur and The Basement), was designed to teach inventors how to evaluate the commercial potential of their research through a customer discovery process.
"Steve did over 50 customer interviews," said Funakawa. "That really made us hone in on our value proposition."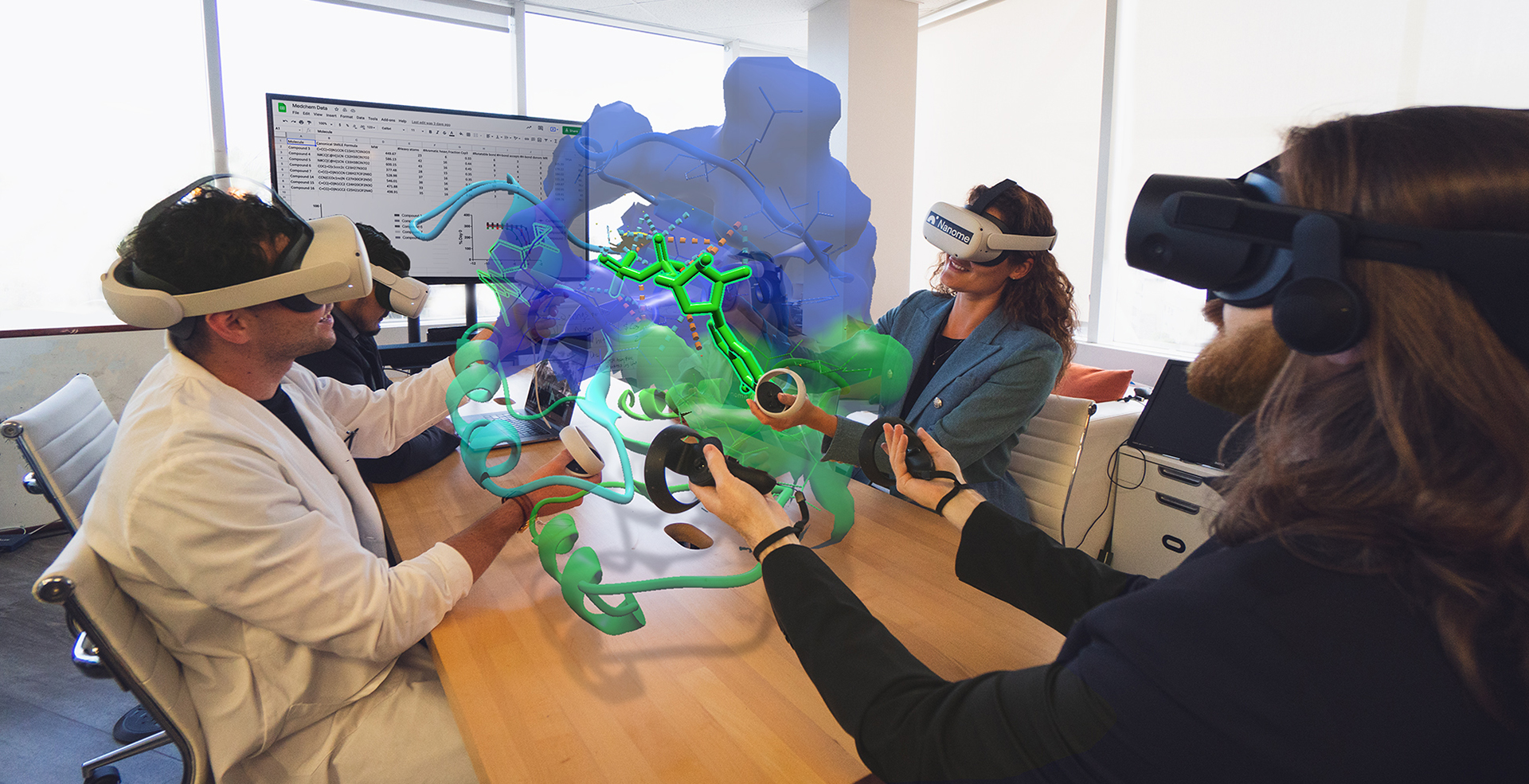 The team also participated in entrepreneurial contests on campus—including UC San Diego's Entrepreneur Challenge and Triton Entrepreneur Night—honing their pitching skills, receiving valuable feedback, and winning more than $30,000 in startup funding.
Math in 3D
As the summer of 2016 began, Nanome spread out in the co-working space of The Basement, a UC San Diego incubator that had launched a year earlier and now occupies part of the new Design and Innovation Building.
At the time, though, the space happened to be located on a different part of campus, near the Mathematics Department. The proximity was fortuitous, as the Nanome team had received a grant to pilot a math class using VR. Working closely with math professors and graduate students, the group developed a 3D graphic calculator called CalcFlow (still available for download from the Oculus Store).
In a video (below) providing an overview of the tool, you can hear McCloskey's enthusiasm for making an impact by providing a new perspective. "The reason we made CalcFlow is that we want to give math to as many people as possible," said McCloskey. "In engineering, we talk about flow and vector fields. All these concepts that are inherently three-dimensional, and we are limited to doing it on a 2-D surface. But now with CalcFlow, we're getting down to the mathematics so you can generalize it to whatever field – engineering, finance – you want, but we're doing it all in 3D."
Funakawa noted the calculator was the team's first post-prototype work, as well as a useful tool for scientists and engineers who would later use Nanome's molecular visualization products.
Once the summer was over, The Basement began filling up with other students and more Nanome team members officially became alumni. A more permanent and dedicated space to continue developing the company was needed.
Milestones in the QI Innovation Space
Funakawa knew about the QI Innovation Space, QI's startup incubator in Atkinson Hall, from his time as a student worker—in fact, he photographed its official opening in May 2015. The QI Innovation Space seemed like the logical next step.
It became Nanome's base for two and a half years.
"It was awesome," said Funakawa. "We got to do our own thing without sharing intellectual property [per QI Innovation Space policy]. And one of our key advisors [Jurgen Schultz] was across the hall, so we could chat often. We also worked with student interns. That was a key part of the early foundations of the company. Being on campus and having access to the talent pool was unparalleled."
The firm's location also facilitated a major milestone—the establishment of Nanome's relationship with pharmaceutical giant Novartis, or more specifically with its innovation division, the Institutes for BioMedical Research (NIBR). One NIBR organization, the Genomics Institute of the Novartis Research Foundation (GNF), was just down the street from QI's UC San Diego location.
When GNF Director of Structural Biology Glen Spraggon used Nanome's beta software and Oculus headsets with his team members, he found VR helped them better understand 3D protein structures and visualize how drugs needed to bind with them to modify disease.
"There was a certain point where [team members] grabbed the protein and stretched it out and peered inside," Spraggon said in an interview for one of Nanome's case studies. "And that was it. We realized that VR is a great solution for turning people from passive observers to interacting participants… That's game-changing for what we do. Visualization in real 3D versus a flat screen transforms things, and it helps accelerate the process of discovery."
Recognizing that many millions of dollars could be saved by making better decisions about where to place resources in drug development, NIBR began working closely with Nanome to evolve the startup's software. "We would meet with them on a bi-weekly basis to closely collaborate, iterate the product," said Funakawa. "Since they were literally across the street, they would even walk over sometimes."
And the relationship was a game-changer for Nanome's status.
"Having Novartis as a paid customer made a huge difference in terms of the legitimacy of our business," Funakawa noted. "That allowed us to get venture investment—not just angel investors, but also strategic investors, like [Taiwanese consumer electronics company] HTC, which makes headsets."
In 2017, the team raised almost $1 million.
'The World Needs This Right Now'
With the influx of funding, Nanome continued to evolve its product and began to build up its sales and marketing capabilities. To accommodate the expansion of personnel, in July 2019 Nanome moved out of QI to a commercial site; the firm is now located on Nobel Drive in La Jolla.
It was only a few months after the move off campus that news of a novel coronavirus outbreak in Wuhan, China, began filtering into the US media. By mid-March 2020, California was in full lockdown.
For Nanome, the timing was propitious.
"The pandemic was a huge momentum booster for us," said Funakawa. "As much as I don't like benefiting from a crisis, at the same time this is naturally what happens when you're one of the solutions. We were featured in the Meta/Facebook conference that year. The message was that scientists were doing drug discovery from their homes and that we needed this right now. That was a huge moment for us and definitely a morale booster. Because, the mantra 'the world needs this right now' is something we're really proud of."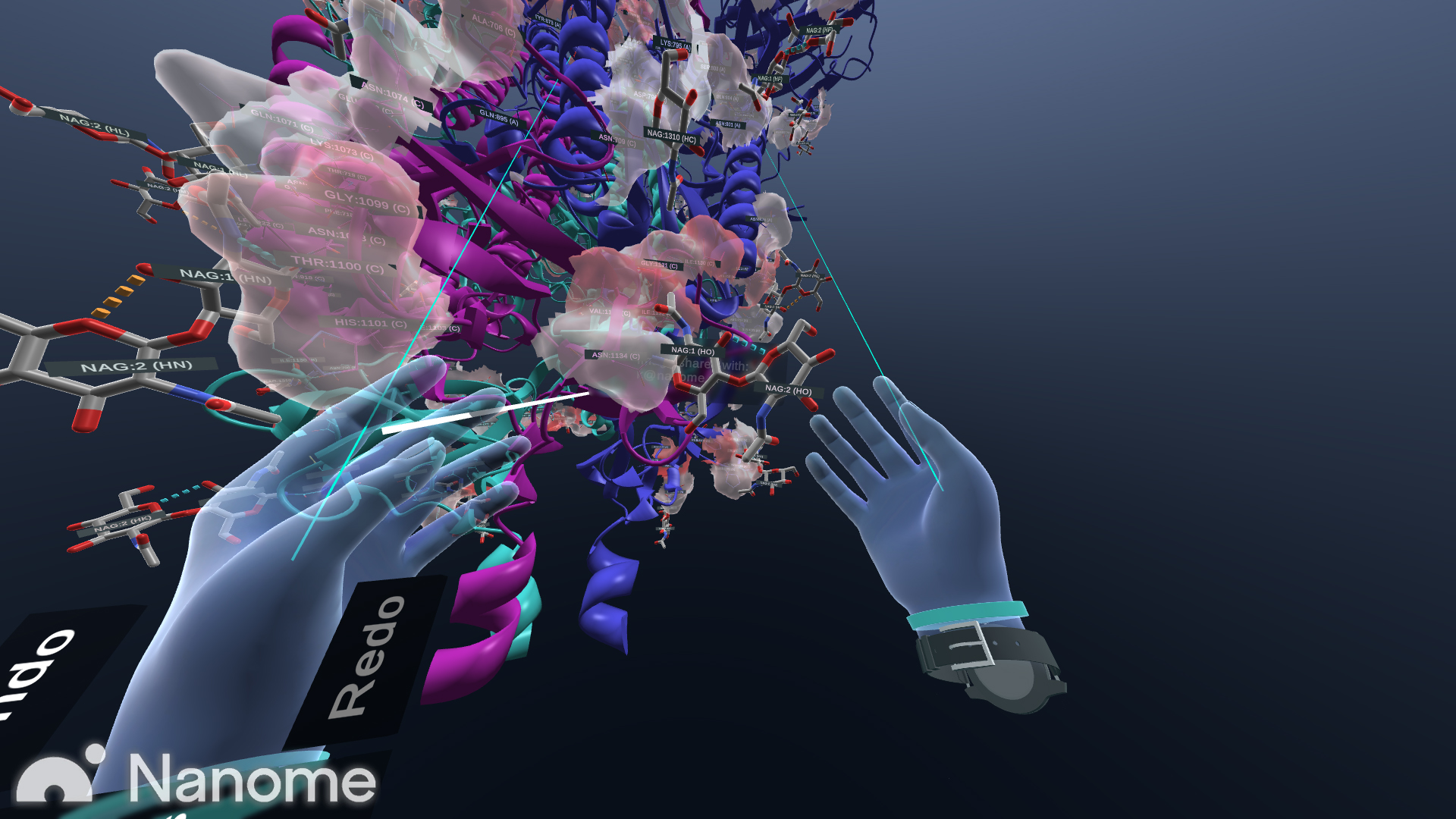 McCloskey elaborated: "No other application for molecular modeling allows multiple people to talk with each other and interact with things," he said for an article on how QI Innovation Space tenants contributed to the COVID-19 response. "The fact that we happen to use an entirely new interface like virtual reality as well as standard two-dimensional technologies… and you can have people working in conjunction is an edge no other software has right now."
Indeed, as reported in the Journal of Medicinal Chemistry, scientists at Oak Ridge National Laboratory used Nanome's platform to develop a novel COVID-19 drug candidate. Studies on the compound, which inhibits a central component in SARS-CoV-2's replication, protease 3CL (Mpro), are ongoing. If the drug candidate advances to a fully approved commercial product, it will be the first drug ever discovered in virtual reality.
Also in response to the pandemic, Nanome co-authored a paper with Insilico Medicine, an artificial intelligence (AI) company based in Hong Kong, describing 10 potential small molecule inhibitors of the SARS-CoV-2 main protease that might be developed into therapeutics. The molecules were generated by AI and examined in VR.
Looking Forward
Looking forward, Funakawa notes that AI will play an increasingly important role in Nanome's platforms.
"We've learned a tremendous amount interacting with customers and different users," Funakawa said. "Now we are in the process of making Nanome 2.0, which we hope to release by the end of the year. That's going to be huge. We see scientists and our users directing AI to do better research within virtual and augmented reality."
The firm's founders also welcome a larger user base that includes non-scientists, which has the potential to increase collaboration and innovation.
"A lot of people go onto the website and they see our case studies and think, 'This is a super high-end research tool,'" Funakawa said. "That's true, and it's not true. The number one comment we get from non-scientists is 'Oh man, if I only had this, I might have become a chemist.' A lot more people can start to care about this stuff now because of how easy it is… By lowering the barriers to entry to these types of scientific data, more stakeholders, more users of different backgrounds, can join the conversation."
Read more about Nanome, the QI Innovation Space and other UC San Diego programs for entrepreneurs at the university's Office of Innovation & Commercialization.
Topics:
Share This:
Stay in the Know
Keep up with all the latest from UC San Diego. Subscribe to the newsletter today.