Teaching Young Alumni to Become Lifelong Donors
Before they even graduate, young donors at UC San Diego embrace philanthropy to pay it forward
Published Date
Article Content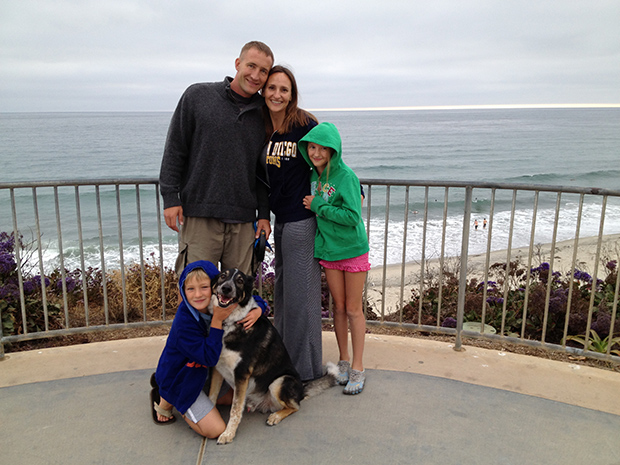 Mother of two, Charity Stone is the recipient of a UC San Diego Student Foundation scholarship.
Charity Stone feels the financial pressure of being a mother of two and a fulltime student at the University of California, San Diego. But this fall her budget burden will be lightened with a Student Foundation scholarship raised by her fellow students. The UC San Diego Student Foundation inspires philanthropy through "students helping students" campaigns like the Give. Invest. Gain. initiative during Welcome Week—the week leading up to the start of classes—and the annual Senior Class Gift campaign at the close of the academic year. Hundreds of new UC San Diego student donors are also brought in through social media platforms such as YouTube, Facebook and Twitter, as well as other forms of digital marketing.
The UC San Diego Student Foundation was the first organization of its kind in the University of California system and is currently one of only a few in the nation. The organization was established in 1999 when alumni Marc (class of 1979) and Patricia (class of 1983) Brutten gave $100,000 to set up a student-run endowment. Now under the guidance of UCSD Alumni, the UC San Diego Student Foundation has awarded over $80,000 in scholarships to more than 60 UC San Diego students.
Since its creation in 1991, the Student Foundation's Senior Class Gift campaign has encouraged outgoing seniors to make a small contribution that goes toward creating scholarships for incoming students. UC San Diego's class of 2012 set the record for the largest number of donors in the university's history of graduating classes. More than 25 percent of graduating seniors gave this year to the Senior Class Gift, which is managed by the UC San Diego Student Foundation. Their gifts of $20.12 and higher benefit scholarships for incoming students, and leave a legacy of philanthropy to inspire future classes.
As she enters her senior year, Stone says she plans on donating to the Senior Class Gift herself.
"It's not just $20.12. $20.12 can be squandered over two beers and a burger," she said. "Scholarship support is a gift of relief for strains unseen."
UC San Diego's class of 2012 set the record for the largest number of donors in the university's history of graduating classes. Photo Credit: Alyssa Stocker-Keefe
The class of 2012's record-setting philanthropy is reflective of national giving trends among young people. According to a new survey from the 2012 Millennial Impact Report tallying 6,500 people ages 20 to 35, 75 percent of young adults gave to charity last year.
Facing declining state funding, public institutions like UC San Diego must find other funding sources—and encouraging young alumni to give builds a community of donors that have a strong affinity and passion to invest in their alma mater.
Brandon Buzbee, director of Outreach and Engagement at UCSD Alumni, agrees that the need for scholarship support is increasing yearly as support from the state decreases. Seniors are responding to this in larger numbers, even as they face greater financial challenges themselves. More than 1,300 members of the class of 2012 gave last year, up 30 percent from the class of 2011. Buzbee believes this is part of a trend where this generation understands the responsibilities that come with the advantages and privileges they have received.
"As UC San Diego and its alumni have grown in rank and influence internationally, students have a great sense of legacy and ownership of the future of the institution," says Buzbee. "The students are communicating a powerful message about what they believe about their experience and the future of UC San Diego."
Buzbee added "The hope is that if seniors give back while they're students they'll also give back as alumni." He also noted that more than half of UC San Diego's alumni donors last year were under 40.
For more information, visit http://gig.ucsd.edu.
Stay in the Know
Keep up with all the latest from UC San Diego. Subscribe to the newsletter today.