Take 10 with a Triton: Maria Rodriguez, from First-gen Student to Focusing on Student Success
By:
Published Date
By:
Topics:
Share This:
Article Content
Name: Maria Rodriguez
Pronouns: she/her/hers
Position: Student Success Coordinator with the Chancellor's Associates Scholars Program (CASP)
Years at UC San Diego: 5 years; Rodriguez first worked as an academic advisor at Sixth College in 2017. In 2018, she transitioned to her current role.
What she does at UC San Diego: As the Student Success Coordinator at CASP, Rodriguez oversees components of the CASP scholarship and peer mentorship programs. CASP is an undergraduate scholarship program created by Chancellor Pradeep K. Khosla that aims to recognize and support local high-achieving students so that they can attend UC San Diego and have support throughout their college journey. This year, the program celebrates its tenth anniversary providing students in need with a bit of extra support. Among the newest 2022 cohort, 68% of the students become the first in their family to graduate from college and 56% identify as Latinx or Chicanx.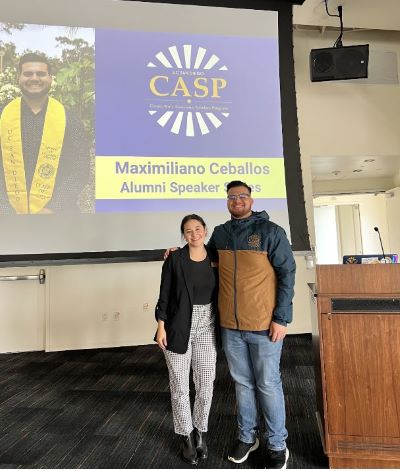 "I like to call the scholarship program the Chancellor's baby," Rodriguez said with a grin. "It started out small in 2013 with just a few scholarship recipients and one staff member, and now we've had nearly 2,000 students benefit from the program and have a dedicated team of five on our staff!"
Incoming first-year students who receive the scholarship are guaranteed $10,000 per year for four years; transfers are guaranteed the same amount for two years. Recipients also have other benefits, including priority class registration, guaranteed university housing and faculty and peer mentoring programs. Rodriguez shared that, as of a few years ago, the program has expanded to include residents from across the state of California through a nomination process.
She also works to reconnect alumni to the program and supports continuing and graduating students with their career and professional development goals.
What she loves about UC San Diego: Rodriguez found a work family in the Student Retention and Success department, which has oversight of CASP. There, everyone aims to support and challenge students regardless of which specific program or resource they're using.
"What I love about my job are the values that everyone in the office has," Rodriguez explained. "We all align in that we want to support students from a student-centered viewpoint in a student-centered environment." The ability of her department to support specific populations of students with resources tailored to their own unique needs, challenges and experiences is something she takes pride in.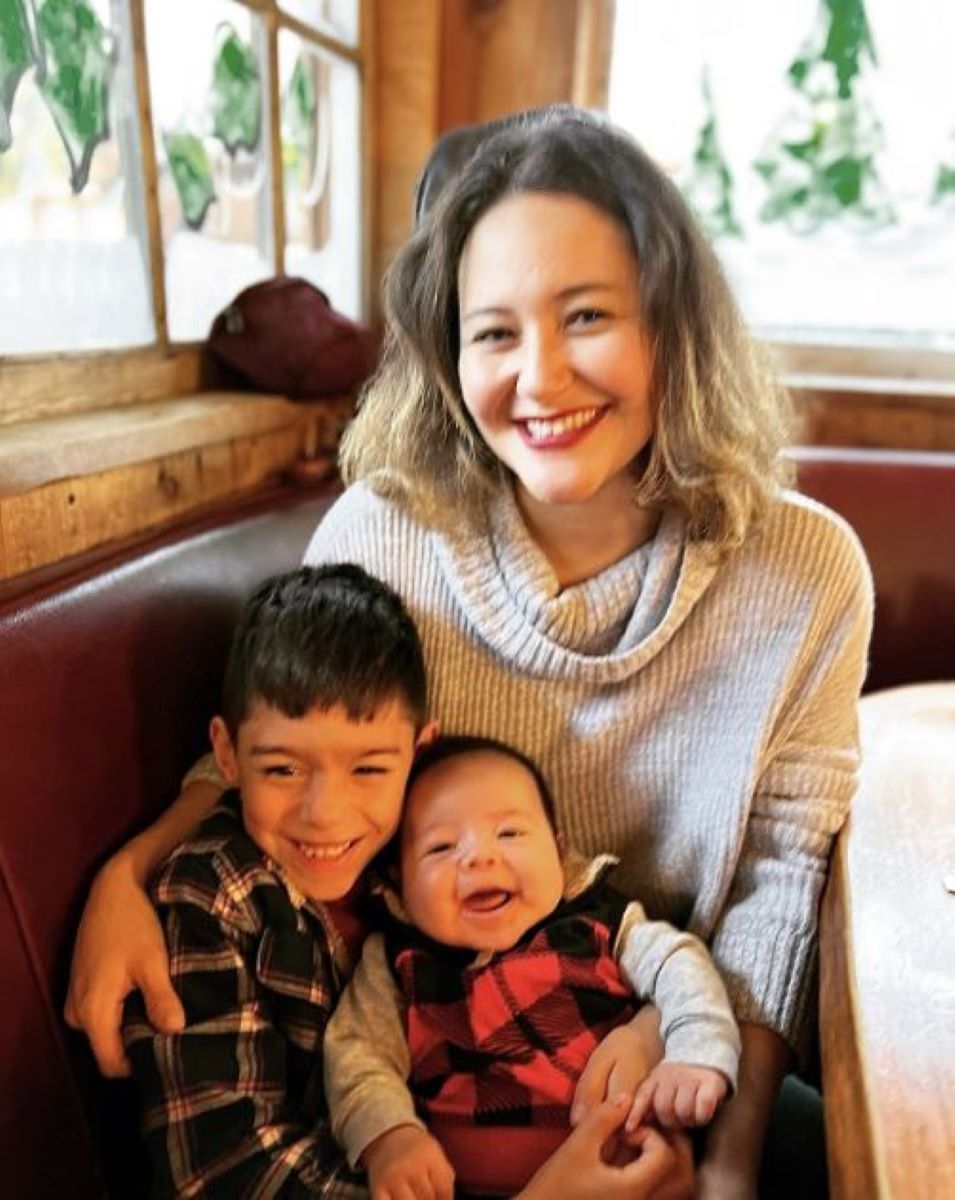 As a first-generation college student herself, Rodriguez finds a special sense of joy in the students she works with.
"Being able to see students who recognize that they are first-generation students and that they can get through university is such a wonderful experience," Rodriguez said. "It's such an honor to not only see that, but to be a part of that."
Best advice received: "There's a Spanish phrase ¡échale ganas! that most closely translates to 'keep going, keep persisting,'" Rodriguez said. "I try to keep that in mind, set that expectation for myself and try not to compare myself to others in terms of my own professional growth and journey. I just need to keep going one day at a time."
Something unique in your workspace: Rodriguez described her office as being "an explosion of decorations," though one clear favorite sits right in front of her desk. It's a photo of her with her parents and sister at her father's birthday.
"My father passed away before I could finish my master's degree in higher education administration," Rodriguez explained. "I've done so much since then that I wish he could have seen. I want to carry that photo with me because I want him to be proud of me and of what I've done."
When she's having a rough day, Rodriguez pulls out the photo as a reminder that everything in life—the good and the bad—is temporary.
"It's a sweet memory to go back to."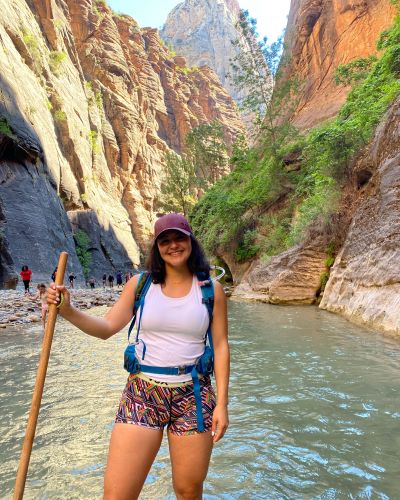 Favorite spot on campus: Like many on campus, Rodriguez enjoys perusing the stacks of Geisel Library in search of her next read. Just down Library Walk and not too far away from her office, Rodriguez can always find time to browse and choose a new book, preferably fiction.
"I also really like the old student center because the vibes are so clearly student-led and student-focused," Rodriguez added. "Architecturally, you can sit down but still be surrounded by a few eucalyptus trees, the student garden and the coffee cart by Mandeville Center."
Something most people don't know about her: Rodriguez says most people think she's very cautious when they first meet her. Little do they know how much she wants to push herself to her limits.
"I wouldn't say I'm an adrenaline junky, but I also think adrenaline rushes are thrilling," Rodriguez said, laughing. "I'm the person who's scared of heights but went skydiving to face my fear."
If she had one day to do anything she wanted: A morning person, Rodriguez would wake up early to see the sunrise, enjoy a cup of coffee and meditate in the brisk mountain air. Later that day, she'd enjoy a hike with her family and end the evening with s'mores and a campfire.
Topics:
Share This:
Stay in the Know
Keep up with all the latest from UC San Diego. Subscribe to the newsletter today.