Take 10 with a Triton: Gerardo Arellano on Community, Caballos and the Countryside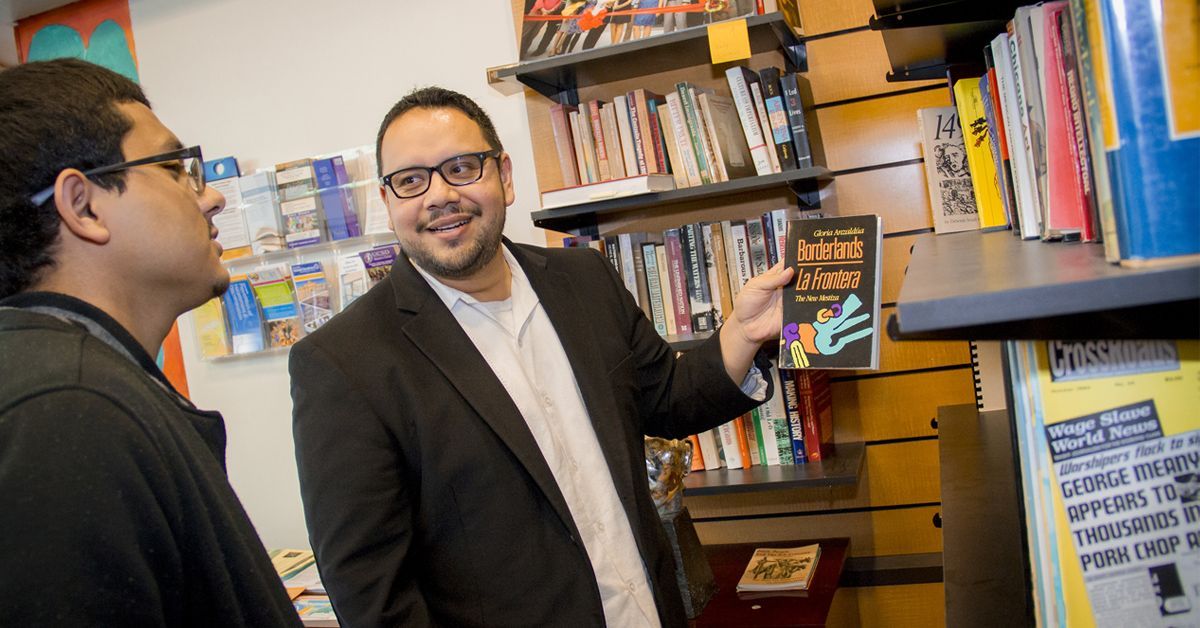 Published Date
By:
Topics:
Share This:
Article Content
Name: Gerardo Arellano
Pronouns: He/Him/His
Position: Executive Director of Hispanic-Serving Institution (HSI) Initiatives and Director of the Raza Resource Centro
Years he has worked at UC San Diego: Arellano has led the Raza Resource Centro for nine years, one of six campus community centers on campus. He also earned an undergraduate degree in ethnic studies at UC San Diego, a department that had just taken shape at the university in the 1990s a few years before he arrived.
"I would say only about 5% of students were Latinx at the time, which was really small; it was really isolating. Fast forward to now, we have infrastructure designed to meet the needs of that identity. We have the Raza Resource Centro, but we also have this campus-wide conversation going on about what it means to be Latinx-serving and an exemplar research intensive HSI, how to measure our impact and progress to keep improving."
What he does at UC San Diego: As director of the Raza Resource Centro, Arellano and his team serves students by helping them form connections with peers, develop as leaders and scholars and engage in interactive learning about the diverse Chicanx and Latinx history and culture.
Arellano has also just taken on the new role of Executive Director of Hispanic-Serving Institution (HSI) Initiatives. He oversees UC San Diego's designation process, which requires the campus to enroll at least 25% or more of undergraduate students who identify as Latinx/Chicanx, with half or more coming from low income households. Once designated, the university can compete for federal grant money and continue to build infrastructure to accelerate the success of scholars.
Arellano explained that he is not the only person advancing this initiative; he and a team of colleagues across campus are using a collective impact approach. "My role is to make sure we are creating opportunities to learn from each other, advance and help implement the most impactful HSI recommendations and get the right leaders involved to move us forward. This role allows me to leverage my experiences as a faculty member, scholar administrator and community advocate while giving me the opportunity to grow in my leadership capacity and serve my community."
What he loves most about UC San Diego: Arellano loves having the freedom to collaborate, create and act on ideas that will serve scholars, community members and the university. When he presents ideas for consideration, he explains that, "There isn't a response of 'No.' It's more, 'What is the best way to do the work, and how do we make it sustainable?' That's what I appreciate about the university, we are really open to winning ideas."
Best advice he has received: As a scholar with a background in social justice, racial equity and critical power studies, Arellano initially thought that writing, publishing and teaching inside a classroom was the best way to create systemic change. But some of his elders shared advice with him—when it comes to influencing culture and creating systemic change, it's important to scale it up beyond the classroom.
"I learned that powerful impact comes when you scale services provided, implement policies that lead to greater equity and leverage the influence of leaders, especially when it comes to guiding an organizational shift towards racial equity and social justice," shared Arellano.
In his role as director of the Raza Resource Centro, Arellano has been able to expand impact through community building and partnerships. He and his team are intentional about knowing the name and story of each scholar, demonstrating solidarity, disrupting systems that produce inequality and creating opportunities for growth outside the classroom. "I consider this my biggest contribution—making sure folks have opportunities that, for systemic and historical reasons, they aren't able to access," he said.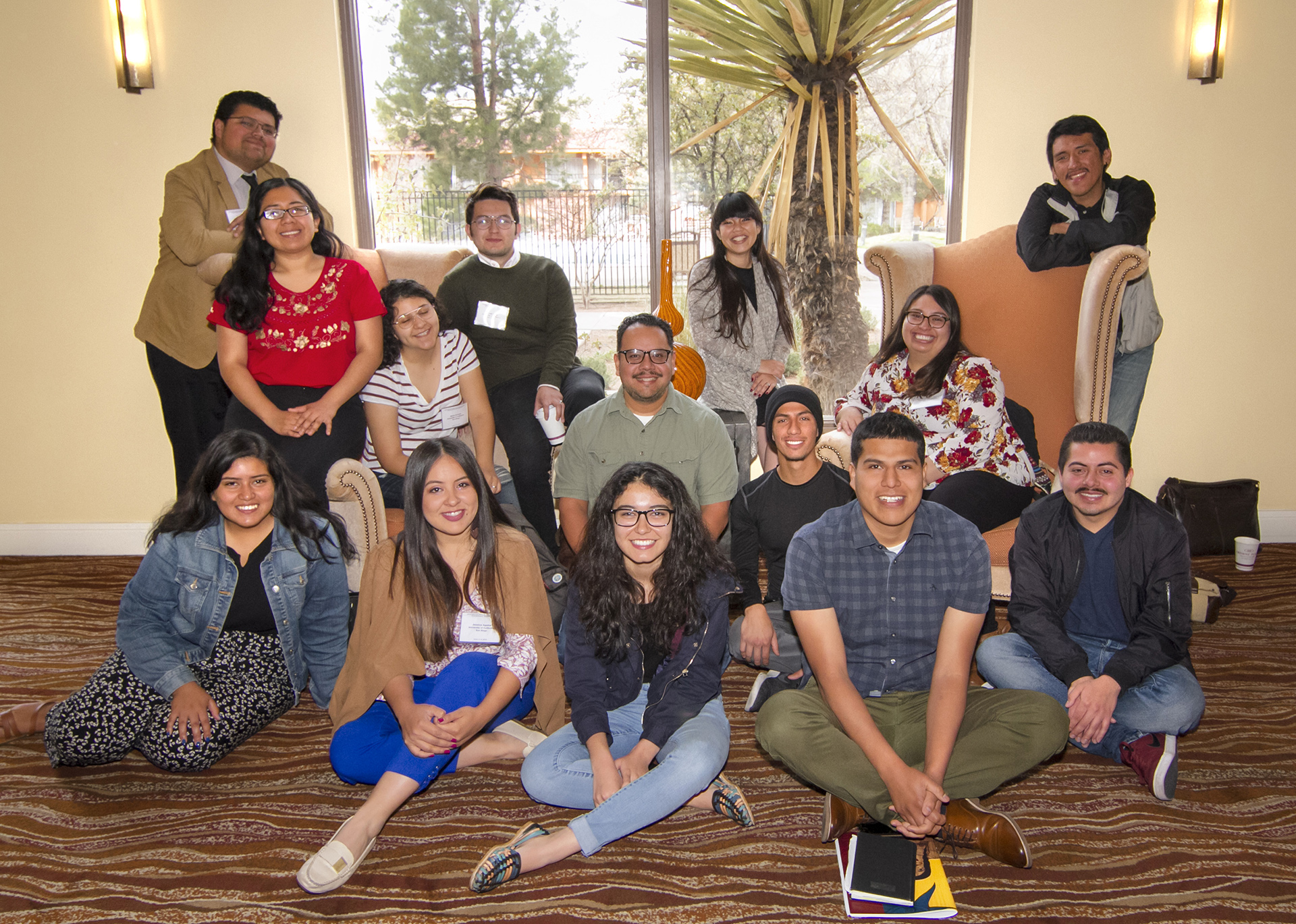 Something unique in his workspace: It's not something he gets to enjoy often. During the interview Arellano held up a small wrapped package of a caramel waffle cookie made in Mexico called cajeta. The gift from his tía (aunt) prompted a wave of nostalgia. "I grew up eating this when I was little, it's a comfort food," said Arellano. "It reminds me of my parents, my culture and my childhood. It can be hard to get, so I'm cherishing it."
Favorite spot on campus: Without hesitation, Arellano answered "The eucalyptus forest, hands down." With poetic imagery he began to describe the tranquility that the trees bestow. "You can go on a walk, get clarity, bathe in the forest right here on campus. Every time I go in there and I come out, I feel like I got a cleanse. I call it the battery of the campus."
Arellano finds comfort when being immersed in nature, one of the best ways to ground yourself when life stressors become challenging. Whenever possible, he enjoys disconnecting from artificial environments, which has been scientifically proven to benefit human health. "Being able to spend time in the countryside where there are trees is also really healing—good for your mind and spirit," said Arellano.
Something most people don't know about him: What many may not know is that Arellano is an experienced horseman. He grew up riding caballos (horses), and used to own a horse named Pancho, a warm-blooded thoroughbred. "He sadly passed away last year at 30 years old," said Arellano, reflecting on the lost friendship. "He was tall; when we would run at a full gallop, it felt like I was on top of a motorcycle, going over 40 miles per hour. It was the most exhilarating experience I've ever had."
As a kid, Arellano used to go riding with his brothers. They would go into the forest, crossing rivers with the water rising all the way up to the horse's shoulders. "I had to create a strong bond between my horse and me," he said. "If I was not a good leader or showed fear, the horse wouldn't trust me. That helped me develop patience and leadership skills."
Although he doesn't ride regularly anymore, Arellano spent many years in college and as a faculty member riding on trails. With a love of animals and nature, horseback riding was an ideal combination of both passions.
If he had one day to do whatever he wanted: If he could have all his time back and not worry about distance, Arellano shared that he would travel to Oregon to go horseback riding with his family for a whole day.
Another option he explored would be to take a trip to Hong Kong, "something that's on my bucket list." He is drawn to the fusion of cultures—from Cantonese and Mandarin to Taiwanese and colonial British—that's evident in the food and fashion.
"I especially want to try the dim sum; we don't have anything close to that here in San Diego," said Arellano. "I think it would blow my mind. Envisioning my trip, I would first return to Tokyo to visit friends, then go to Hong Kong and come home with a tailored suit."
Topics:
Share This:
Stay in the Know
Keep up with all the latest from UC San Diego. Subscribe to the newsletter today.